I love a good bread pudding recipe.  Rich, warm, and comforting, it's perfect for fall weather and these individually portion sized desserts are great for holiday entertaining too.  Plus, if you have any left over they're great with coffee in the morning.  Who says you can't have bread pudding for breakfast?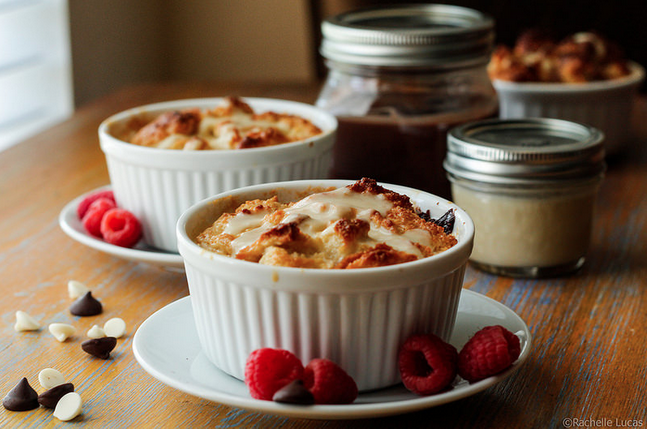 This recipe below is from the pastry kitchen of Carnival Cruise Lines.  I'm sailing away with them at the beginning of December for a relaxing girlfriends getaway, and I can't wait to see how this dish is on ship and compare it to my homemade version below.
It's named "Bitter & Blanc" for it's two main superstar ingredients – dark chocolate ganache and creamy vanilla sauce.  At first I was a little intimidated about making these sauces at home, but it turns out they are surprisingly easy and a little fool proof.  I baked this Bitter & Blanc Bread Pudding at home and shared it with my husband and friends and it was a big hit!  I have a couple of quick tips here for you.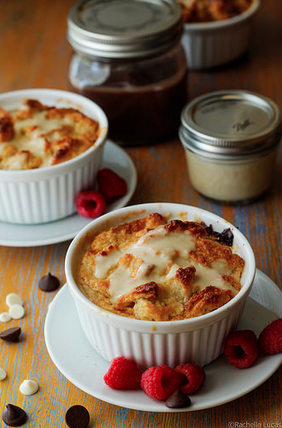 Cooking Tips:
When shopping for ingredients, 1 pint of heavy cream will be enough for the whole recipe, bread pudding and sauces too.
Make the ganache first as you'll need it to layer in the bottom of your ramekins.
Make the vanilla sauce while you're waiting for the bread pudding to bake.
Have an empty mason jar ready on the side as you'll probably have some ganache and vanilla sauce left over to use in other recipes.  Even better, you could always make a couple of batches and give the sauces away as gifts this season.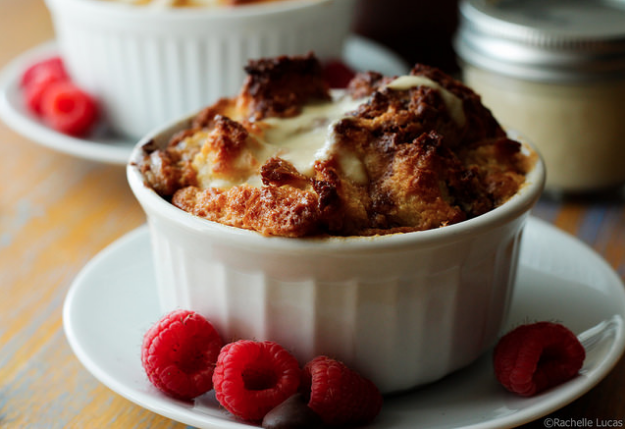 Bitter and Blanc Bread Pudding
Ingredients
1 cup dark or semi-sweet chocolate chips
1 pint of heavy cream
2½ tsp vanilla extract
1 cup whole milk
1 tsp corn starch
5 large egg yolks
6 tbsp butter
1 big loaf of Brioche Bread
1 cup white chocolate chips
⅓ cup sugar
Instructions
Preheat oven to 325 degrees F.
Remove the crusts of the bread, dice into squares. Put in a large bowl and pour cream over bread; let it soak in.
Meanwhile, make your ganache by heating 1½ cups of heavy cream to a simmer, then pour simmering cream over dark chocolate chips, add ½ tsp vanilla extract, and stir until smooth (about 5 minutes).
Back to the bread pudding, in saucepan, melt the white chocolate chips with butter and set aside.
In a mixing bowl, mix cream, sugar, yolks, and add the melted white chocolate/butter mixture on a slow speed.
Add the cream-soaked bread, mix well.
Grease individual souffle cups with butter and sprinkle lightly with sugar.
Spoon a layer of ganache into the bottom of each cup. (Recipe Below).
Top with bread pudding mixture. Bake at 325 degrees F for 45 minutes.
While the bread pudding is baking, make a vanilla sauce by boiling 1 cup of whole milk and 2 tbsp of sugar in a saucepan. Then, in a small bowl, cream 2 yolks and cornstarch; whisk in the milk, add 1 tsp vanilla extract. Pour it back into saucepan and cook on low heat until it reaches a coating consistency. Pour through a strainer to remove lumps.
Remove bread pudding after it's done baking, cool slightly, dust with powdered sugar and serve with vanilla sauce.
This post was created as part of my collaboration with Carnival. As always, all of the opinions, thoughts, and ideas in this post are my own.