For the past 2 years, Jaime and I have been in non-stop book mode. Every time we've had the chance to hang out, it was all about writing, editing, and styling, oh my… G. We fantasized about a trip where we could relax and have an adventure together without book deadlines looming about. We also fantasized about treating our friend Sonya, the illustrator of our book whom we tortured with detailed changes, additions and cuts for the better part of two years, to a fun break from the brutal Chicago winter. She probably would have preferred a break from us as well, but no such luck. Working with us is all-inclusive! We planned our trip for a week through the Western Caribbean on Carnival Glory because… this…
and this…
and this…
Aside: Have you noticed that Jaime and I have basically become "cruisers?" Next we are going to convert my husband who spent 20 years in the Navy and vows to never sleep at sea again. We shall see Rick, we shall see. For now it was just us girls and since we technically had room for one more in our cabin with a view, we invited Jaime's new-found biological sister, Samantha. Since I consider Jaime a sister, I'd been dying to meet Sam too. After all, we are basically related.
So, want to hear all about what we did during our week in paradise?
We met up in wonderful Miami. Jaime and Sam flew in the night before and were able to do some sisterly bonding with a bottle of champagne on the beach. Sonya and I flew in on Saturday and checked-in right at the Carnival window by baggage claim, with no line. This saved us a ton of time at the port as we were able to just breeze by with our ship card already printed at the airport. This was convenient as there were margaritas (rocks, salt, not too sweet) waiting for us at the pool bar.
We immediately noticed that the ship had some cool offerings, which included an all-you-can eat taco and burrito bar with piles of delicious toppings and tortillas made right there on site. This was Sonya's favorite spot to grab a bite throughout the trip, from breakfast burrito to afternoon snack, she loved their healthy options.
We unpacked a bit and settled in for a week of fun relaxation. Jaime offered to take the top bunk, no one argued. It was awkward. We had a delicious first dinner in the dining room and settled in early after a long day of travel.
Sunday was a fun day at sea and if you are anything like me, a spa day is just about as fun as it gets. Each of us was treated to an amazing 2 hour long Elemis Aroma Spa Seaweed Massage in which we were detoxified in a heated seaweed masks, cocooned in a comforting wrap, and massaged until our aches and stress disappeared into the horizon. After that we all went our separate ways for a bit of alone time. I hung out in the sauna (above) and hot tub (below)
And Sonya grabbed a workout in her man-magnet(no joke) avengers muscle shirt.
The rest of the day, we snacked, had some cocktails, made friends with other guests and crew members and generally just enjoyed life on the high seas. We lost Jaime for a while and guess where she was?? Winning $1,100 on the slots in the casino!
Now, that is a fun day at sea! I tried my luck too, mostly because there was a slot machine called Kitty Glitter, but after losing $40, I decided to save the rest of my spending cash for mucho hand-woven Mexican souvenirs. And mucho tequila.
Sunday night was the first of two formal nights on the ship which means everyone gets extra dolled up for dinner, eats fancy items like lobster tails in the dining room, and poses for photos taken by the ship photographers. We did all of these things.
Monday was a stop in Cozumel. We didn't book an excursion for this day but decided to just wing it with the plan of landing on some fabulous beach. We hopped in a cab and requested transportation to the most beautiful beach on Cozumel. Spoiler: He did not take us to the most beautiful beach in Cozumel. He did however bring us to the rockiest beach with nonexistent advertised wifi and snorkel masks with holes in the nose. As savvy travelers we were ashamed for having fallen for his "on the cut" shenanigans. Luckily the day was redeemed when we headed to town for a muy authentico lunch at La Choza restaurant, a great recommendation from a ship employee, followed by embroidered dress shopping.
Old town Cozumel is charming and picturesque, a lovely way to waste away an afternoon with margaritas and song.
Back on the ship we got ready for the thrilling Chef's Table experience. It was facinating to go behind the scenes, taste gourmet fare prepare just for us and hear some of the logistics that go into keeping so many people happy and well-fed on a cruise ship.
Tuesday took us to Belize and we loved it, not only for it's awesome puns, but for it's authentic charm.
This was the first time that we had traveled to a tender port in all of our cruising. This meant that a smaller boat would pick up passengers from the cruise ship and transport them about 15 minutes to the Belize port. That means you get some killer shots of the ship in the middle of the ocean.
As we pulled in, I noticed that the area was more of a charming fishing village than the typical cruise ship port. We liked it already.
We were planning to find an excursion once we were off the boat. We had heard there was great cave tubing and some beautiful ruins. Unfortunately we were a bit late to fit in the 3 hour round trip transportation and settled on a trip to the rainforest to see some wild monkeys and have an authentic Belizean meal. Unfortunately the promised 20 minute drive was more like an hour and 20 minutes. Ahh, once again we were starting to feel like it would have been wise to book an excursion ahead. In the end, the well-planned Carnival excursions are a good deal, highly rated, and safe. And also one less thing to worry about once you are on your trip.
We did get to feed a monkey a banana in the wild and eat a delicious home-cooked meal, and our driver gave us wonderful information about the history and culture of Belize.
Back on the ship, we had an afternoon snack of amazing burgers and fries at Guy's Burger Joint. Yes, by day 3 of cruising I start to refer to a burger and fries as a snack. After dinner we found a cozy corner on deck and played Cards Against Humanity and drank buckets of beer as we laughed our way into the wee hours of the morn.
Isla Roatan, Honduras was our stop on Wednesday and our unanimous favorite day. Jaime had done some research before our trip and booked us a private tour guide for the day. We met our guide and were off to our first stop, zip lining. Along the way we stopped at a few sites including this mural made entirely of soda caps. Amazing!

I'm a bit nervous when it comes to putting myself in danger unnecessarily (read: not having to save my own child's life) but zip-lining always seems very fun and safe, even given my faint of heart nature. The highlight of zip-lining was watching the most talented our our little group, Sonya, do flips and tricks like a pro.
We had worked up an appetite and so the next stop was another authentic island lunch. The girls all had stewed chicken, which was scrumptious — and I ordered garlic shrimp, some of the best I have ever tasted, served with brown rice and fried plantains, of course. After lunch we chilled at the beautiful West Bay beach, frequented by both tourists and locals.
We almost didn't snorkel but since the guy offered us a mask & snorkel/no fins deal, we went for it. Um, always rent the fins, people. Folks were coming out of the water rating this reef a "10." We were excited! Jaime and I hopped in the water and started to explore. Just then a friendly man named Ron, rowed up in his kayak and offered us a tow. Have you ever seen this? He pulled us around to all the best spots for coral and fish sightings. It was a beautiful way to end the day in Isla Roatan.
Jaime and I took a quick peek at the beach right by the port, where we heard many cruisers spend the day, and then grabbed a romantic ride on the "ski" lift back to the ship. Guess who was waiting to greet guests as they returned? The captain! We were not exactly photo-ready but we couldn't resist snapping a pic with the man in charge. Thanks for all of the smooth sailing Cap'n!
Since we had the pleasure of an extra long shore day in Honduras, we grabbed a quick dinner and got to sleep after a few more rounds of cards. We had to be up early for more snorkeling!
Costa Maya was the perfect day to have a Carnival excursion all lined up. We woke up early and ventured off the ship for a catamaran ride and snorkeling. It was a gorgeous day for a sail and Jaime and I quickly grabbed our favorite spot, sitting with our feet tangling into the net.
The group was split into a beginner, intermediate, and advanced group and each group was lead around the reef by an expert guide. It was a fun adventure and I was happy that I had fins on. Back on the ship, Jaime and I decided that we would totally exercise every day if we could find a snorkeling workout. It's so much fun! With salty skin and hair, we enjoyed the ride back to land with some cold beers. The Costa Maya port was fairly isolated but it featured the best shopping of the trip and we all found beautiful hand-made treasures to take home. Back on the boat, hungry from our day at sea, Jaime and I treated ourselves to our favorite, ahem, afternoon snack, then naps, then dinner, more glamorous photos, then an amazing comedy show, then drinks, then a little bit of a Dive-In Movie. Then cozy cozy bed.
Friday was another fun day at sea. Jaime and I were itching to get back to the spa, this time for a facial to help balance and soothe our skin after a week of sun and salt. Later we spent some time by the adult pool, laughing about all of our funny vacay stories that we didn't want to forget once we left the ship. I spent a little time painting as I had brought all of my supplies and hadn't yet pulled them out, and Sam did some on board shopping, since there were major end of cruise deals. With one last dinner, we said goodbye to our friends at our table, our awesome steward Tiger, and our many new friends. It was back to reality in the morning, and honestly we were all feeling relaxed and ready to end our girls' week. It was time to reunite our kiddos with their well-rested mamas. That's what I would call a successful Girls' Getaway!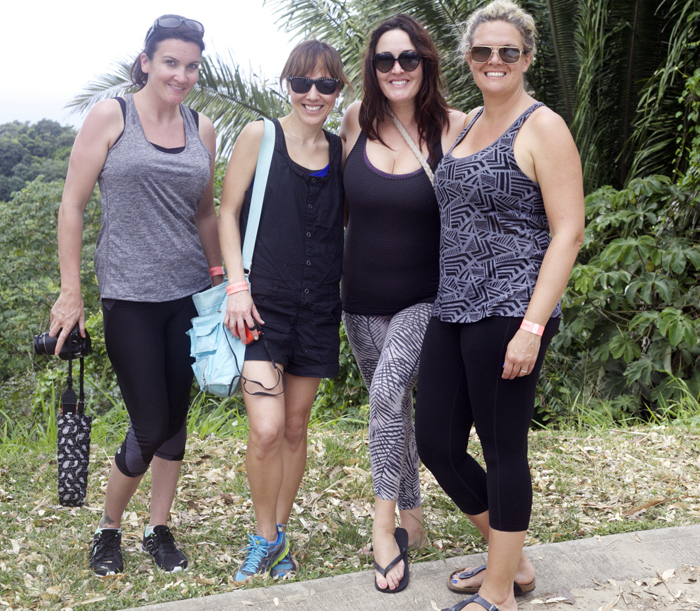 This post is sponsored by Carnival Cruise Lines. Our opinions about awesome vacations, cheeseburgers as appropriate afternoon snacks, and the magnificence of towel animals is our own.
This post was created for Away We Go with Carnival, the destination for getting in the getaway state of mind.