10 Best Tips for Cruise Rookies
Seasickness
Specialty Restaurants
Beverages
Water Bottles
Complimentary Child Care
You Can Make Special Requests In the Dining Room
Tipping
Room Service
Free Onboard Activities
Staying Connected
Trying to prepare for your first cruise can be overwhelming. There were plenty of times that I wished someone had written down some of the little things that can make your first cruise less intimidating. Now, after 12+ years of cruising, sailing is almost like second nature to me. But, I always wondered, "What If…?" someone had been nice enough to share some frequent cruiser advice with me.
Here are the 10 things I wished I'd known as a cruise rookie:
1. Seasickness – I often hear that the fear of seasickness is the reason many people choose not to cruise. I, too, get seasick when I am in a small boat with choppy seas. But, when it comes to cruising, I have never had a problem. Large cruise ships are equipped with stabilizers that make it hard to tell that you're moving at all, let alone sailing at speeds of 21 to 24 knots. There are rare occasions when seas can be rough— to combat this, I always put together a little bag of everyday medications, from headache pills, to Band-Aids and even anti-nausea medication. Chances are you'll never touch the bag, but it's there if you need it.
2. Specialty Restaurants – Most, if not all, cruise ships have some form of specialty dining with an additional fee, usually ranging from $10-$35 a person. It's easy to pass up on these as a first timer because so much food is already included with the price of your cruise. But I can tell you from experience that these meals are not to be missed! Some of my best meals EVER have been at cruise ship specialty restaurants. Two that come to mind are Ji Ji Asian Kitchen on Carnival Sunshine, and ANY of the steakhouses on Carnival Cruise Lines (they all have the same menu and it's an incredible meal every single time!). So take the splurge and make a date night out of one of the specialty dining restaurants on board – I promise you won't regret it!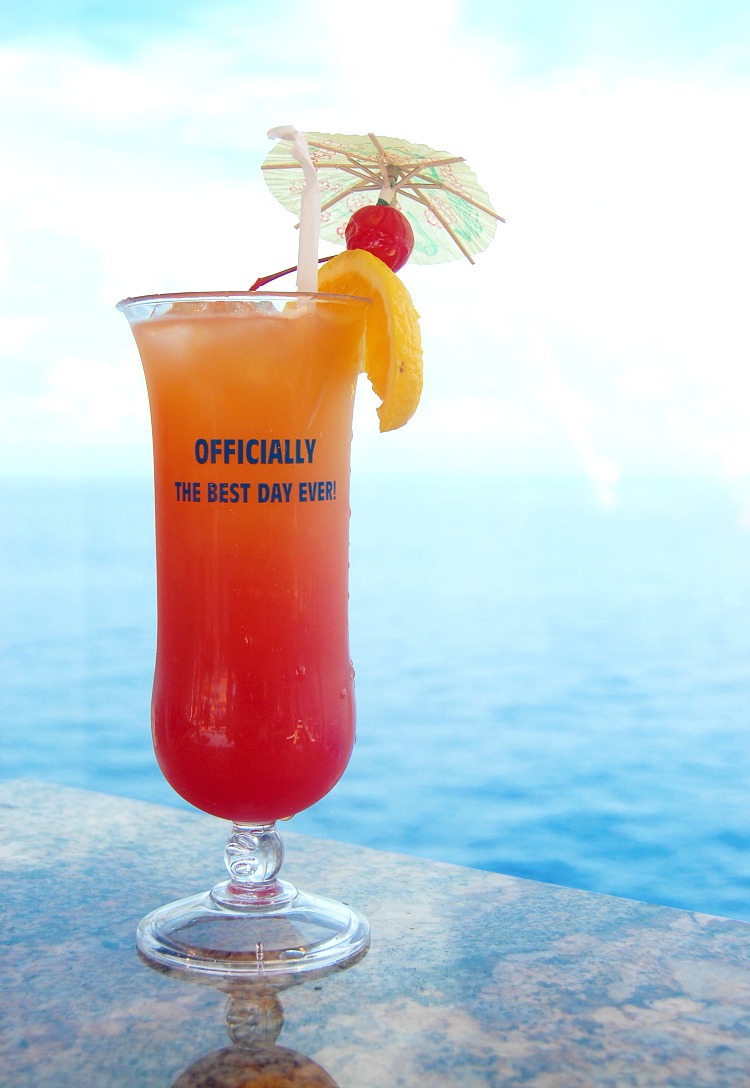 3. Beverages – If you're like me, you want to have a good time while you're cruising — it's a vacation after all! For me this includes a few frosty alcoholic beverages during the day and most evenings. If you're not careful, drink prices can really add up over the course of a week. If this is something that you can relate to, make sure to look into the beverage packages that are available during your sailing. There are usually several to choose from — from non-alcoholic soda & drink packages, to ones that cover wine, beer and liquor. It's not too hard to calculate and see if they will be a value to you.
4. Water Bottles – Time and time again I see people lugging cases of water on board the ship on embarkation day … I may even be guilty of doing this myself on a few occasions. But you can really save the stress on your back (and a little cash) by drinking the complimentary water on the ship. The water in the dining rooms and Lido stations has been filtered and is perfectly safe to drink. Because I like to drink water before bed, and take a bottle while I go ashore, I bring reusable water bottles that also have filters for each member of my family. I just fill up every time I pass by a water station so I have it when I'm thirsty.
5. Complimentary Child Care – I'm not going to lie. The complimentary childcare is one of the best perks of taking a cruise vacation. My daughter loves it. My husband and I love it. It's a win-win for my family. Though, it's important to be aware of the minimum age and requirements if you're traveling with young children— you don't want to start your trip with any surprises! For Carnival Cruise Lines, the minimum age for Camp Ocean is 2 years old, and children at this age do not need to be potty-trained. However, children who aren't toilet trained are not allowed in any of the pools or water facilities. Other cruise lines have different policies and I know many require children to be potty-trained to attend camp.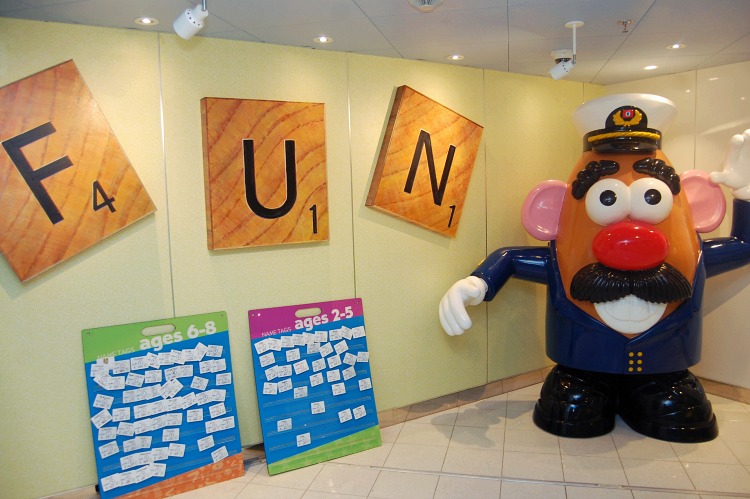 6. You Can Make Special Requests In the Dining Room – There is so much delicious food on a cruise ship that you will want to try it all. And the beauty of cruising is you can do just that! If you see several appetizers you want to try on the same night, don't be scared to order them all! You can mix and match to your hearts content. I know that my favorite night in the dining room is lobster night, but sometimes it just so happens that it's also prime rib night. Every time this happens I order both entrées and make my own surf & turf. It's truly awesome! If you have any dietary requirements or other special requests make sure to let your server know— they're happy to assist!
7. Tipping – Often you can pay gratuities in advance of your cruise to save the charges on your account at the end of your sailing. For drinks and other purchases, gratuities are automatically added to your charges giving you one less thing to think about. If the bartender really goes out of their way, I give them an extra dollar or two, but for the most part tipping is taken care of for you.
8. Room Service – One of the greatest joys in cruising is the room service. Breakfast, lunch, dinner, and even late night snacks can be delivered 24-hours a day. There's nothing like sitting on your balcony during sunrise with a hot cup of coffee and croissants in your bath robe! We always give the server a small tip for their time.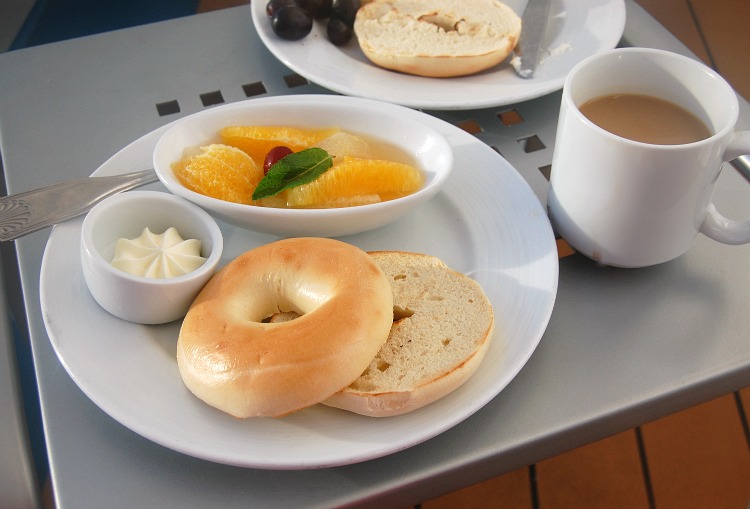 9. Free Onboard Activities – If you can't find anything to do on a cruise, you're not looking hard enough! Never worry that you'll be bored, or under the impression that everything will cost you money. Most every activity we participate in is free. Some of our favorites are trivia, karaoke (both watching & singing!), Broadway-style shows, nightly live music, poolside competitions and deck parties.
10. Staying Connected – Even though you're miles and miles out at sea, you can still stay connected to loved ones back home. This may not be an issue for families traveling together, but for couples who sail for an anniversary, or just a romantic getaway, and have children at home, connectivity is very important. Most cruise ships are equipped with Wi-Fi and offer packages at a discount making it easy to keep in touch. You can use this Wi-Fi on your smartphone while keeping it in airplane mode to avoid charges from your carrier. If you plan on using your phone during your sailing, be sure to check out my list of 8 Super-Helpful Apps for Cruisers.
Of course this list is not the end all be all— But it's a great start and will definitely come in handy for anyone who is thinking about cruising for the first time.
This post was created as part of our collaboration with Carnival. As always, all of the opinions, thoughts, and ideas in this post are our own.