Having just completed and passed the first level Court Of Master Sommeliers course, I've unintentionally turned into a wine snob.  Don't get me wrong, I can still pick out a good bottle for ten bucks, but most bottom shelf wine just won't do it for me anymore (unless I'm mixing it into a sangria recipe).
As a result, I really wasn't expecting to find many good wines on my recent Carnival cruise.  After all, wine is not typically served with a paper umbrella garnishing the glass, and most people crave something tropical and cold (with a splash of rum) while lounging around the pool or on a beach.  Turns out, not only was I was wrong, but my entire concept of cruise dining has been completely flipped upside down and changed.  In addition to normal cruise dining and buffets, there were restaurants.  Lots of them.  From a sushi bar to an elegant steakhouse, I was impressed to find such a variety of choices offered intimate settings with personalized service.  And, of course, they all had well-thought-out wine lists.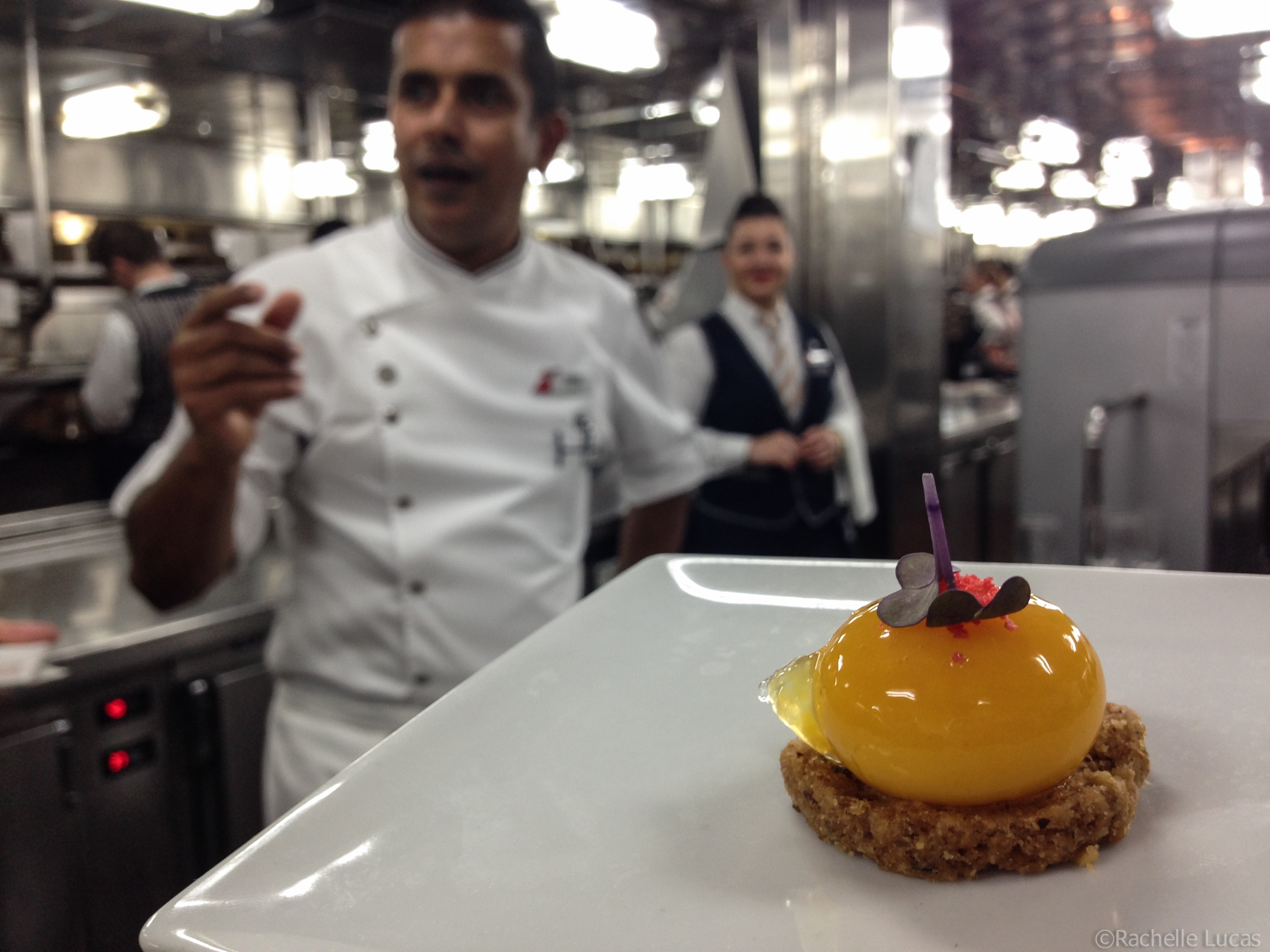 Let's start with my first impression of wine on this cruise.  Our ship, Carnival Sunshine, had a quaint Library Bar with an Enomatic wine dispensing machine, just like the ones in my favorite wine shop at home.  It's like a vending machine for wine that allows you to pour only an ounce at a time so that you can get a small taste of multiple wines and choose one that you like before committing to a whole glass.  Also, it's a great way to taste some higher priced wines without splurging on buying the whole bottle.  Their selection was amazing, including a Vouvray (an off-dry French white), a Willamette Valley Pinot Noir, and a Barolo (one of Italy's greatest wines).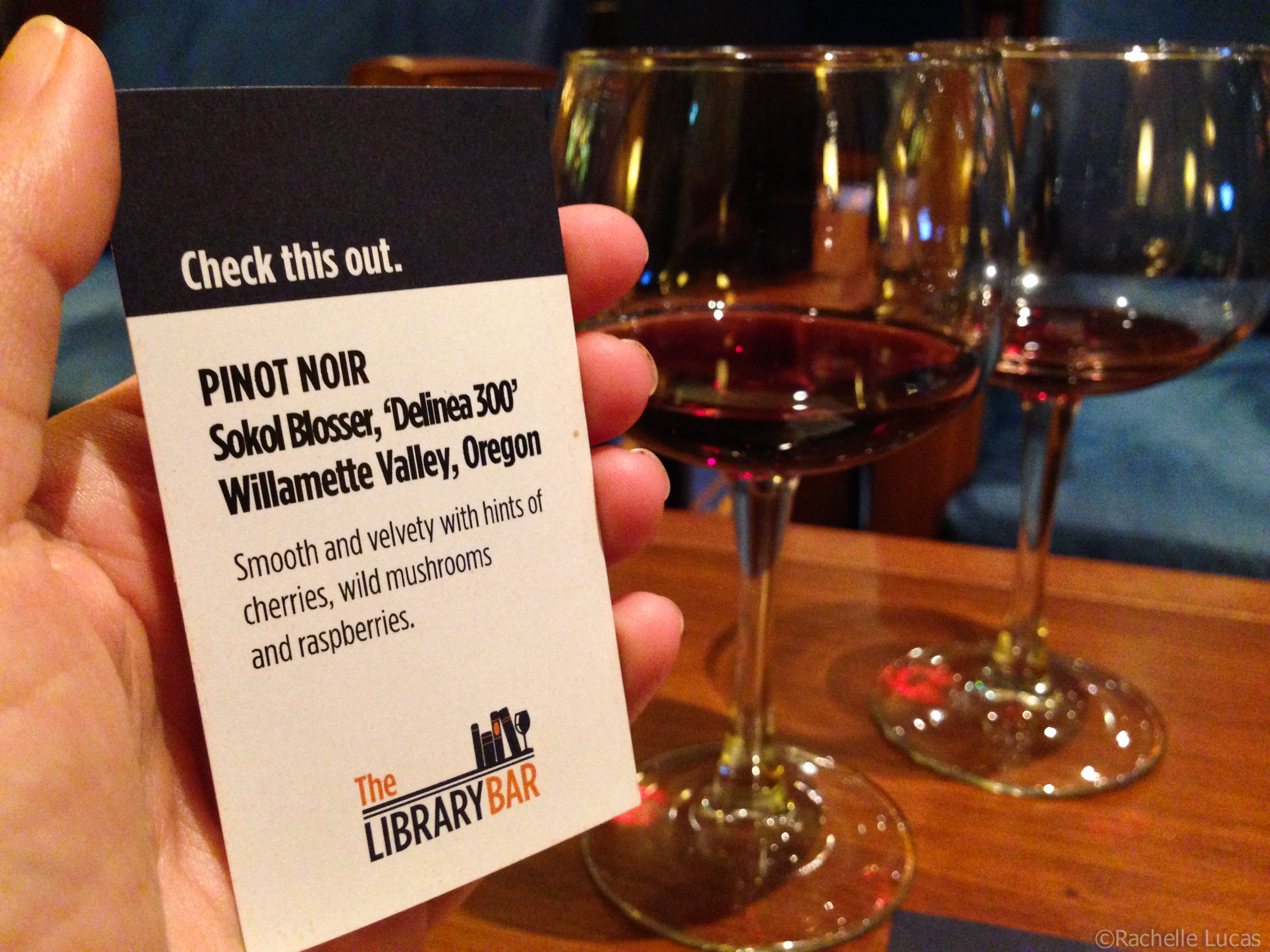 What I really loved about tasting wine at the Library Bar is that you're able to try a sample of a few different wines, pick the one you like, and then bring that card to dinner as a reminder and order it from the menu.  They even have cute little "library cards" with tasting notes that say, "I've checked this out, and it deserves a spot at my dinner table."   The price of a single one ounce pour ranged from $2.75 to $5.00, quite an affordable way to taste different types of wine (especially a Barolo!).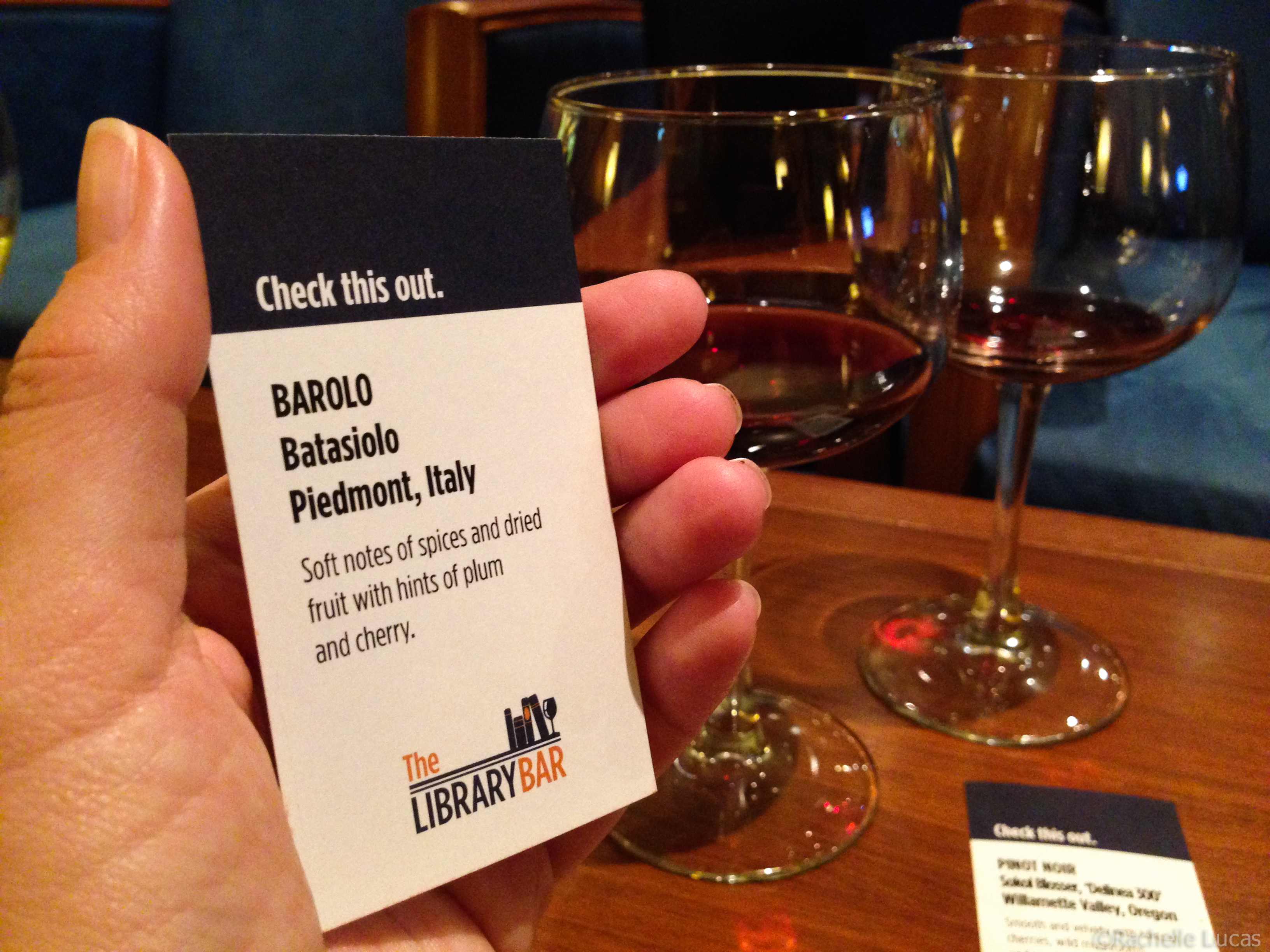 Now, there's really only one rule when it comes to choosing wine:  pick what you like.  Period.  A sommelier can help you pair a wine style that you like with your meal so that the flavors of the wine and the food compliment and enhance each other.  And this is really a lot more complex then sipping white wine with seafood and red wine with beef.  Unfortunately, there was no sommelier on board for guidance.  Our servers in the ship's restaurants were able to provide some good pairing tips, but our experience in the main dining room concluded that the servers there didn't understand too much about wine.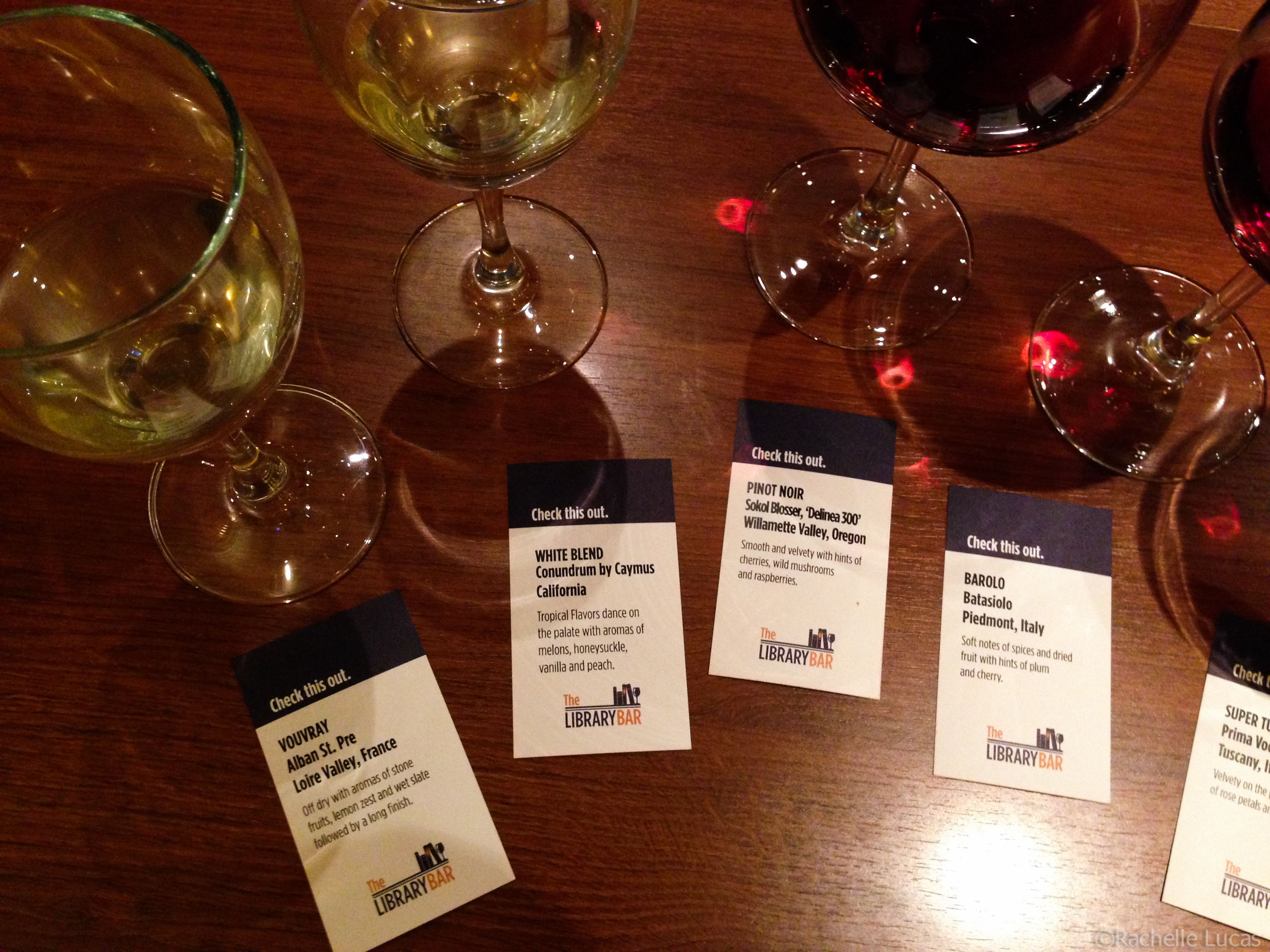 So, I'd like to give you my list of recommend wines I found on Carnival to help you navigate the wine list and enhance your meal.  I have a "safe list" of delicious affordable wines, and a "splurge" list of amazing, you-gotta-try-these-at-some-point wines.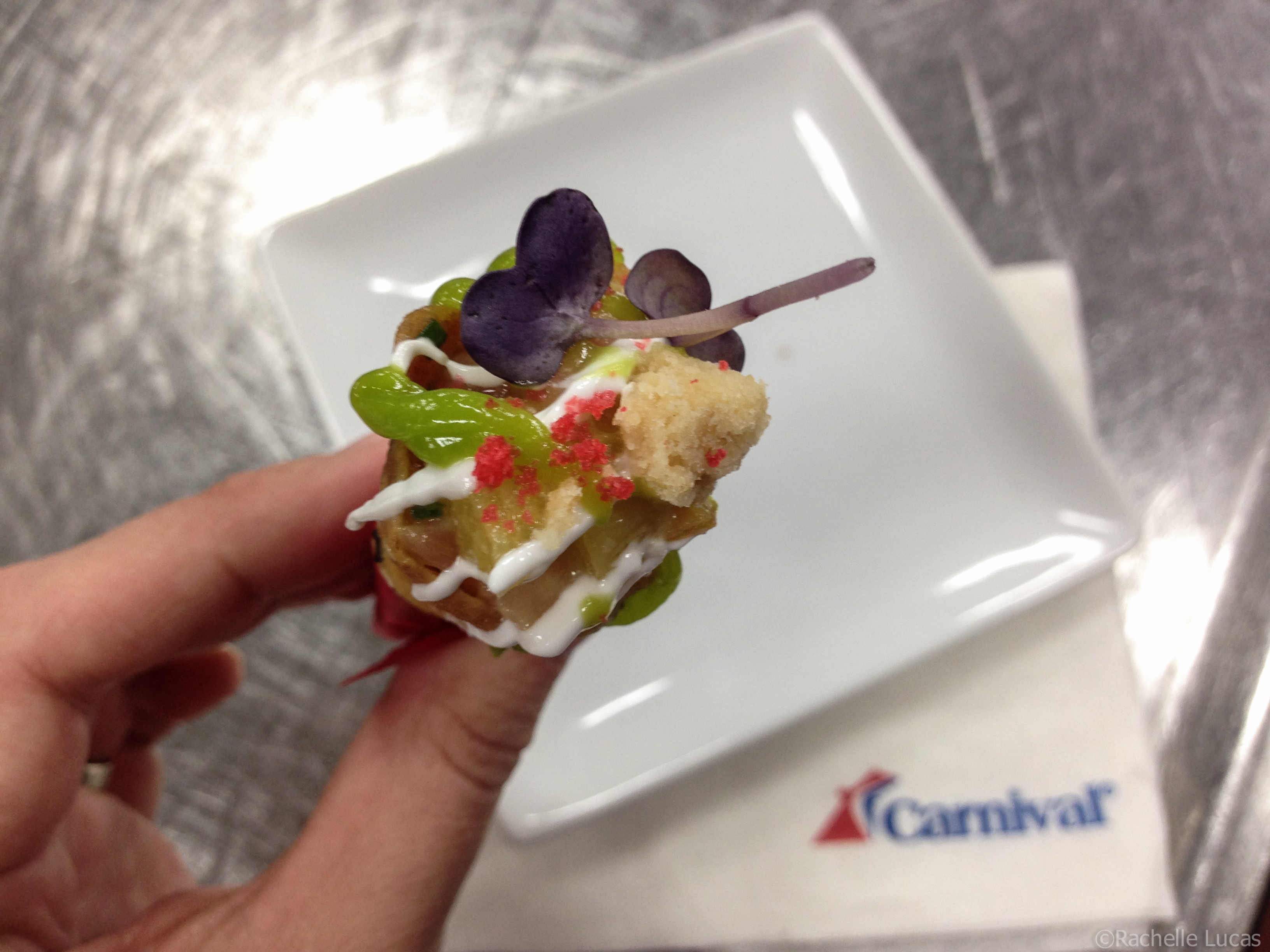 Always go with what you like (white or red), but when it doubt, pick a pinot noir.  It goes with everything because the flavors are subtle and they're typically low in tannins.  A pinot noir could even be paired well with fish. Yet, they're also layered and complex which allows them to stand up to the meatiness of a steak.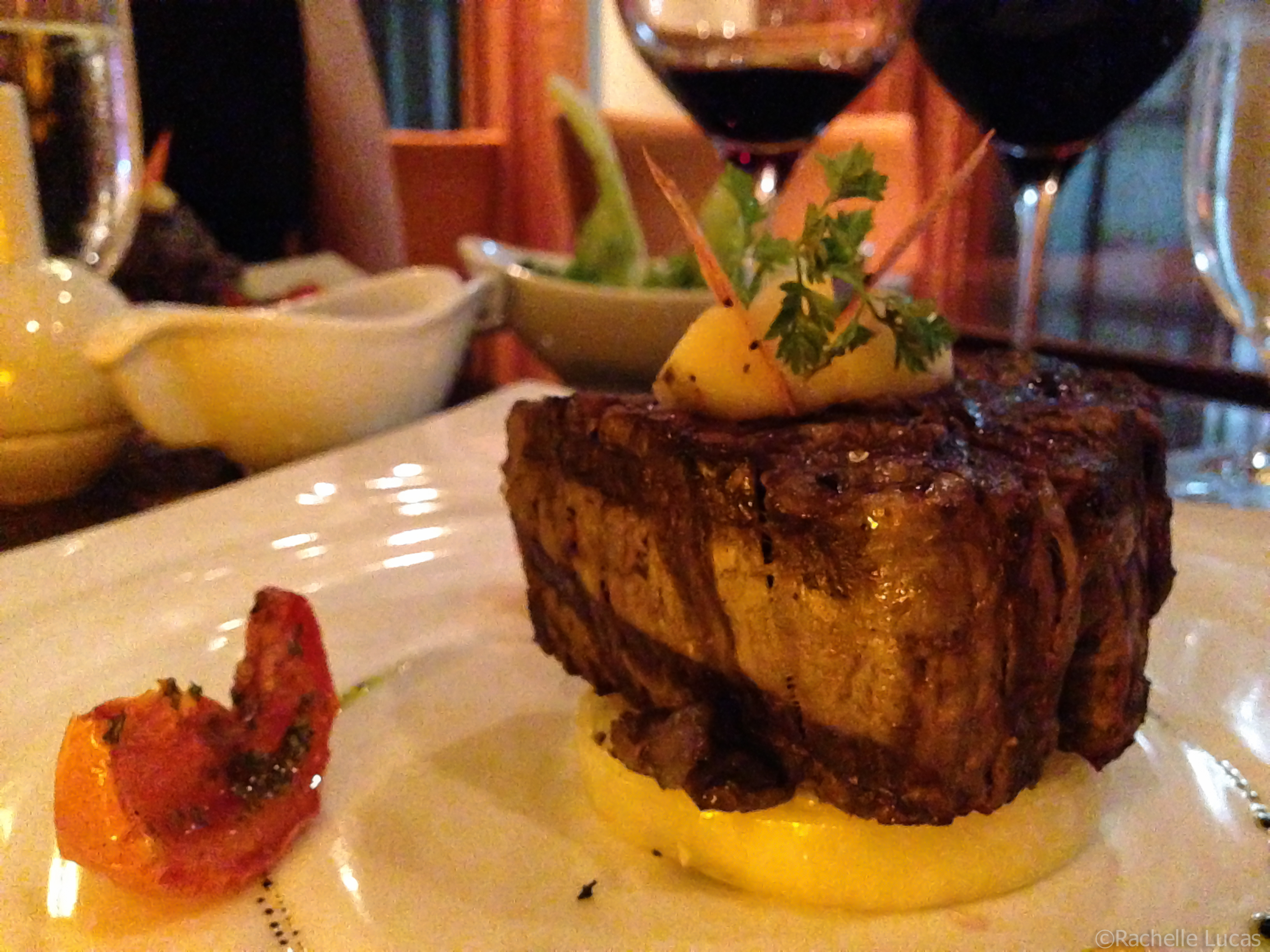 Here's my list of recommended wines on Carnival:
Safe List
Whites
Prosecco, Zonin Veneto, Italy
Sauvignon Blanc, Oyster Bay, Marlborough, New Zealand
Chardonnay, Kendall-Jackson, California
Reds
Pinot Noir, La Crema, Monterey, California
Pinot Noir, Sokol Blosser, Willamette Valley, Oregon
Malbec, Santa Julia, Mendoza, Argentina
Shiraz, Peter Lehmann, South Australia
Splurge List
Whites
Moscato d'Asti, Castello di Santa Vittoria, Piedomont, Italy
Sauvignon Blanc/Semillion, Cape Mentelle, Margaret River, Australia
Vouvray, Alban St. Pre, Loire Valley, Fance
Chardonnay, Pouilly-Fuisse, Barton & Guestier, Burgundy, France
Reds
Pinot Noir, Meiomi, Santa Barbara/Sonoma/Mendocino, California
Cabernet Sauvignon, Caymus, Napa Valley, California
Barolo, Batasiolo, Langhe, Piedmont, Italy
Super Tuscan, Gaja, "Ca'Marcanda Promis," Tuscany, Italy
Chateauneuf-du-Pape, M. Chapoutier, Rhone Valley, France
This post was created as part of our collaboration with Carnival. As always, all of the opinions, thoughts, and ideas in this post are my own.