I was, not very surprisingly, asked a lot of questions about what we ate, being on our Carnival cruise. We ate great. No one starved. We didn't only eat bread or pasta. You know, it was actually pretty easy! Before I start though, I do want to apologize for some of the photo quality— mostly for the dinner photos– we had a lot of options and I didn't take a lot of photos because it was dark– and the photos I do have, well they're you guessed it, dark! Still tasty though 😉
BREAKFAST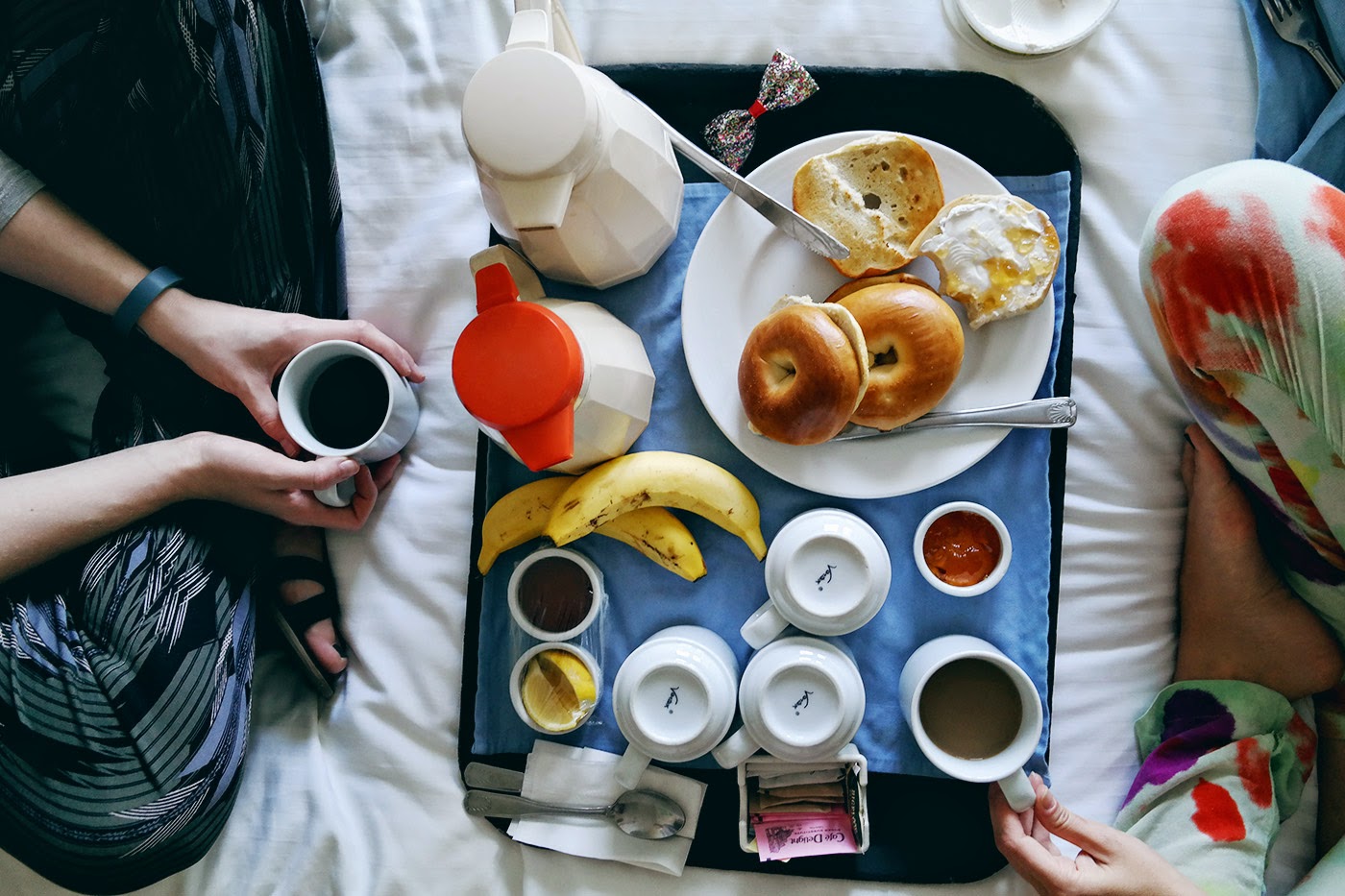 fruit basket, bananas and room service. we love you, room service.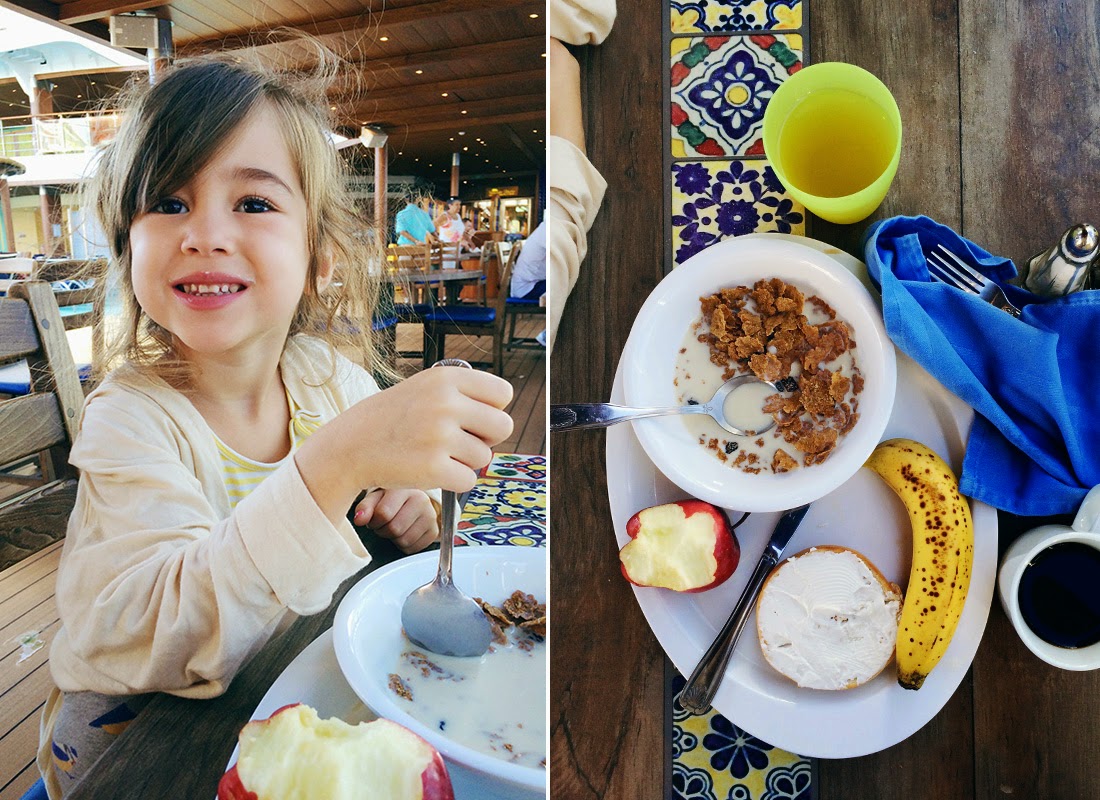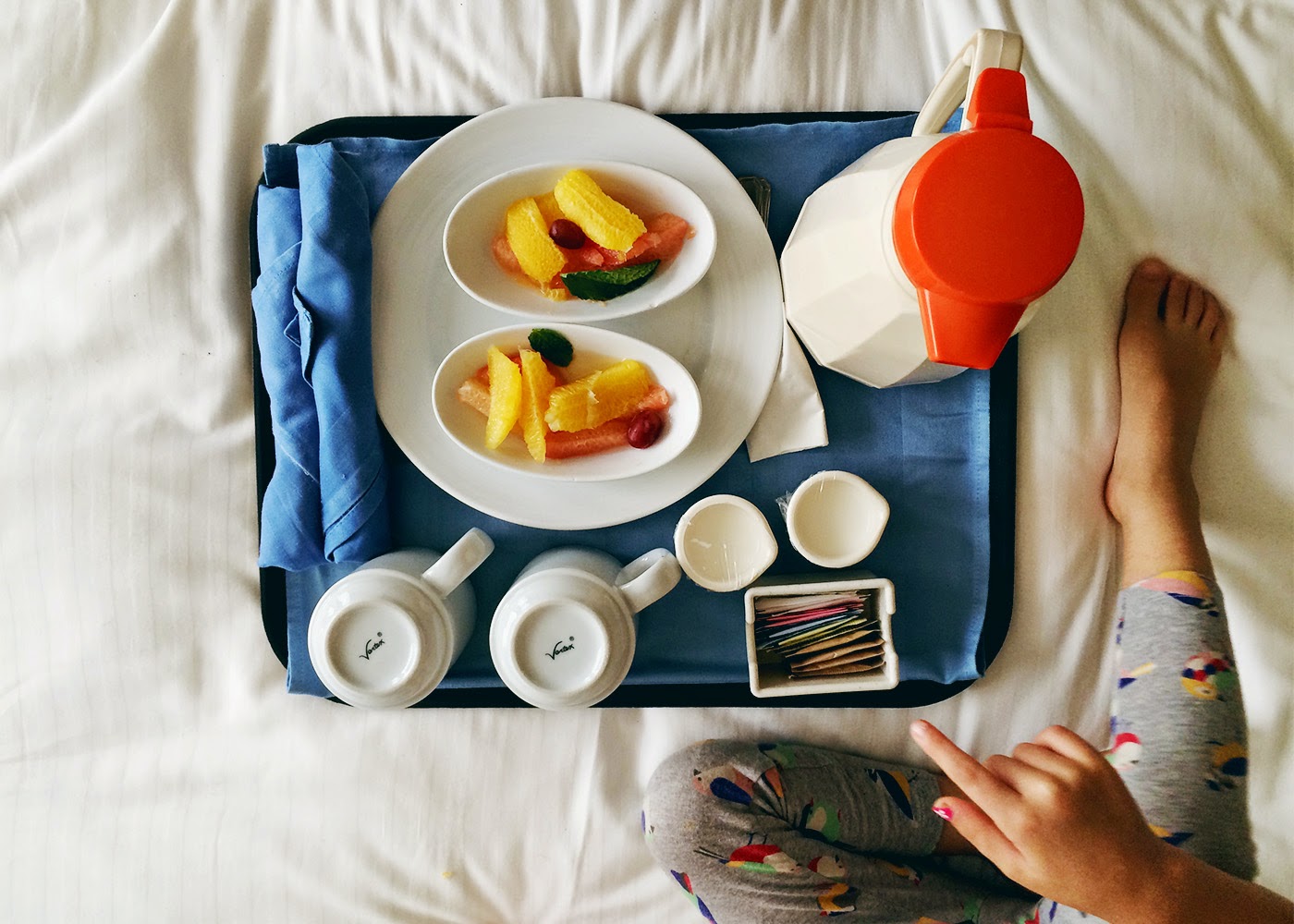 the citrus fruit option off the room service menu.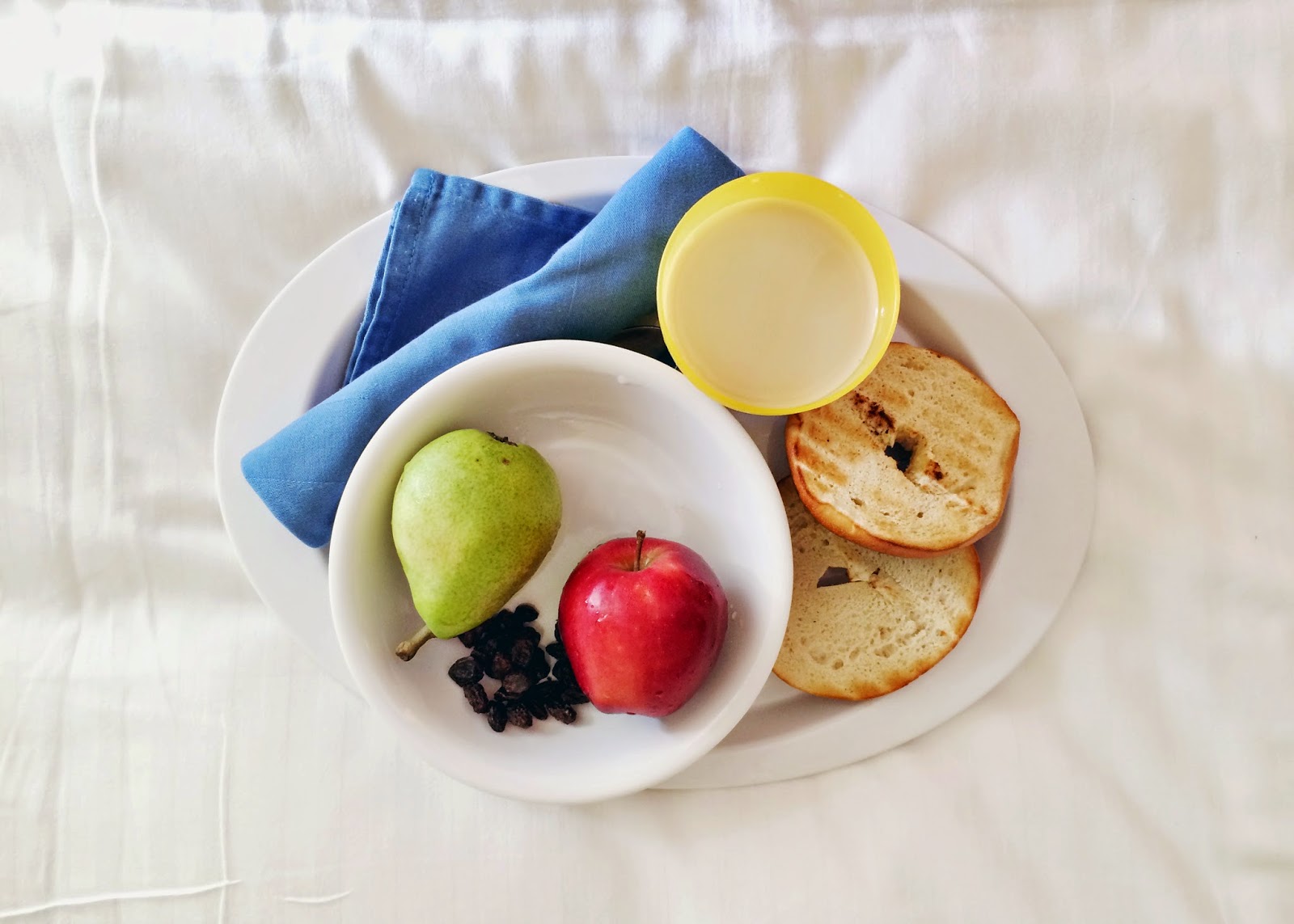 Breakfast was one of the easier meals— mostly because I skip breakfast anyway, so the only person I really had to worry about was Marlowe. It's pretty easy to feed my four year old breakfast– okay, or any meal, but especially breakfast!
The girl wants fruit, more fruit, and cereal everyday. Bagels are typically a special treat for us at home, so we gratefully loaded up on them while away. Also, it's sort of tradition for Katie and I to eat bagels together— I'm not sure why. I've been friends with the girl for 11+ years now and we always make it a point to eat bagels together. There was also the added bonus of guava jelly– which I would typically never eat while at home, but it made me think of Alex, so I ate it. Romantic, I know.
Anyway, half the time I opted for the complimentary breakfast room service. You chose what you want, you choose your time, and they bring it to your room. Easy peasy. Each day we ordered coffee (of course), fruit for Marlowe, bagels, and soy milk. Soy milk is not on the breakfast checklist, but if you ask for it, they will bring it! We actually opted to bring our own vegan cream cheese option on the cruise with us. Is this necessary? Absolutely not. But I thought it would be fun for all of us and it of course was. When we didn't do room service, we would head to the breakfast buffet and pick up cereal and fruit for Marlowe. Here too, they have soy milk, you just have to ask for it. I would simply ask at the cereal station and someone would run back and grab a cup for me. I used this for Marlowe's cereal as well as my coffee.
LUNCH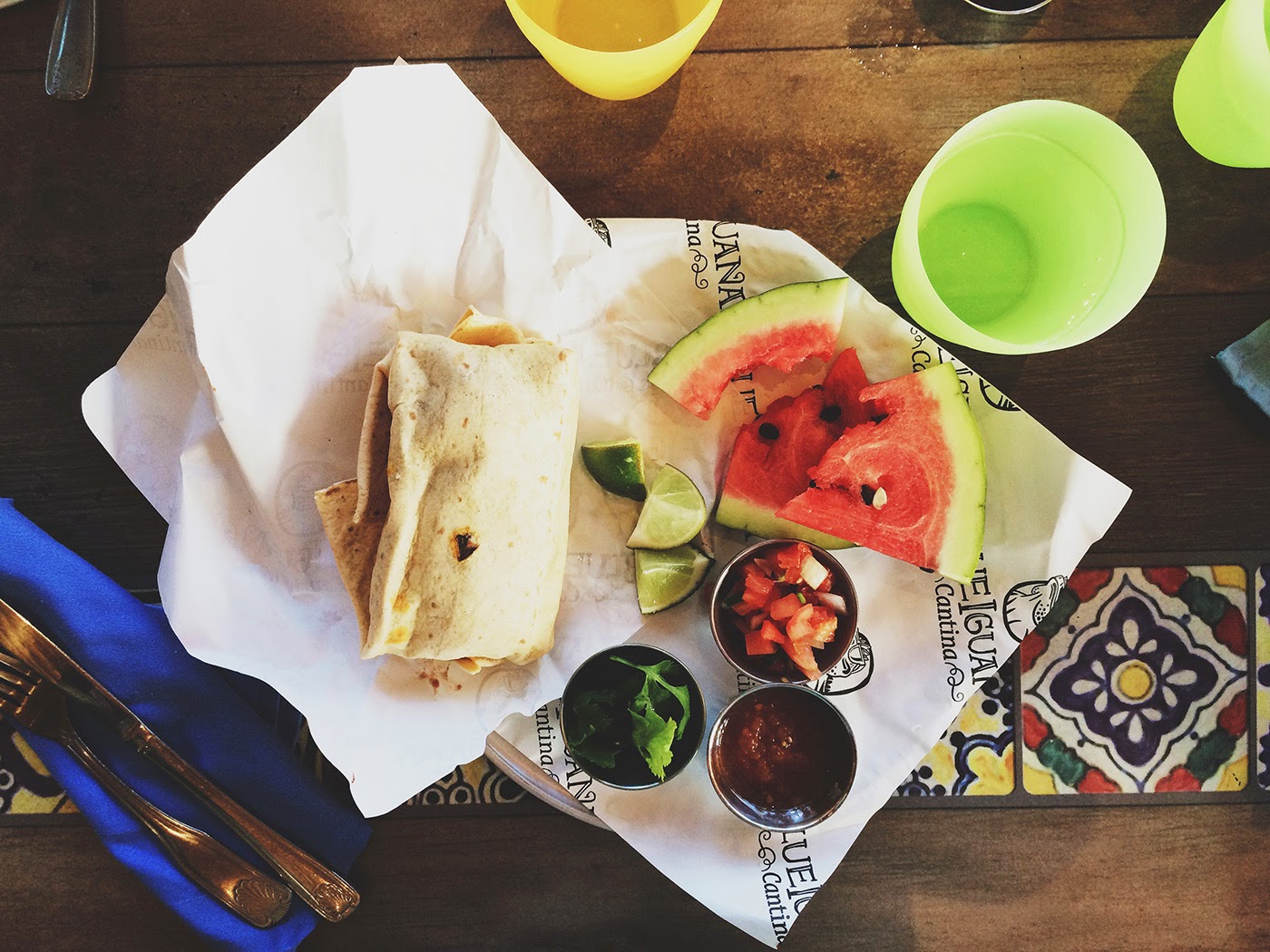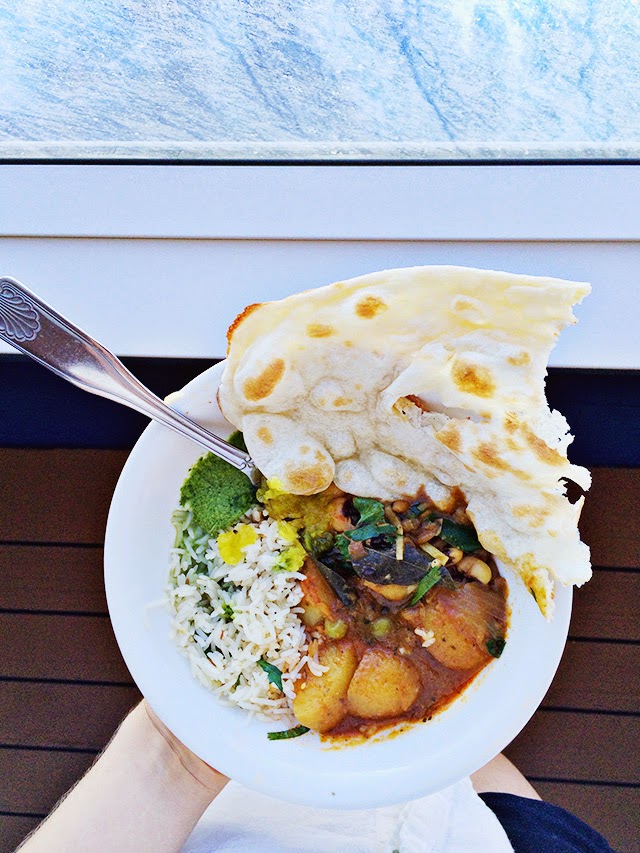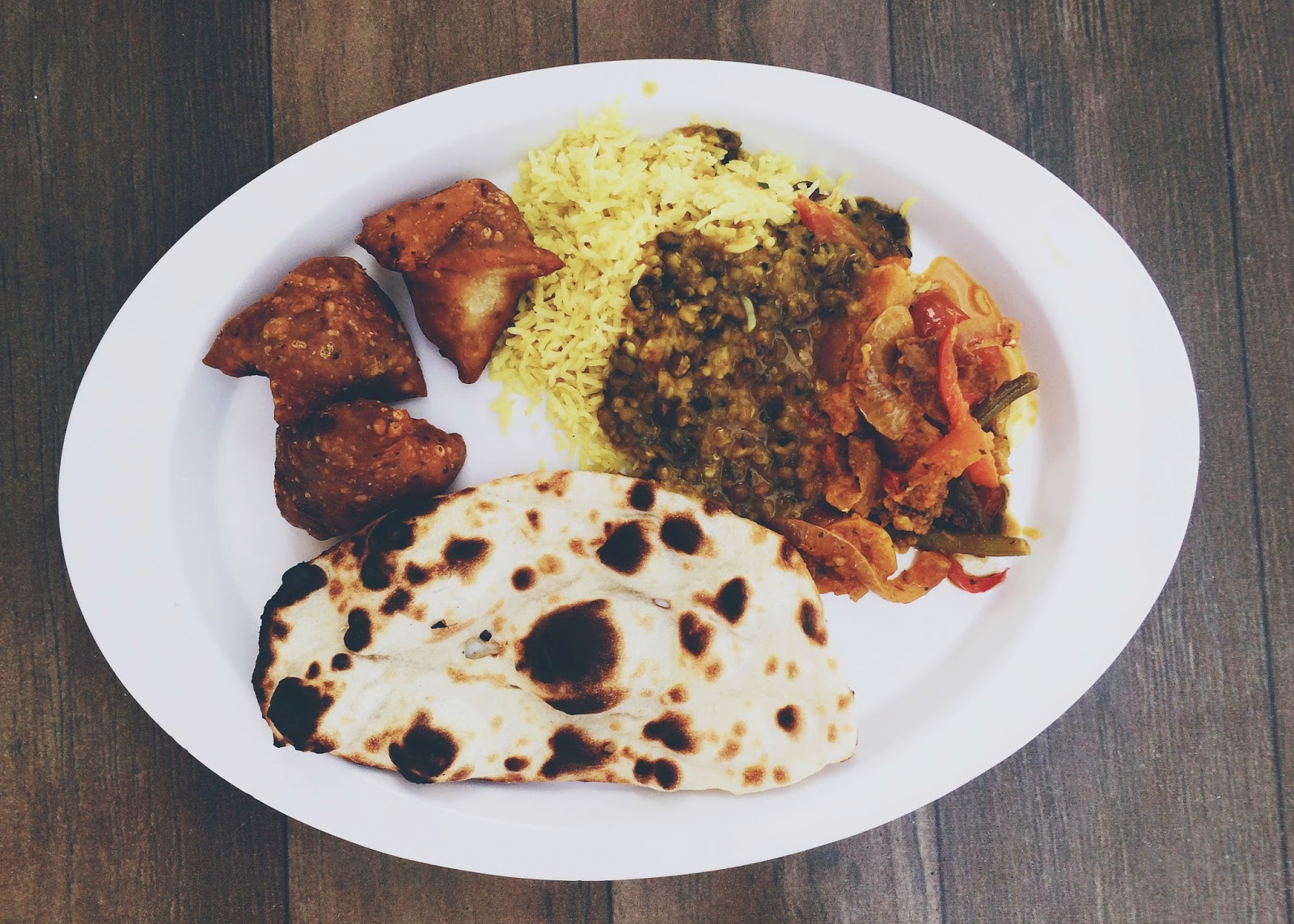 Lunch was fun. We got to play around with a few options, depending on our mood. While we definitely could have had an easy sandwich or salad option, we typically opted for the Mexican lunch option (Blue Iguana Cantina) or the indian lunch option (Tandoor). I think most vegans know how incredibly easy it is to make a vegan burrito. If you don't, it's easy— trust me! There was no vegetarian burrito option listed on the Blue Iguana Cantina menu, but when we asked, we were told both bean options were in fact vegetarian. A bit of rice, a bit of beans, some avocado, and salsa and boom, happy vegan burritos— with a salsa bar for a ton of side options. Our absolutely favorite favorite meals though (for dinner too) were our Indian options. Being on a cruise before and doing a bit of research on this cruise, we knew we could expect a vegetarian Indian option every night– which again, is very easily vegan-izable. For lunch, we were very, very pleased with the Indian buffet. We would have all, without any problems, had it every day. I made it a point to tell the chefs that they were my favorite. All you had to do was look for the vegetarian Indian option and ask if there was dairy. 75% of the time it was vegan. Oh and vegan samosas? Done. Sold. Happy.
DINNER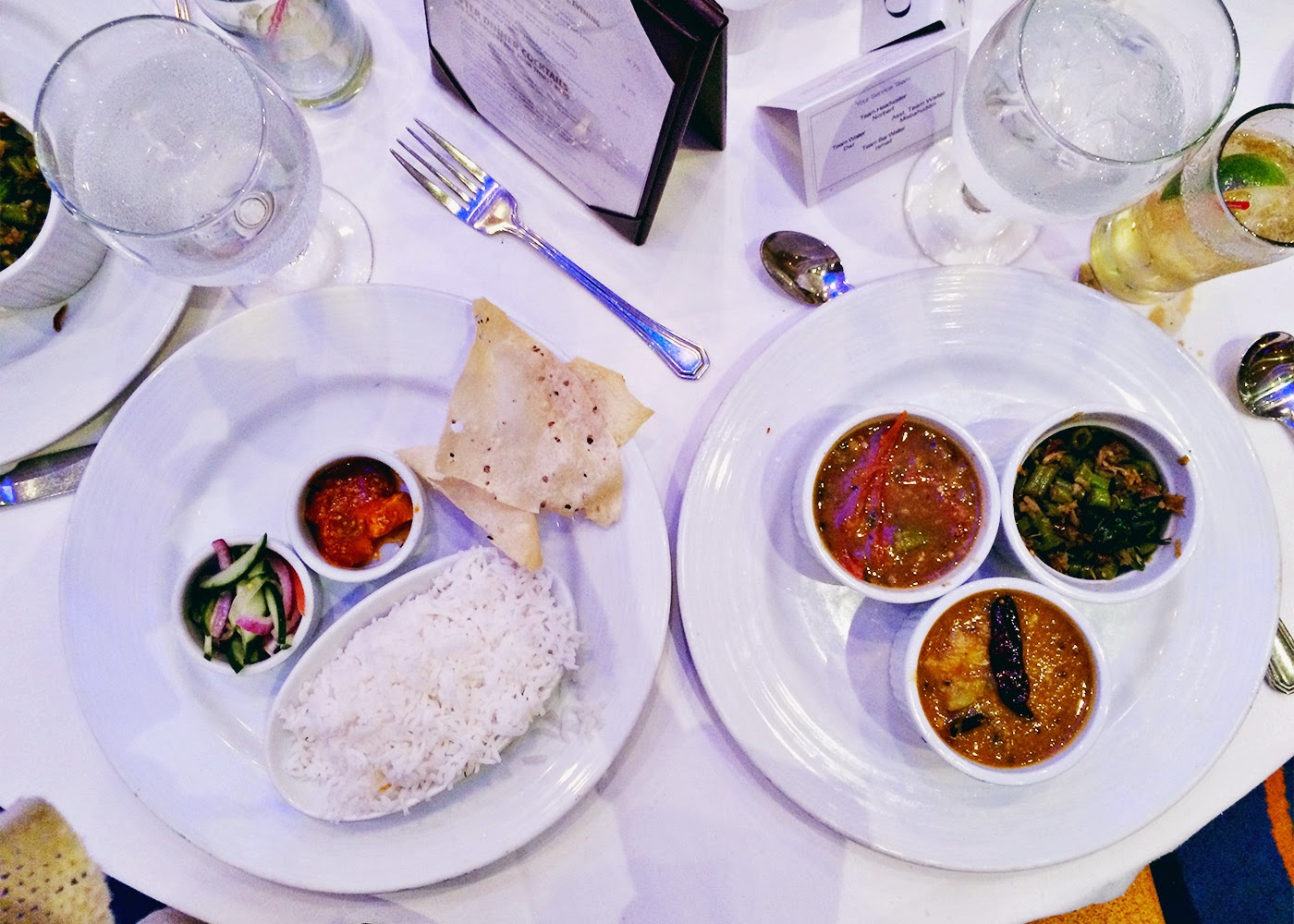 the vegetarian Indian dinner option
Happy. Seriously, if you've been keeping up with What Marlowe Eats at all— then you know her heaven is spring rolls, summer rolls, any vegetable in a rice roll or wrapper.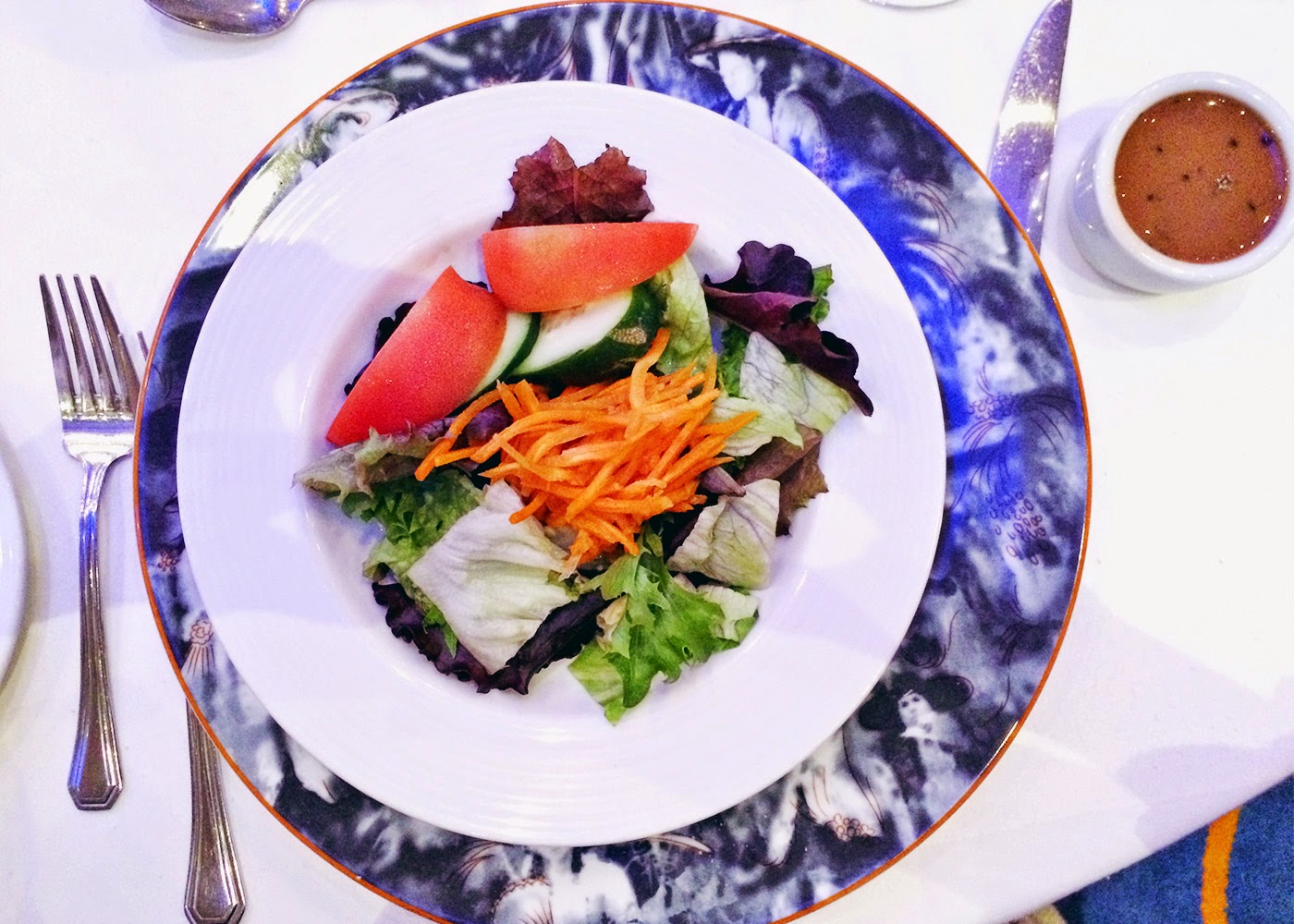 garden salad.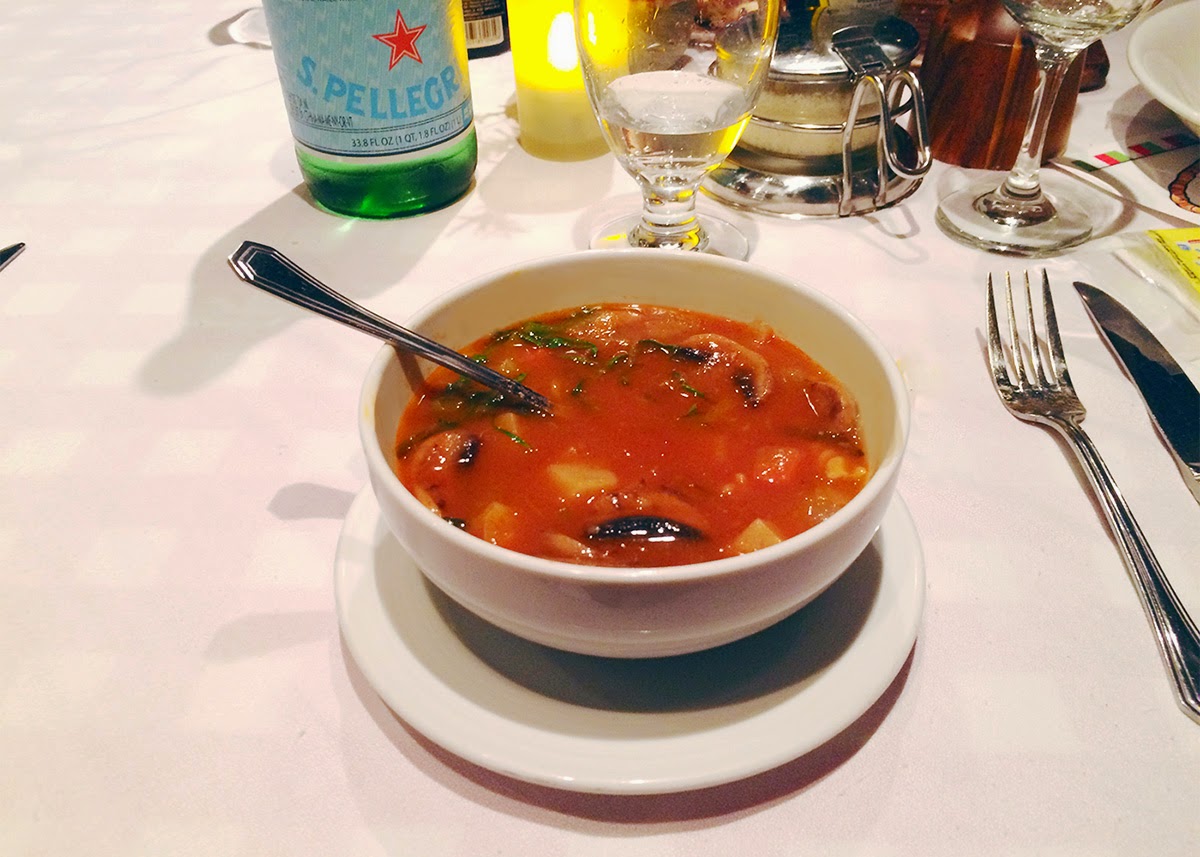 minestrone soup.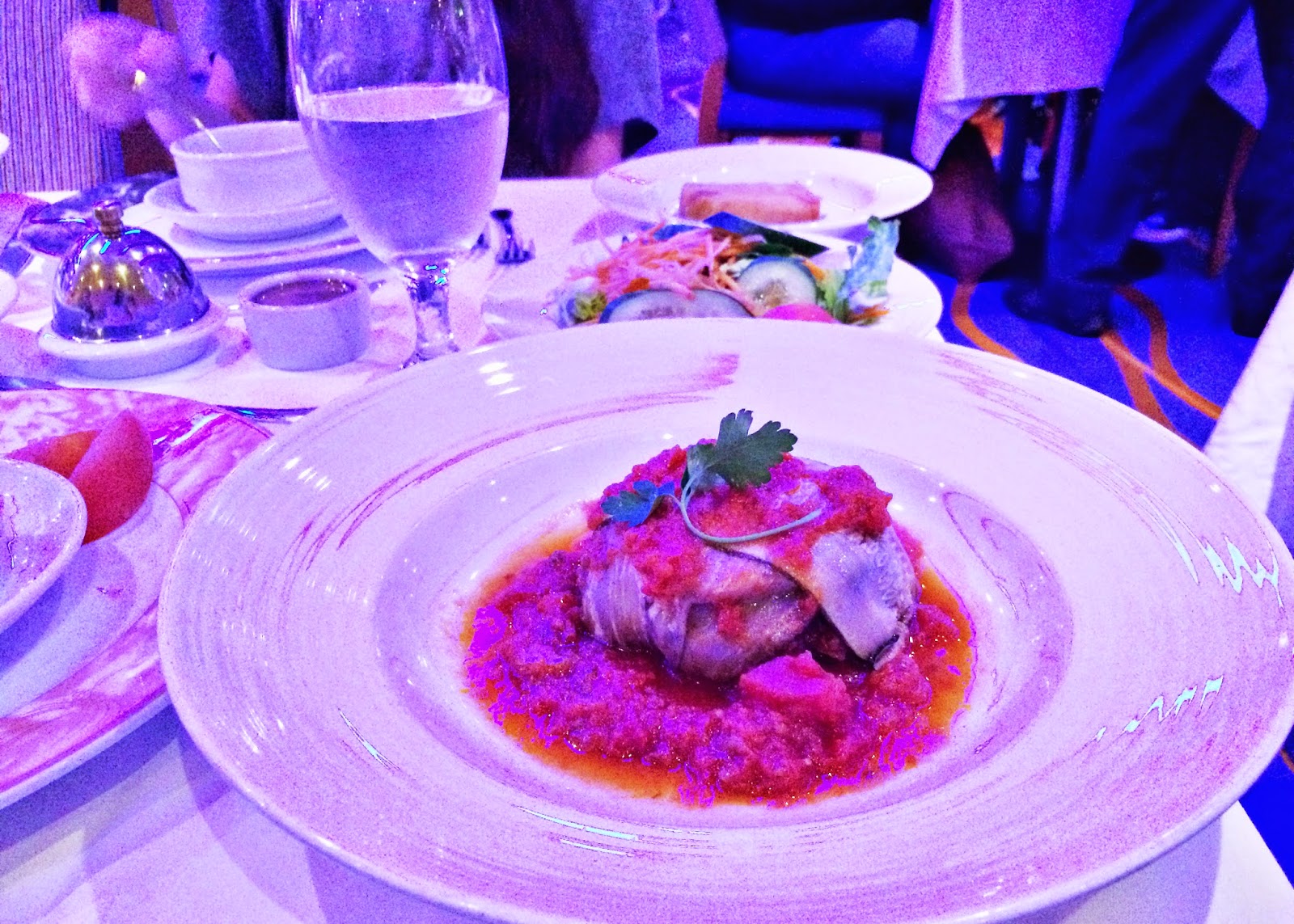 zucchini wrapped eggplant in marinara.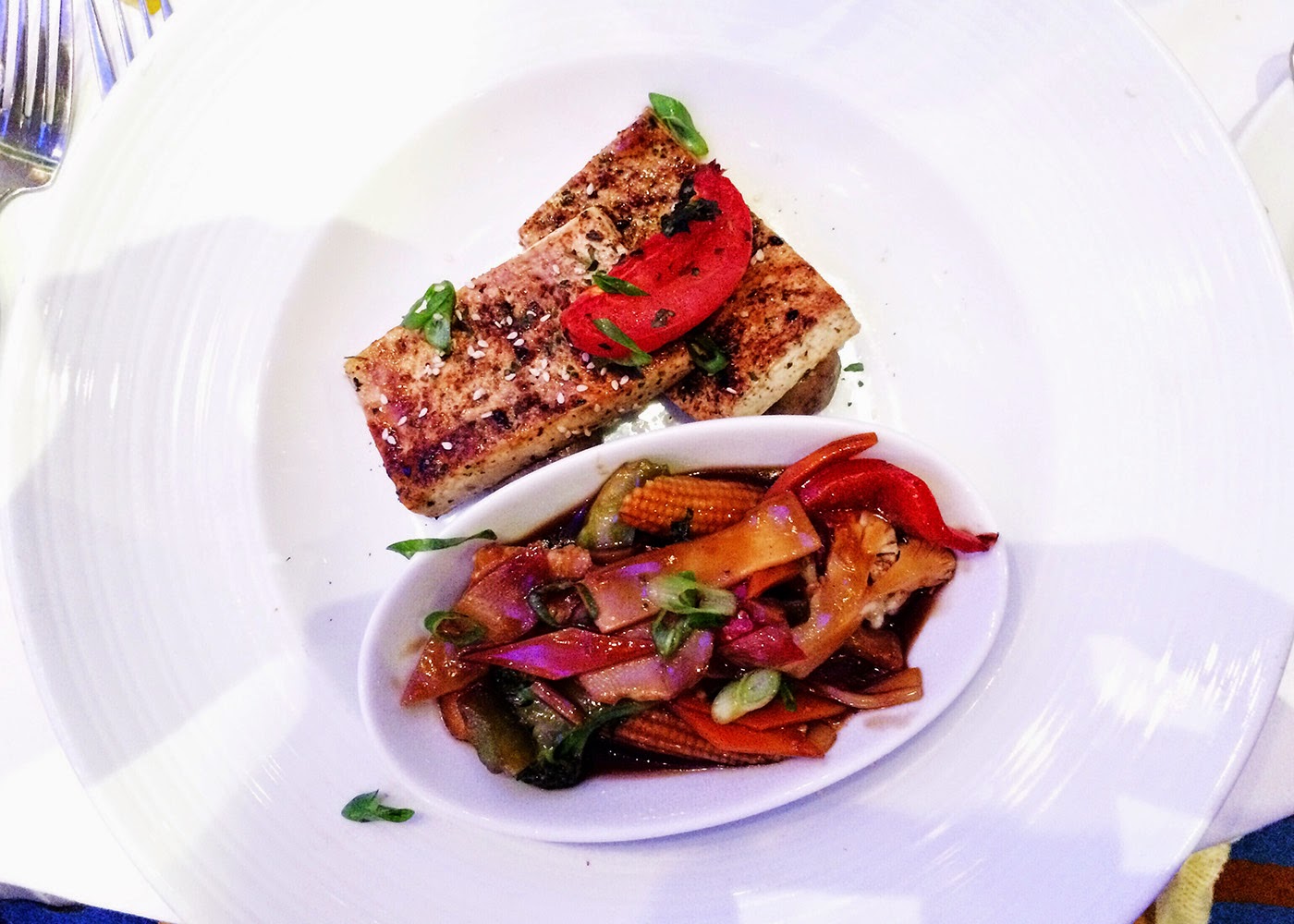 tofu and stir-fried vegetables.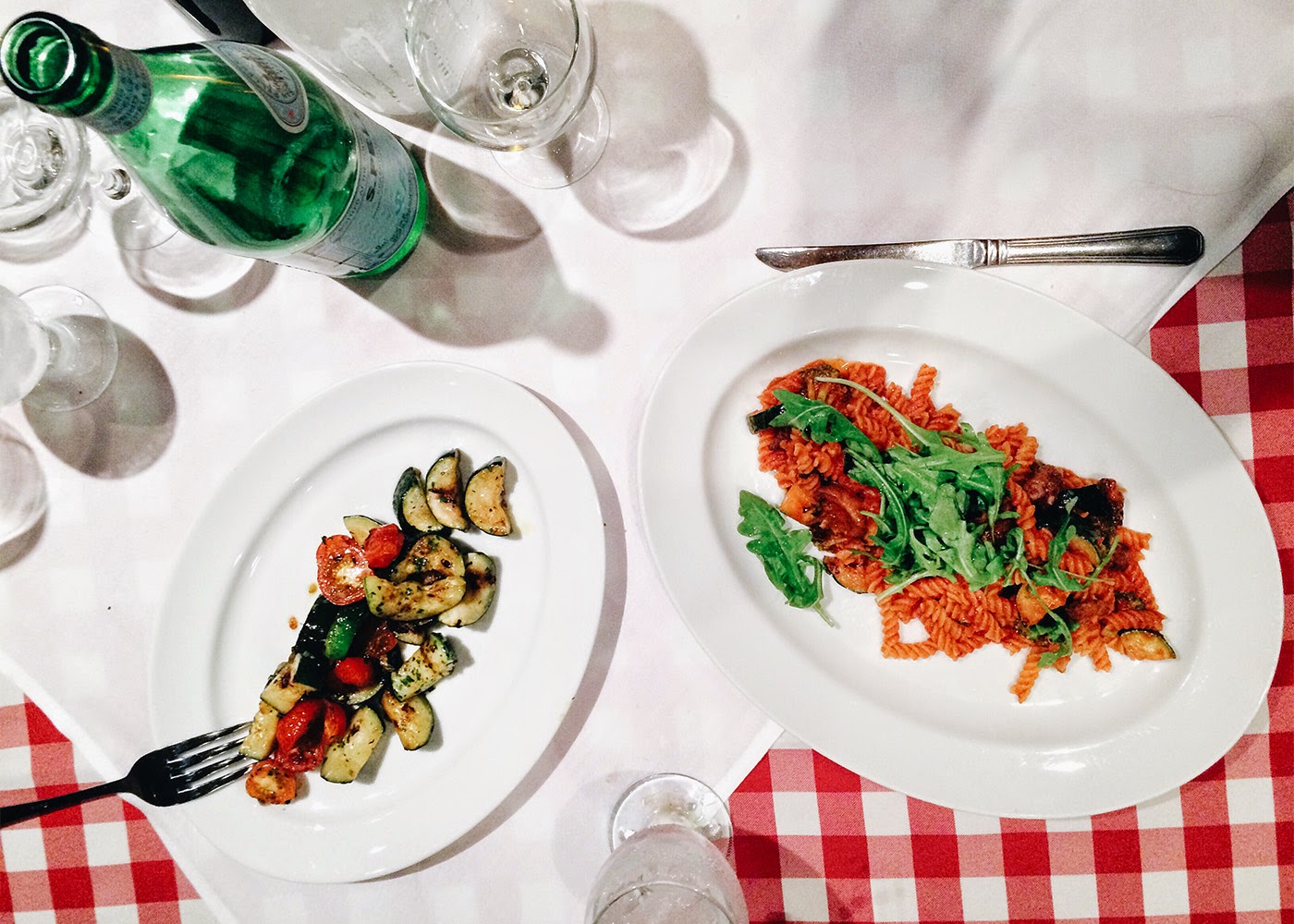 dinner at Cucina del Capitano.
For dinner each night we could expect two menus. One menu of items that we could expect the entire length of the trip. And then a second menu for new daily items. Sometimes our hostess would have a note that we were three vegan diners (and one pescatarian) and sometimes there was no note. Lucky for us, there was also an option even when weren't noted. And honestly, again, we would have been happy eating the Indian option every night. The Indian option changed each night, but we could expect it to be vegetarian/vegan. And every night we had it, we were happy we ordered it.
Almost every night marlowe ordered the vegetable spring rolls, a garden salad, and then would either share my meal or have a smaller dish of her own, like soup or pasta. Sometimes Laura and I shared the Indian dinner, sometimes we didn't. It was definitely the bigger item of all the menu items, so ordering a starter each and then sharing it was perfect for us— sometimes we didn't share and happily scarfed it down separately. Either way, we were tremendously happy with the dining options we found on this cruise— they seemed healthier, more diverse, and a better size than the last (non Carnival) trip we went on together.
 SNACKS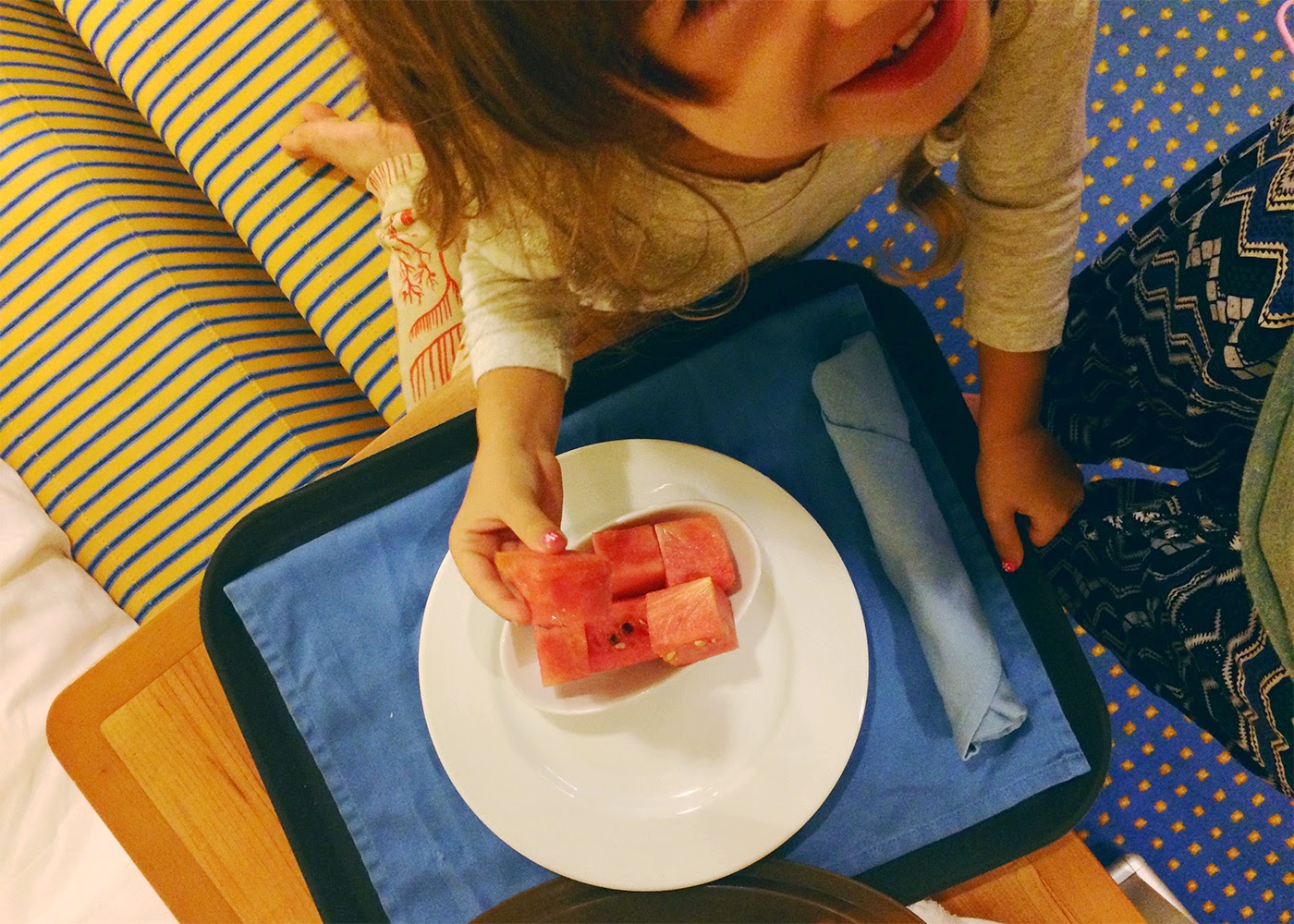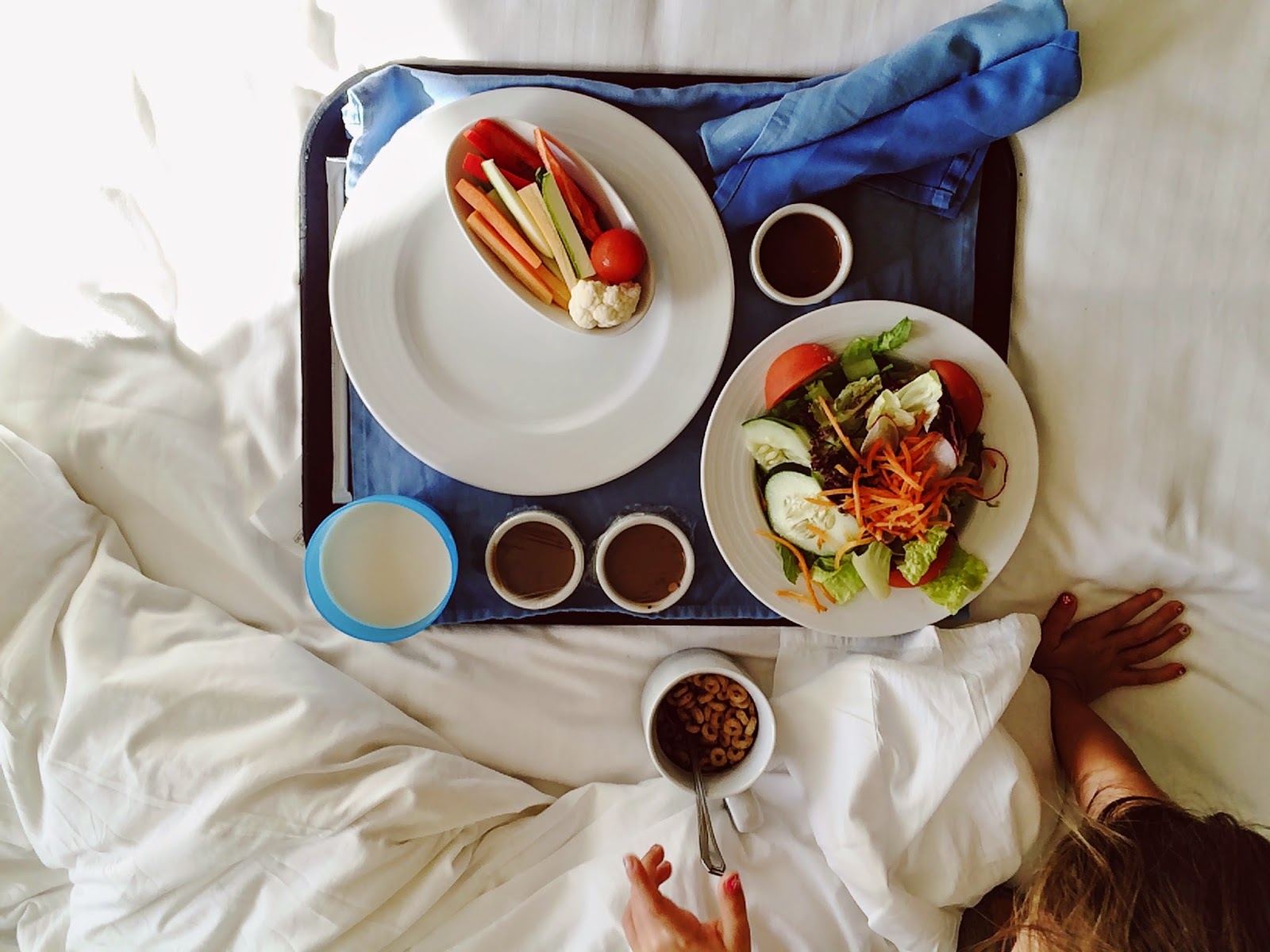 Snacks were typically fruit, cereal, loads of French fries (not pictured), watermelon (often), room service veggie sticks with non-dairy dressing, and more French fries, duh.
OFF THE SHIP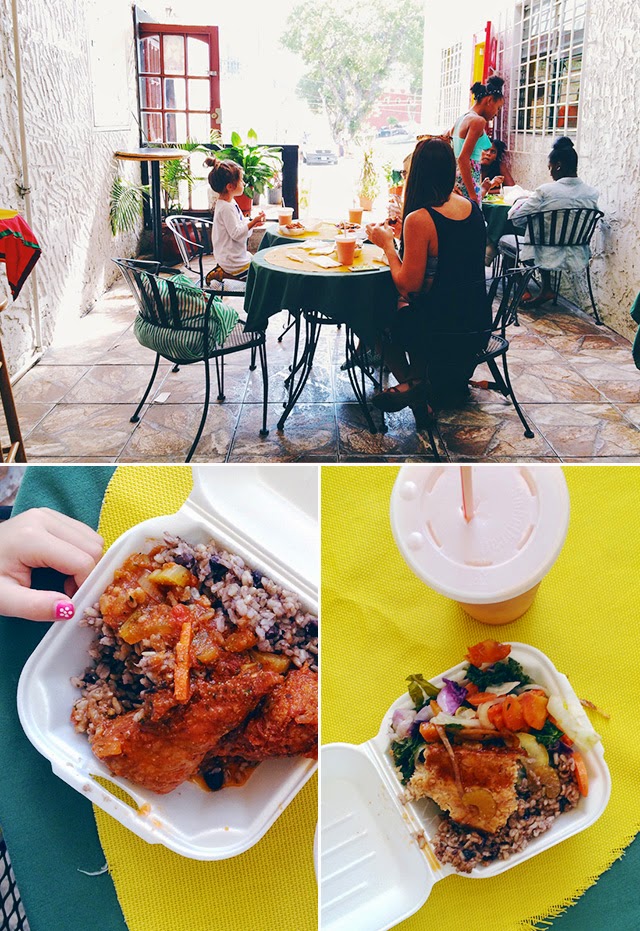 smoothies, tofu, rice and bean, stewed veggies and cabbage in St. Thomas.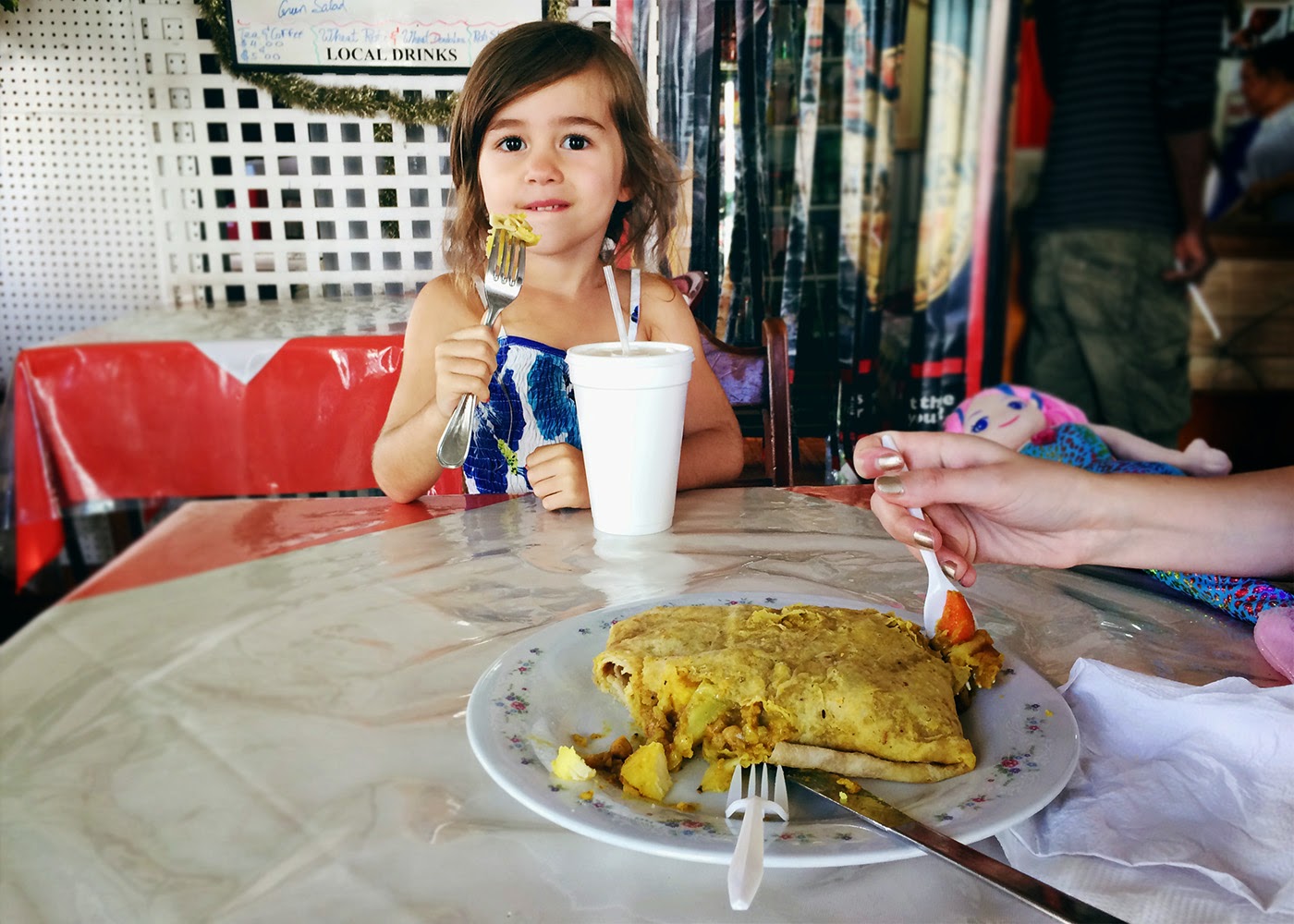 chickpea roti in Antigua. 
Off the ship, our options were many too. At this point, I can say I've found it only incredibly easy to travel as a vegan. We were more than happy off the ship. In fact, Marlowe ate better at restaurants off the ship than she normally eats at restaurants at home. She loaded up on cabbage, tofu, rice and beans, and she tried roti for the first time. The best advice I was offered in Antigua was "find a well-mannered man with dreads and ask him where to go"— which I knew and expected this to already be true (most Rastafari are vegan or vegetarian). There's a decent sized Rastafarian community in the Caribbean, so our veggie options were endless. But really, anywhere would have had something. If it were up to me, I'd be back there now ordering "a little bit of everything" once again.
The the best tips for eating vegan on a cruise?
Just ask. 
The servers, chefs, everyone, they're happy to accommodate.
Let them know. 
It's always good to let the head chef of any restaurant know if you have a specific diet or allergies. Again, they're happy to accommodate, but a note prior to dining is always helpful. You can make arrangements with the dining staff upon boarding the cruise ship.
Try a little bit.
Try new foods. It's a great time. My best advice for this though, especially for the buffets is, just grab a little bit of food and try it first. No need grabbing a whole plate of something new if you're unsure about it. Try a bit, and if you love it, go back for more!
Have fun.
You don't have to follow some set dining rules, besides dining time (if you choose). Maybe you want to eat French fries with a bowl of cereal— you CAN do that!
No worries, it's easy.
Most vegetarian stuff is easy to be made vegan. And the Indian options were plentiful and incredibly delicious. But even if you don't want to eat Indian food everyday, you wont starve or be forced to eat only carbs. As you can see, there were a lot of options— and I didn't even photograph everything! At the end of it, I didn't leave the cruise feeling deprived or like I gained ten pounds or and felt bogged down by over-consumption of French fries— I actually left feeling pretty good and super happy with every meal I ate during the entire trip! We all did 🙂
Happy dining!
This post was created as part of my collaboration with Carnival. As always, all of the opinions, thoughts, and ideas in this post are my own.