It's winter in New York and everyone is dreaming of escaping to somewhere warm. And why wouldn't they? The sun is down by 5:00 PM, temperatures are dipping below freezing, and dirt-covered sludge puddles are on every street corner.
For years, this would be the time when I would start searching for cheap fares to somewhere tropical — some Caribbean island where I could lay out on the sand and relax.
Plenty of New Yorkers feel the same way, as tons of them lined up for a chance to win a Carnival Cruise! The air might have been frozen, but that didn't stop people from dreaming of tropical vacations!
Carnival's #ChooseFun® event took place in December in Greeley Square in Manhattan. Domes were set up with warm air and tropical music playing, People lined up to take a personality quiz at a vending machine, and once submitted, they would receive a can of air from the Caribbean that they could open and smell.
A can of air? Seriously! The cans were infused with all kinds of scents from the Caribbean. Island coconut from Cozumel. Rich coffee from Puerto Rico. Sugarcane rum from St. Kitts. And salt-soaked ocean breezes when out at sea. My favorite was the fresh guavaberry from St. Maarten.
95% of Americans say that scents can trigger travel memories. That doesn't surprise me — the slightest hint of pine trees takes me back to my childhood summers camping in New Hampshire. But what did surprise me is that 56% of Americans say that a scent has motivated them to plan a vacation.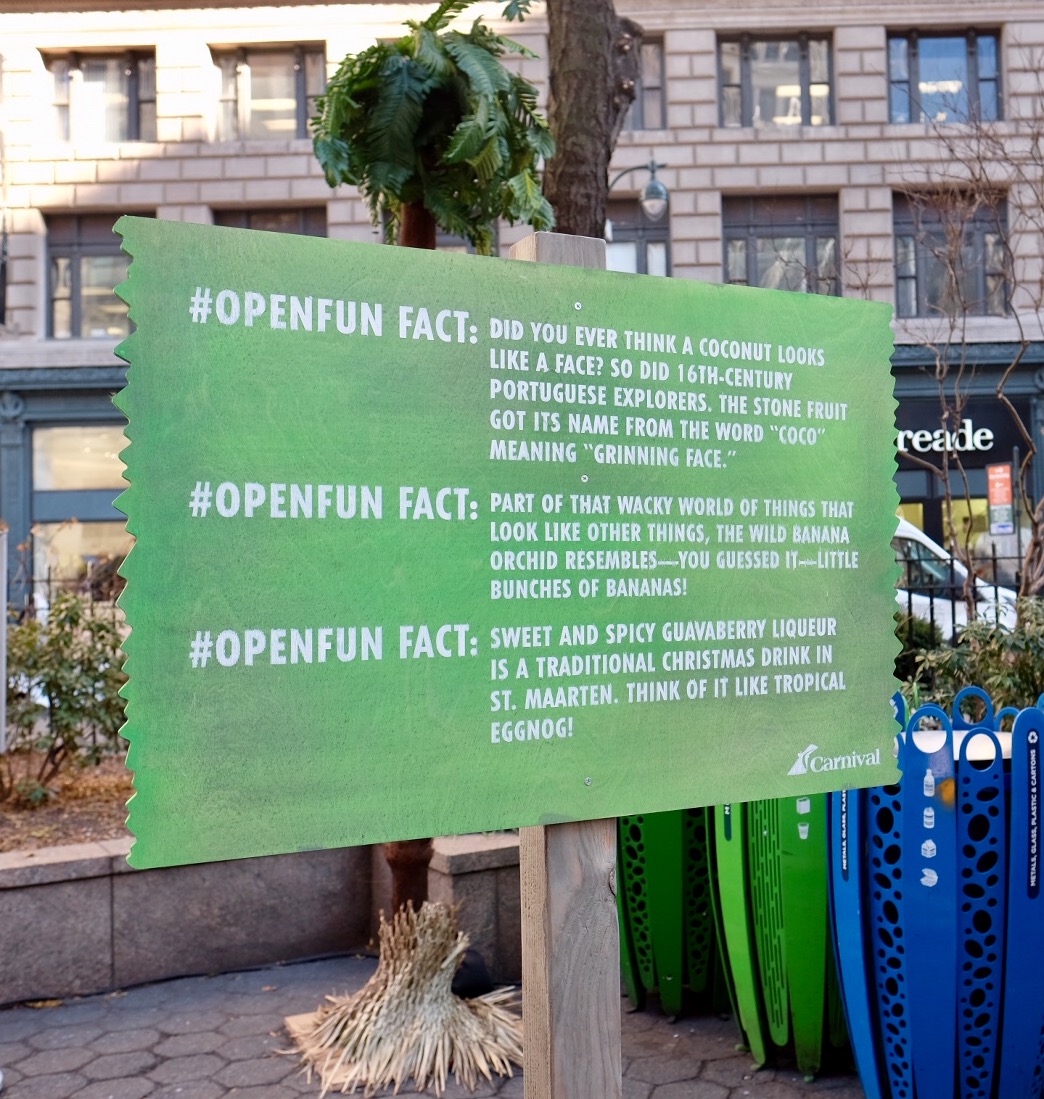 I can understand that. When you open a can of coconut-scented air on the coldest day of the year, I bet you'll have a hard time not planning a tropical getaway of your own!
Soon it was my turn to take the quiz and see what suited my personality the best. Would I prefer lounging on the beach or having an adventure? Absolutely adventure! Would I prefer seeing shows or dancing at night? Definitely dancing!
Soon I got my can: it was filled with the scent of banana orchid from Grand Cayman, an island I have yet to visit. (Well played, Carnival. I see you telling me where to go next!) I took off my gloves to open the can and breathed in the ethereal banana scent, a taste of the tropics that whisked my mind away to somewhere much further south.
Dozens of people were lined up throughout the day. Best of all, 20 different people who entered won free Carnival cruises on the spot! One lady won while I was in line and we cheered her on, watching her celebrate with her husband.
In addition to giving away trips, this pop-up announced Carnival's newest ship, Carnival Horizon®. It comes with new bells and whistles: Carnival's first-ever teppanyaki restaurant as well as Guy's Pig & Anchor Smokehouse | Brewhouse with brewed-on-board beers, and the SkyRide®, a "bike through the sky" attraction on board. There's plenty more fun in the Caribbean than just the islands!
Also worth noting is that the Caribbean is still open for business and a safe place to visit this year. While several islands weathered a difficult hurricane season in 2017, the vast majority of the Caribbean is operating business as usual and eager to show visitors the vacation of a lifetime.
As I took my banana orchid can home (surprise! They smell good for days!), I started thinking seriously about a winter cruise vacation. Knowing that a warm, fun vacation is a few hours away — and especially knowing that the Caribbean is open for tourism — is pushing me a little closer to booking that trip!
 This post was created for Away We Go with Carnival, the destination for getting in the getaway state of mind.
Note: Onboard activities, shore excursions, and dining options may vary by ship and destination.