In my recent 12 Things to Know Before Your First Cruise article, I mentioned that one of the most frequently asked questions I hear about preparing for a cruise is: "What do I wear?" While my answer was simplified in the interest of brevity for that article, I want to delve a little deeper in today's vacation planning post,which is sponsored by Carnival. I'll not only tell you everything you need to wear, but what to pack for a cruise in general. I'm a big time planner and I have found that a well-packed suitcase makes for a much more enjoyable cruise vacation!
1. Bring activity-appropriate clothing and shoes.
Before you begin packing for your cruise, take a look at the itinerary on the cruise line's website. Where are you going? What shore excursions have you booked? Do you plan on dining in the formal dining room, or only hitting the casual buffet each night?
Formal Attire
For most cruises, you'll want to bring at least one formal outfit for "formal night." For women, this can mean anything from a nice dress to a ball gown. Men will want to wear a collared, button up shirt and tie with trousers and dress shoes. On Carnival cruises, ties aren't required, but many men choose to wear them, as well as sport coats, on Cruise Elegant Dining nights. While men can wear a suit or tuxedo, it is not a requirement on most cruise lines. Think "Sunday Best" at the very least.
Bathing Suits and Cover Ups
Most people take a cruise vacations in the Caribbean because they want to spend time at the pool and on the beach during their shore excursions. Make sure to bring at least two bathing suits, as it can take a while for them to dry out! While you are allowed to wander around in your bathing suit, clothes and shoes are required when entering the restaurants and casinos, so bring along at least a few bathing suit cover-ups, sundresses, or shorts and tee shirts.
I recommend that women wear a bathing suit cover up that looks like a sundress, or actually IS a sundress, when going on shore excursions. You may be going to the beach, but there may be other stops along the way and you'll want to look like your dressed.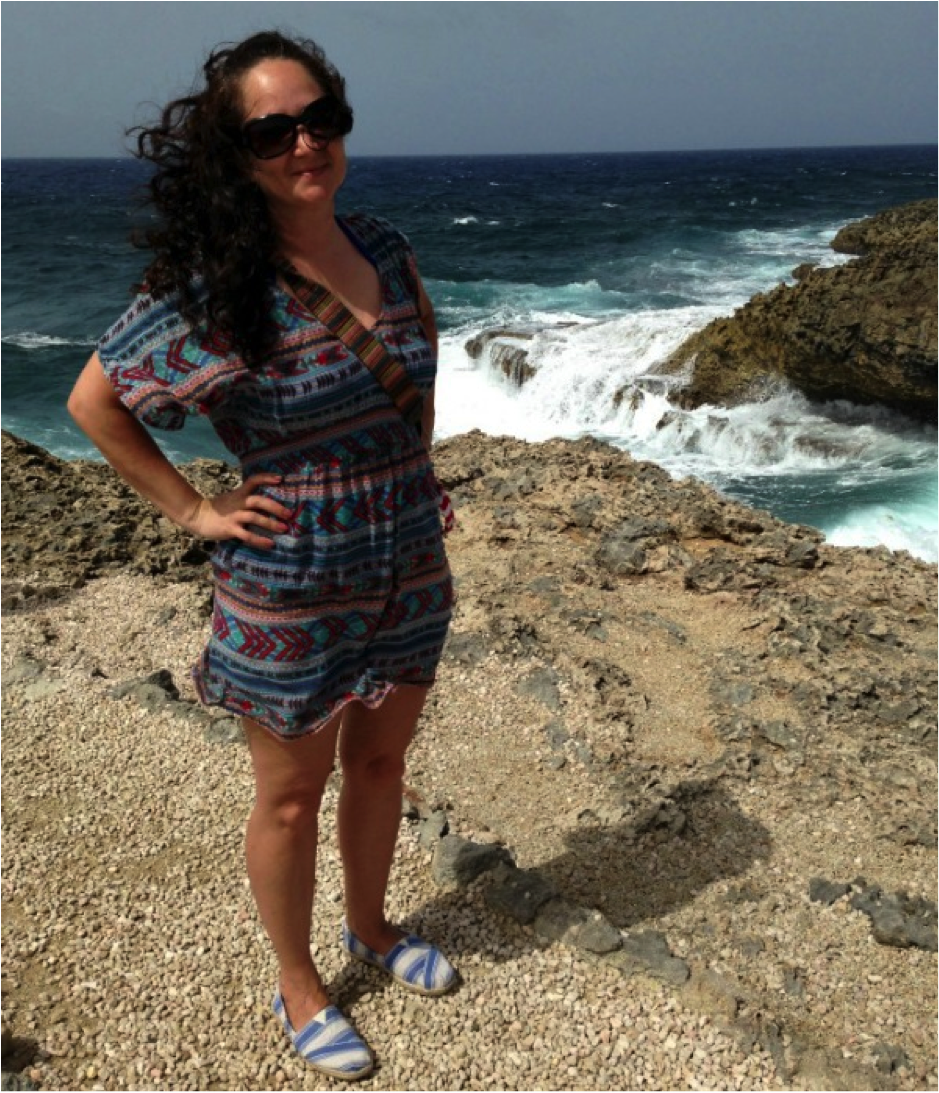 Don't Forget to Bring a Sweater
While you're cruising to a Caribbean island, you might not think you will get chilly, but it can get downright cold on the open water at night. Restaurants and the casino can also be a bit chilly, and you'll want a lightweight sweater or pashmina to keep you warm.
2. Bring a Back Pack or Beach Tote
When you leave the ship for a beach-day shore excursion, you'll want something to carry your beach items in. Bring a tote bag or back pack from home so that you aren't stuck juggling towels, sunscreen and your book!
A tote bag also comes in handy if you want to do a little shopping at the cruise port. It's much easier to throw everything you purchase into a tote bag than struggle to carry around several shopping bags.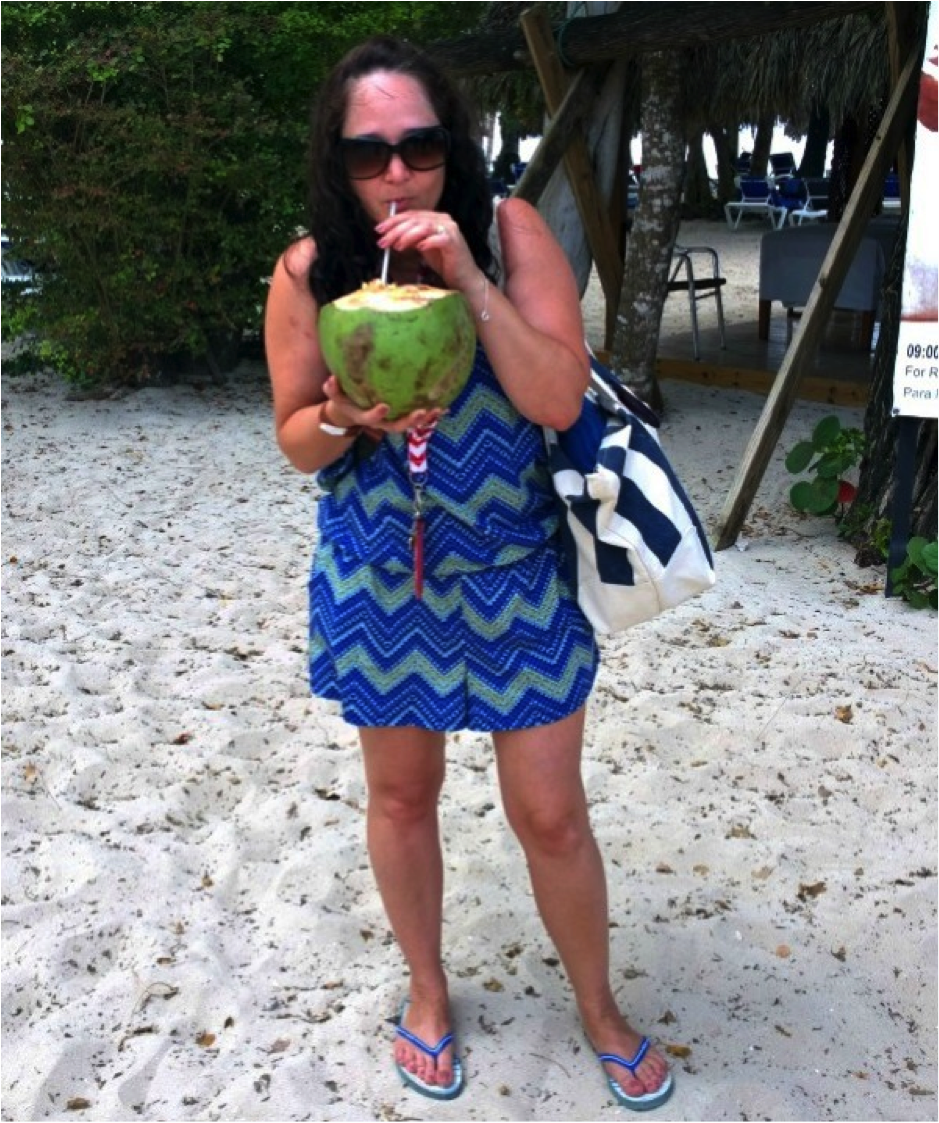 3. Bring Sunscreen and After-Sun Lotion
I recommend bringing at least one bottle of sunscreen/sunblock per person in your party. Whether you're spending the day at the pool or laying on the beach during a shore excursion, you'll go through more sunscreen than you can imagine! Remember to apply sunscreen liberally and often – especially if you are cruising somewhere sun-soaked like the Caribbean, where the heat and humidity cause you to sweat more often that you would elsewhere.
I always bring a bottle of after-sun soothing aloe gel, just in case we get sunburned. If you burn easily, this is a must to help you heal quickly. You don't want to waste your vacation stuck indoors because you're in too much pain to go have fun!
You might also want to bring along a sun hat or a visor, especially for children who will spend all day in the sun! It's much easier to prevent a sunburn than it is to deal with one.
4. Bring Your Own Toiletries 
While many cruise lines offer complimentary shampoo and conditioner in stateroom bathrooms, they aren't likely to be the products you use at home. I always bring my own shampoo, conditioner and of course, my hair care products.
I also recommend bringing a travel-sized air freshener for the bathroom – there isn't a lot of ventilation and you can't simply open the window like you would at home.
Don't forget to bring a razor and shaving cream if you're going on a longer cruise!
5. Bring Medications for Upset Stomach and Motion Sickness
I recommend packing a small first aid-style kit full of your common medications like pain relievers, upset stomach medication, anti-diarrhea, Benedryl (if you suffer from any allergies), and a motion sickness medication. You can also buy Sea Bands, which you wear on your wrists to help combat motion sickness. Most of these things are sold in the cruise shops, but they're quite expensive compared to what you'd pay at home. Plus, who wants to trudge down to the cruise shops when feeling under the weather?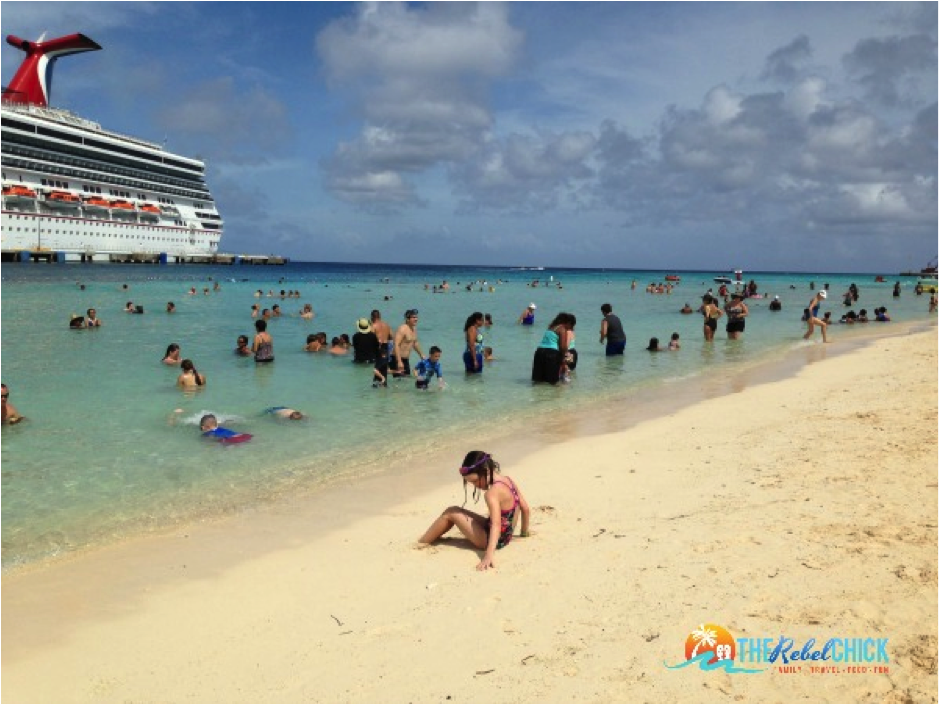 6. Bring an Underwater Camera
If you are going on a cruise and plan to go snorkeling, scuba diving, or to a water park, I suggest bringing a waterproof camera (or, if you're cruising with Carnival, you can rent one onboard the cruise ship from the shore excursions desk). Angeline and I went snorkeling in Grand Cayman once and I was so disappointed when I realized that I had forgotten our waterproof camera at home! It's so much fun to be able to take photos not only under water, but just while you're on the beach or splashing in the waves! You can also purchase a waterproof phone case or a waterproof camera bag, which will cost you less than a camera. 
7. Bring Cash for Tipping
If you plan on doing shore excursions, it is customary to tip your tour guides, bus drivers, etc. Bring cash so that you aren't left feeling awkward when it's time to go back to the port and the tour guide makes a speech about how much they appreciate tips!
8. Bring a Portable Back Up Battery Charger
While you are out at sea, I recommend turning your cell phone on airplane mode to avoid incurring roaming charges. I usually use my phone to take a lot of photos while cruising, and my battery tends to die fairly quickly. Most staterooms only have one US electrical outlet and one European outlet, and taking turns charging your electronic devices means that you won't always have a full charge. Bring along a portable back up battery charger so that you have a back-up plan when that low battery light starts flashing!
You can also bring along an outlet adapter to make using the European outlet easier. 
These are the essentials that go into my suitcase whenever I begin to prepare for a cruise vacation. Do you have any additional suggestions?
This post was created as part of my collaboration with Carnival. As always, all of the opinions, thoughts, and ideas in this post are my own.