Last week my little Munchkin turned TWO! Can you even fathom that?
TWO YEARS OLD! He is growing so freaking fast! It's like yesterday I was stroking his newborn head with his George Costanza hair and staring into those squinty blue eyes and now he is officially a toddler! If you follow us on Instagram (@bowerpowerblog), then you know that we went on Carnival cruise with the boys and my parents. It was a BIG deal. Firsts out the wazoo. First airplane rides. First time out of the country. First time on a cruise ship. First time eating alligator. First time all five of us slept in the same room. Oy. And during that cruise, we decided that we would celebrate Weston's birthday. Usually we do a big party every other year and a small family get together on the odd years….so this was the perfect opportunity to make his big day special with something completely out of the box.
We spent his actual birthday bouncing around the island of St. Thomas. Let me tell ya….this place is what dreams are made of. It. Was. Gorgeous. Like something you see on a post card. White sands. Green mountains. Colorful houses peaking out of the hillside. I can give you the full rundown of the island later in my cruise recap posts….but for my little Munch, the beach was the perfect location to get some of those two-year-old wiggles out.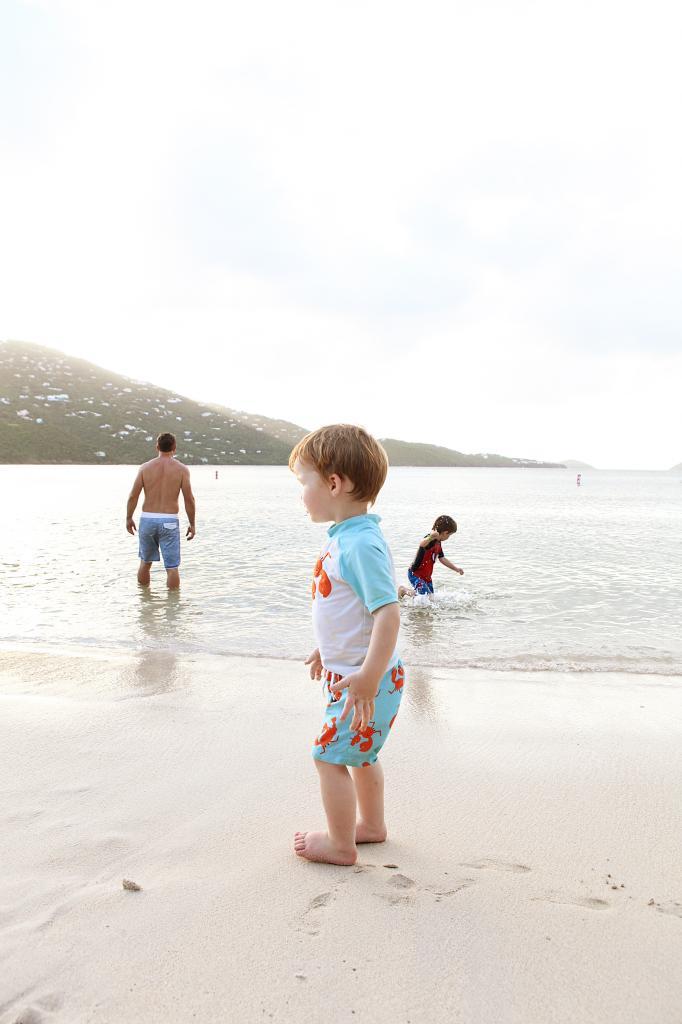 I didn't photoshop that sun flare into the photo. It was exactly like this photo shows….glowing! The water was super still even though we were on the Atlantic Ocean. And the boys would run out, gather as many little pieces of coral shells as they could find and bring them back to their stash. Then the throwing would begin. It was all skipping stones and kerplunking coral.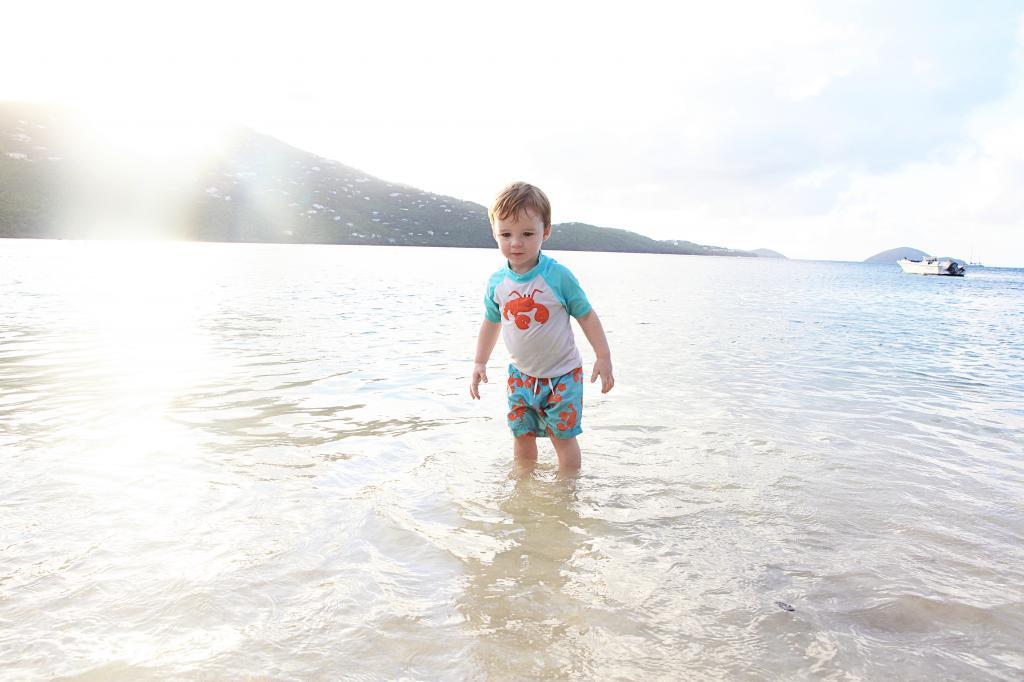 I was amazed by the small crowds on the island. I expected LOADS of people, because St. Thomas is so often highly ranked as one of the best islands (in the world), and because if it is good enough for Bella and Edward to honeymoon here….it's good enough for most humans.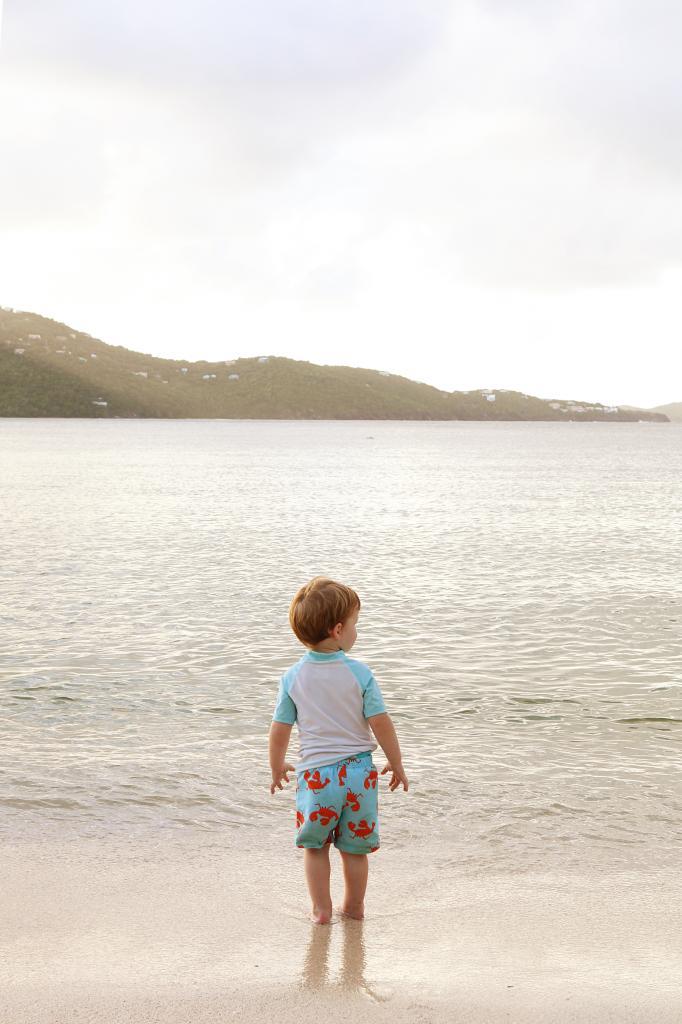 Honestly….just look at this….tell me you don't want to celebrate your next birthday here….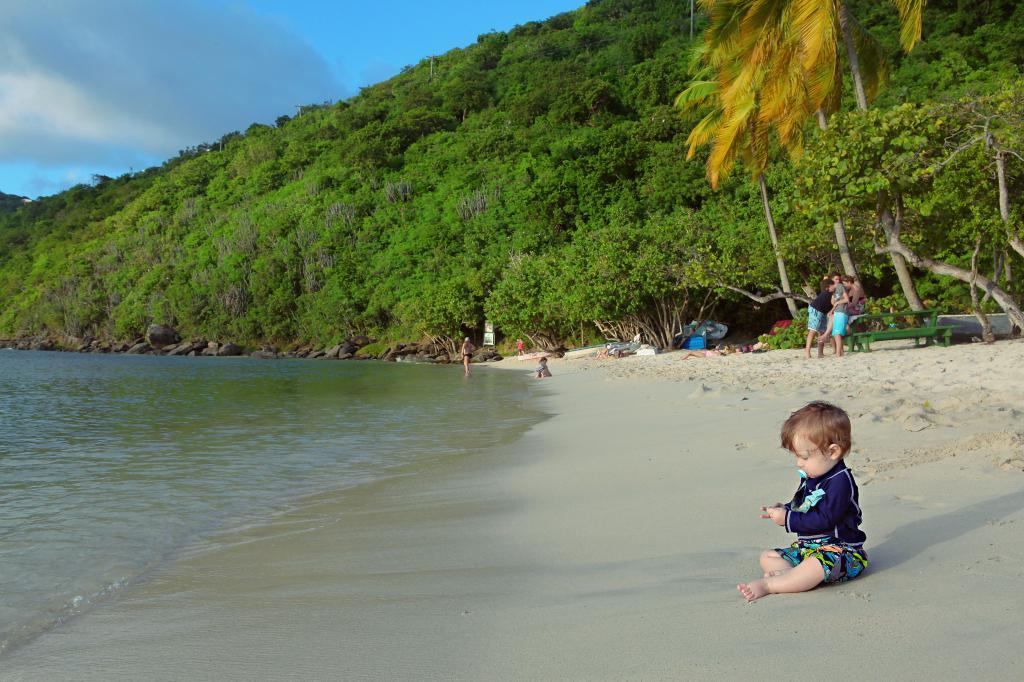 We hung out till the sun set over the hillside and then jumped back into our taxi and headed back to the ship ready for more fun.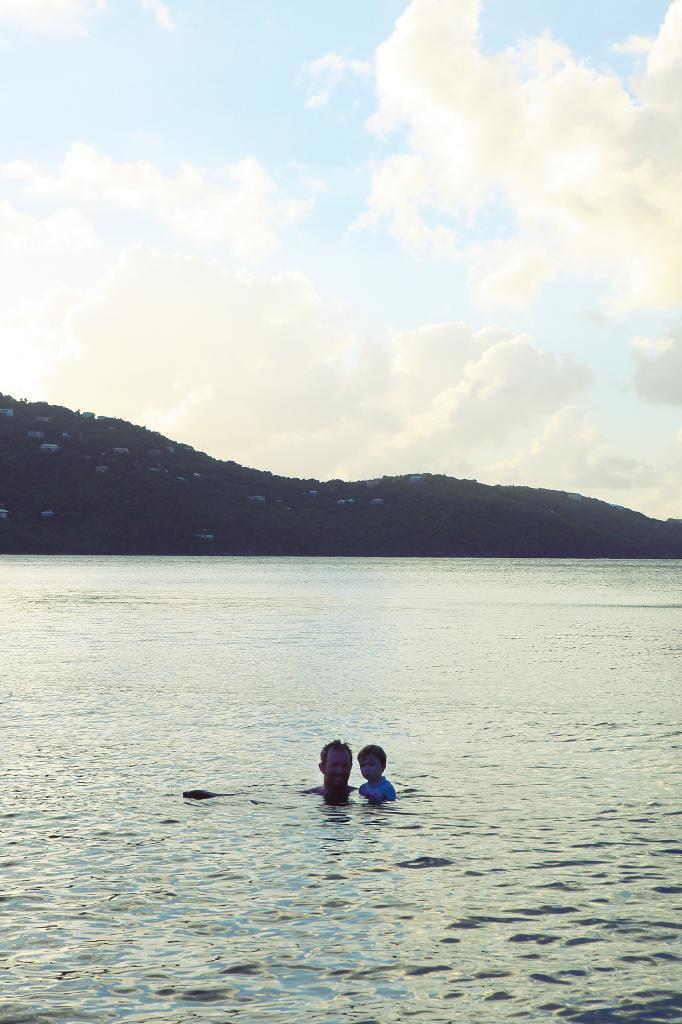 The day that we 'celebrated' Weston was a couple days later. We waited because we had a full day of fun planned and we wanted to do it all on a 'sea day' so that we would not be distracted. Weston woke to a room full of streamers and balloons (I had to sneak into the bathroom to blow up all 24 balloons…one for each month of his wee life…and then back into the room to hang the streamers in the dark!). We had picked up a couple presents for him on the ship, including two new Dr. Seuss books and a Cat in the Hat stuffed animal for him to squeeze. Then we got all ready for our big birthday breakfast….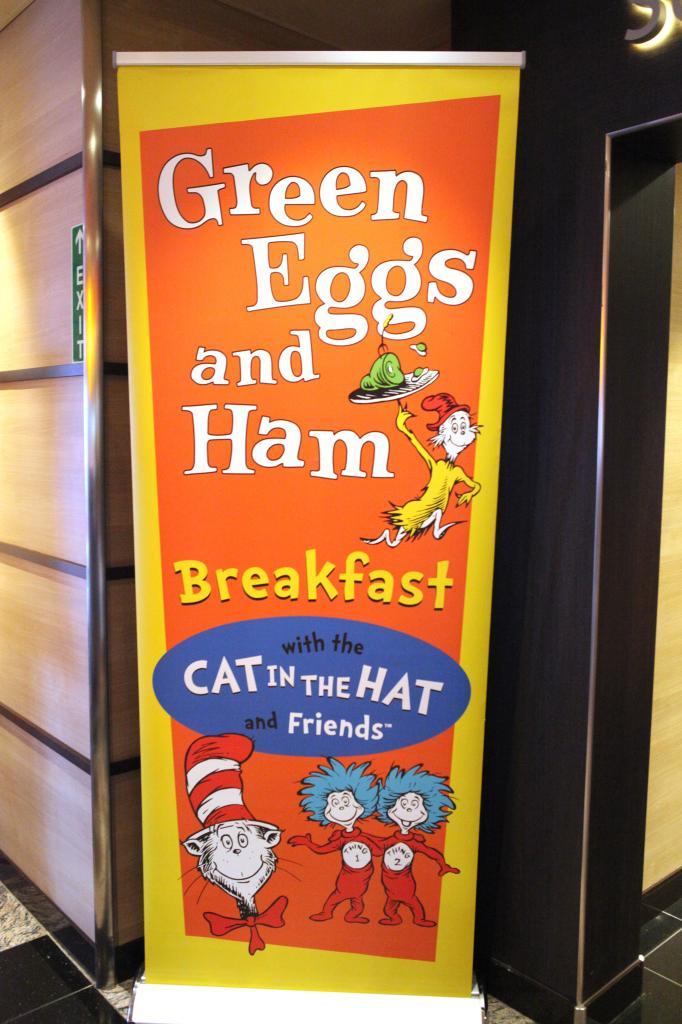 The Green Eggs and Ham Breakfast with The Cat in the Hat and Friends was so much fun. If you go on a Carnival cruise….make sure you go…the kids were so excited. And did I mention the decorations? SO CUTE.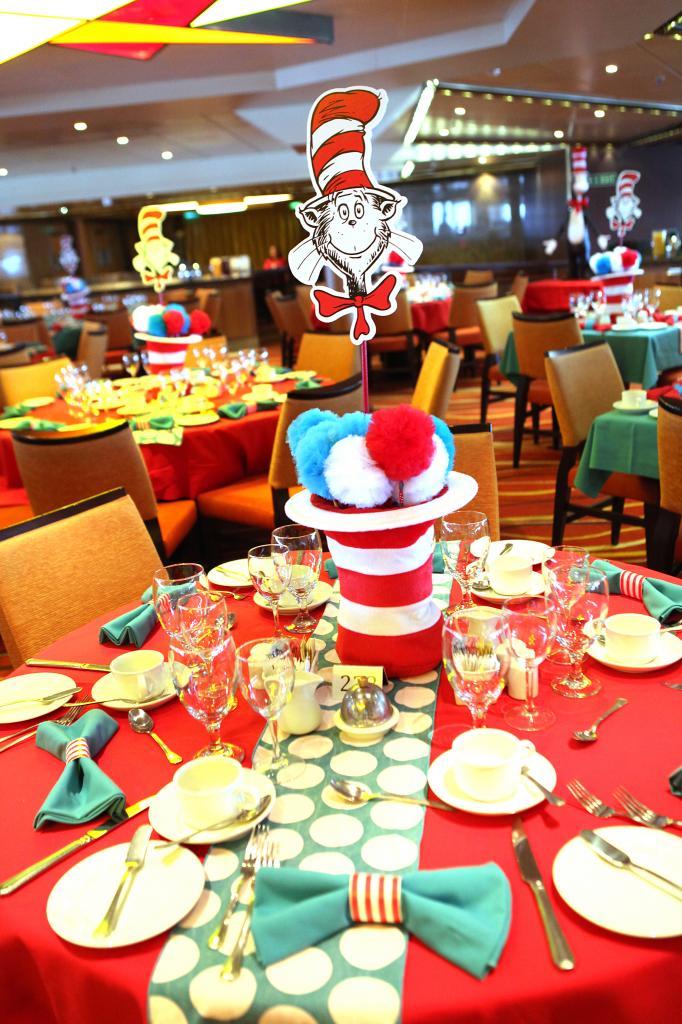 There was even an ice sculpture that thoroughly impressed my mother. She could not get over it.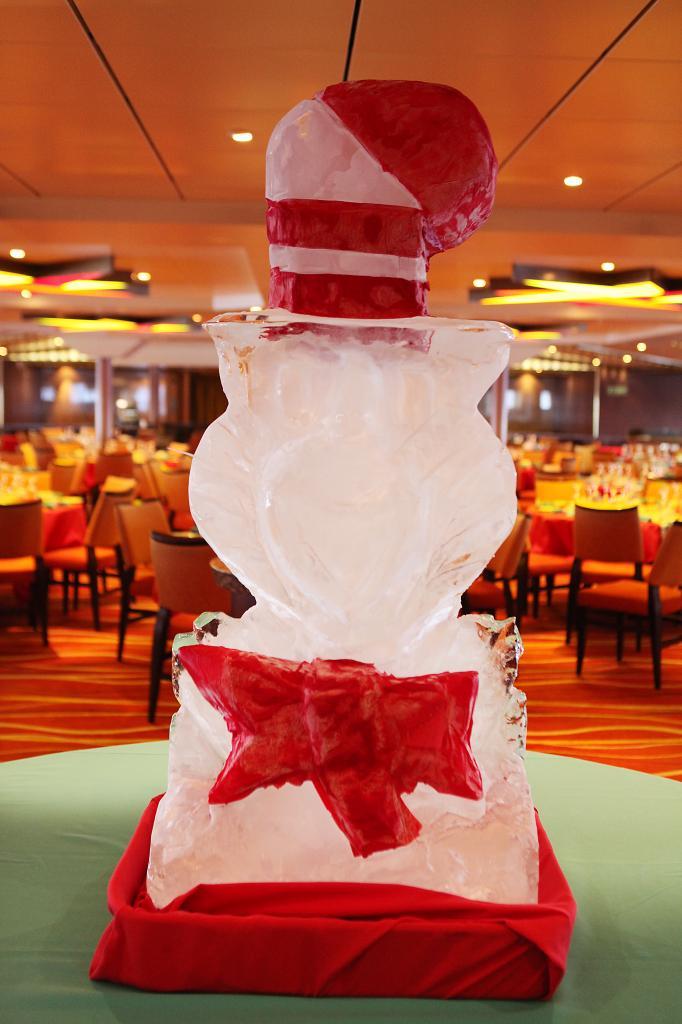 Weston ordered "From There to Here, From Here to There, Funny Belgian Waffles are Everywhere," and this is how long he could wait to eat….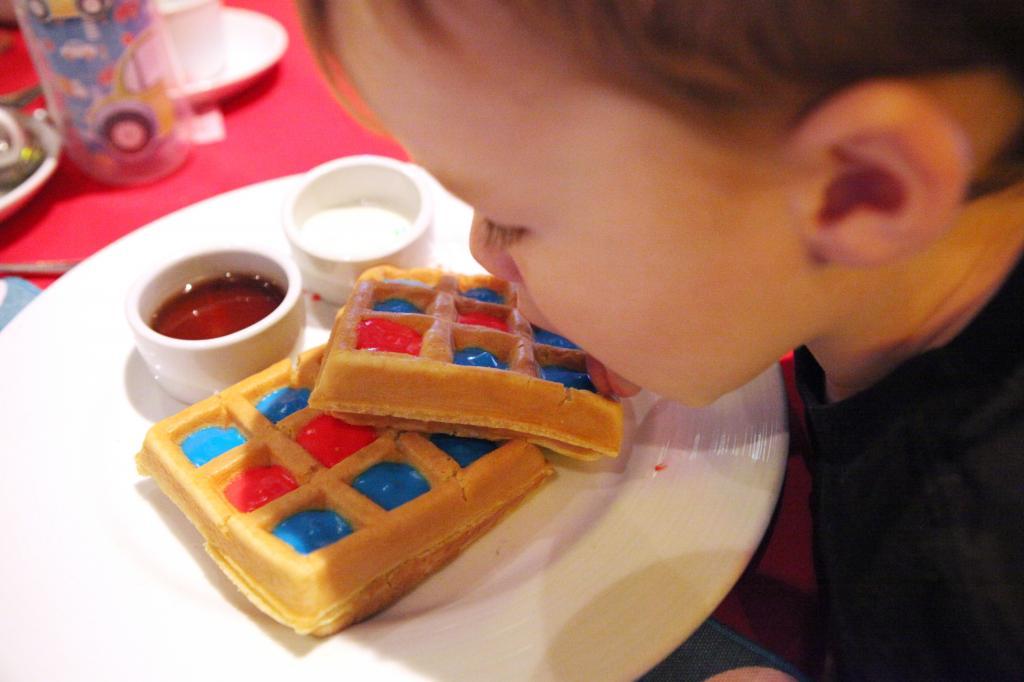 Will got "Do You Like Green Eggs and Ham?"….and boy were they GREEN!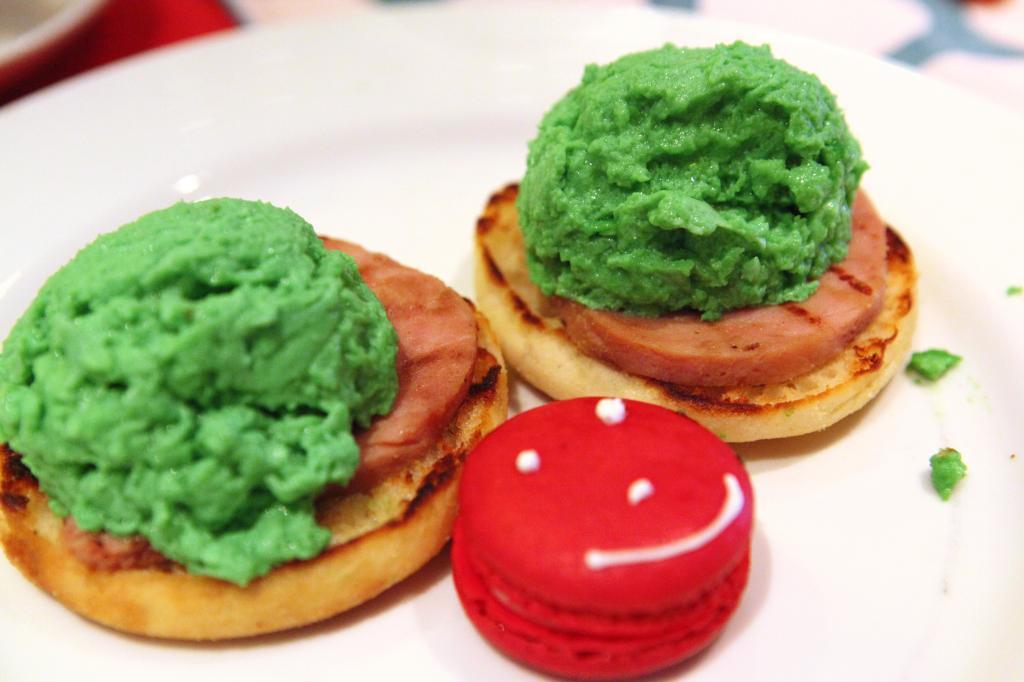 I ordered "Truffula Tree Pancakes," and Jeremy ordered funky french toast that were covered in colorful crunched up Fruit Loops!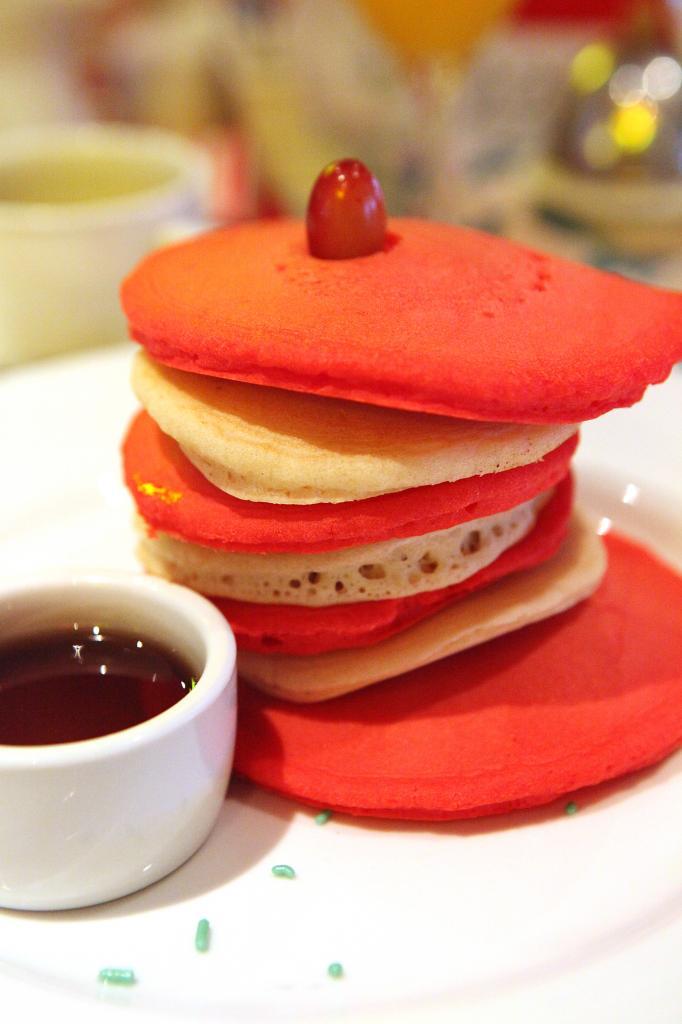 We also got to meet the characters of the Dr. Seuss books including the Cat in the Hat, Sam-I-Am and Thing One and Thing Two. Weston was terrified of them but Will could not wait to give them all the biggest hugs.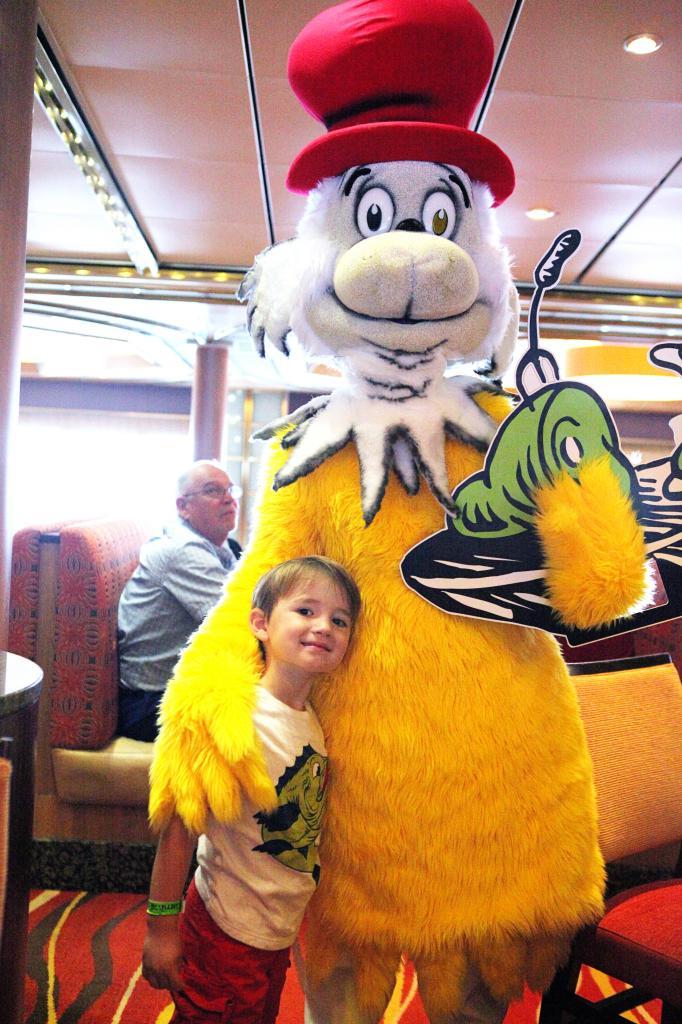 My parents were excited too because all that character hugging got Will in the mood to hug just about everyone 🙂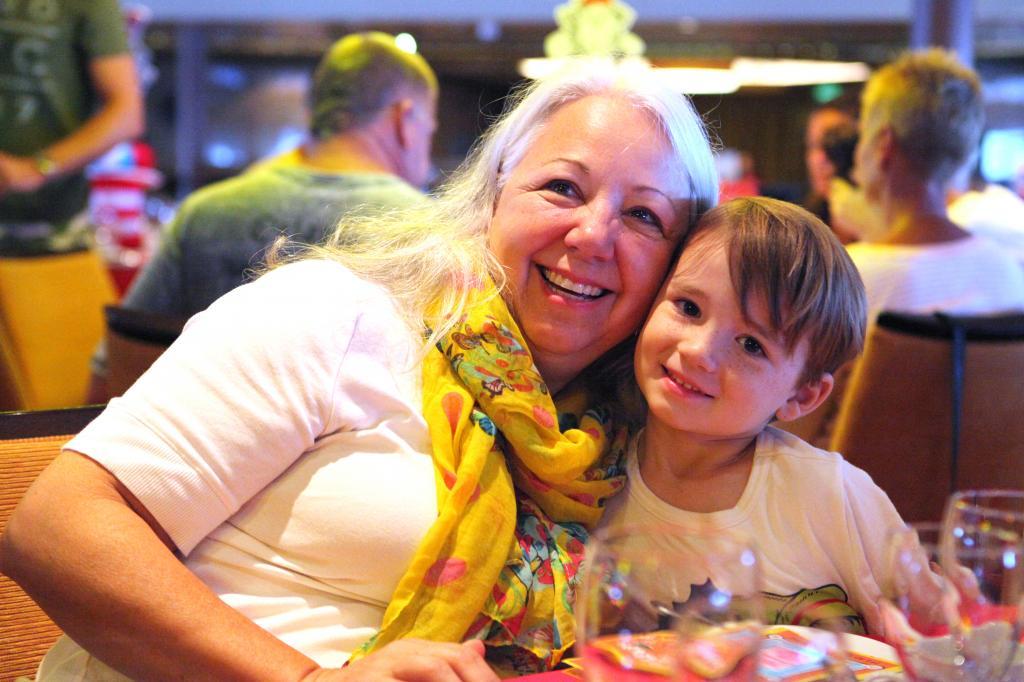 LJ got his first taste of a Fruit Loop that was thrown onto his tray so I think he thought the entire event was amazing too 🙂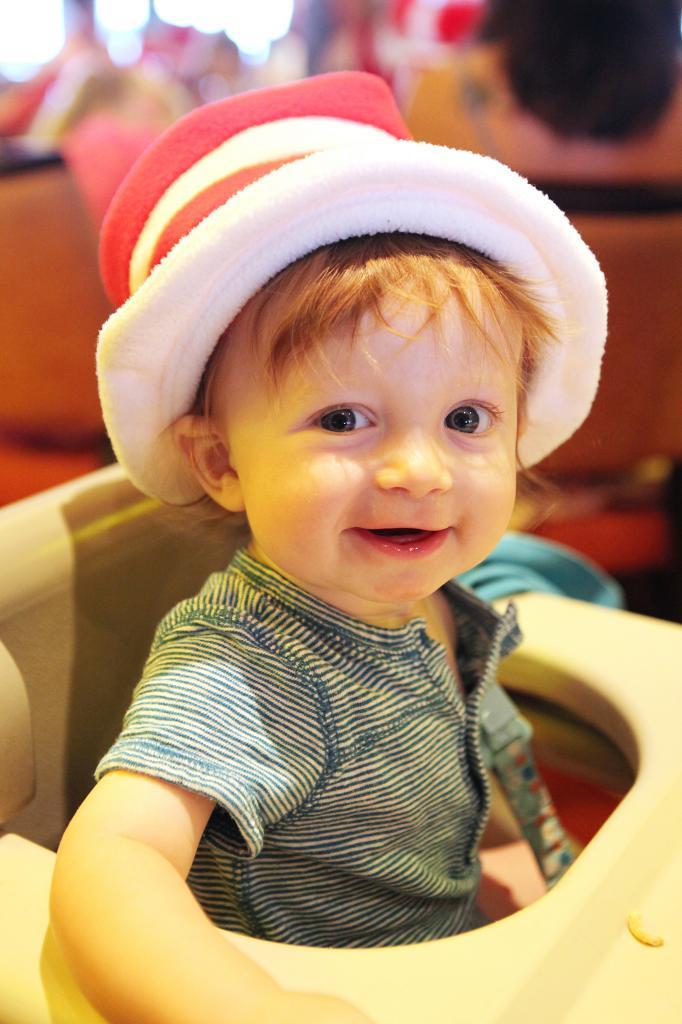 Ok….I know this is a blurry photo but HOW CUTE ARE THESE PARFAITS?! Seriously….so adorable, right? Fruit, yogurt, granola and a little chocolate sail!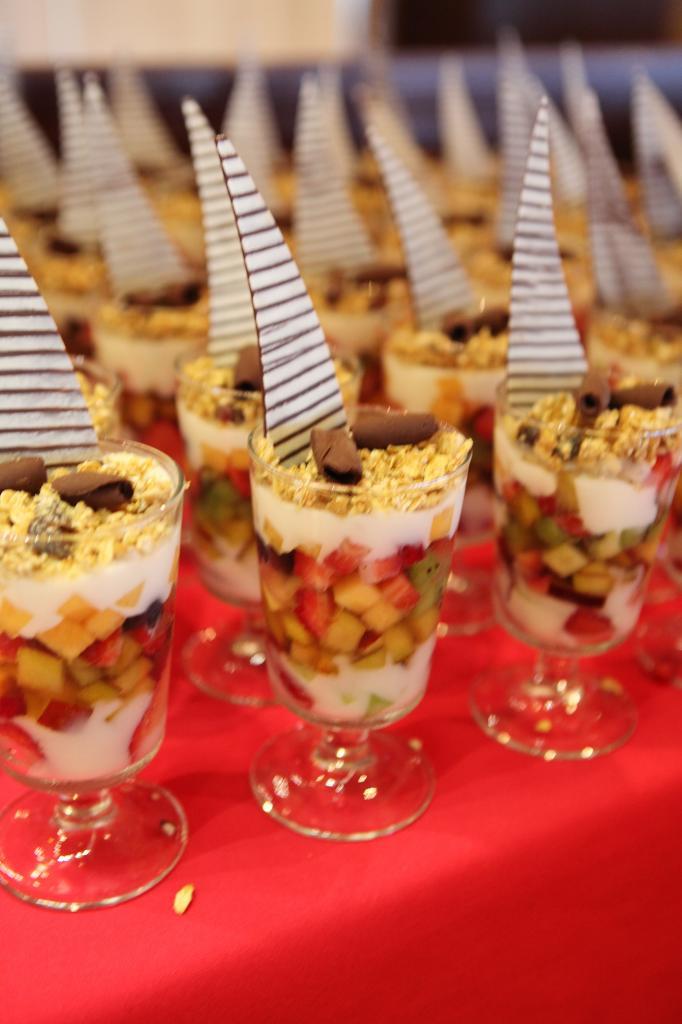 After the breakfast, we took a bunch of photos, headed to the ship's candy store and let the boys pick out some goodies. Then we went to the arcade and let them race monster trucks. Will has already asked if we could go back and celebrate Weston's birthday again. I think he isn't being altogether altruistic with that request 🙂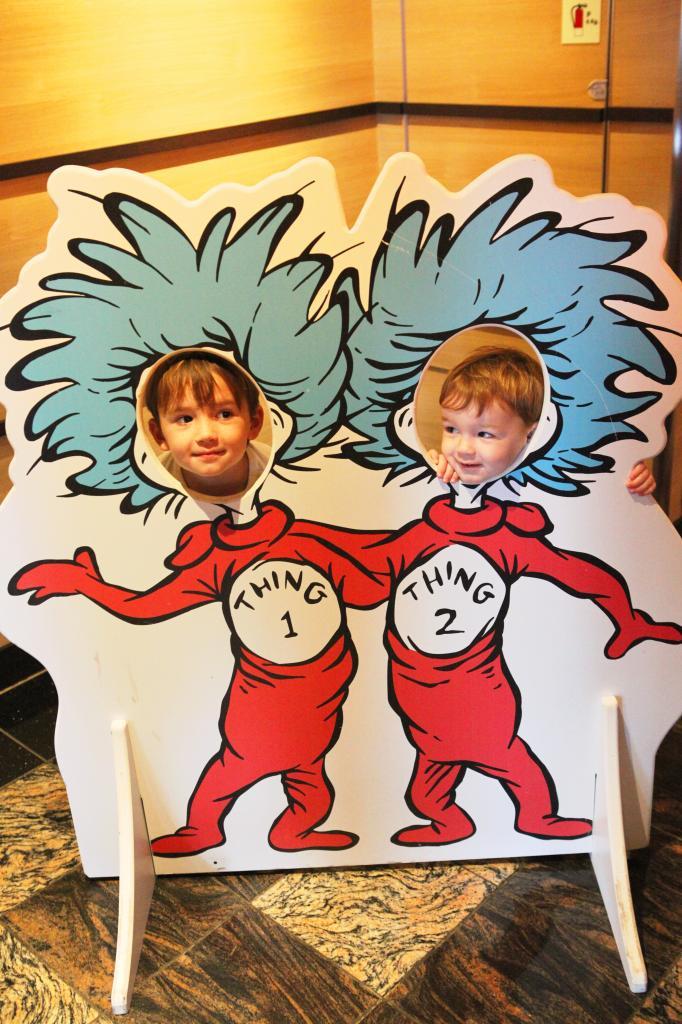 Overall, it was such a fun way to celebrate our little boy. He is turning out to be really sweet….he loves his brothers fiercely, he is aggressive and intense about play and fun, he loves cuddles and any kind of fruit, and he is officially done with the mustache paci (at first I was REALLY excited to see it gone but now I miss it…just a little bit).
He isn't quite as social as Will, but once he likes you…you are in for life. His eyes are officially blue and he looks like he is going to be a lefty just like his daddy! In the last year, he started getting a couple freckles on his nose…just like his big brother did. He isn't very verbal (he meets milestones…just isn't overly interested in talking!) but he does love to say certain words like ball, uh-oh, boon (balloon), and Mama (all the time!). He loves holding hands (unless there are toys to play with), dancing and is a complete Daddy's boy. His favorite thing in the world is to ride the Power Wheels tractor and play with stickers. He loves coloring and lining up his Matchbox cars. He is all boy…with a feisty little temper and gives the most passionate open mouth kisses. He totally lives up to his nickname of Munchkin and loves trouble…the messier the better!
Happy Birthday my little Weston. I love getting to celebrate you….on the beach, on the boat and every day! You make us so happy! And your daddy and I love you FIERCELY!
DISCLAIMER: This post was created as part of my collaboration with Carnival Cruise Lines. As always, all of the opinions, thoughts, and ideas in this post are my own.