The Caribbean (or some other warm, tropical place) just might be where I'm destined to be. As I mentioned here on IBC, last week my mom and I set sail on a Carnival cruise. Not only was it super special because I got to spend tons of time with Mom, but I was able to warm my toes and my soul in crystal clear waters, warm sand, and brilliant sunshine. I think I'll need to find a way to skip out on the cold PA winter and spend more time in someplace warm. Salt water and sand required.
While on the cruise, I kept my camera nearby to do some color hunting. I've always dreamed of owning a place by the ocean, and since I don't see that happening anytime soon, I thought I could bring the sea back to my home. With color inspiration all around me, I decided to share a few of my favorite shots and how my recent adventure on the sea can inspire beautiful and colorful interior spaces.
First, in Costa Maya, Mexico I stumbled upon some of the most beautifully painted buildings. The colors were so rich and vibrant. This coral-colored shop was probably one of my favorites. Shades of this color have been popping up in interiors everywhere this past year. It's so bright and happy. In addition to the color, I also love the texture of the cement window grid. Every space needs a little texture, right?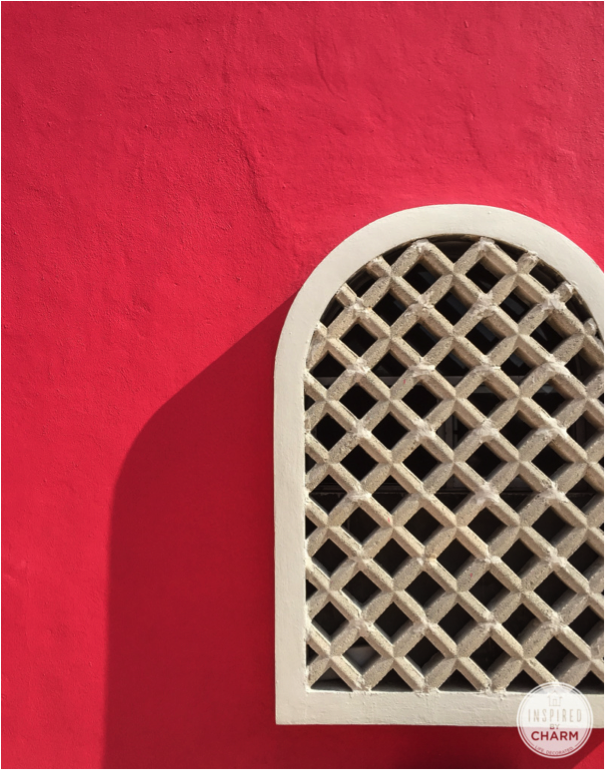 I've actually incorporated a similar color palette in one of my guest bedrooms. Coral bedding brings in that beautifully saturated color, while macrame curtains mimic the grid of the window.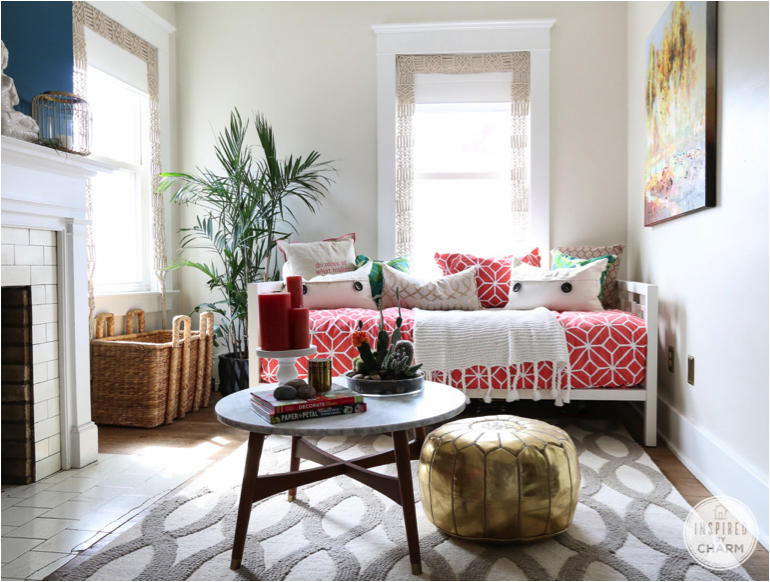 Speaking of this bedroom, I've been struggling with the teal color on the wall around the fireplace. While I love the color, I'm just not sure it's working in the space. However, in Roatan, Honduras, I found inspiration at another store front.
A turquoise fence in front of lush green foliage (with a pop of yellow) looks beautiful against a cream and coral background. This classic tropical color combination just may be what I need to finish off this guest room. What do you think?
I also found a little color happiness on the seas. If you've never seen a sunset or a sunrise in the middle of the ocean, I hope you'll get a chance to do so. Either will truly take your breath away.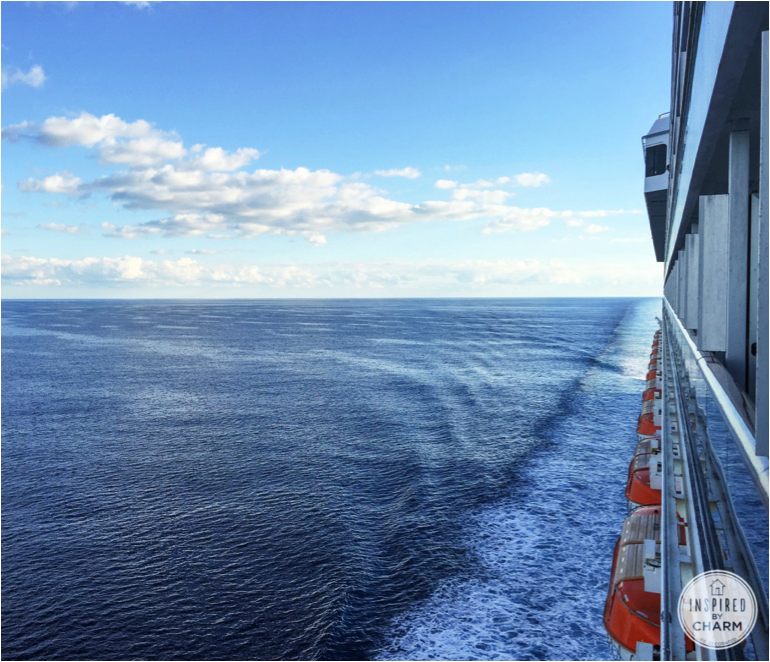 As all of you know, I have one other bedroom in my house that's in desperate need of a makeover. I've actually had this room planned for quite some time. Without giving too much away (because you know my plans can change quickly), I was inspired by a morning view off the balcony of my stateroom. Bright orange lifeboats complement the sparkling sea and white fluffy clouds perfectly. Orange and blue are opposite on the color scale so they work beautifully together without trying too hard. Who would have thought you could find color inspiration in lifeboats?
This color combination can be seen again in this beautiful sunset. I told you it was a breathtaking time of day.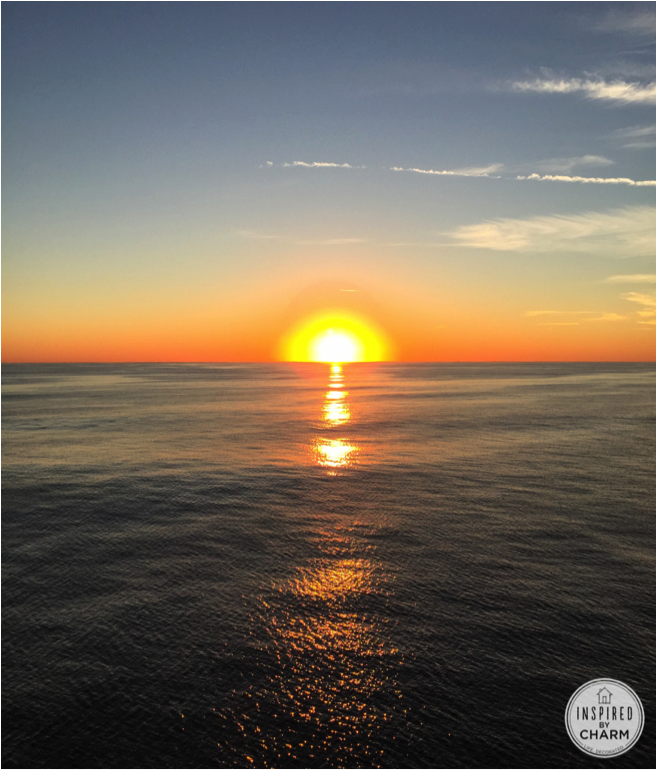 Last but not least, my color hunting wouldn't be complete without something for my living room decor. While nature has yet to reproduce all of the colors found in this space (I know, there are a lot), I did find touches here and there.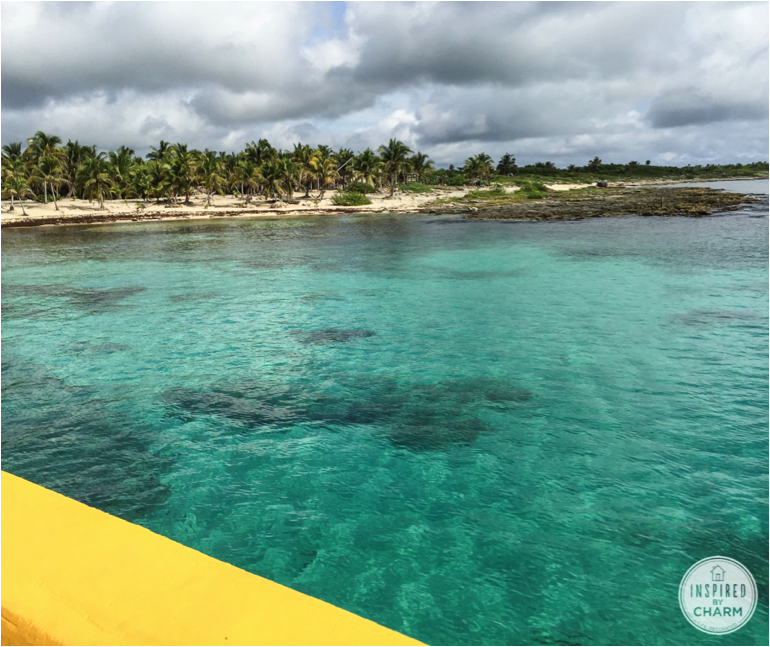 I love this picture from Costa Maya, Mexico. The yellow markings of the curb are striking near the crystal clear waters.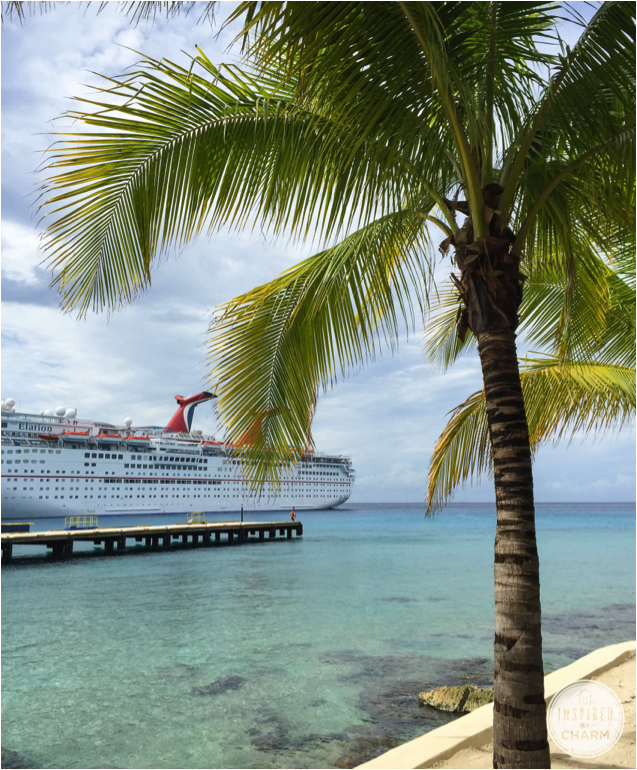 Throw in a little red and blue with Carnival's signature funnel and a little green in a palm tree and you basically have my living room in the Caribbean.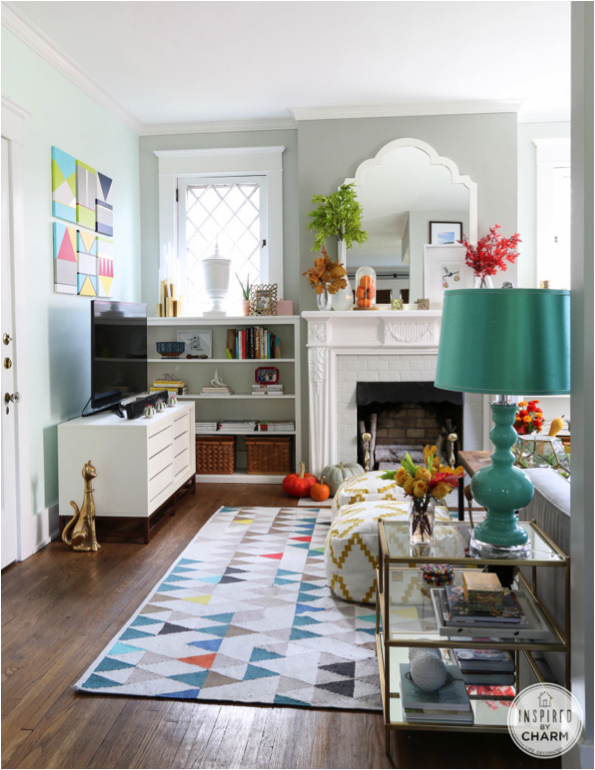 Do you see it?
While I have a bunch more pictures, I think the ones I've shared here show that you can find color inspiration everywhere, even on vacation. And quite honestly, what better place to look than in the Caribbean!
Where do you find color inspiration for your home?
This post was created as part of my collaboration with Carnival. As always, all of the opinions, thoughts, and ideas in this post are my own.