As part of our partnership with Carnival, I've come up with a few holiday recipes and entertaining tips inspired by the tropics. I'm not suggesting you hire a steel drum band, although that's fine too, I'm simply infusing the traditional fete with some Caribbean color and spice influenced by my own travels.
As my sister, an event director and master mixologist, and I island hopped from Puerto Rico to St. Thomas to Barbados to St. Lucia to St. Kitt to St. Maarten and back, she would dissect each tasty drink that we were served. Meanwhile, I was diligently taking notes so I could recreate the tasty concoctions at home. This is where I would insert a ridiculous photo of us dancing in a conga line clearly not dissecting or doing anything diligently, but there is a pact of secrecy so those photos will never be shared.
Read on for the perfect island-inspired nibbles and libations for your holiday…Just as you start off any tropical cruise with a rum punch, let's start our party with the same.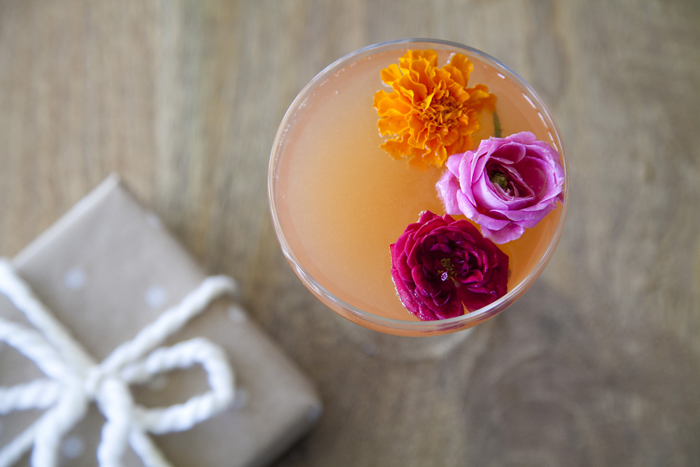 Sparkling Rum Punch
Add to glass in order:
2 TBS Guava Juice (or nectar)
2 TBS Mango Juice (or nectar)
A splash of dark rum
Fill with champagne or any sparkling wine
Add a sprinkle of Hibiscus Flower Crystals (optional)
Garnish with edible flowers either on a toothpick or floating right in the drink…
This exotic cocktail pairs well with a simple Tuna Tartare…
Tuna Tartare
Ingredients: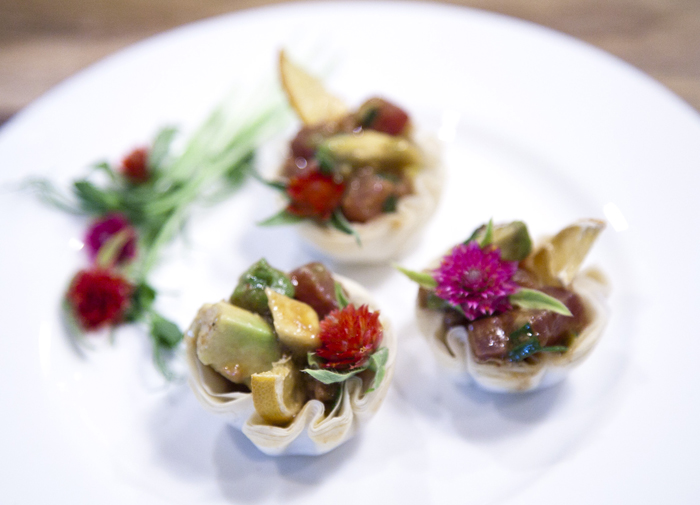 1/8 cup EVOO
1 TBS sesame oil
Zest of 1 lime
Juice of 1 lime
1/4 teaspoon wasabi powder or 1 teaspoon wasabi sauce
2 teaspoons soy sauce
1/2 teaspoon Sriracha hot pepper sauce
1 teaspoon kosher salt or 1/2 teaspoon table salt
 1/2 teaspoon fresh ground pepper
1/2 pound sushi grade Tuna cut in 1/4″ dice
1/4 cup minced chives (or green onions)
1 teaspoon minced jalapeño
1 small avocado cut in 1/4″ dice
1 teaspoon toasted sesame seeds (optional)
Directions: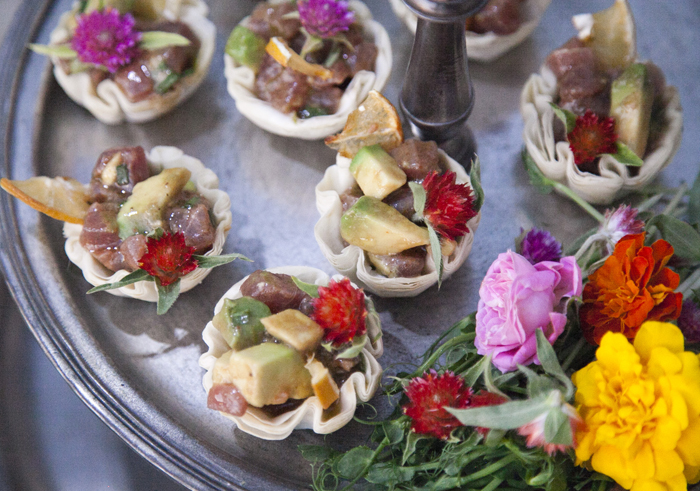 Whisk all sauce ingredients and pour over tuna
Add chives and Jalapeno and mix all
Carefully mix in diced avocado
Add in the sesame seeds or use a garnish.
Present in store-bought Filo cups, prepared in a mold, on crackers, or in spoons
Note: This dish can be made a few hours ahead. The longer it marinates, the tuna will "cook" in the lime juice and become more of a civiché which is also delicious.
We added a small wedge of dried Meyer Lemon, inspired by the Tuna Tartare we were served in Scarlett's Steakhouse on the cruise.
Cheese Plate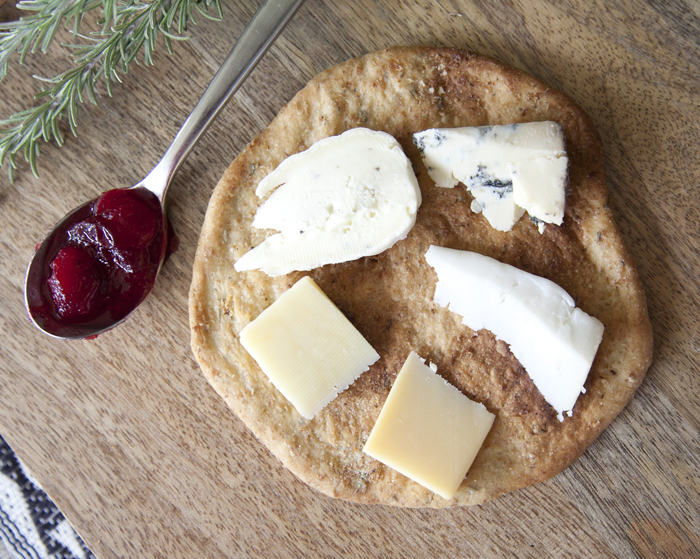 Let's move on to the cheese course, my favorite course!
I always love to serve cheese at my parties. It's a fun communal experience and it's so easy to prepare. Unwrap cheese. Place cheese on plate. It also keeps the non-sweet-lovers at the table while everyone else eats dessert. I will almost always pick cheese over sweets! While I have traditionally put out a large cheese board for everyone to share, I love this idea I discovered on the cruise of serving individual cheese plates. This way the bites are organized from most mild to most strong and there is no awkward reaching. It might also encourage your more timid guests to try something new! These torte crackers that I found at Central Market make the perfect "plate."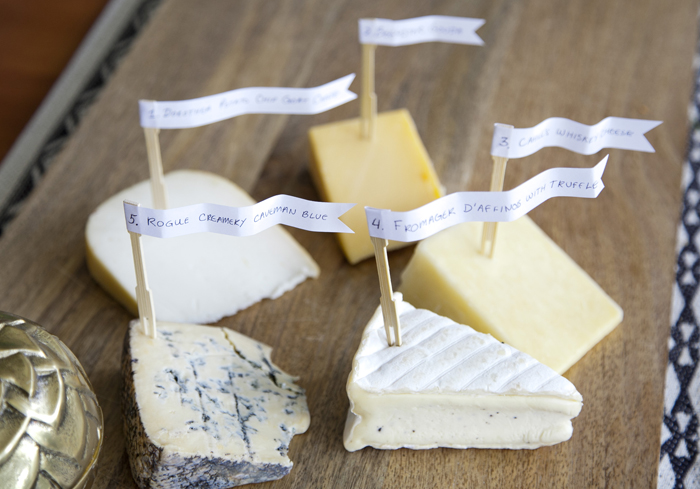 Yum! Add some of my award-winning (not really but they should be) Pickled Cranberries. They are addicting, you've been warned.
For inexpensive cheese markers, turn picks into flowing flags with copy paper and a glue dot.
And if the weather outside is frightful, warm things up with a Dark & Stormy, or in this case a Darker & Stormier…
Darker & Stormier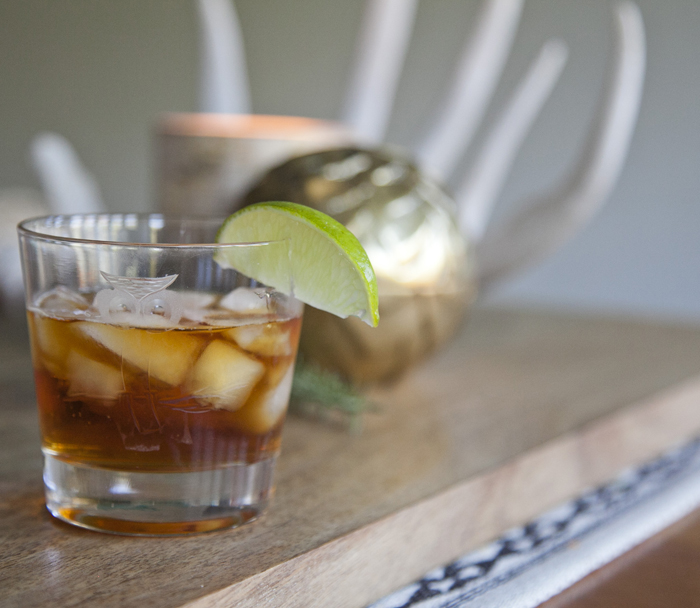 Pour a jigger of black rum (like Gosling's) over ice and fill with Crabbie's Alcoholic Ginger Beer. Repeat. Call Uber.
For a less boozy version, try the traditional Dark & Stormy by mixing regular Ginger Beer, which also blends well with vodka or whiskey. So I've, ehem, heard.
Wishing y'all smooth sailing in all of your holiday entertaining. Cheers!
This post was created as part of my collaboration with Carnival. As always, all of the opinions, thoughts, and ideas in this post are my own.