Okay. Okay. I know I've been gushing about my recent cruise, but it was so magical and memorable, that I just can't stop talking about it.
If you've never been on a cruise, it's definitely something I hope you will get to experience at some point in your life. I was very lucky to go on this particular one with my mom. I know it might seem a bit strange for a thirty-something to go on a cruise with his mom, but my mom is one of my best friends. Our trip totally rocked, and I'm super proud to admit that.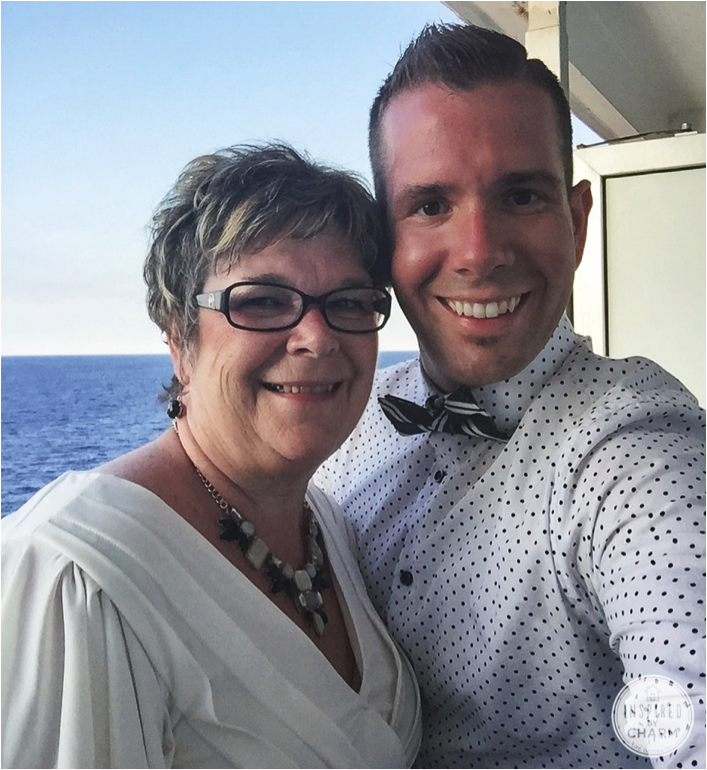 In addition to getting to spend some quality time together, it was a relaxing week for both of us. With limited access to the outside world, it truly was a getaway. I won't bore (i.e., tease) you with all the details, but I would be remiss not to say a few things about our Carnival cruise.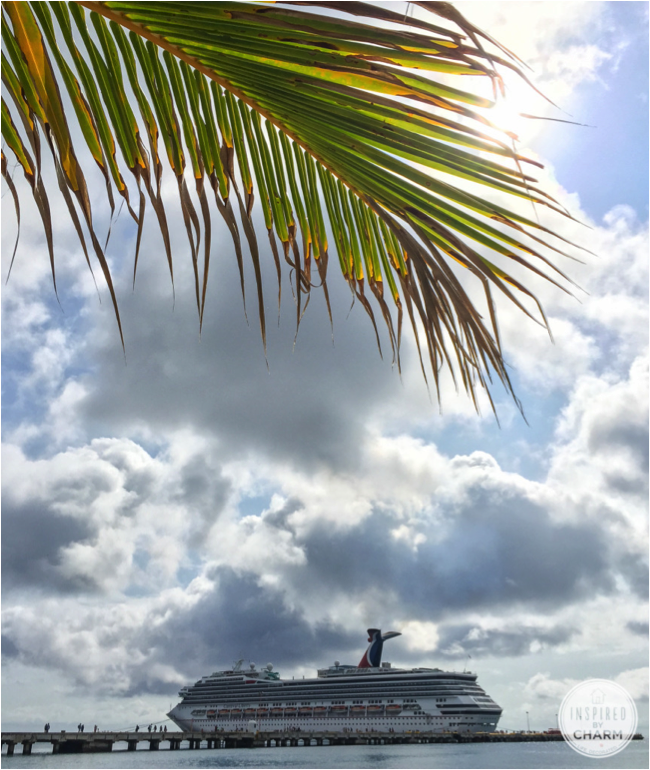 First, the food. Incredible. Everything, from breakfast to the late night chocolates on our pillows, was fabulous. If you're ever hungry on a cruise ship, it's your own fault. The culinary options are practically endless. I'm pretty sure we were full 90% of the trip. Which might explain the 5+ pounds I gained. Secondly, you are constantly entertained – if you want to be. While there are plenty of quiet places around the ship where you can relax, there are also shows, musicians, magicians, a piano bar, comedians, bingo, a casino, minigolf, a water slide, dance classes, yoga. . . the list goes on. I will also say, we had THE BEST Cruise Director, Gary. (The Cruise Director is your guide and host throughout the entire week.) I can't tell you how many times Gary had my mom and me cracking up. Hilarious. And as if all of those activities weren't enough, we had access to a spa and gym, three pools, countless hot tubs, and many other amenities aboard the ship.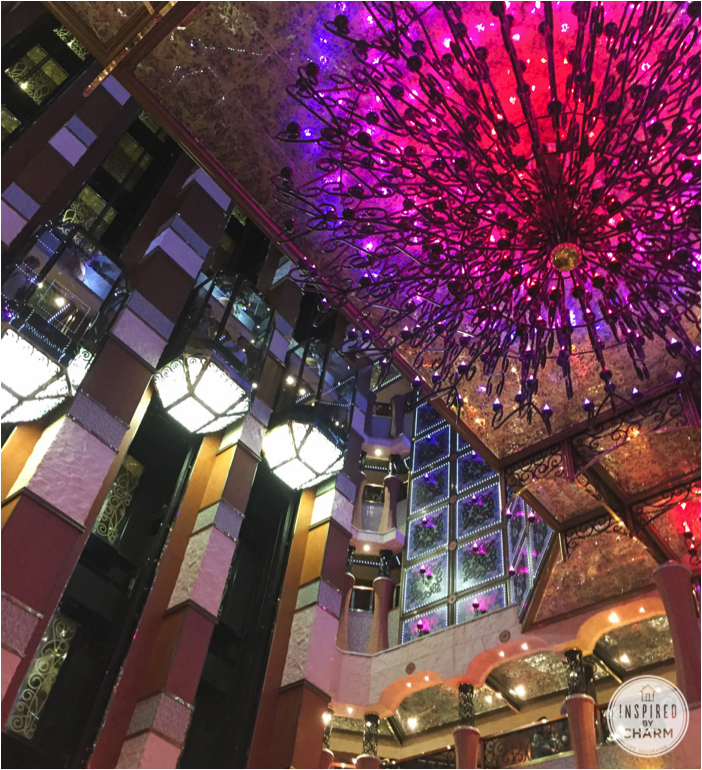 Among those amenities were several bars. So of course, Mom and I indulged in a few drinks. My favorite drink, hands down, was a Miami Vice – half Pina Colada, half Strawberry Daiquiri – garnished with a slice of pineapple, a cherry, and a cute umbrella. YES! It was like a mini-vacation in a glass. And while I wanted to show you how to recreate one, I realized that making one at home would a bit labor intensive. Plus, some things are better saved for a real vacation.
I did, however, bring home a cocktail recipe to share with you. The bar that Mom and I seemed to frequent the most was the Lobby Bar. We found ourselves there every evening listening to live music and having a drink before dinner. (I'd also like to give a little shout out to Indah, our favorite bartender [and person] on the ship. Indah, If you're reading this, I want to thank you again for treating us like family.)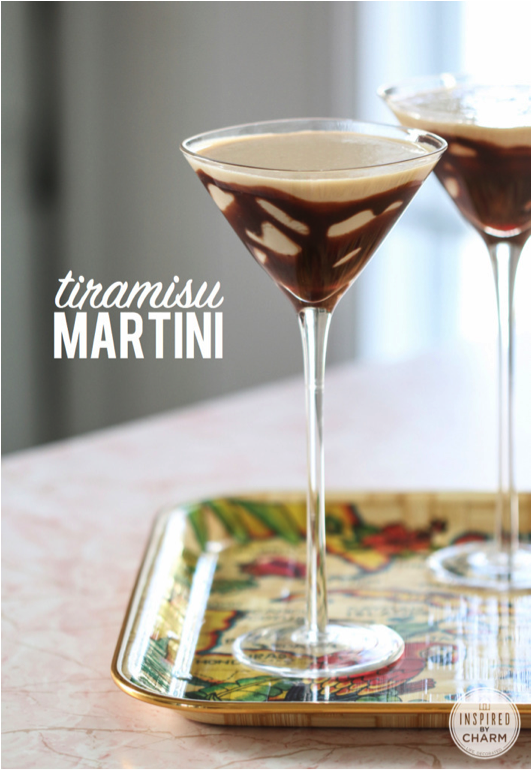 In addition to the Miami Vice, we loved the Tiramisu Martini. After my first sip, this quickly became my go-to martini for the trip. It's a combination of so many of my favorite liquors. And, with the ingredients listed on the menu, it was a breeze for me to recreate and share with you! That's right, I brought home a delicious souvenir for each of you. You're welcome.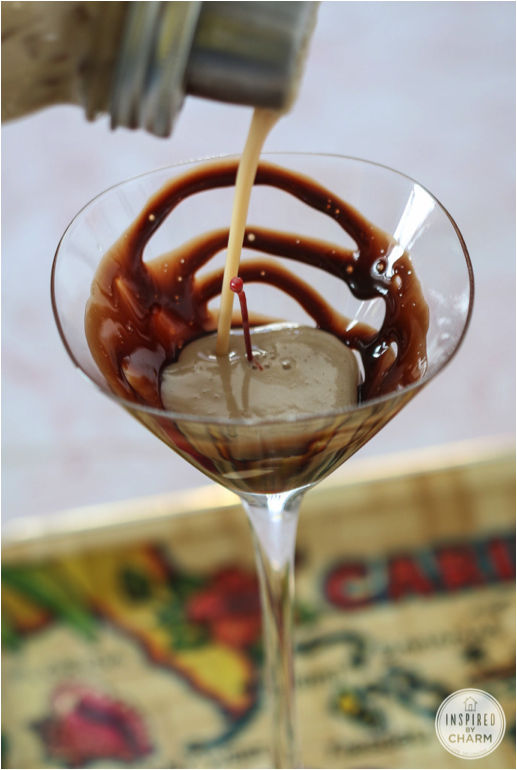 You'll notice that this martini is comprised almost entirely of alcohol. (If you think about it, most martinis are.) However, by some magical powers, when mixed together, these seven liquors barely taste like alcohol. Yeah, it's that good. Plus, the glass has a chocolate swirl. In my book, anything with a chocolate swirl is automatically delicious.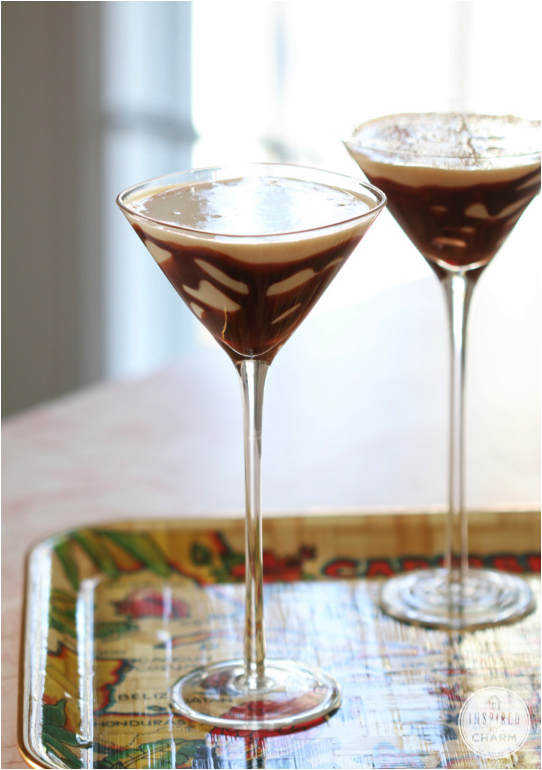 Anyway, I've blabbered more than enough, and you're clearly here for a delicious cocktail. Thanks for humoring me. PLEASE try this cocktail. And consider taking a cruise. You'll thank me.
Tiramisu Martini
Here's what you will need:
1 oz Coconut Rum
1 oz Frangelico
1 oz Irish Cream
1 oz Amaretto
1 oz Kahlua
1/2 oz Peach Schnapps
1/2 oz Butterscotch Schnapps
Maraschino cherry
Chocolate syrup
Ice
In a martini glass, add a swirl of chocolate syrup, then garnish with a maraschino cherry. Set aside. In a cocktail shaker filled with ice, combine all liquors. Shake vigorously. Strain into the prepared martini glass.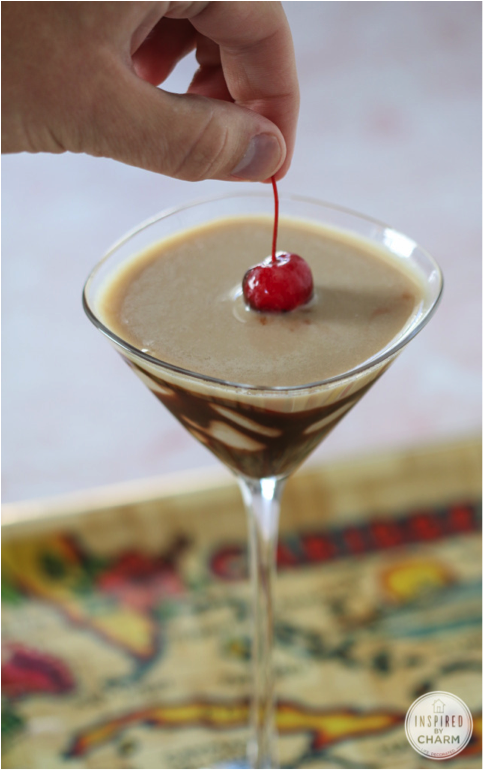 This post was created as part of my collaboration with Carnival. As always, all of the opinions, thoughts, and ideas in this post are my own.