I've been dreaming up a garden to table series for this blog for a while now… realistically, I don't think it will be a regular thing, but hopefully an occasional fun (and delicious) addition to the usual posts around here. You guys know how I like to think of really creative and original names for things, right? Sure… see examples: "pictures of recently enjoyed things" or "pictures by marlowe." Super creative, right? Haha. So here we are: Gardenfood. You know, food from our garden. I'm hoping to share some of the occasional meals we make with things growing in our garden. And even if you don't grow these things in your garden (ten bucks says most of you don't grow okra, right?), you can still run to the store, pick up the few ingredients required and maybe a dish. I am hoping to keep all these meals super easy, and straightforward using minimal ingredients.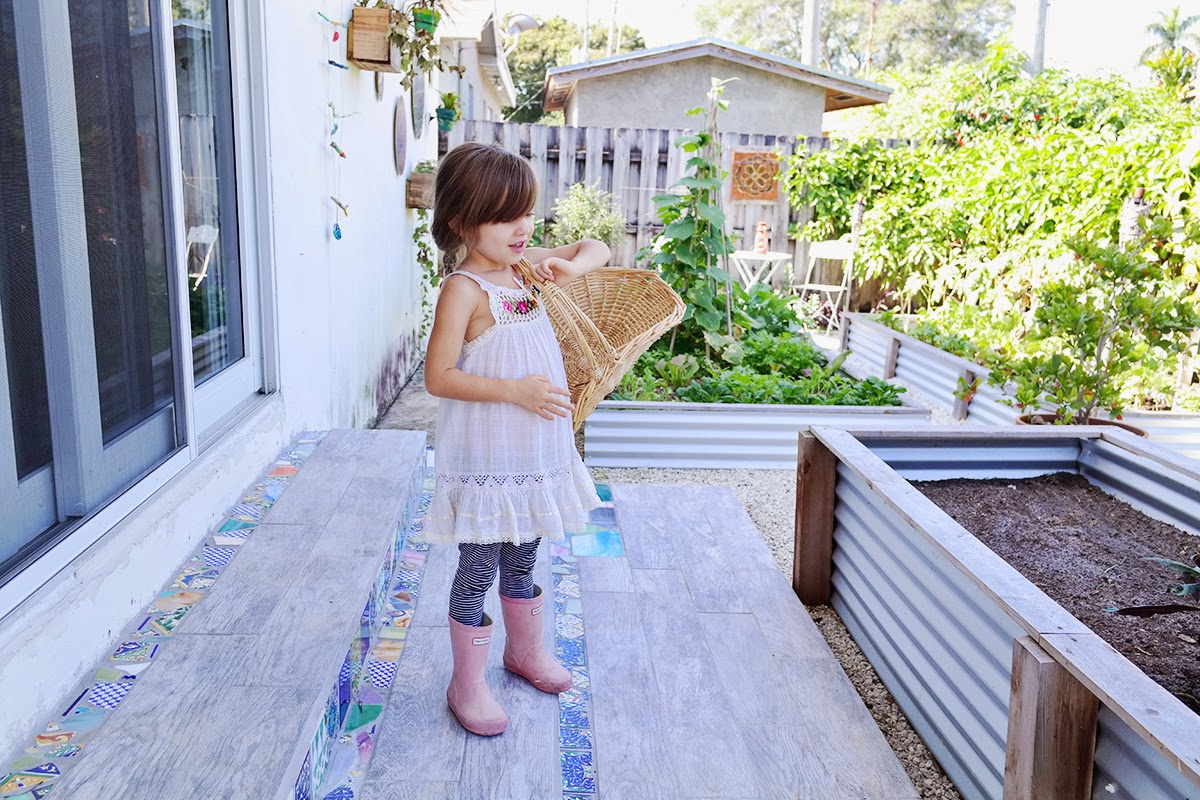 As I mentioned recently, I'm doing a girls trip soon! Actually, really soon, like, in a few days! But, what I don't think I mentioned is Marlowe will be joining me on this girls trip— and it will be her first time out of the country! Hard to believe, since she went all the way to Hawaii— and Hawaii can sometimes feel like another country! Well, we're super excited, obviously. We're also looking forward to teaming up with Carnival for a what will be an absolutely amazing getaway— packed with sparkles, french fries, beautiful blue ocean— and probably a good amount of pictures of me with my feet up 😉 I was sort of bummed when Alex said he wouldn't be getting away with us (the restaurant industry is tough in season!), but super excited to bring Laura— my cruise partner in crime. We both agreed this time there would be more sunscreen for her and that I'd go to bed earlier. We're pretending we're practically cruise experts by now.
I've been doing a bit of prep for the trip with Marlowe, hoping it will help her be comfortable with all the scenery changes— it's an 8 day trip! I mean, she'll probably do great, she's always been awesome at travel, but it's better to be safe than sorry. It's been exciting to tell her about the places we'll go, and the things we'll see (volcano obsession!), and the food we'll eat. Well, this week, in the excitement of traveling to tropical islands, we put together a typical Caribbean dish: callaloo.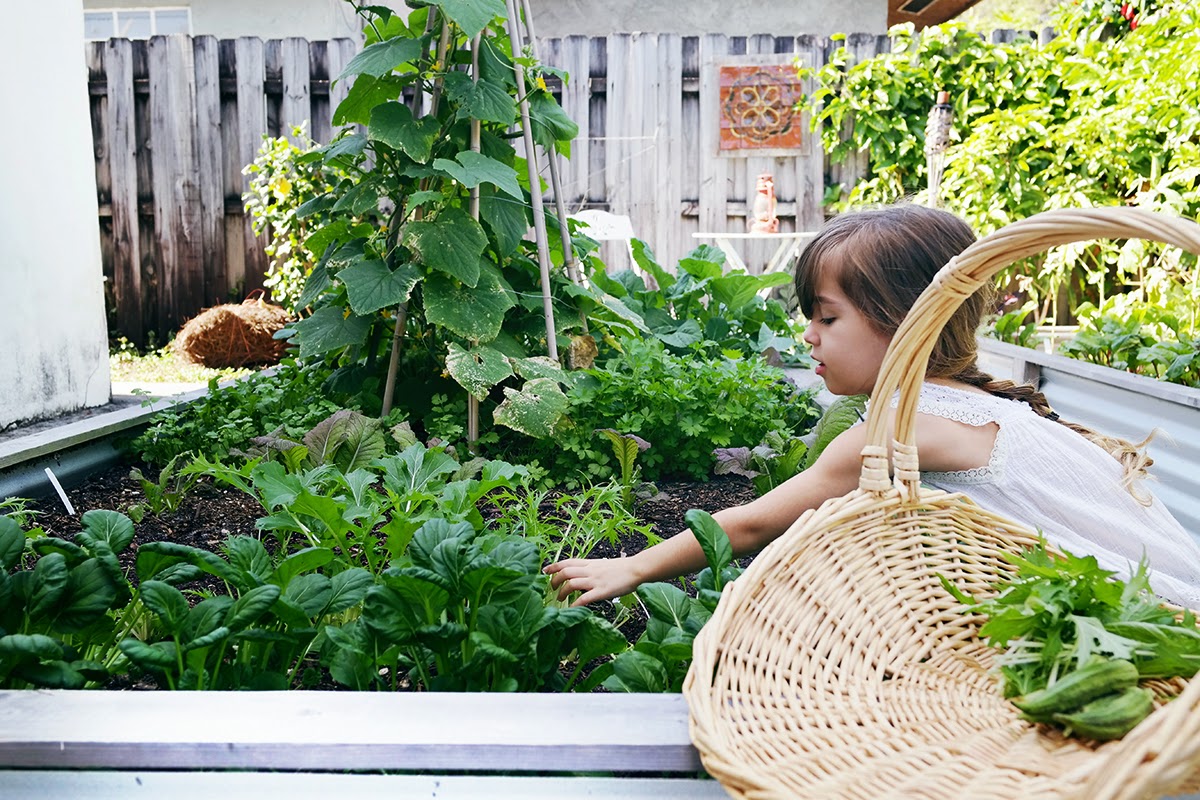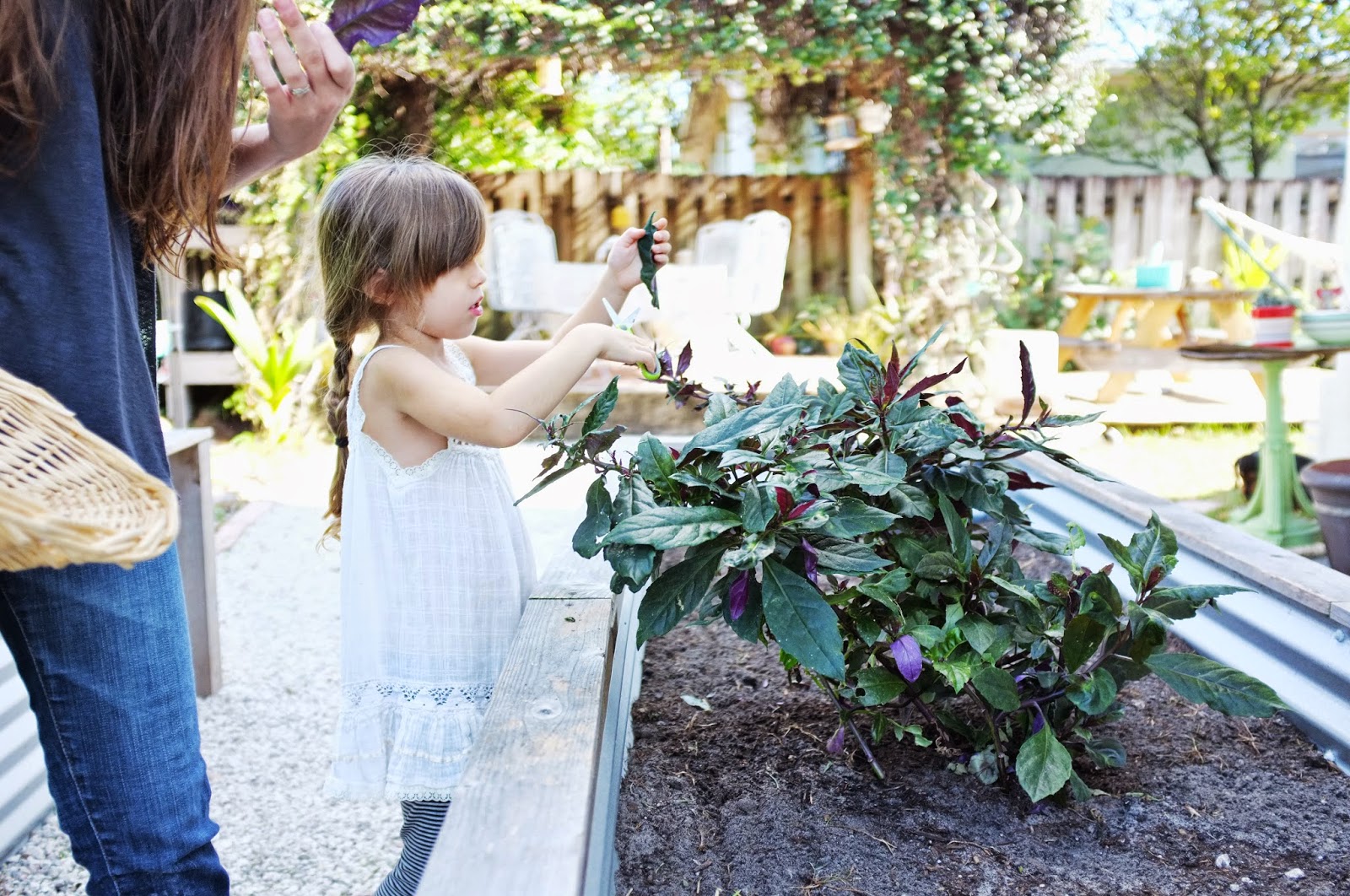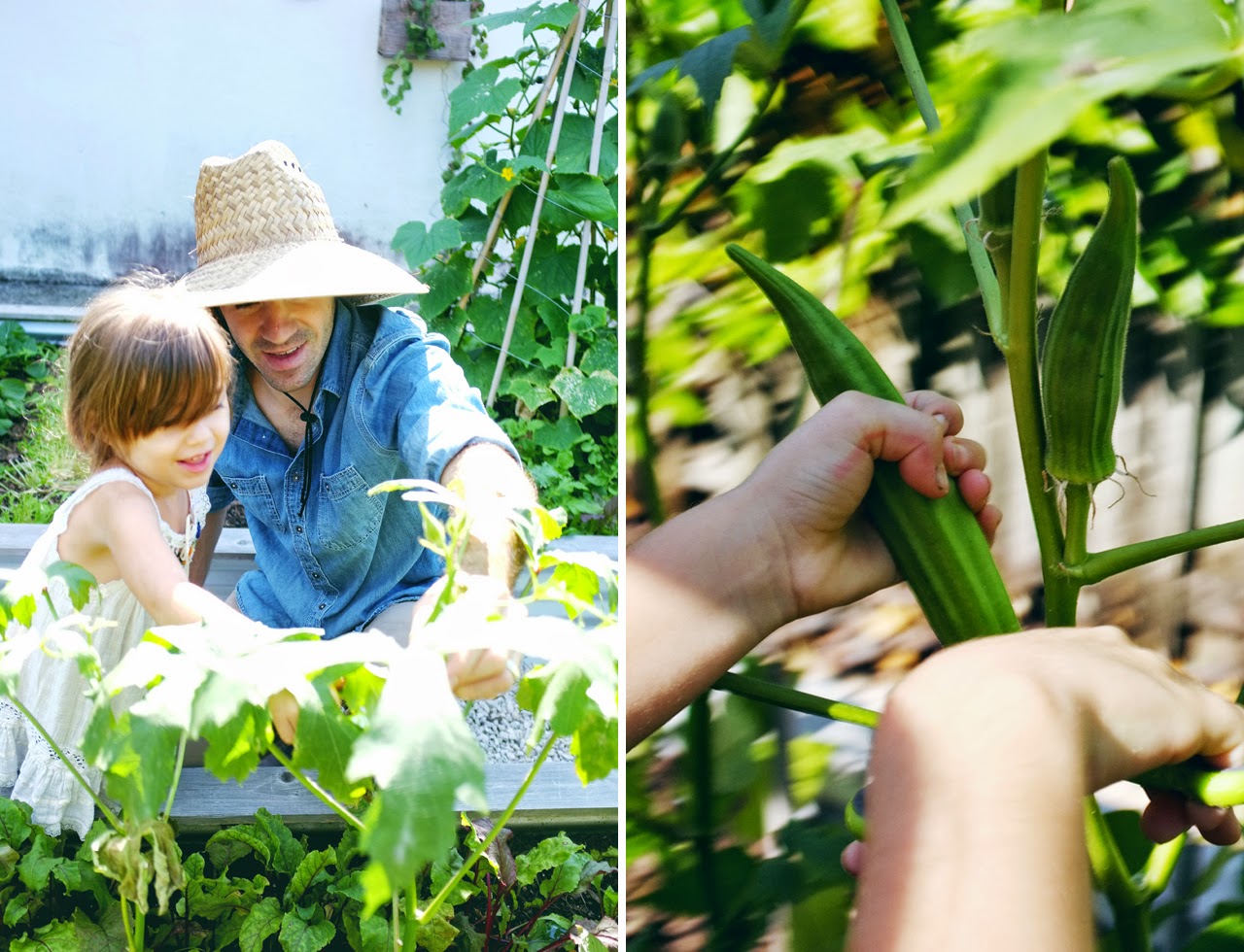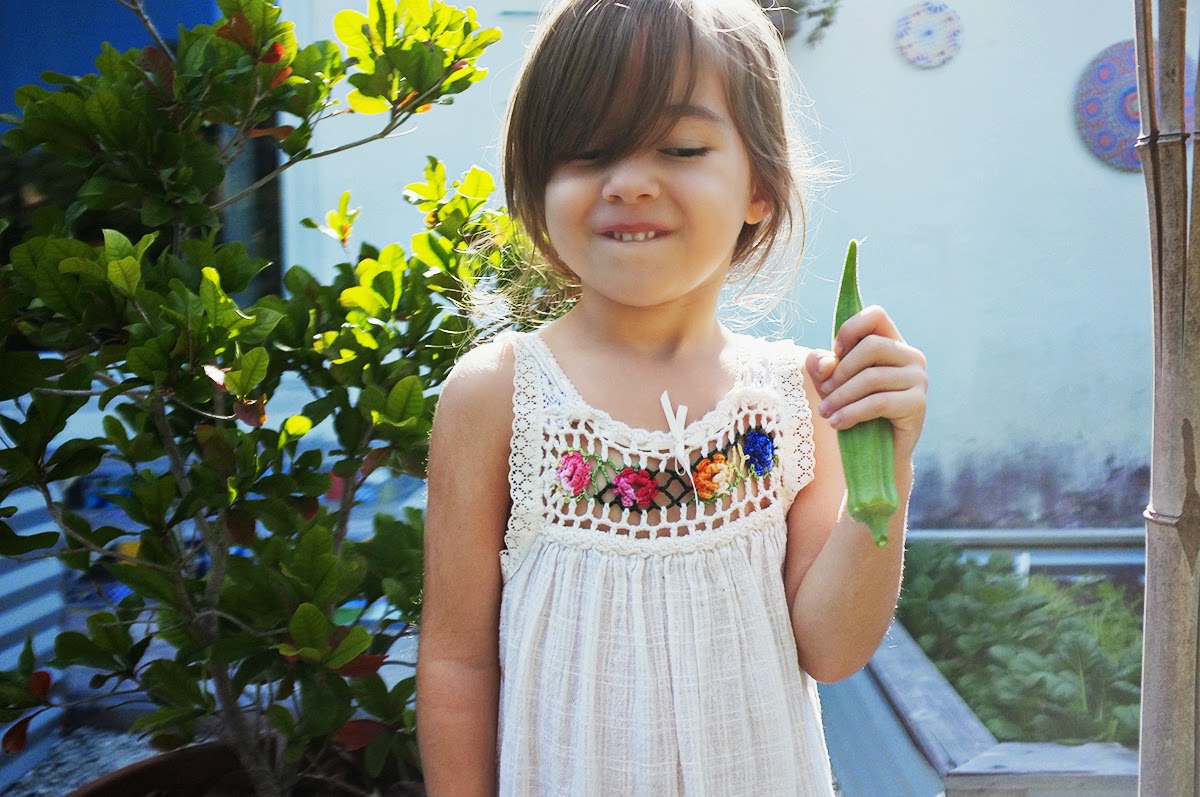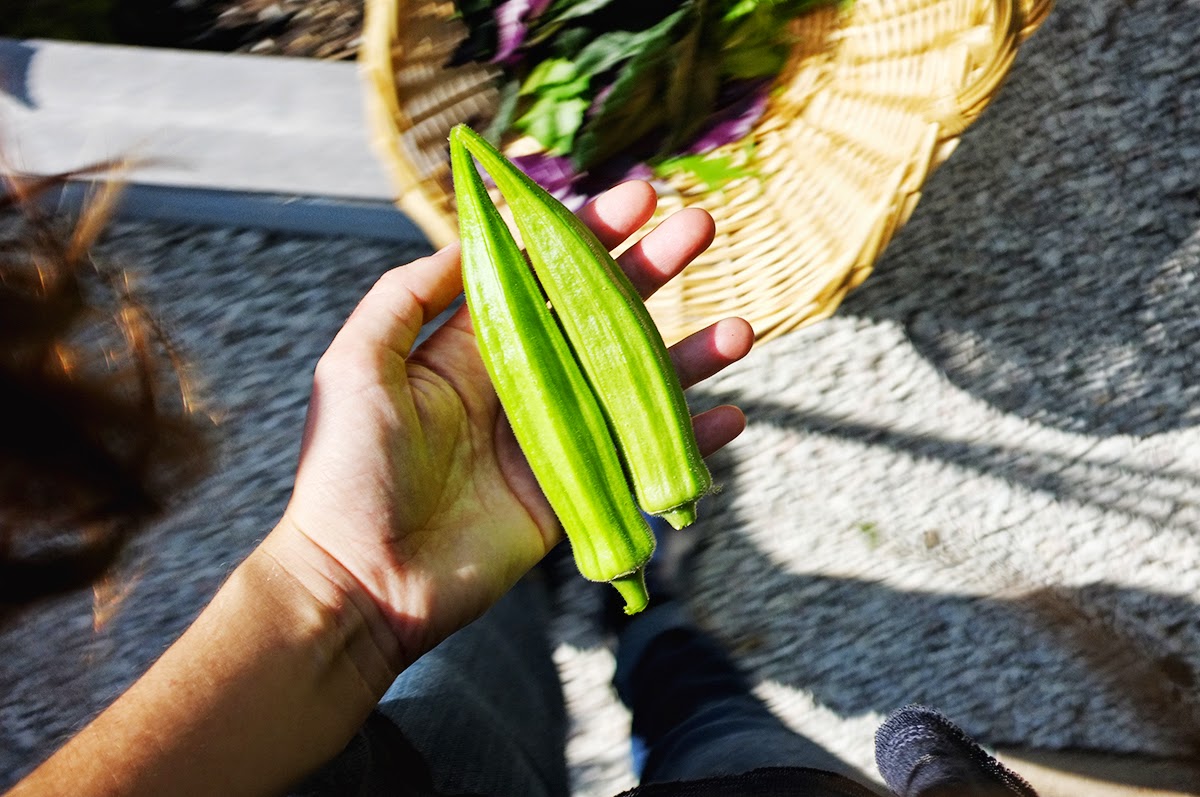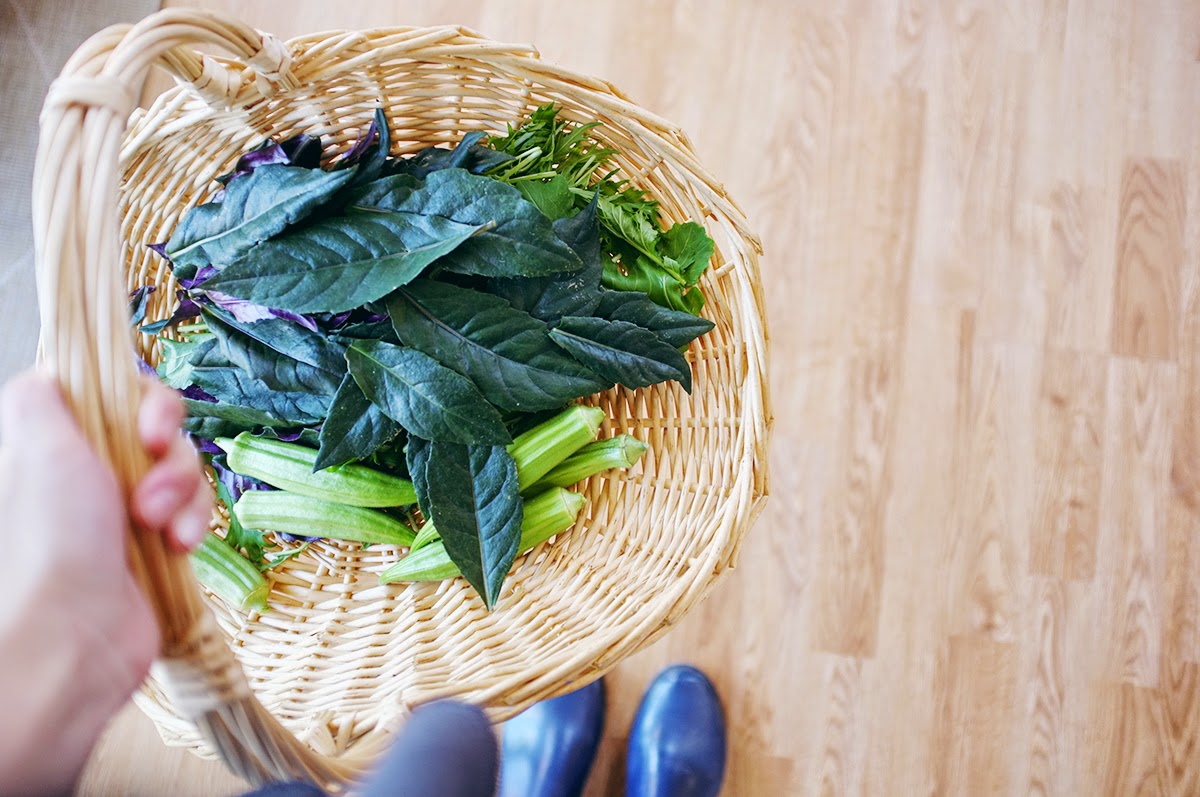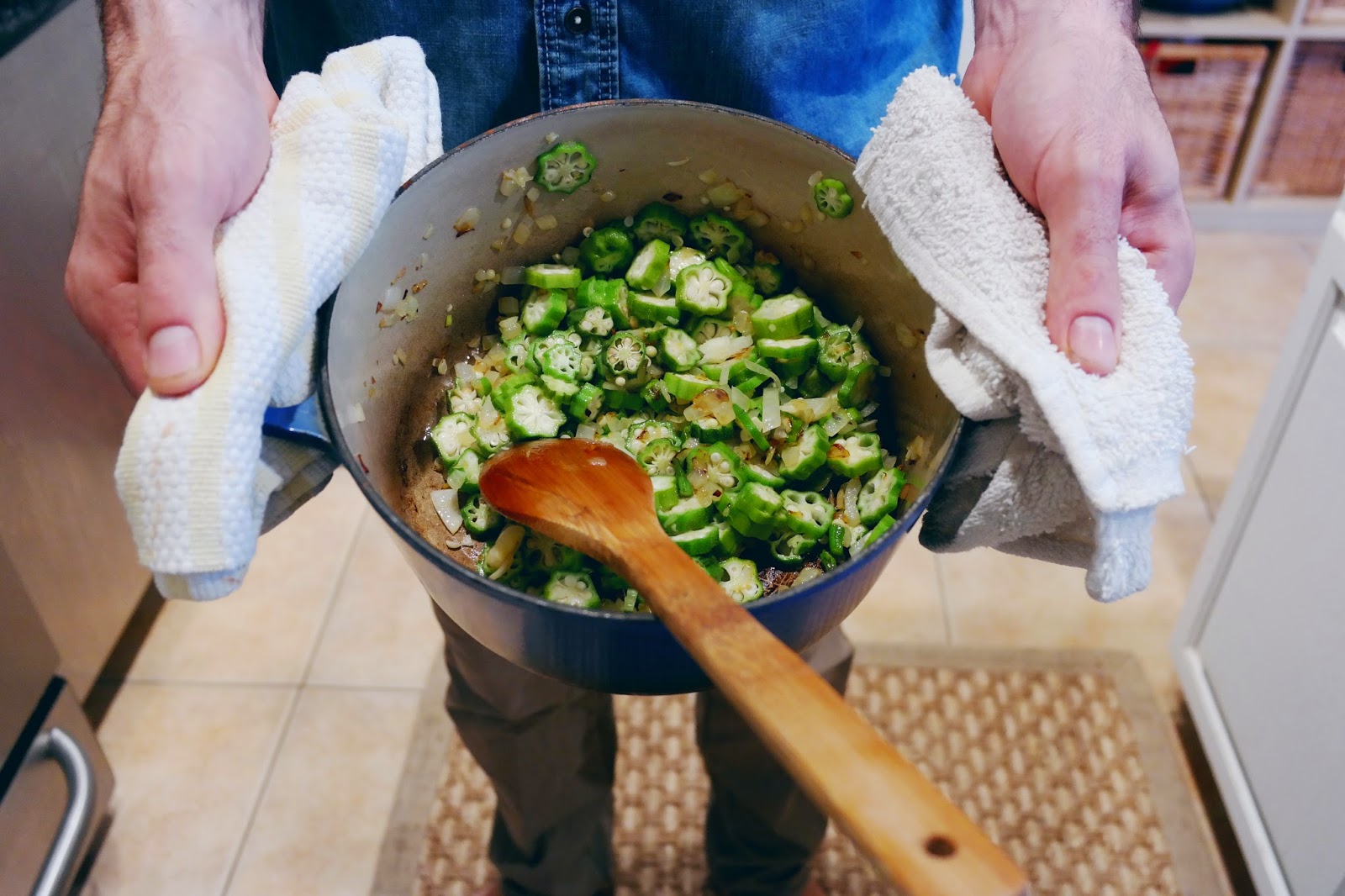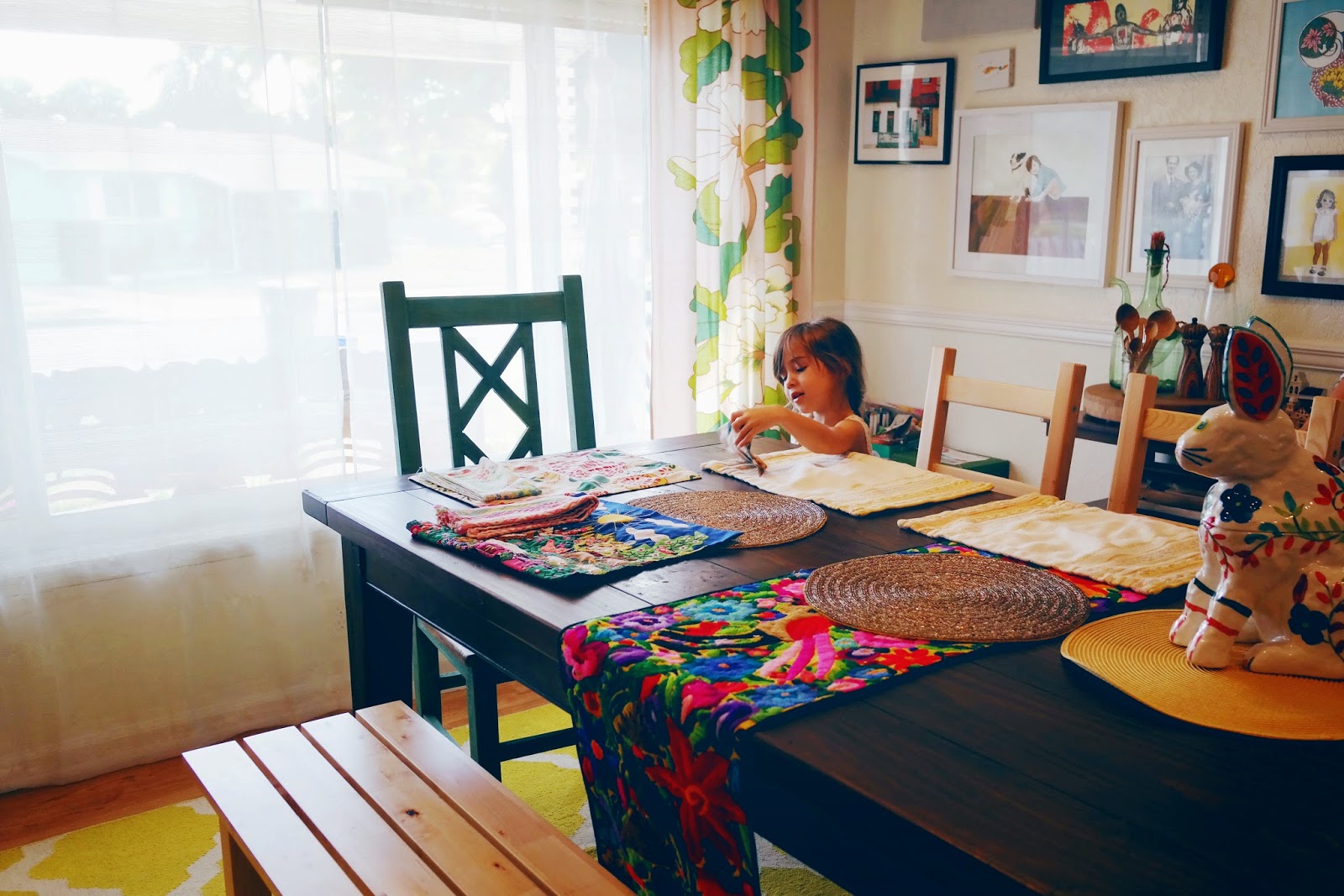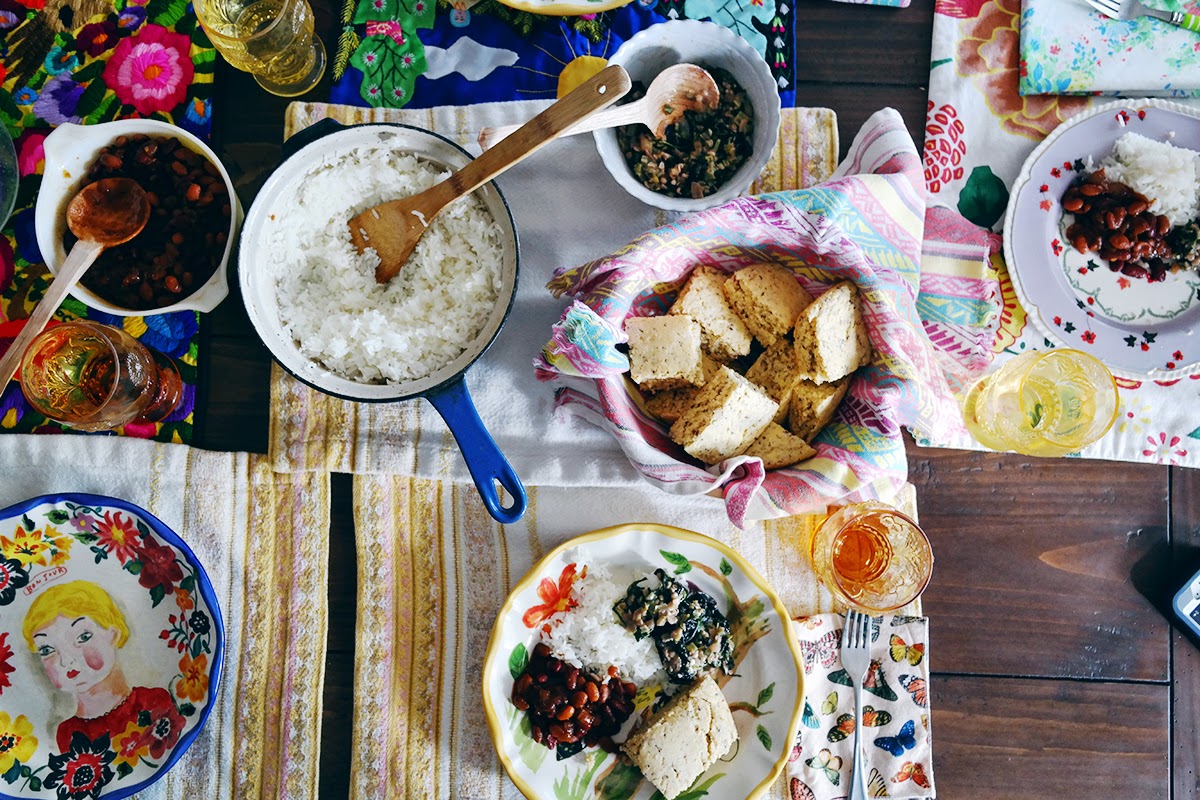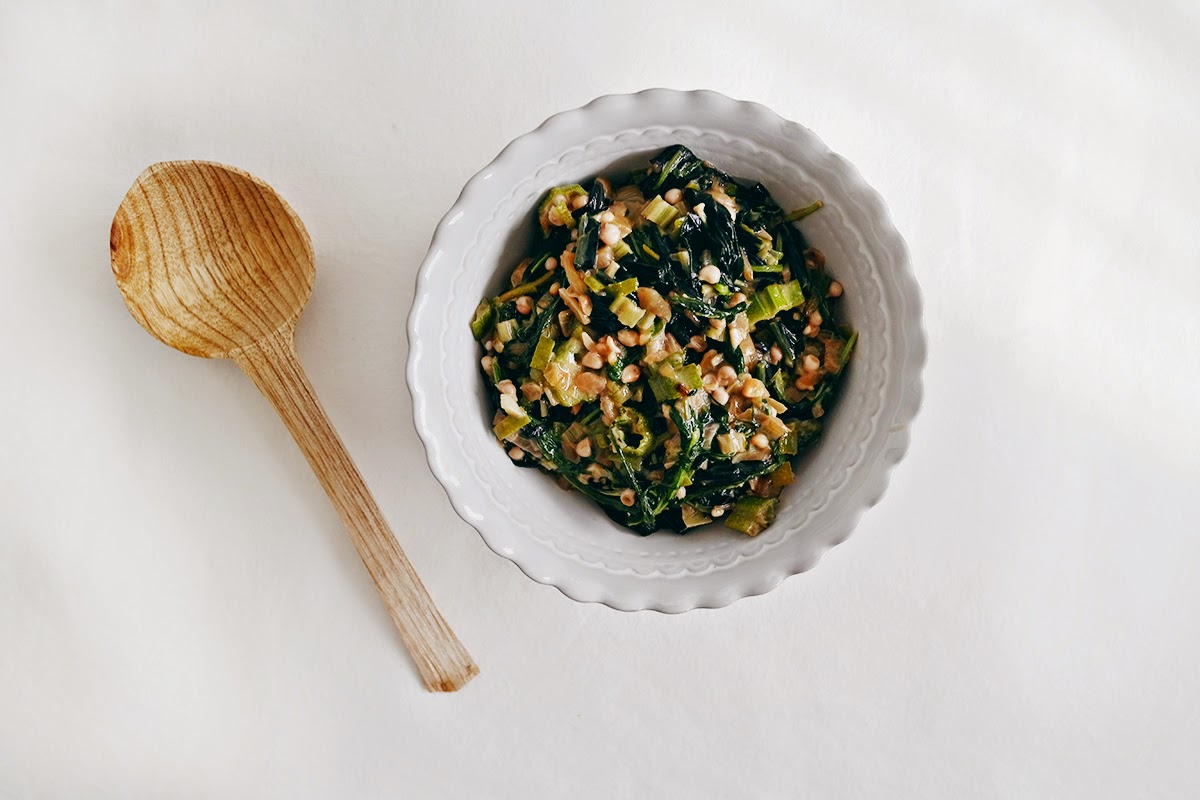 Now, this dish varies tremendously from island to island. Each place has it's own unique take on how this dish should be made. For us, it was a no brainer— use not only the extra greens from the garden, but also our growing okra (which is not a common ingredient most places). Some countries use coconut milk, some don't— but I think you guys know I have a pretty big obsession with coconuts by now, so of course we used it too! I think you'll like our island-vibe garden meal(s) as much as we do. I'm pretty certain (as long as you like coconut), you'll enjoy my take on a traditional calalloo 🙂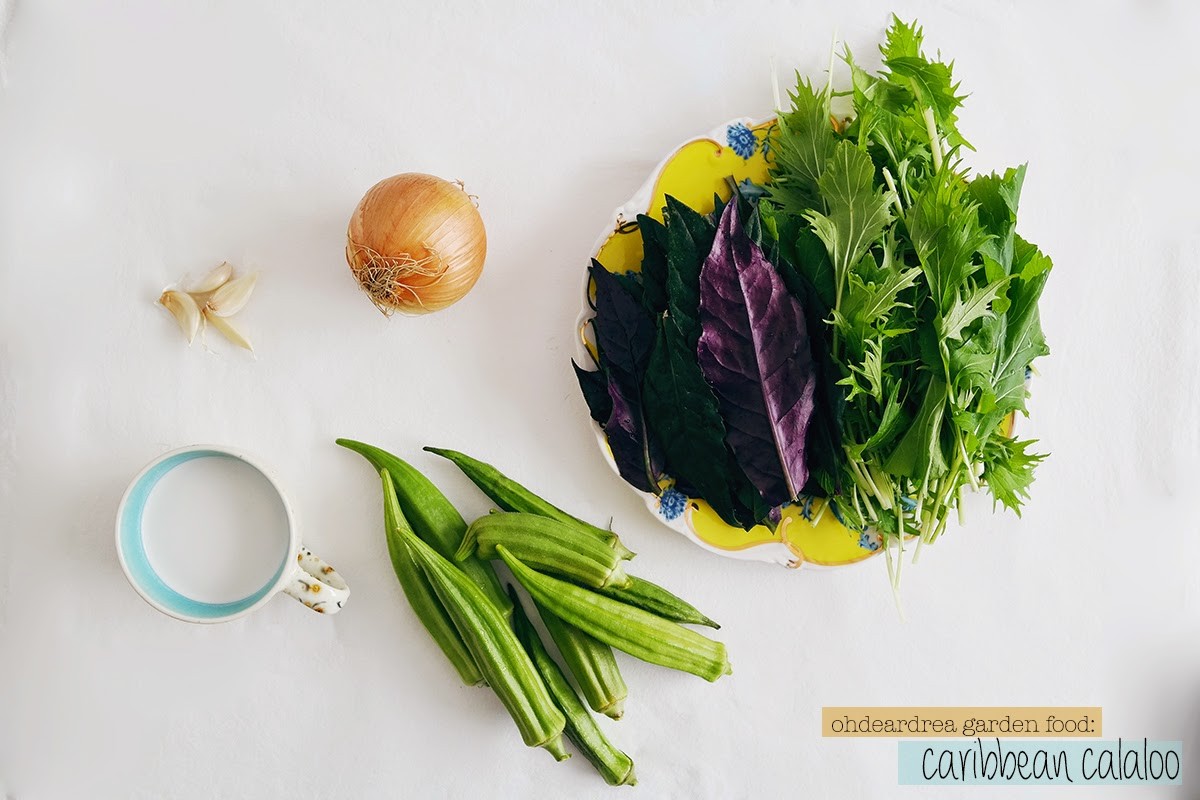 Vegan Caribbean Callaloo 
Ingredients:
3 tablespoons olive (or coconut) oil
one bunch of greens, chopped (about three huge handfuls)*
two cups sliced okra, about 10 – 15 pieces, depending on size
3/4 cup coconut milk (we always use full fat)
one small onion, diced
1 tsp salt, or two taste
a few sprigs of thyme
3-4 clove garlic
*traditionally this is made with taro greens, water spinach, or amaranth– even here in south florida taro greens and water spinach can be hard to find. I used a mix of mizuna and okinawa spinach. Cant find any those? Try traditional spinach! 🙂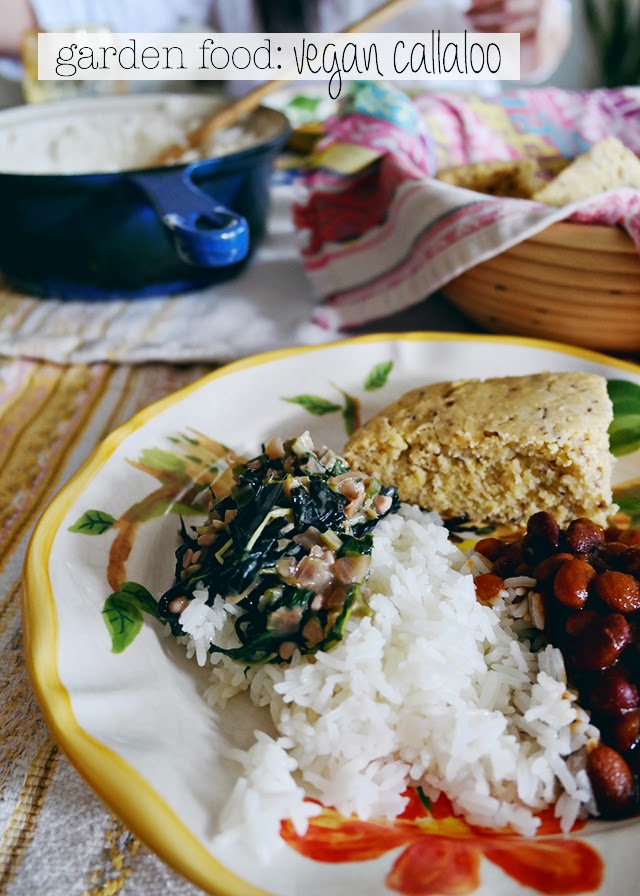 Directions:
In a large pot, heat two tablespoons of oil
Add diced onion and sauté until tender and translucent
Add your sliced okra, half a teaspoon of salt, and a few springs of thyme, mix and sauté for about 10 minutes until okra is mostly de-slimed (yum)
Add one more tablespoon of oil, and your chopped greens, with a tablespoon of water
Greens will start to reduce, give them a stir and let them cook down completely. Cooking time will depend on the greens you chose, but it should be about 10 minutes (unless you went for a thicker, collard green)
Add another 1/2 teaspoon of salt, stir
Add coconut milk, allow to simmer for a minute or so, and voila, you're done!
Serve over rice, or as a side to your favorite bean dish!
Easy right?? And super healthy— and delicious!
Bring on the islands— just a few more days and I'm sailing 🙂
This post was created as part of our collaboration with Carnival. As always, all of the opinions, thoughts, and ideas in this post are my own. #carnivalpartner