On my recent Carnival cruise, one of our destinations was San Juan, Puerto Rico. It was my first time ever visiting Puerto Rico and I was pretty excited to spend a whole day exploring this historic city.
While there were several fun excursions offered, my friend, Suzie, and I were most interested in trying out a few restaurants that had been recommended to us by friends on Facebook and Twitter. We used Carnival's wifi to download a map and a self-guided walking tour of San Juan and we also asked our friends on Twitter and Facebook for recommendations about  what to see and do. All those great suggestions on social media helped us put together a fun day full of delicious foods, scenic sites, and a bit of shopping.
Our itinerary:
MORNING
The first thing on our agenda was coffee at Cafe Cuatro Sombras, recommended by my friend Julie who used to live in San Juan. She knows I'm a big fan of great coffee, and this lovely place makes delightful artisan coffee drinks with beans grown and roasted right on the island.
Walking into the cafe, just the sharp, nutty scent of freshly roasted coffee was enough to wake us up even before taking our first sip. They have a microroaster in the center of the room and the relaxed farm-to-table vibe was the perfect place to start our morning. We enjoyed a couple of cappuccinos and snacked on some guava sticks, a tangy cookie that's sort of like shortbread, but made with guava.
After coffee, we began our walking tour through the cobblestone streets and colorful historic architecture of Old San Juan. I had no idea that this quaint city had such a European feel to it, enhanced by it's own vibrant Caribbean charm.
One of our first scenic sites was Parque de las Palomas, also known as "pigeon park." This was the original main square for the city and is now a place where locals gather to relax with the morning paper, walk their dogs, or share an ice cream from one of the nearby street vendors.
AFTERNOON
Close to Parque de las Palomas is a restaurant called La Barrachina, where we headed for lunch. We had received countless comments on social media about visiting this famous place, known for inventing the pina colada, so it was definitely on our must-see list.
Their specialty is Puerto Rican cuisine, so we ordered a sampler plate called Puerto Rican Delights to taste a bit of everything including surtidos de frituras (turnovers), sorullitos de maiz (corn fritters), and pastelillos de carne y pollo (croquettes stuffed with beef and chicken). And, of course, we had to taste one of their legendary pina coladas.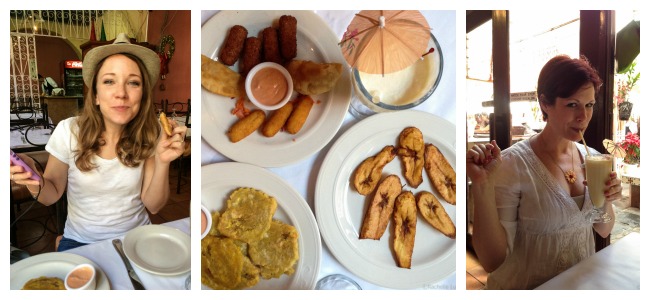 We also shared a side plate of fried plantains, which are very similar to bananas. There are two kinds that we ordered, tostones and maduros. Tostones are unripened plantains that are smashed to make a sort of chip and then pan fried. They taste sort of like potatoes and are typically served with a garlic sauce or a creamy dip made of ketchup and mayonnaise.  Maduros are ripe plantains that are also pan-fried and taste similar to sweet sautéed bananas. The big difference between the two is one is savory, and one is sweet. Definitely give them both a try!
For dessert, we split a coconut flan (a sort of egg custard) and tres leches cake (a creamy cake), and two more cups of coffee (I can never get enough coffee).
After lunch, we continued our self-guided tour to Paseo de la Princesa and around the city wall along a trail called Paseo del Morro. It's a long walk, about 3/4 of a mile, but worth it for the fantastic views and photo ops (plus a little walk didn't hurt after indulging in such a big meal). Here's a peek at what we saw along the trail:
Toward the end, there's an old city gate that takes you back into Old San Juan. It's impressive to walk through as you can really see how massive and thick the city wall actually is — 15 feet of solid stone.
Once on the other side of the gate, we were happily surprised to find a street vendor selling piragua, shaved frozen ice drenched in tropical flavored syrups like guava, guanabana, and coconut.
Of course, we had to have one. Who doesn't love second dessert? Plus, it was a great way to cool off in the warm tropical weather.
We took our piraguas and walked up a lovely tree-lined street to the San Juan Cathedral. Along the way, we also spotted a great artist loft where three women, (who have named their shop Tres Mujeres), create colorful handmade items with needlepoint work that depicts scenes of Old San Juan. What I found special about Tres Mujeres is that these handicrafts made by local women depicted life and the history of Puerto Rico in a very vibrant and colorful way.
Once we got to the top of the hill and rounded a corner, we found and expansive view of the old fort and graveyard with the ocean in the background.
Since it was nearing the end of the day, we walked back through the cobblestone streets and made our way to the port to get back on board our Carnival ship, stopping at a few other handicraft artisan shops along the way to pick up a few souvenirs.
It was a lovely day visiting San Juan and this is definitely a destination I'd be excited to come back to.
This post was created for Away We Go with Carnival, the destination for getting in the getaway state of mind.