It's been at least ten years since my last Carnival cruise, and my-oh-my things have changed.  Last month, my friend, Suzie, and I went on a girl's getaway to relax and unwind before the busy start to the new year.
We're both the obsessively organized type (she's actually a professional one) and we set out to disconnect from the world and find time to read, soak in some sunshine, and remember what it was like to be entertained without staring at the screen on our phones.  We'd both been on Carnival before and were curious if it was still the same, or if it had grown up as we had.  We were seriously, are-you-kidding-me, jaw-droppingly impressed.
To be honest, I deliberately picked a newer ship.  I wanted to see how things have changed and experience what today's engineers and designers had dreamed up for a cruise liner.  First of all, there are restaurants — LOTS of restaurants.  Of course, as a foodie, that would be the first thing I noticed.  We ate at a different place every day.  There's a coffee shop, a steakhouse, and even a sushi bar that's all quiet and zen-like for when we wanted something light and casual but were not in the mood for a buffet.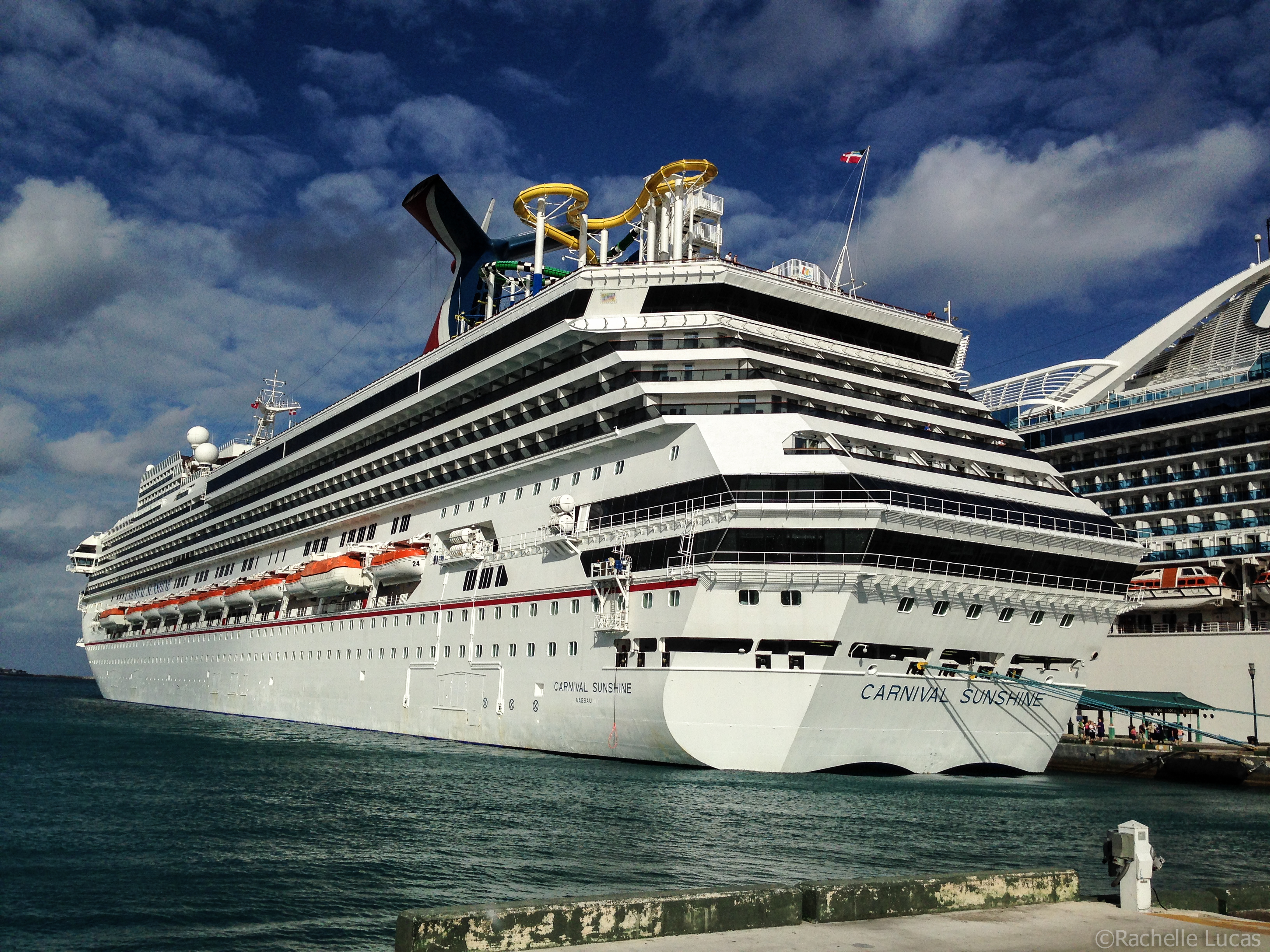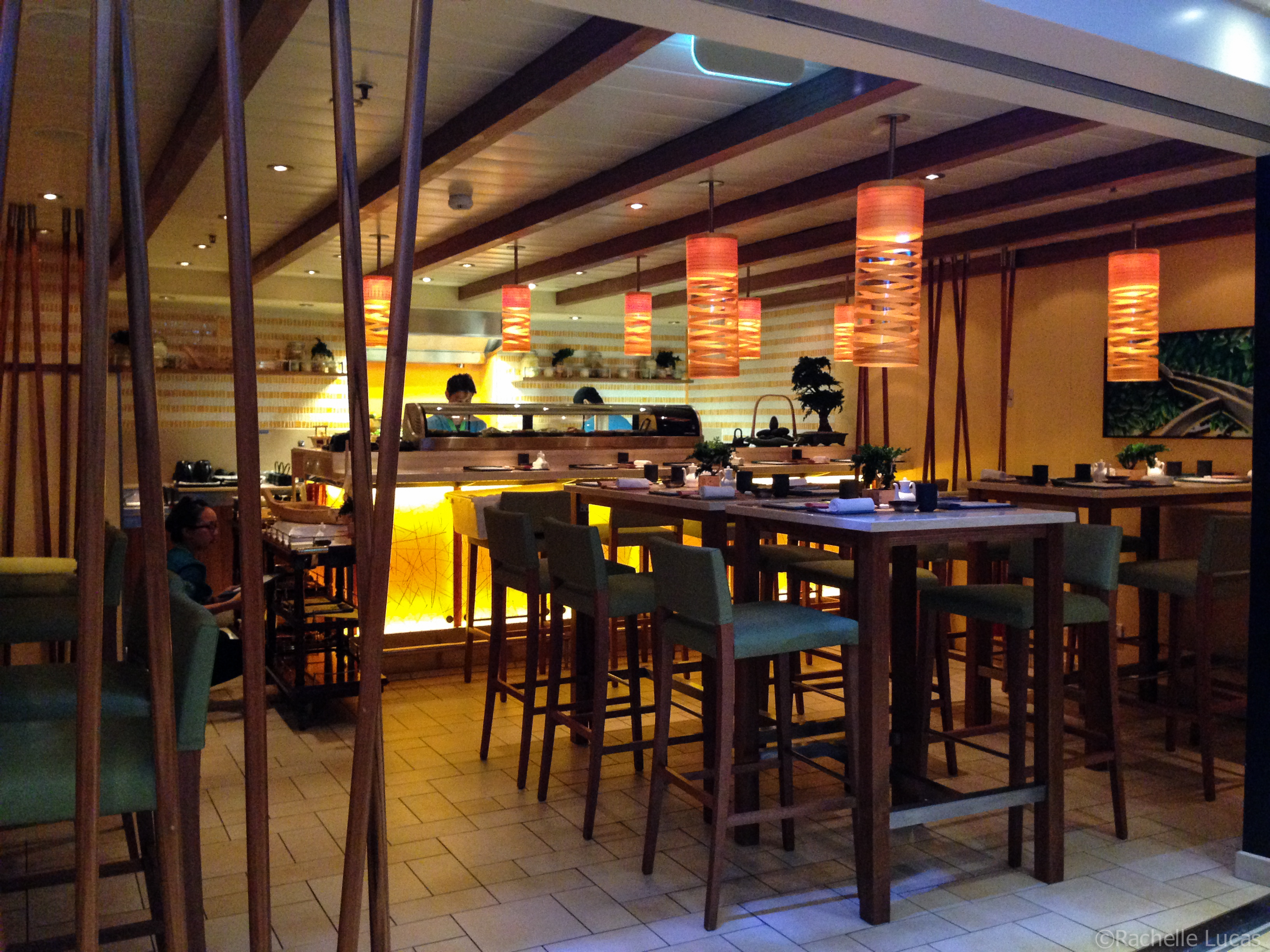 Sushi Bar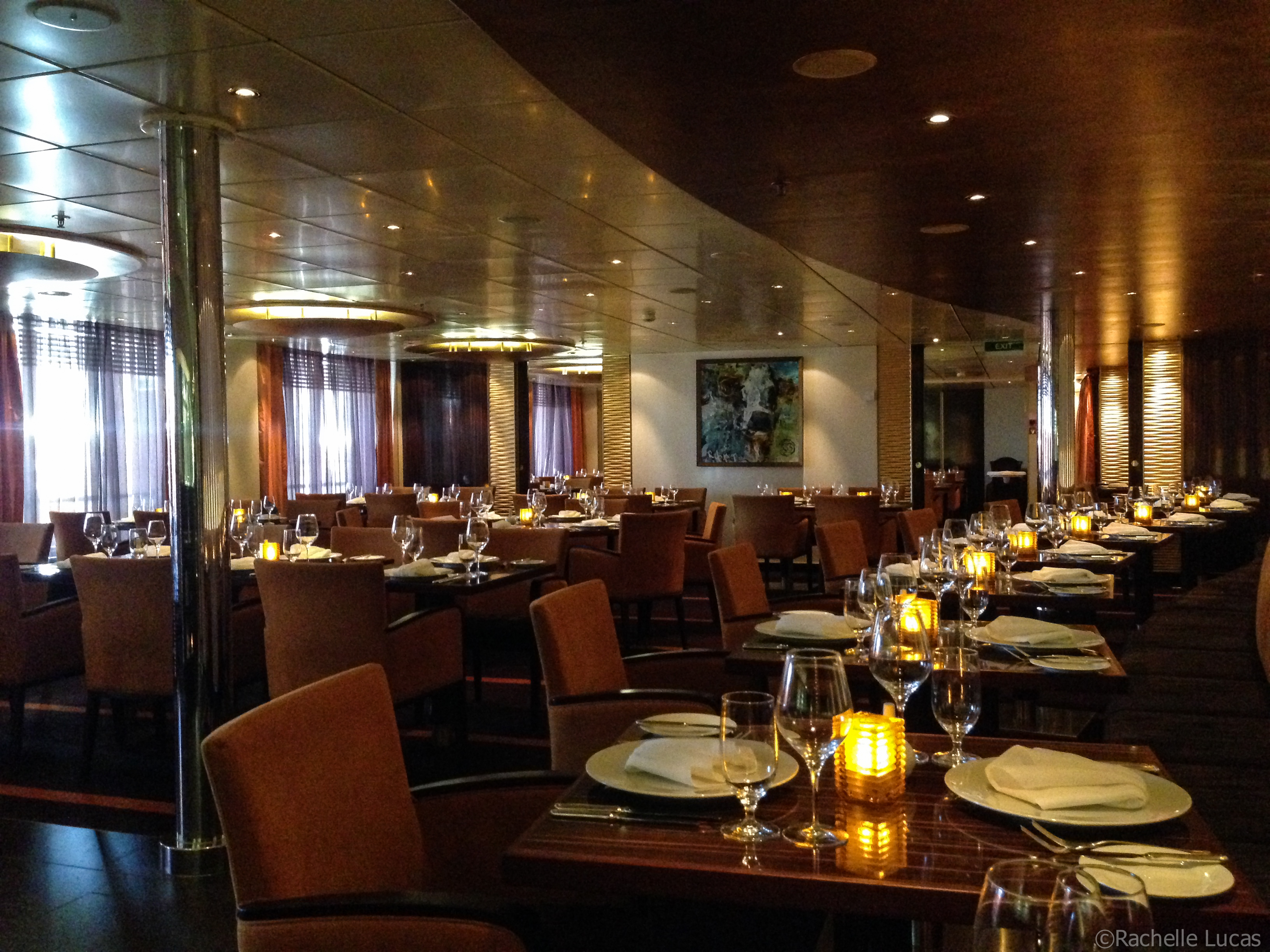 Steak House
The rest of the ship had equally impressive changes.  There's still a pool deck with rum drinks and a DJ playing tunes where you can get your Caribbean-feeling on, but there's also a spa-like serenity deck with hammocks and lounging pods where you can get lost in a good book or drift in and out of a nap while listening to soothing tunes.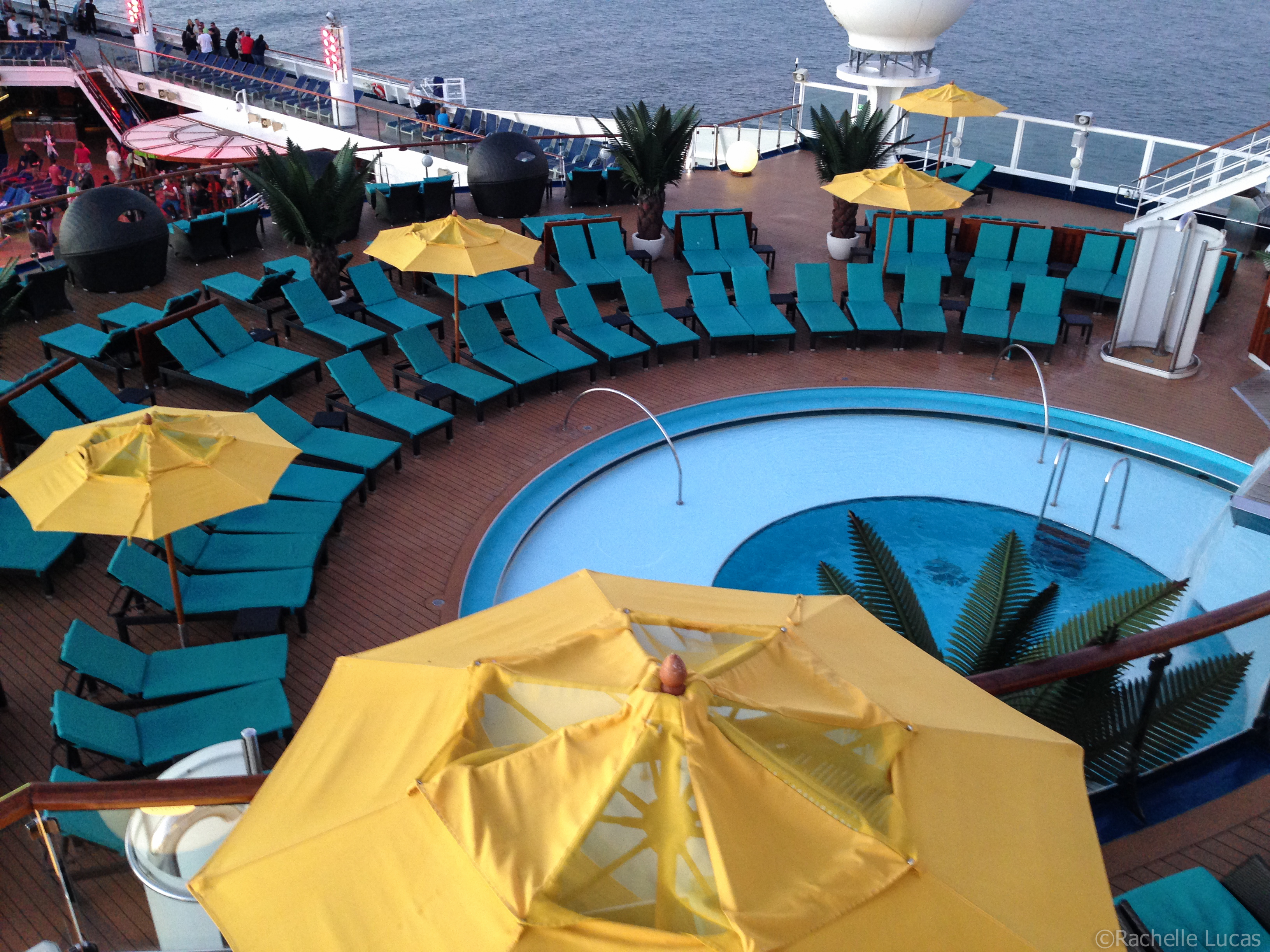 Serenity Deck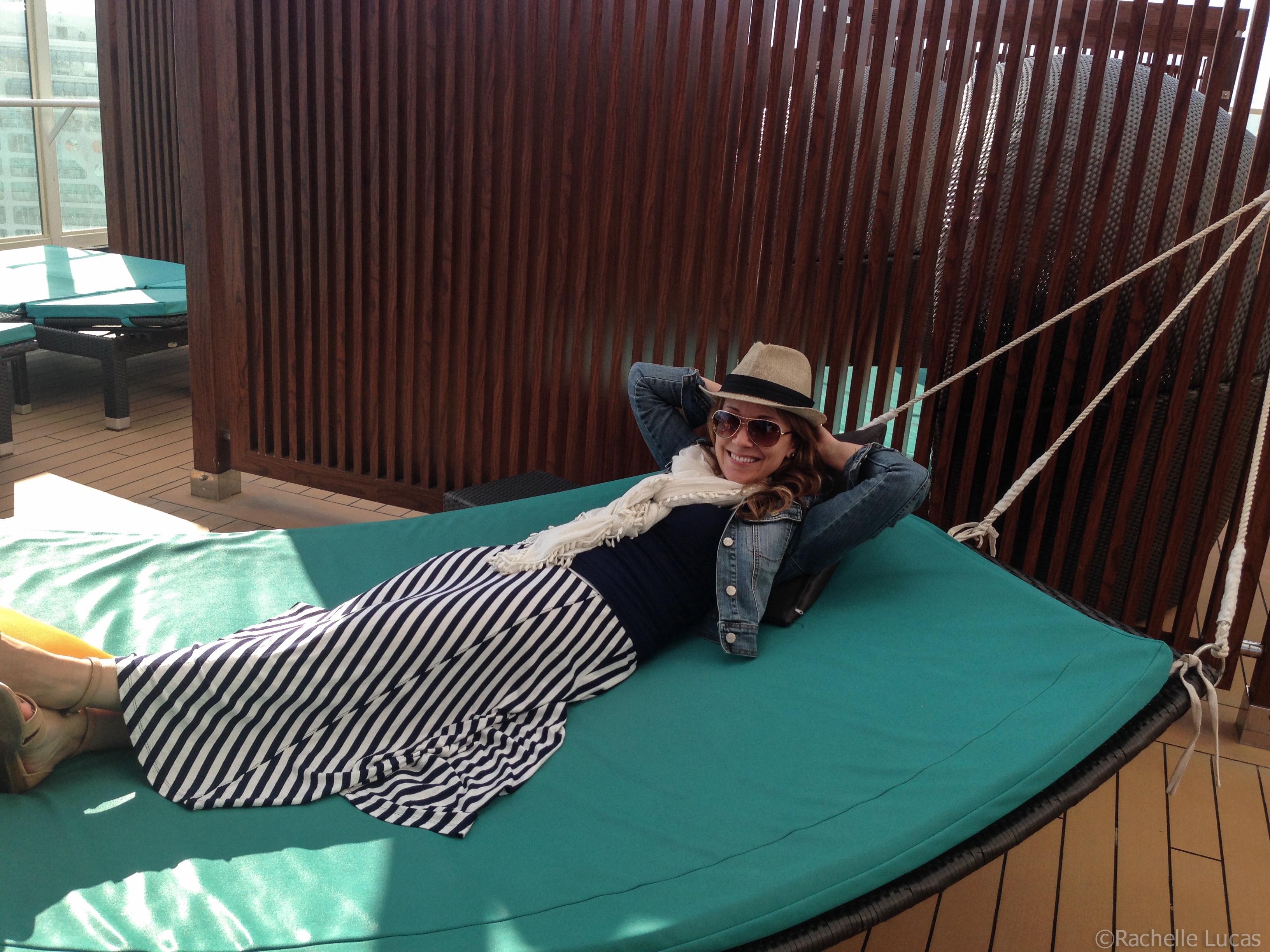 Claiming my hammock
And as for entertainment, I confess, I can't tell you much about anything but the comedy club.  The professional acts they had were straight off of HBO or Comedy Central and were so belly-bustingly funny, that we tried to see every show.  There was also a pretty darling little pub, and a Library Bar decked out with a wine dispenser machine that would please even the most sophisticated wine snob (see my tips for navigating the wines on the cruise here).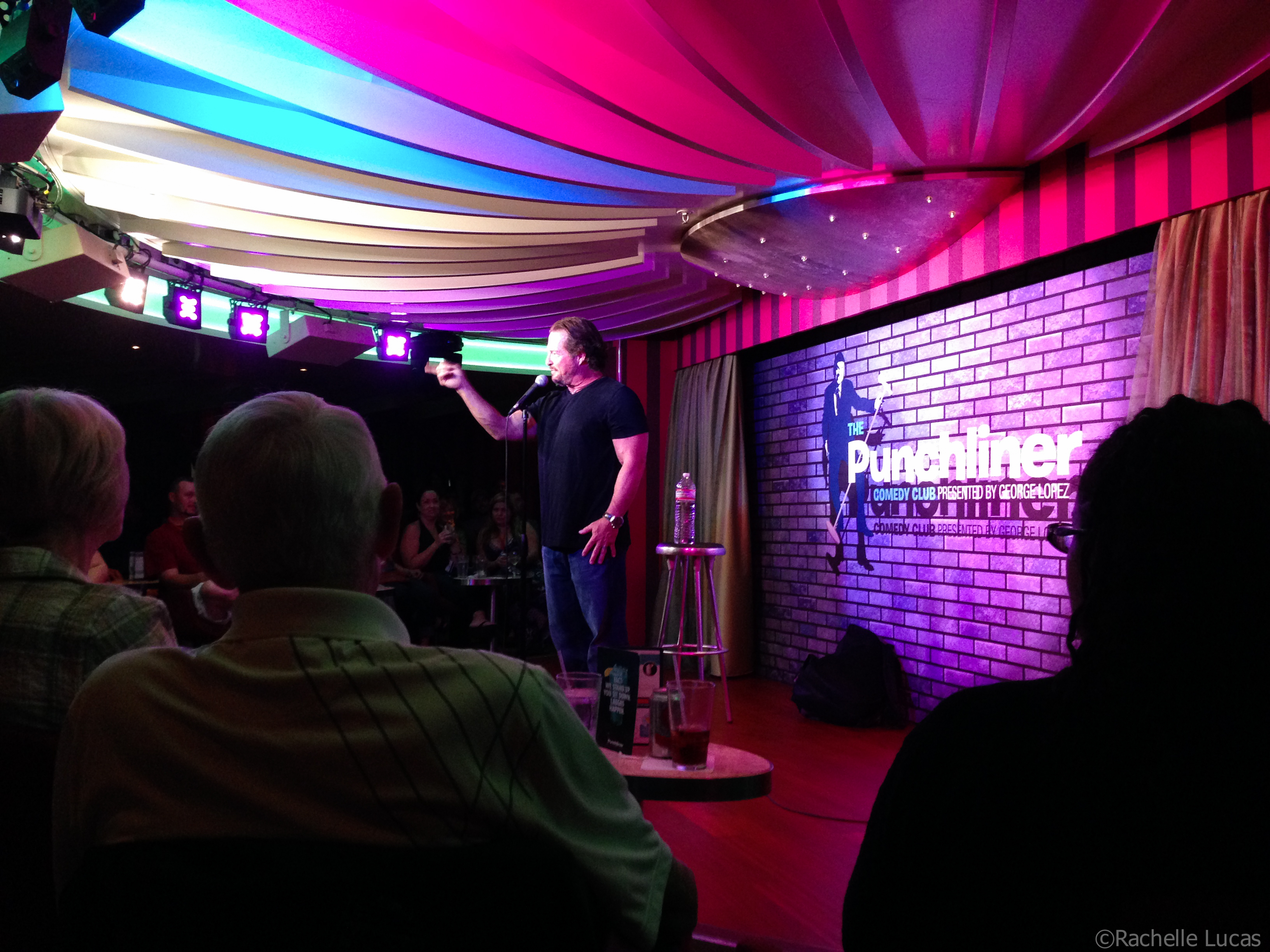 Comedy Club
Fancy Wine Dispenser
Turns out, it seems the underlying theme is choices.  So many different choices that you can really customize your experience the way you want it.  Thankfully, I traveled with a friend who was also a geeky-book-enthusiast, peace-and-quiet-seeking, coffee-addict, wine-sipping-foodie with a flair for fun.  But, if there's a different type of experience you're looking for, my bet is that they'd have that too.
Here's a sort of photo essay of what our week looked like.
DAY 1 – SAIL AWAY INTO THE NIGHT
We started our cruise in the coffee bar, with a little extra somethin' somethin' in our cappuccinos.  Some people choose fruity drinks with an umbrella for their sailing away celebration, we chose Caribbean coffee infused with Tia Maria and Appleton Rum with a sprinkle of nutmeg.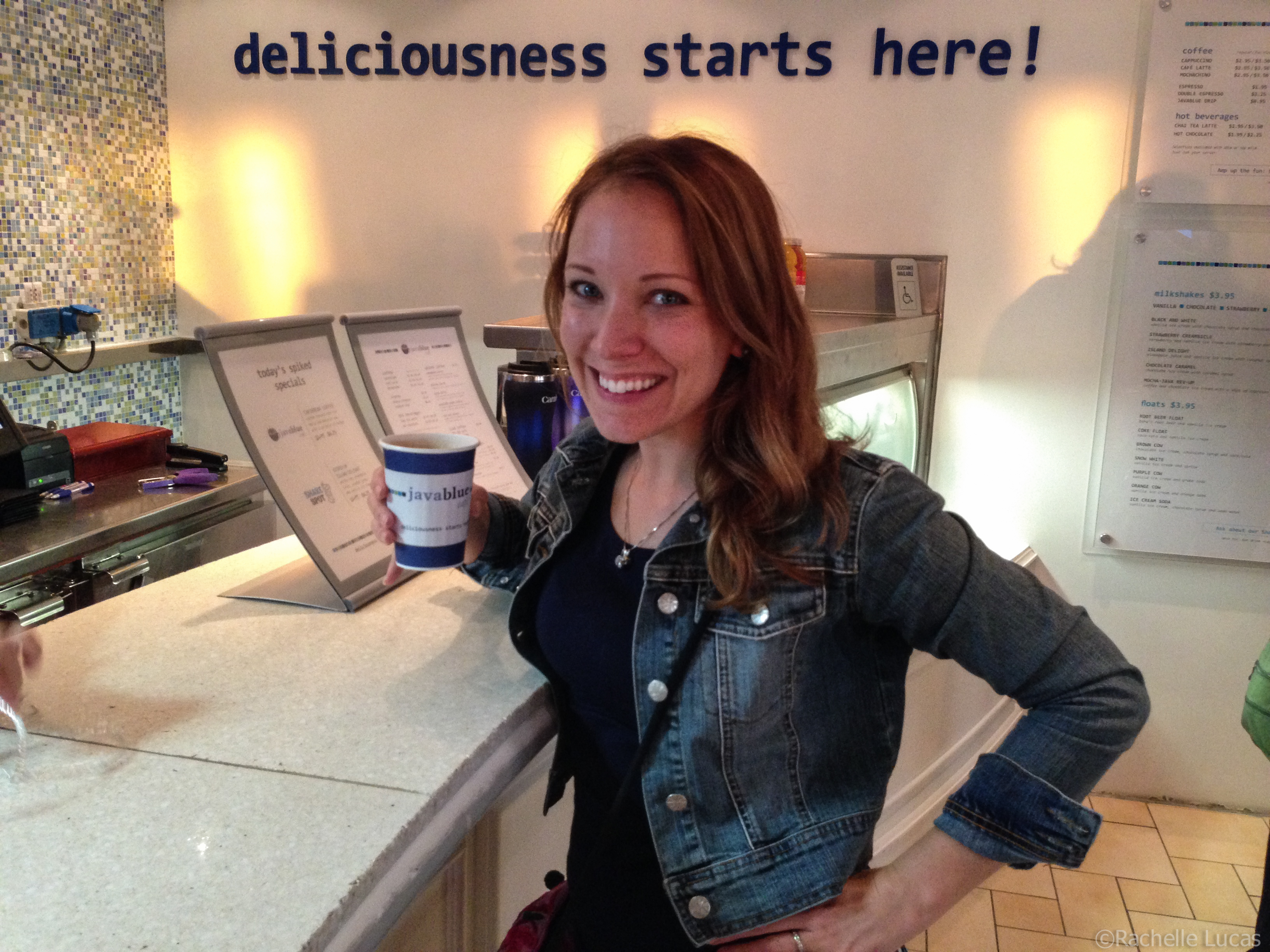 Rachelle showing her enthusiasm for caffeine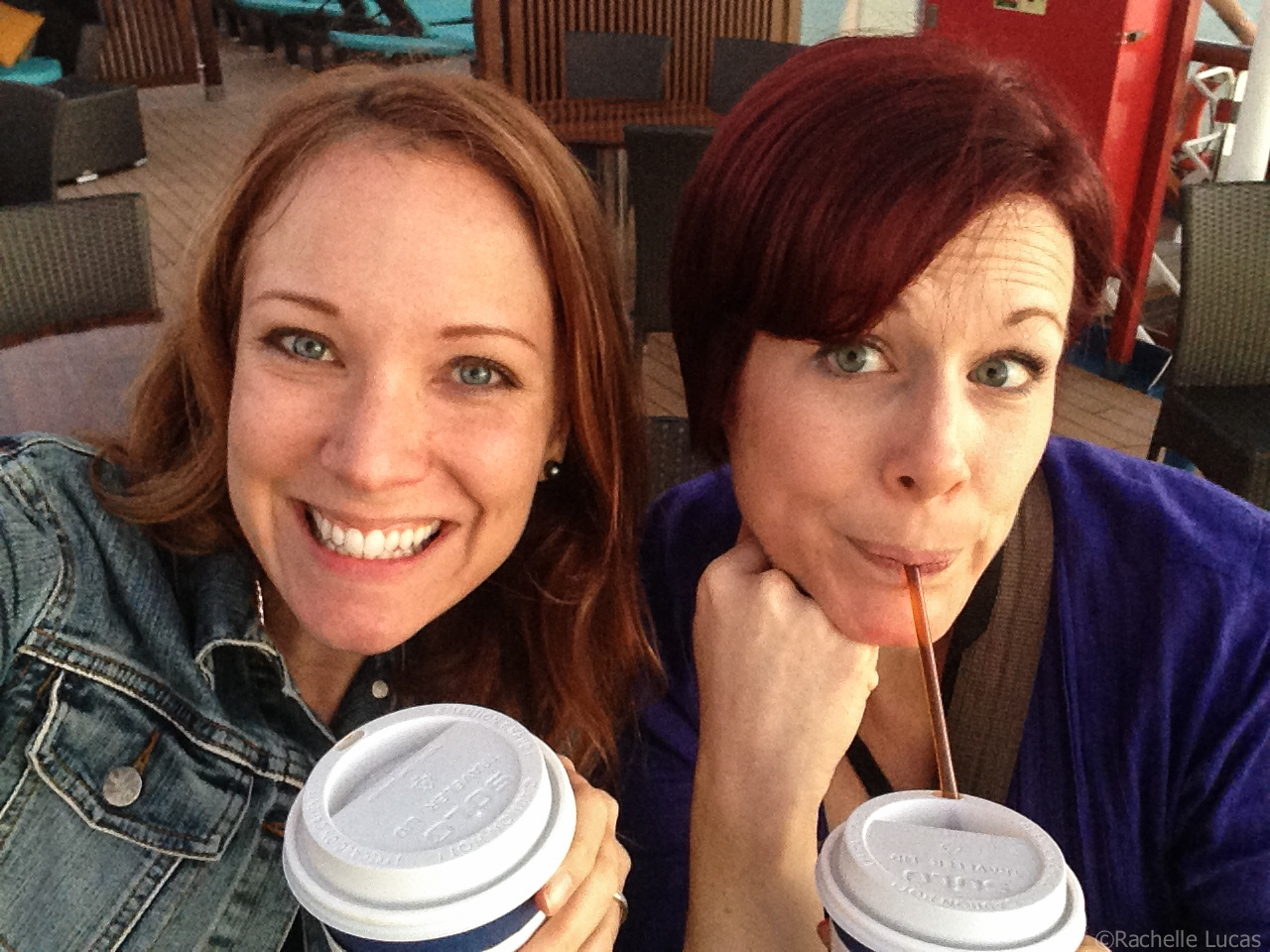 Celebrating setting sail
If you're a coffee lover like me, be sure to pick up this card as soon as you get on board: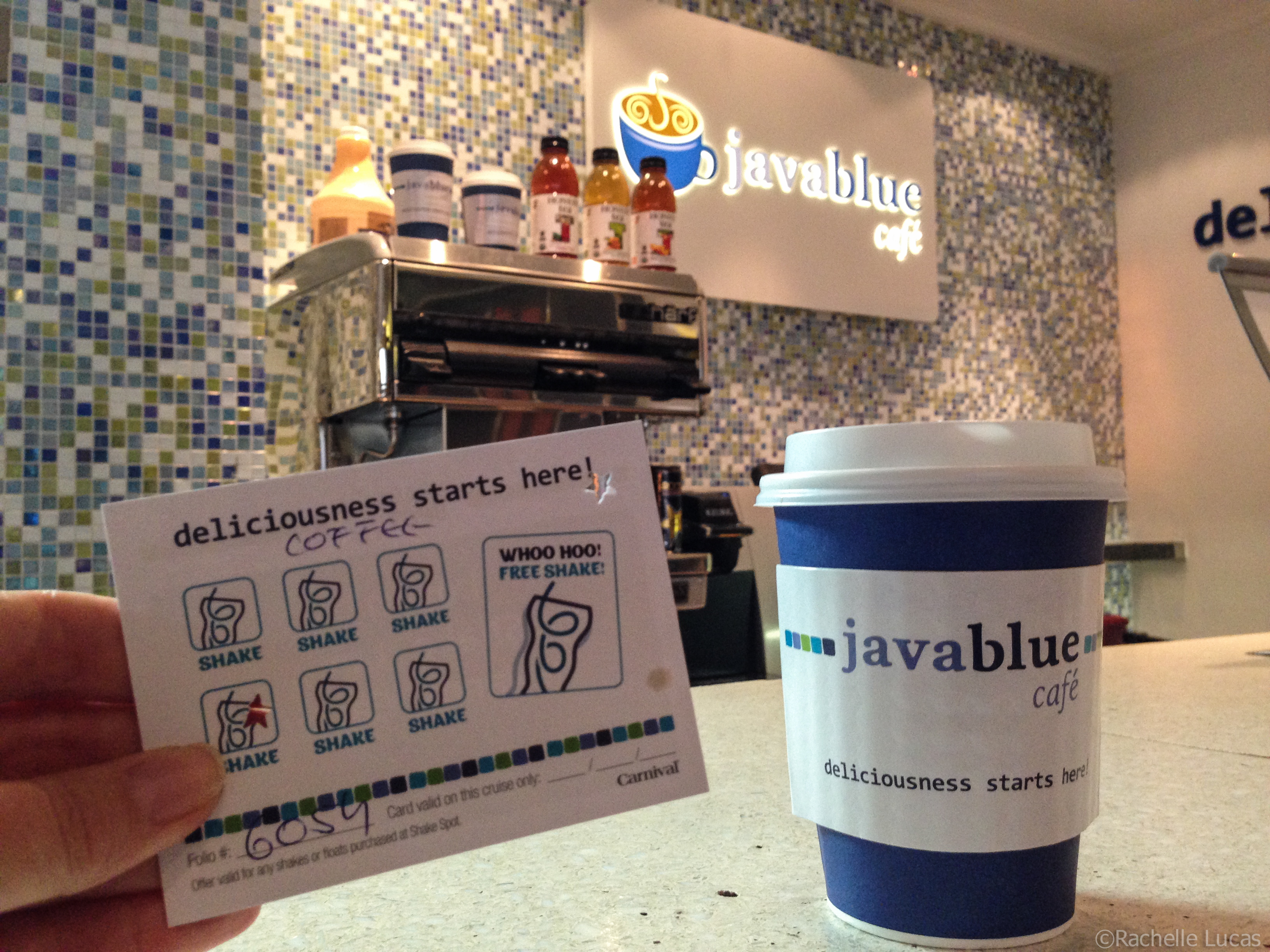 Frequent Coffee Sipper Card
Next, we went to the Taste Bar.  This is a new thing where you can taste samples from some of the different restaurants before making a reservation.  We couldn't decide, so we ate at ALL the restaurants.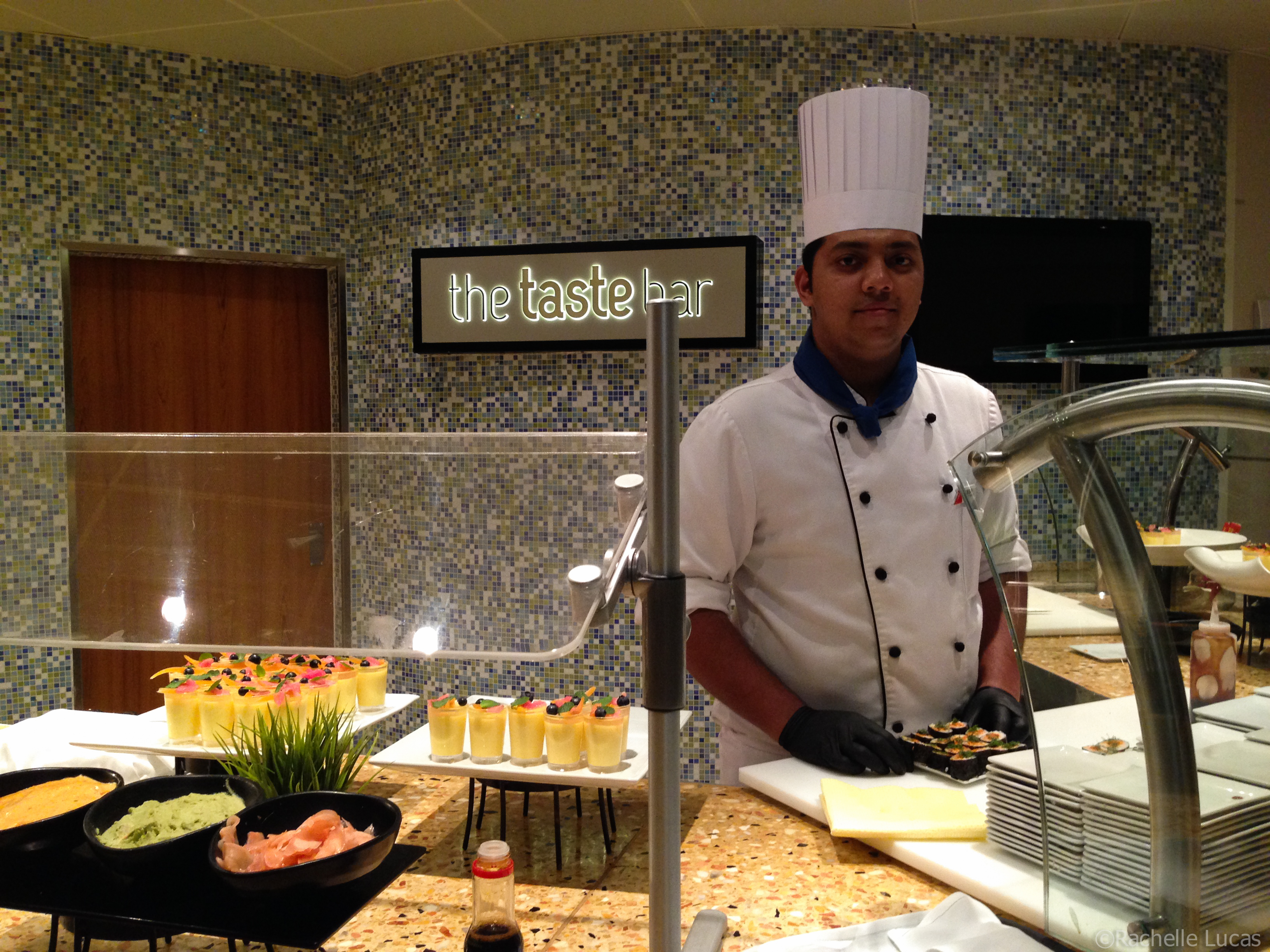 The Taste Bar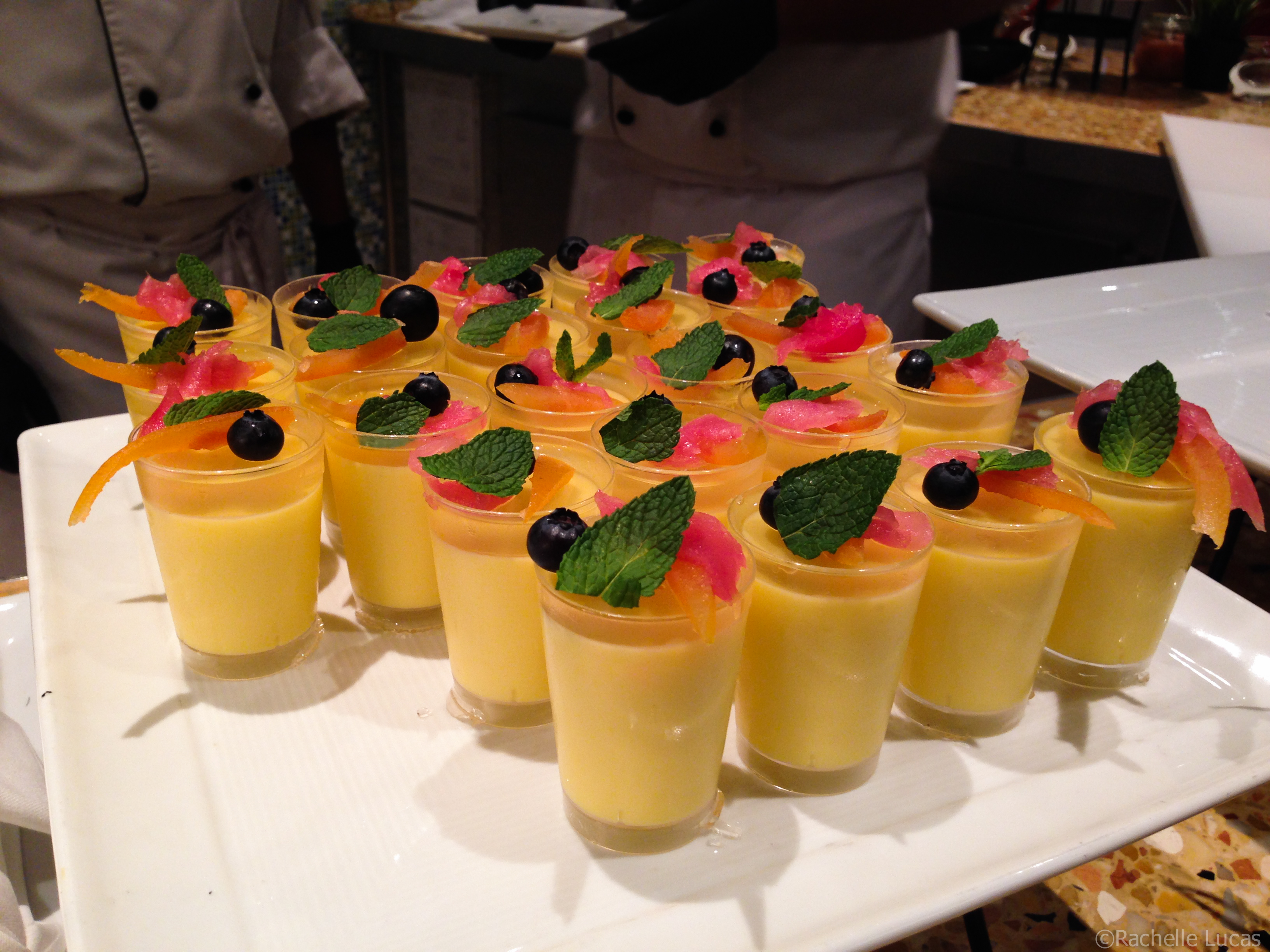 The Taste Bar Samples
For our first night, we went the traditional route with our assigned table dining.  What's new and cool is that it is set up a little more like restaurant seating, so we had our own table rather than sharing a big one with a bunch of strangers.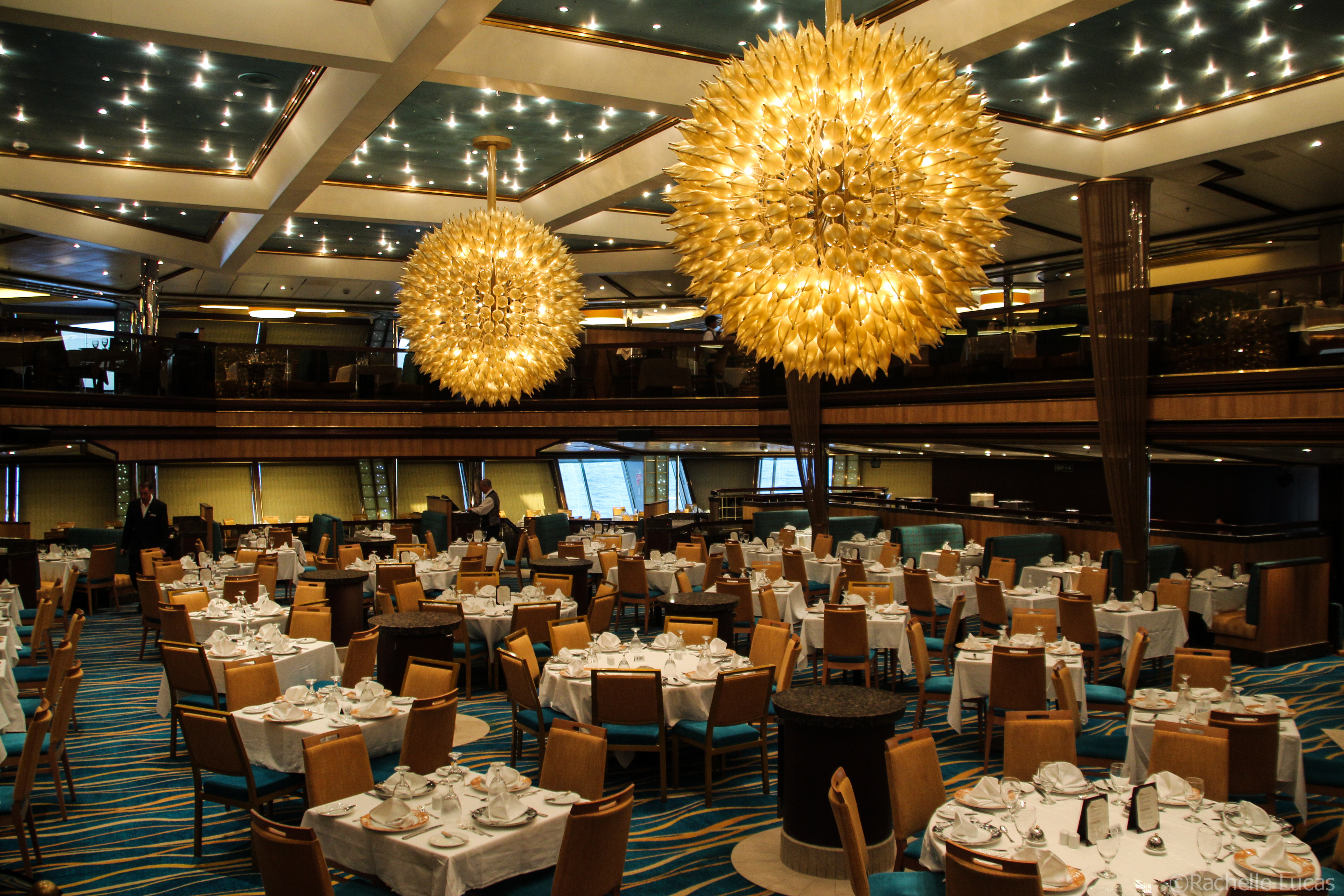 The Dining Room
DAY 2 – NASSAU
Our first port, the Bahamas.  And if you can believe it, this is the first time I've been.  (I know, you're shaking your head at me.  I live in Florida, I travel the world, and yet I had never been to the Bahamas!)
Because we felt adventurous, we decided to go for a walk and find some local food.  I highly recommend it.  Just a short distance from the port is Western Esplanade Beach (it's totally walkable) where we found a ton of food trucks and little huts offering local curry, fried conch, chicken and rice, fresh seafood, and a great selection of beer.  Perfect little spot to just chill.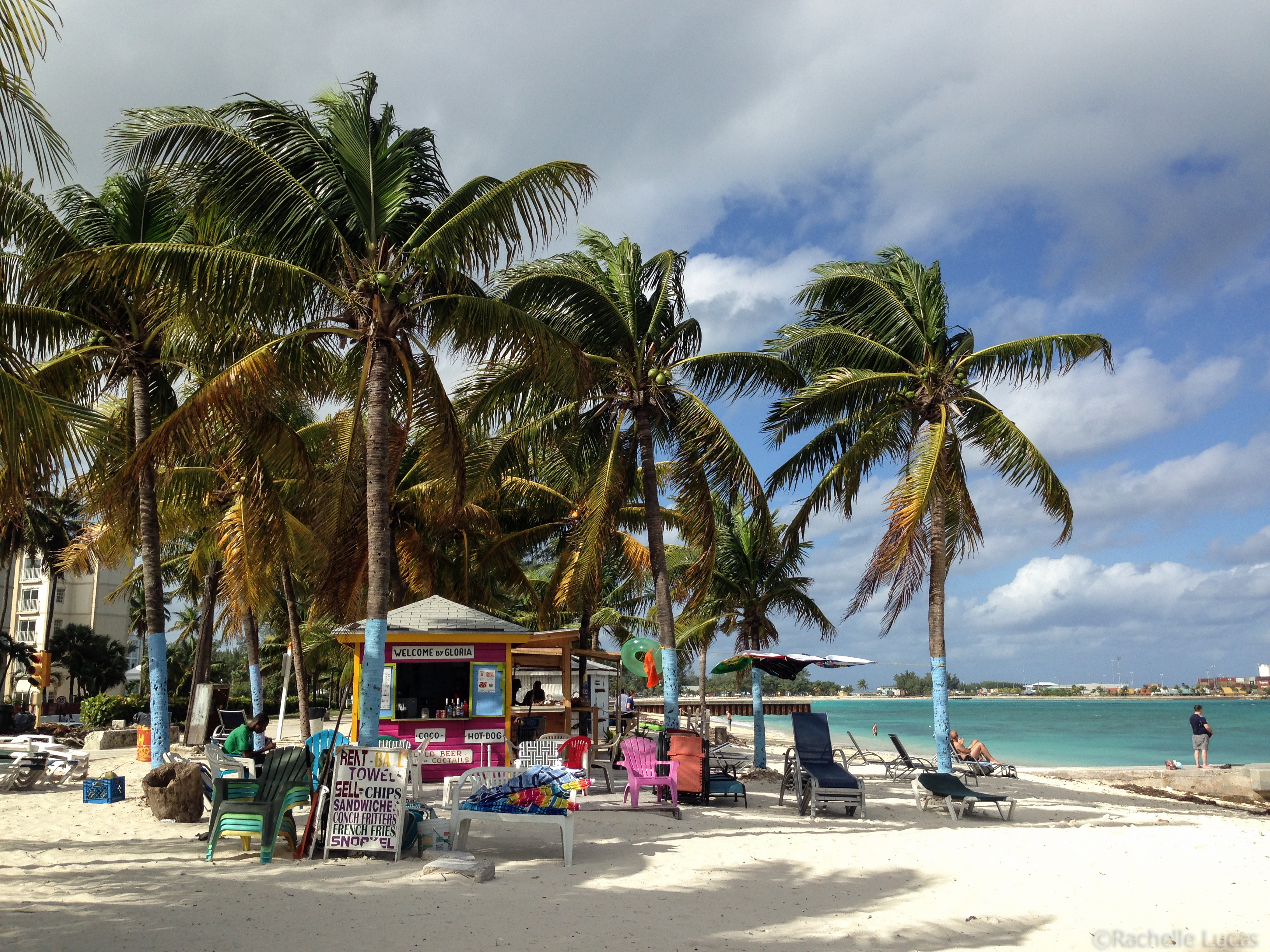 Western Esplanade Beach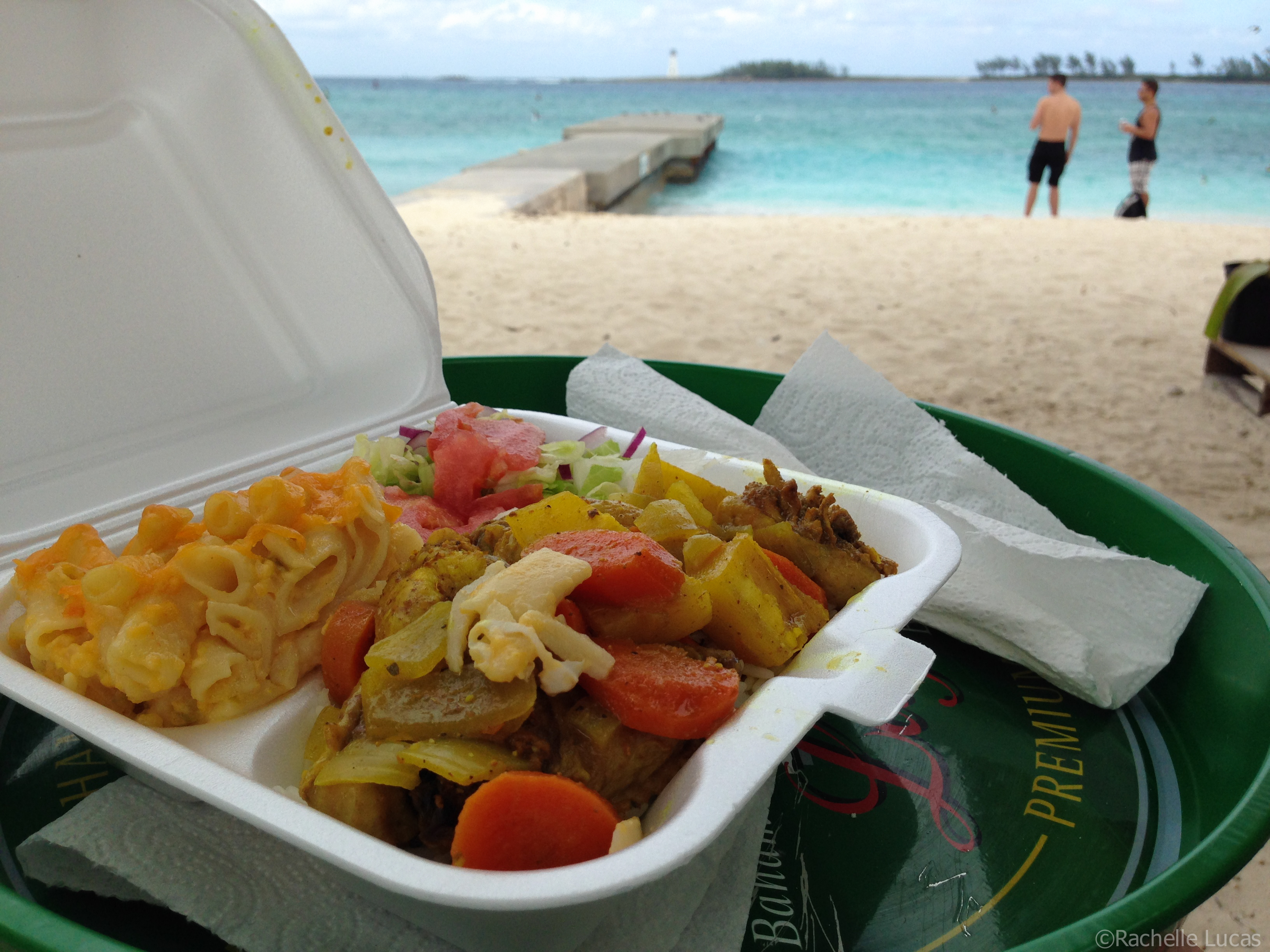 Lunch with a view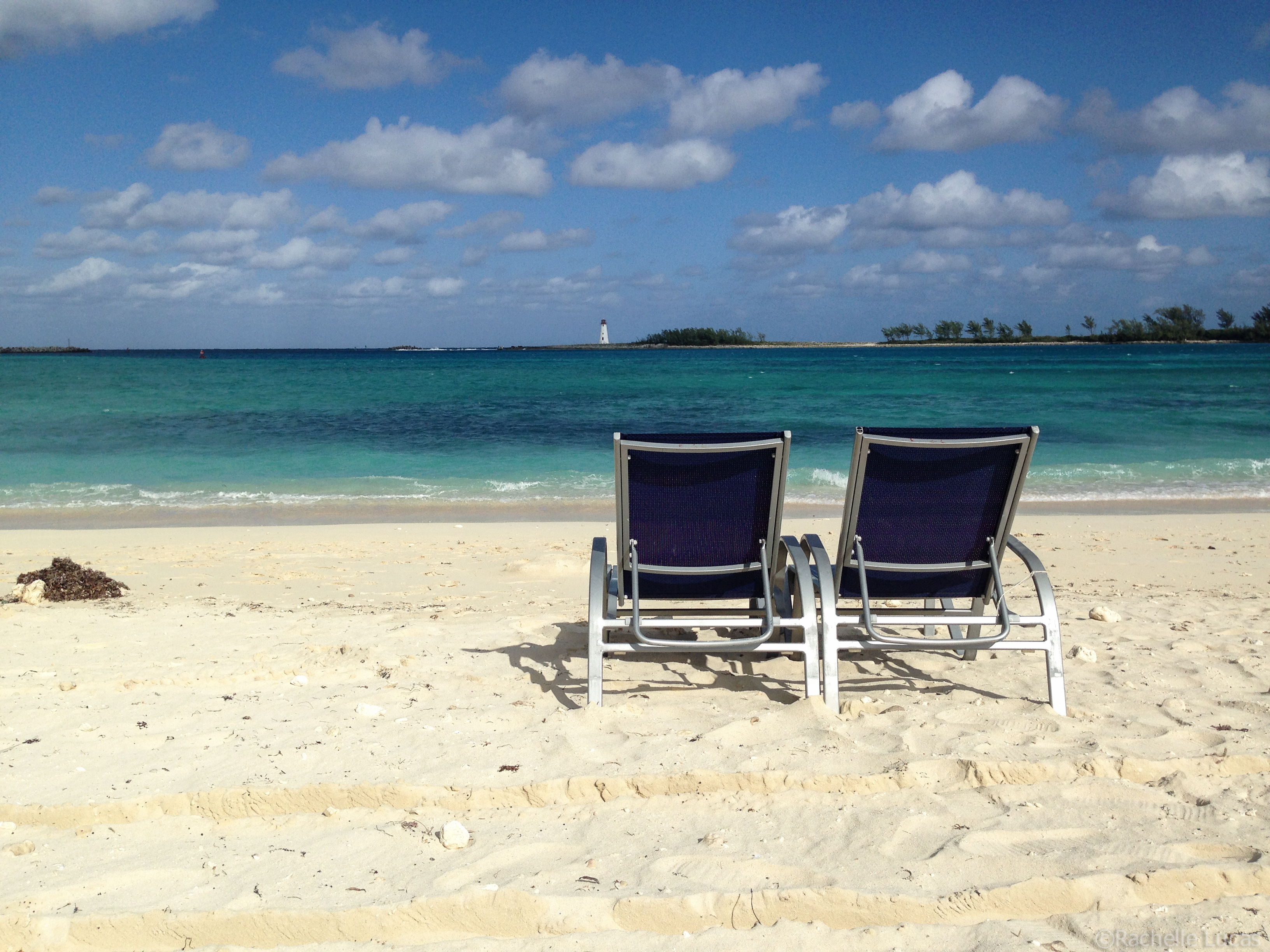 The perfect spot we found to chill out in Nassau
That night, we had a steak dinner and then took our cheese plate up to the Library Bar for a self-guided wine tasting.  They were super accommodating letting us take our cheese plate to go, and then we were surprised with some chocolates in our stateroom to thank us for trying out the steakhouse.  Very cool.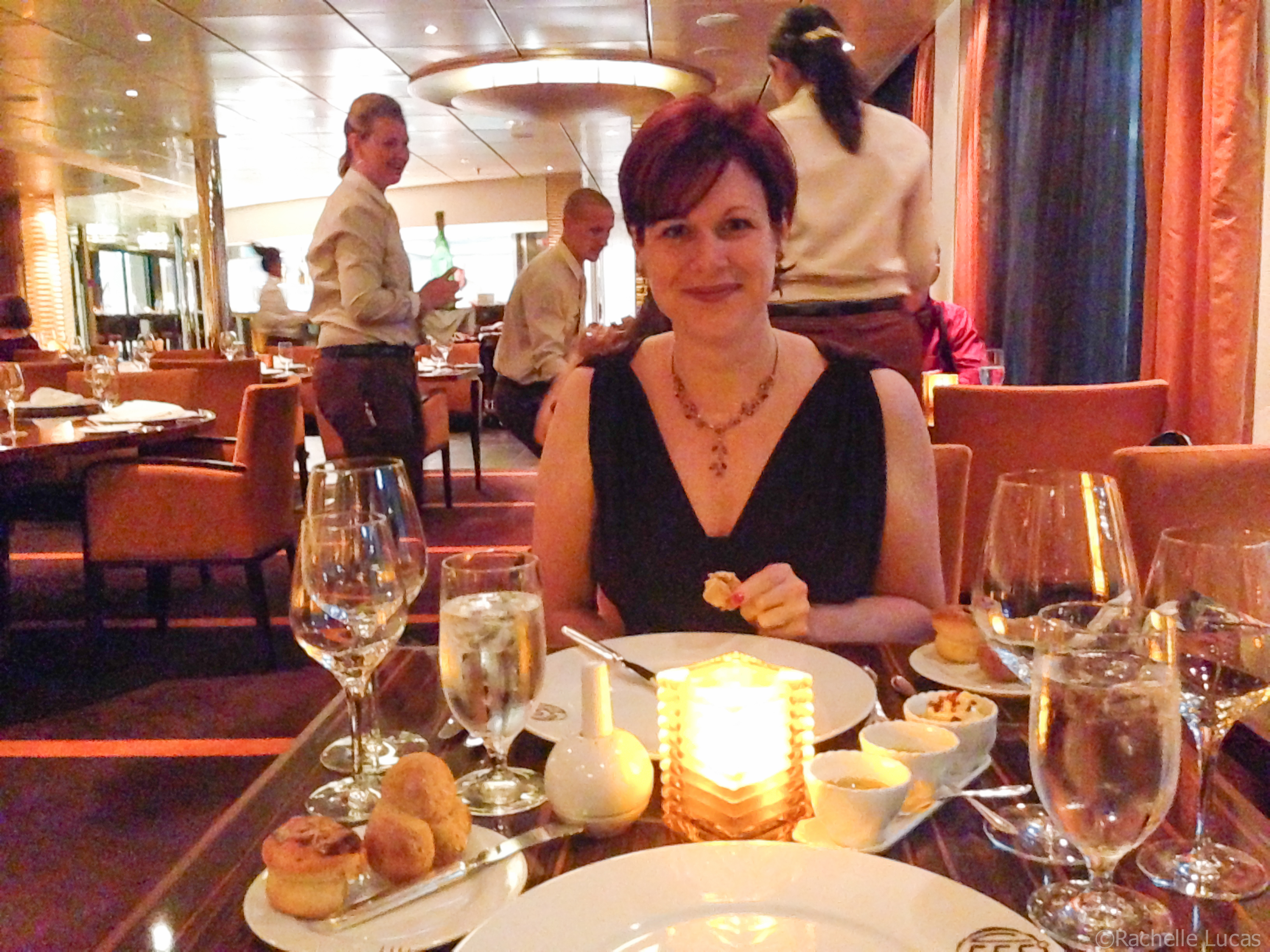 Dining out on a cruise is different than it used to be!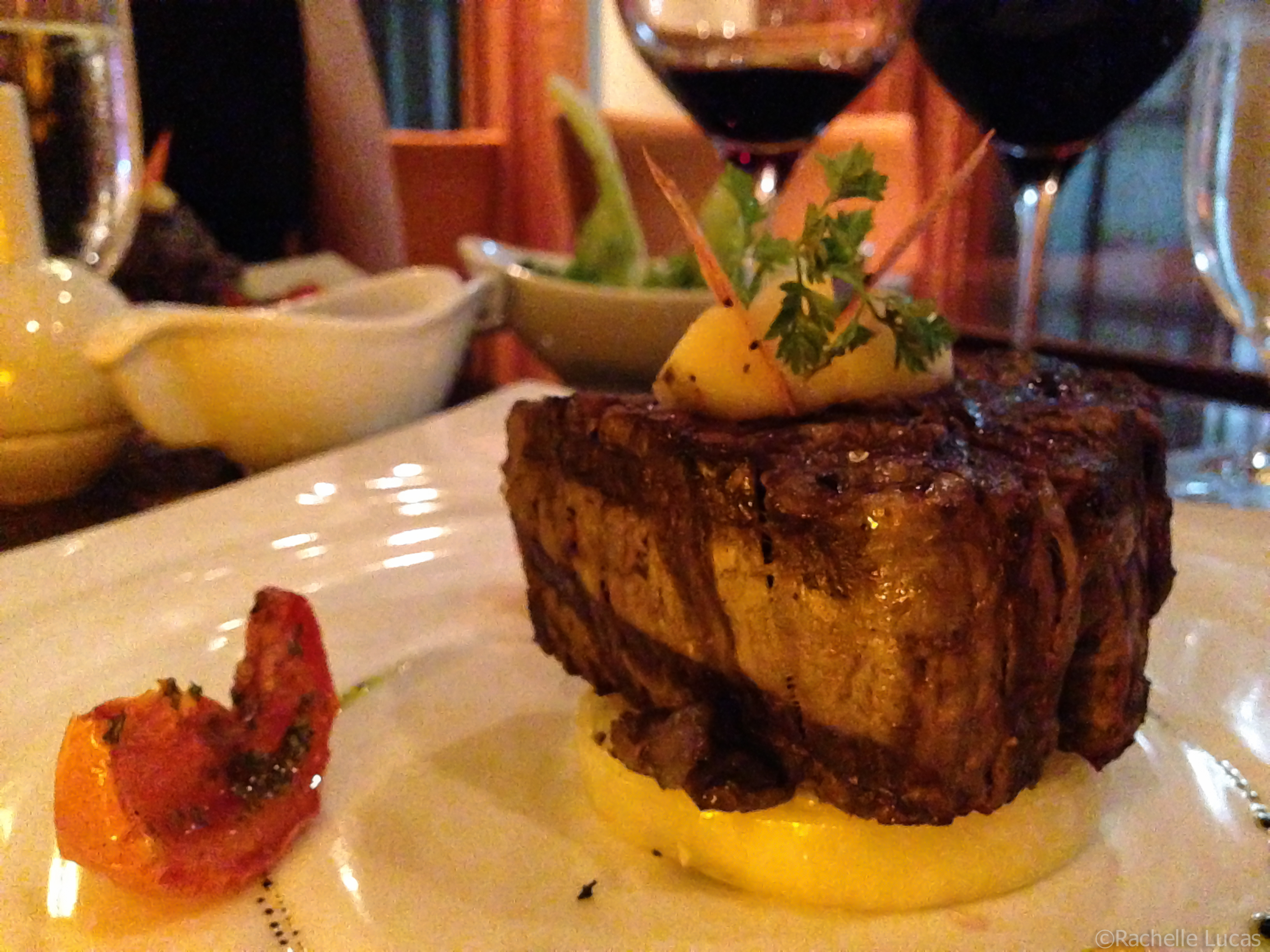 Our delicious steak dinner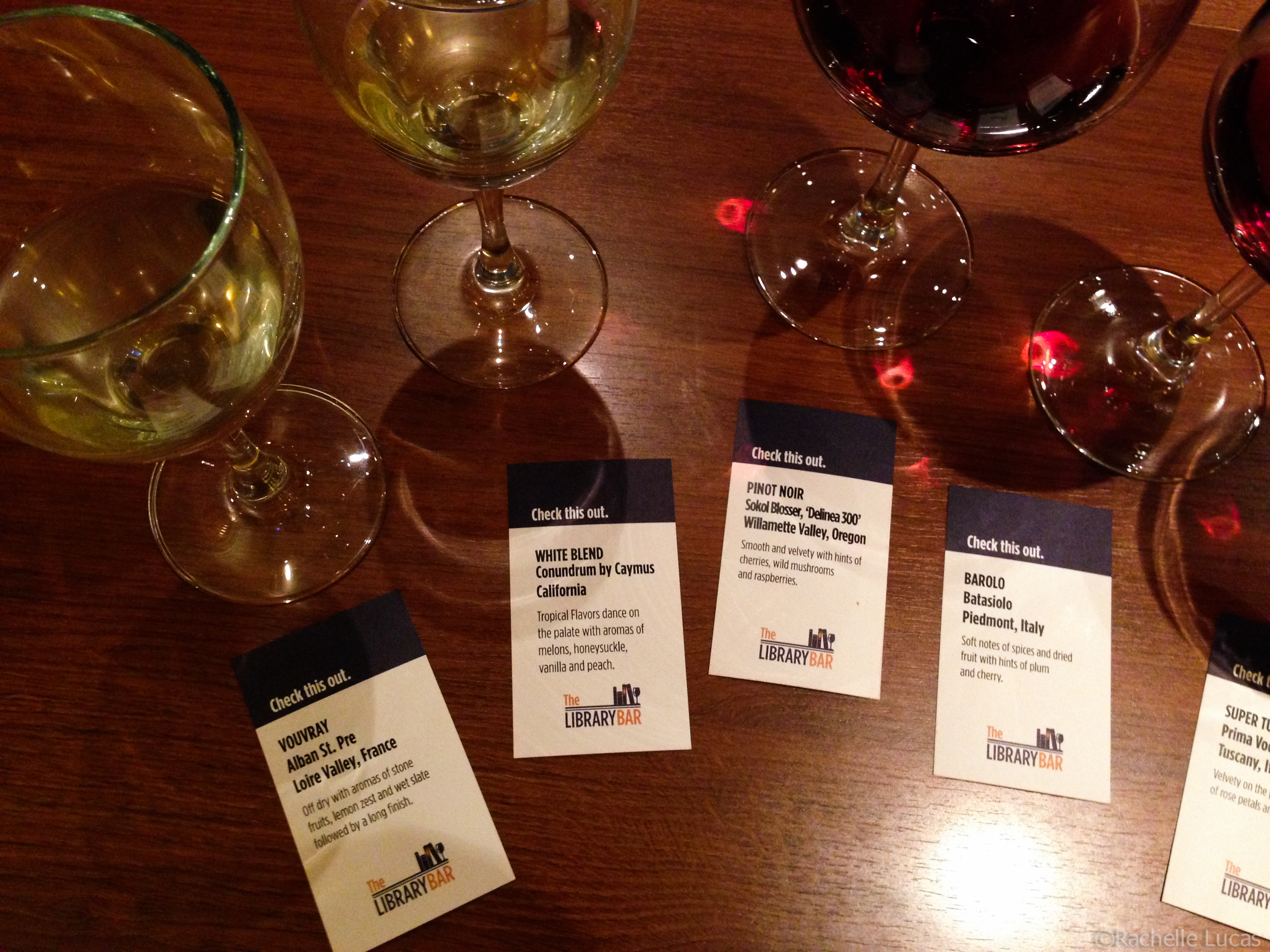 A wine tasting in the Library Bar
DAY 3 – SPA DAY AT SEA
Our first full day at sea — spa day!  We started the morning with a healthy room-service breakfast on our balcony, attended a detox seminar, did some yoga, got a massage, and pretty much lounged around in the spa all day.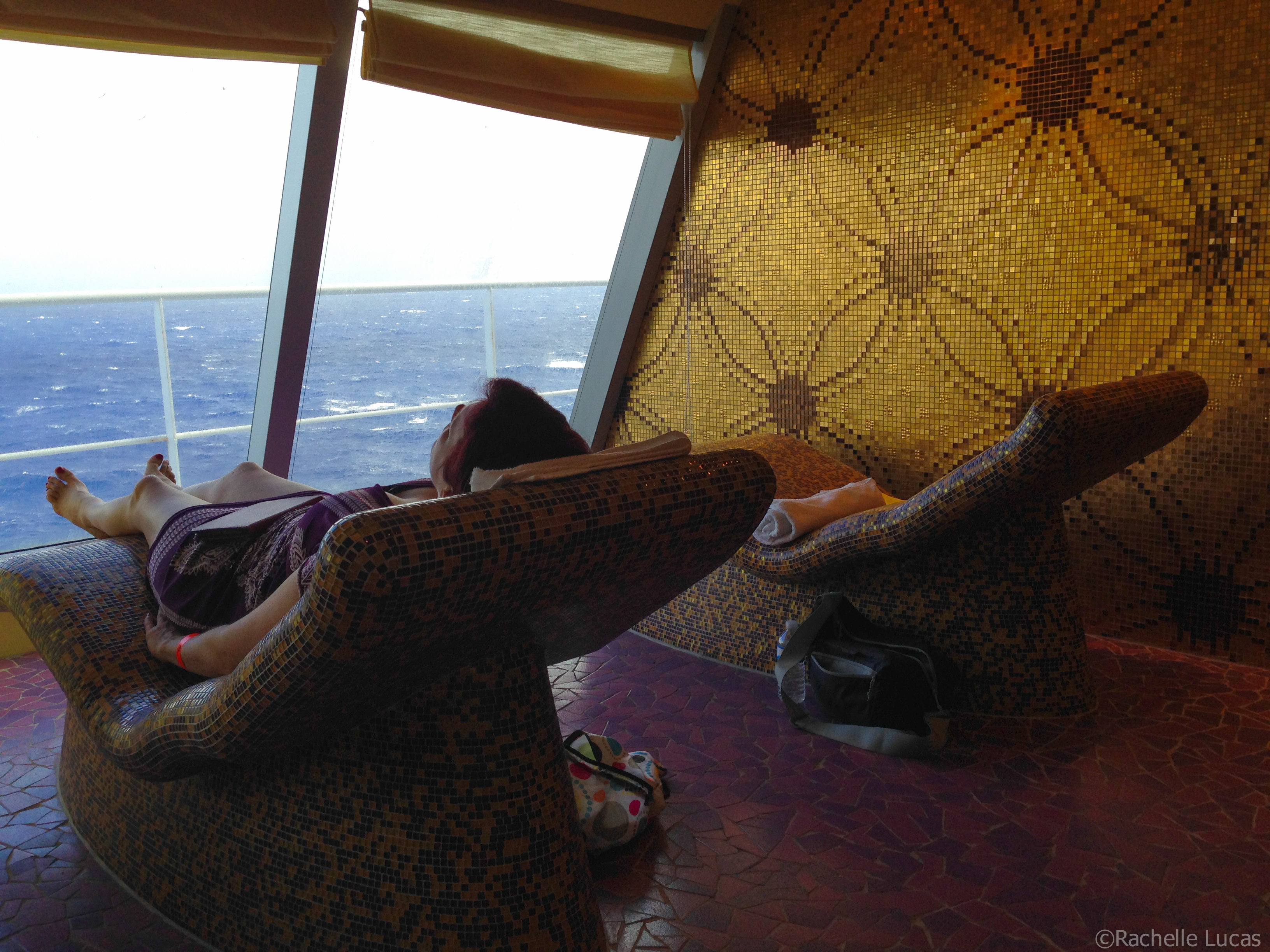 Lounging around in the spa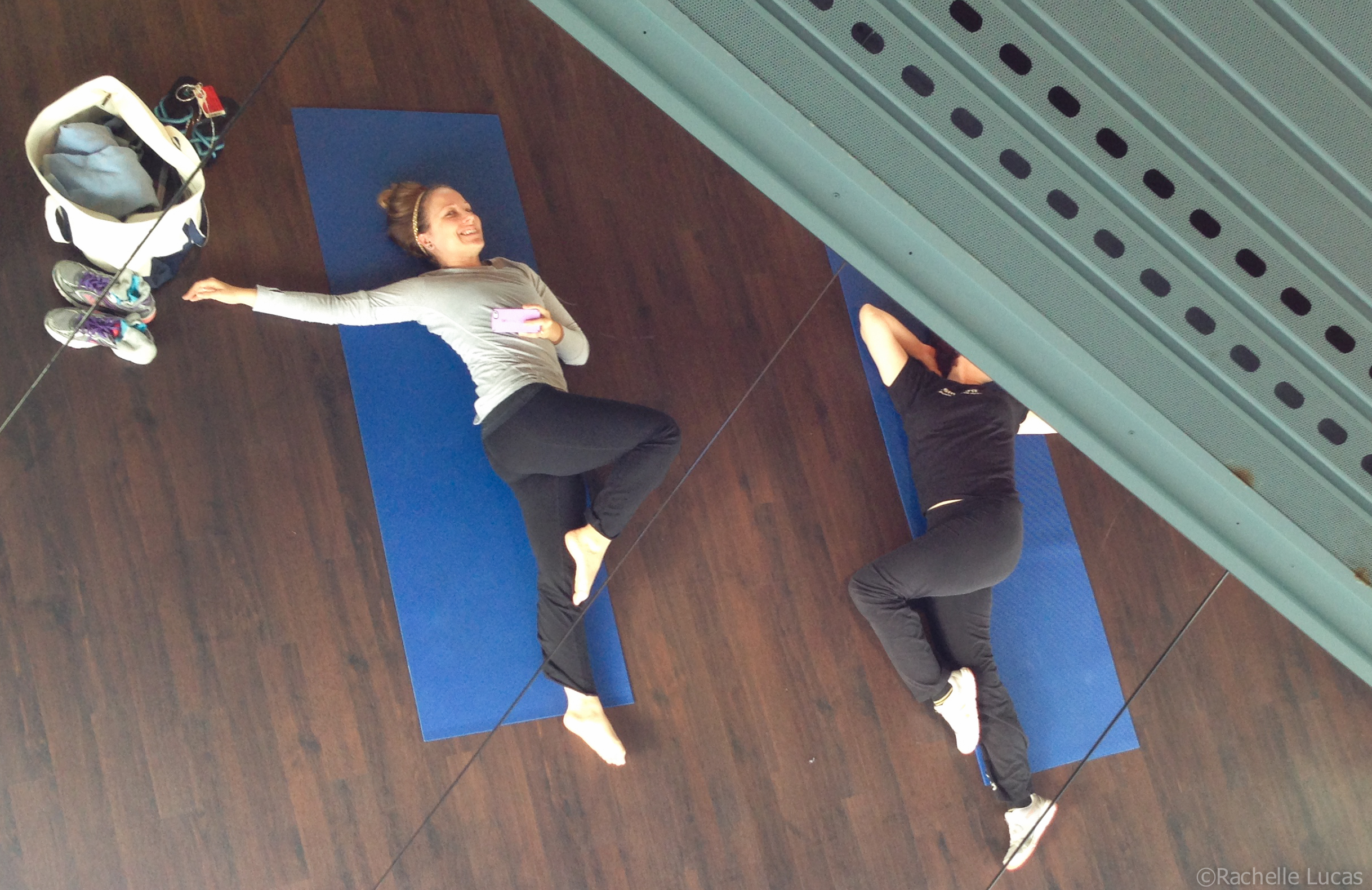 Stretching out for yoga
Since we'd been focusing on wellness, for dinner we went to the sushi restaurant for something light.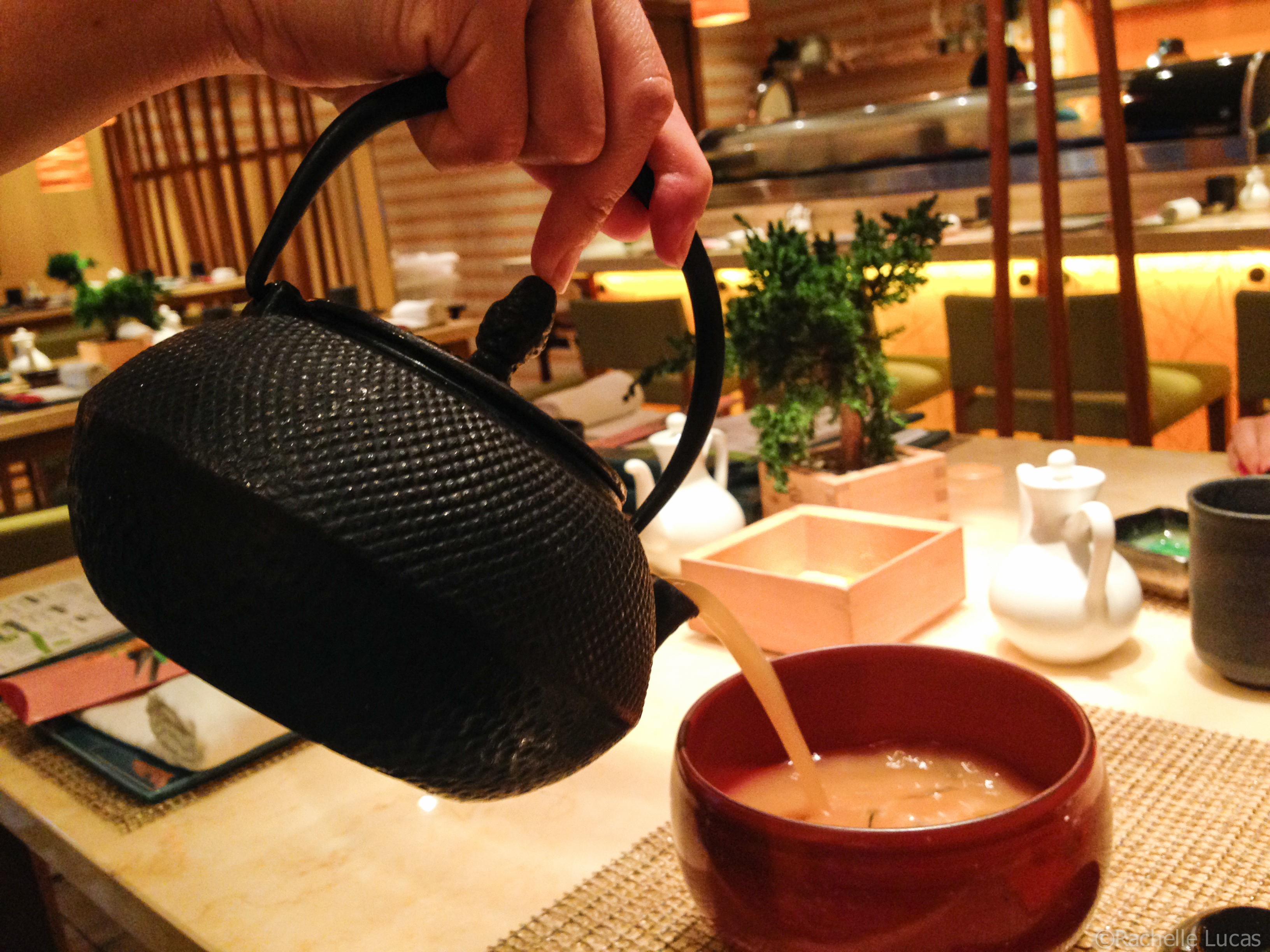 A comforting bowl of miso soup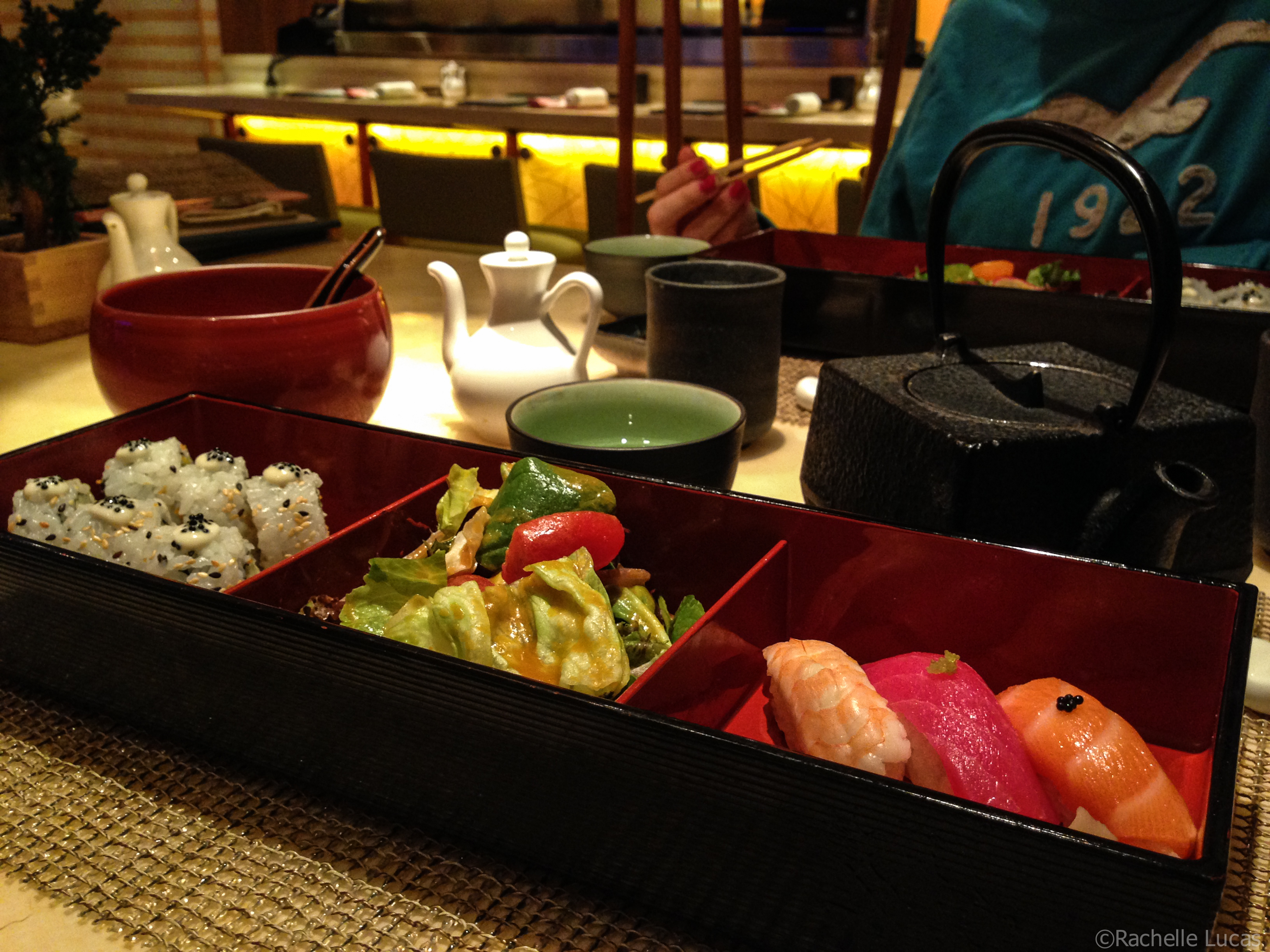 Bento box full of yummy goodness
DAY 4 – ST. THOMAS
Our second port and another new place for me — St. Thomas.  A combination of lush green rolling hills and beaches so perfect they belong on a calendar.  I would seriously consider moving here.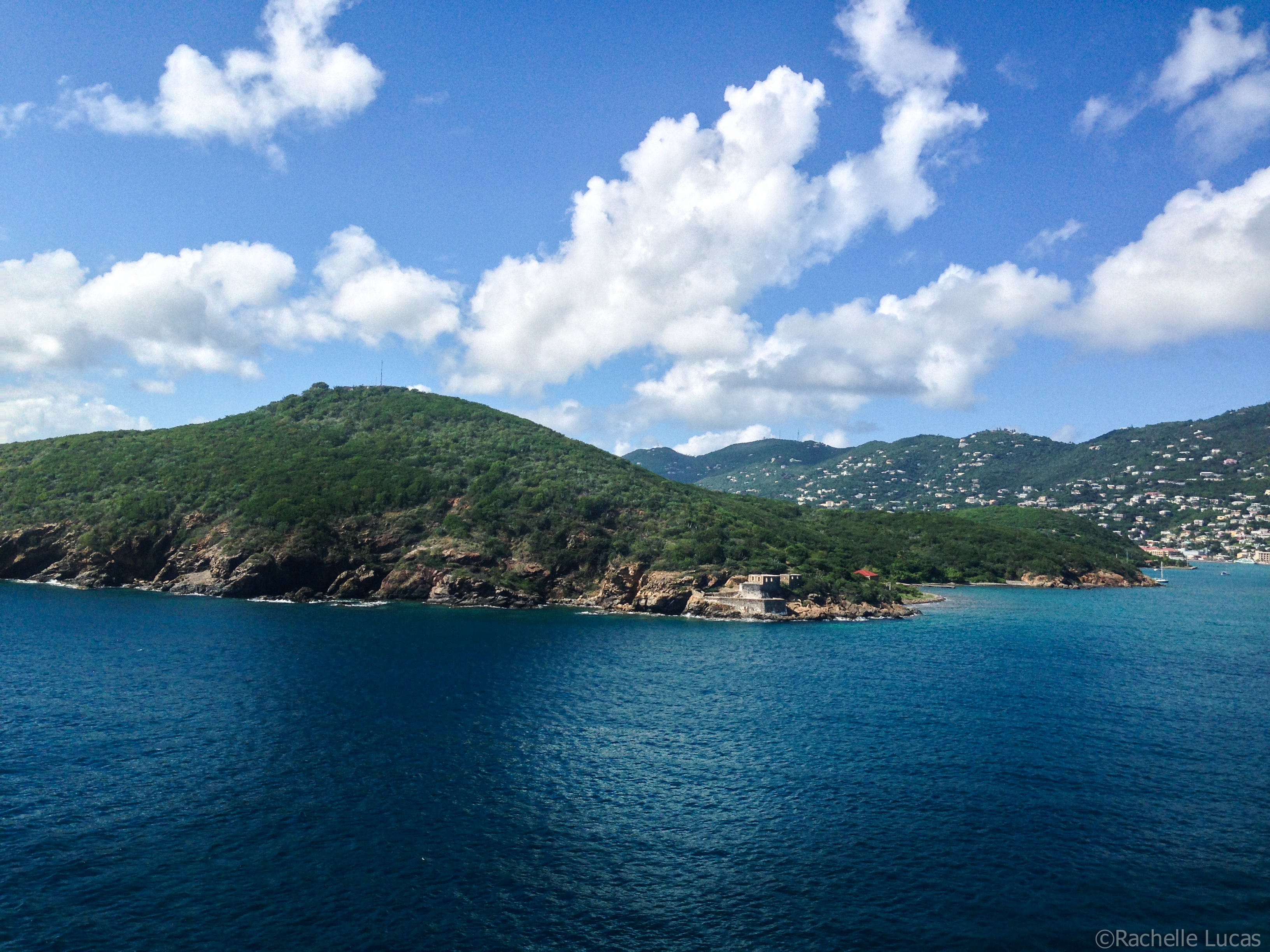 St. Thomas
For this port, we went with the sunset sailing shore excursion and if I could give you one tip — it's to be first in line for disembarkation.  For some reason, it took forever to get off the ship here and we nearly missed our tour.  It seems like we easily walked off the boat at all the other ports with no line at all, but for this one there was a wait.  Each dock has a different sized gangway, I guess.  Anyway …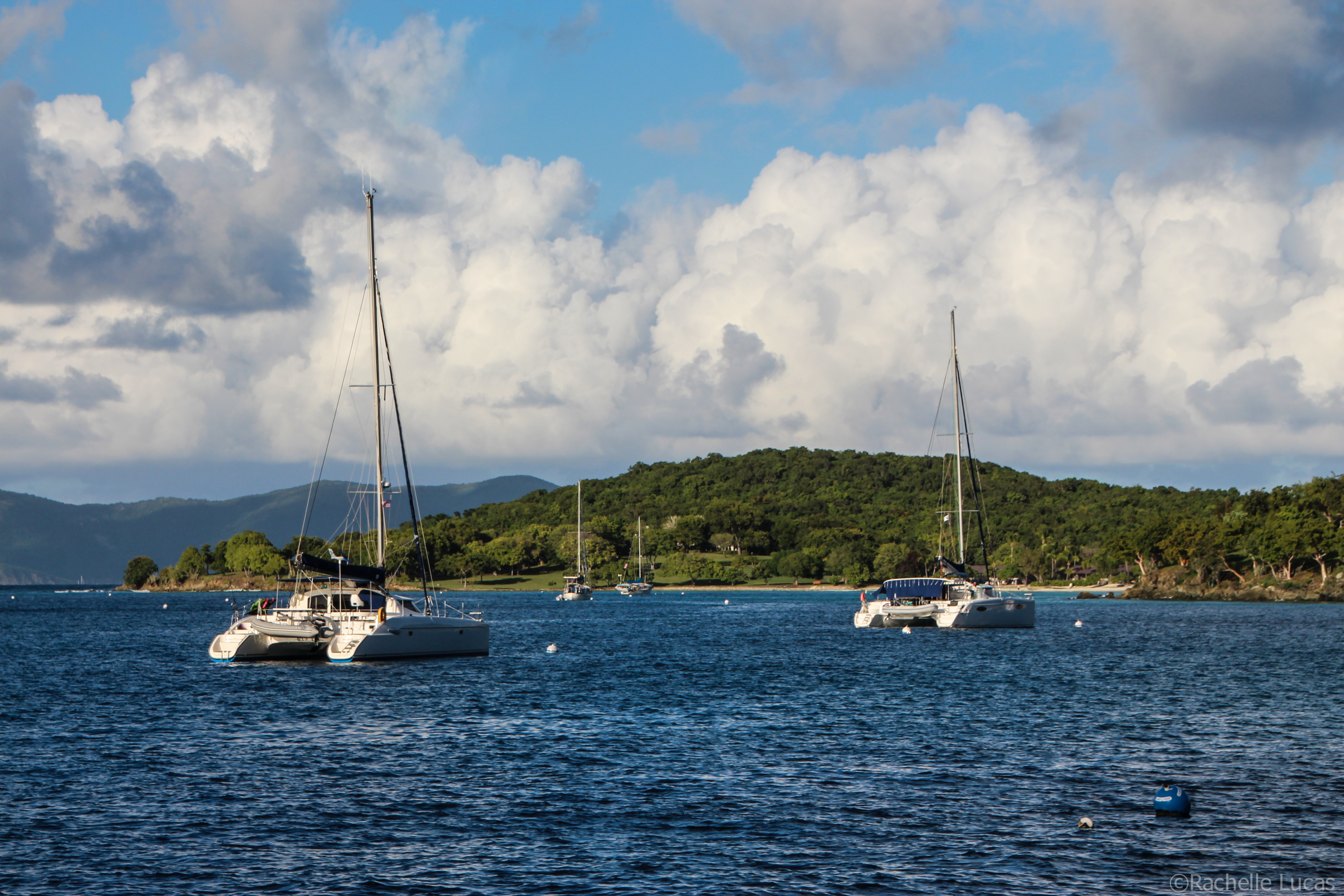 Sailing around St. Thomas
Once we found our guide, we hopped onto an open air Jeep-like safari truck and took a beautiful ride through the island to a marina where we surrendered our shoes to the captain of a catamaran and hopped onto a barefoot sunset cruise.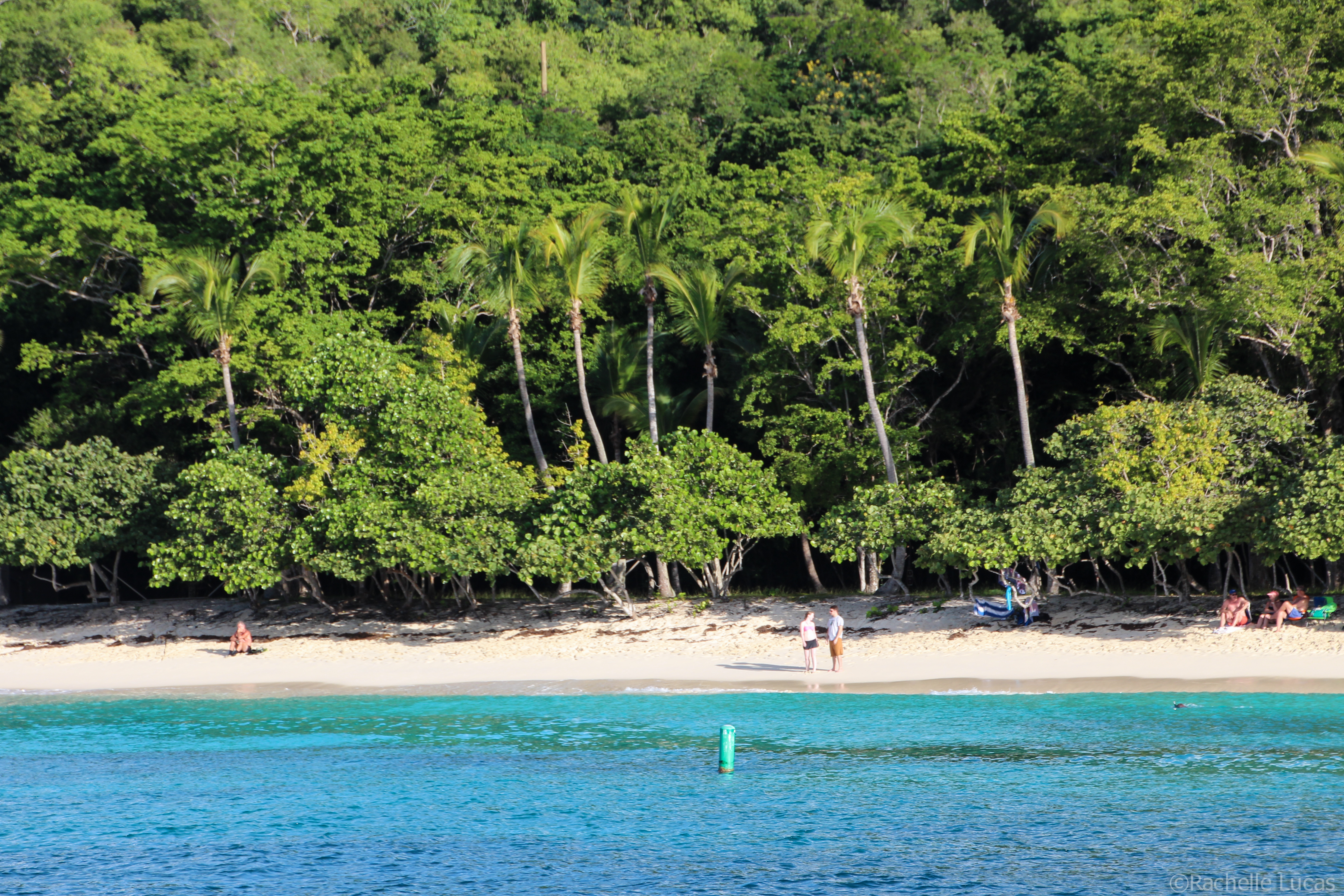 A little secluded beach we sailed up to for a swim and snorkel
This experience was really the kind of stuff vacations are supposed to be made of —  snorkeling along vibrant coral reefs, walking along gorgeous beaches, and then listening to awesome music while sailing into the sunset.  Pure magic.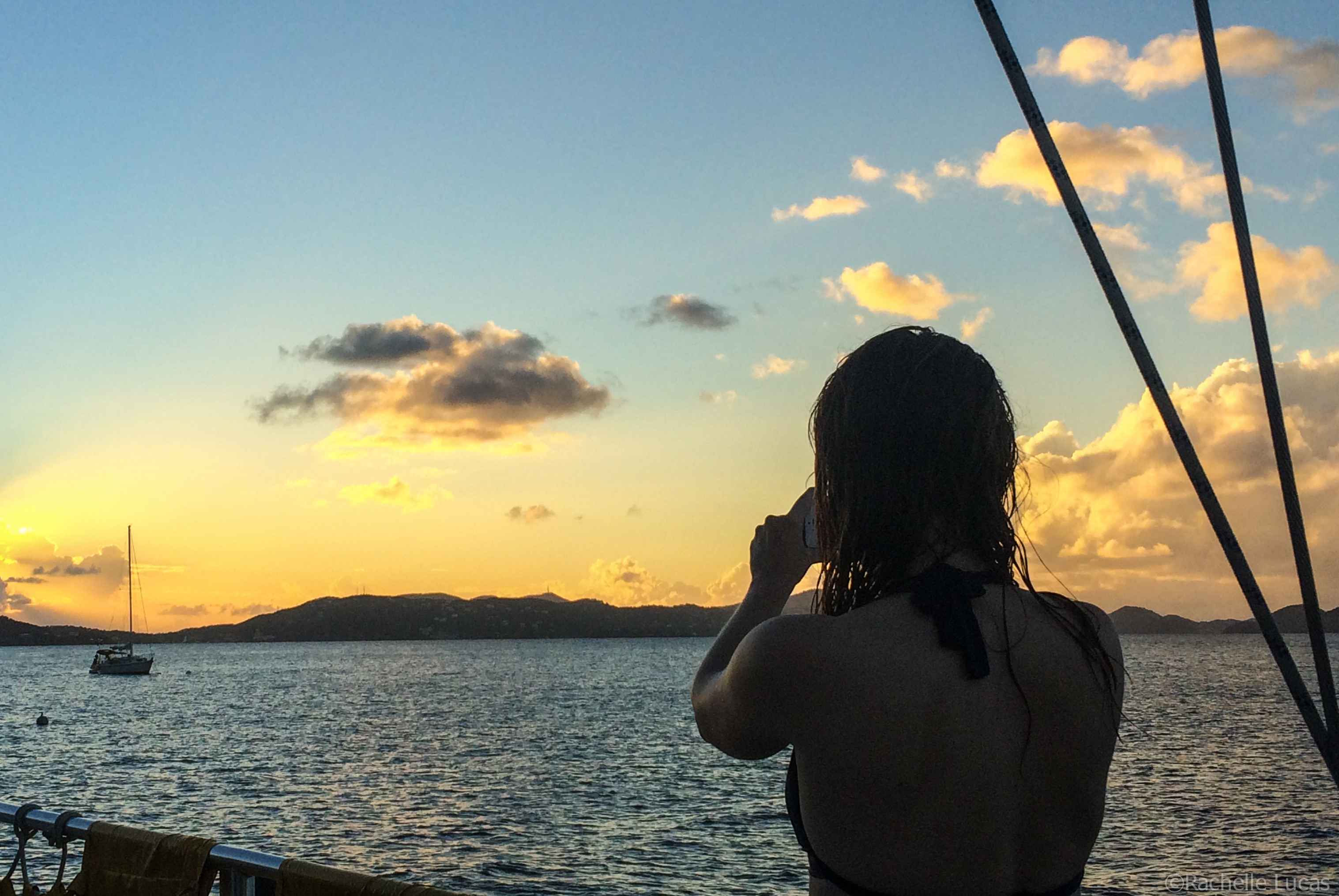 Capturing the sunset from a catamaran
DAY 5 – SAN JUAN
I received so many tweets and suggestions for food in this destination that I was thankful we had a full day here.  It's also the port I have the most pics of, so get ready for a little photo journey.  We decided to explore on our own and downloaded a self guided walking tour to our phones and used it as a map to find our way around all the must-see sights in Old San Juan.  But first, coffee …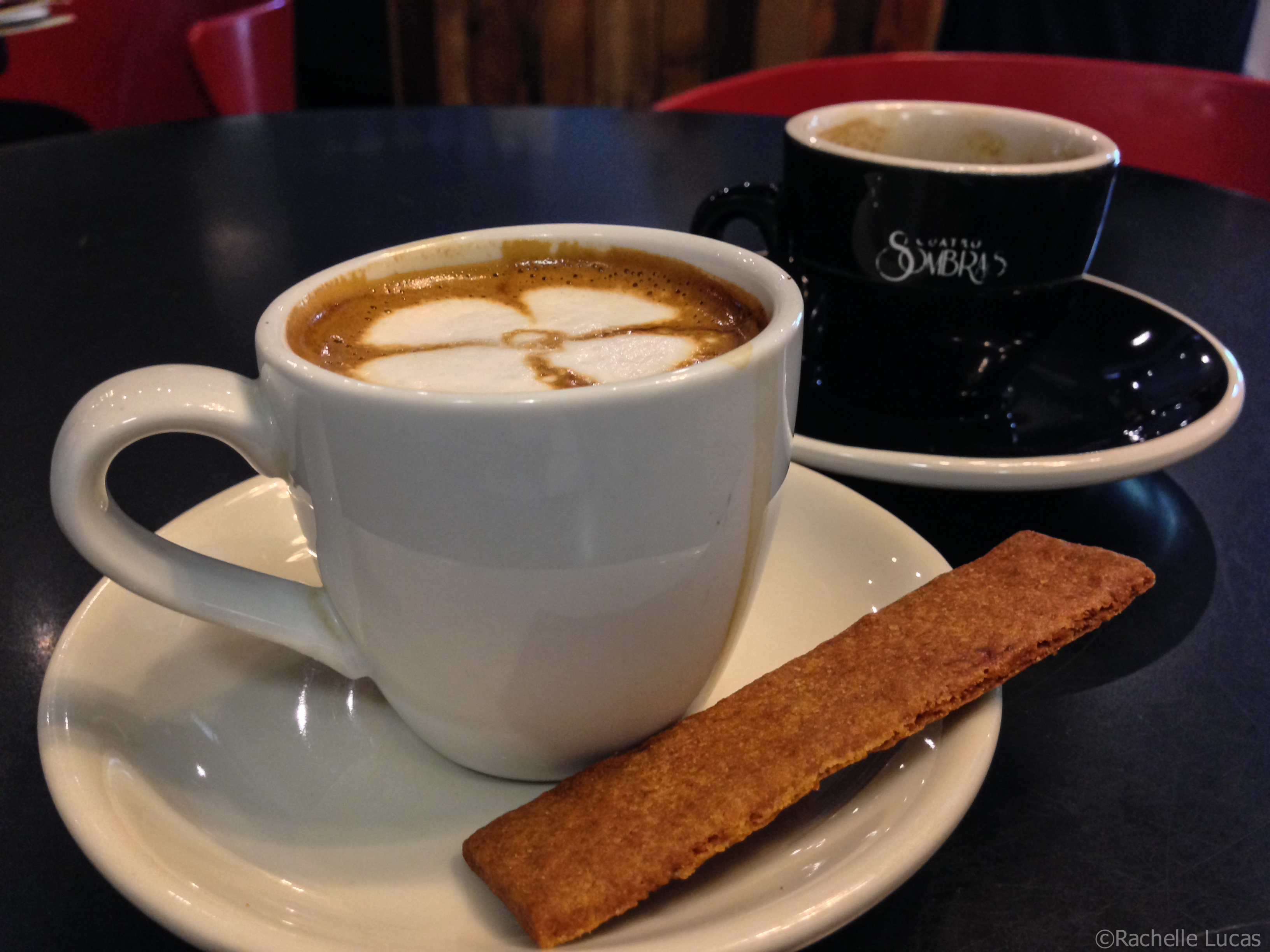 Cappuccino and sweet guava sticks
I had received a tip on Facebook from a fellow writer to check out Cuatro Sombras for coffee.  In fact, she said it was a "must-do!"  They roast their own beans in the cafe and make some killer espresso drinks.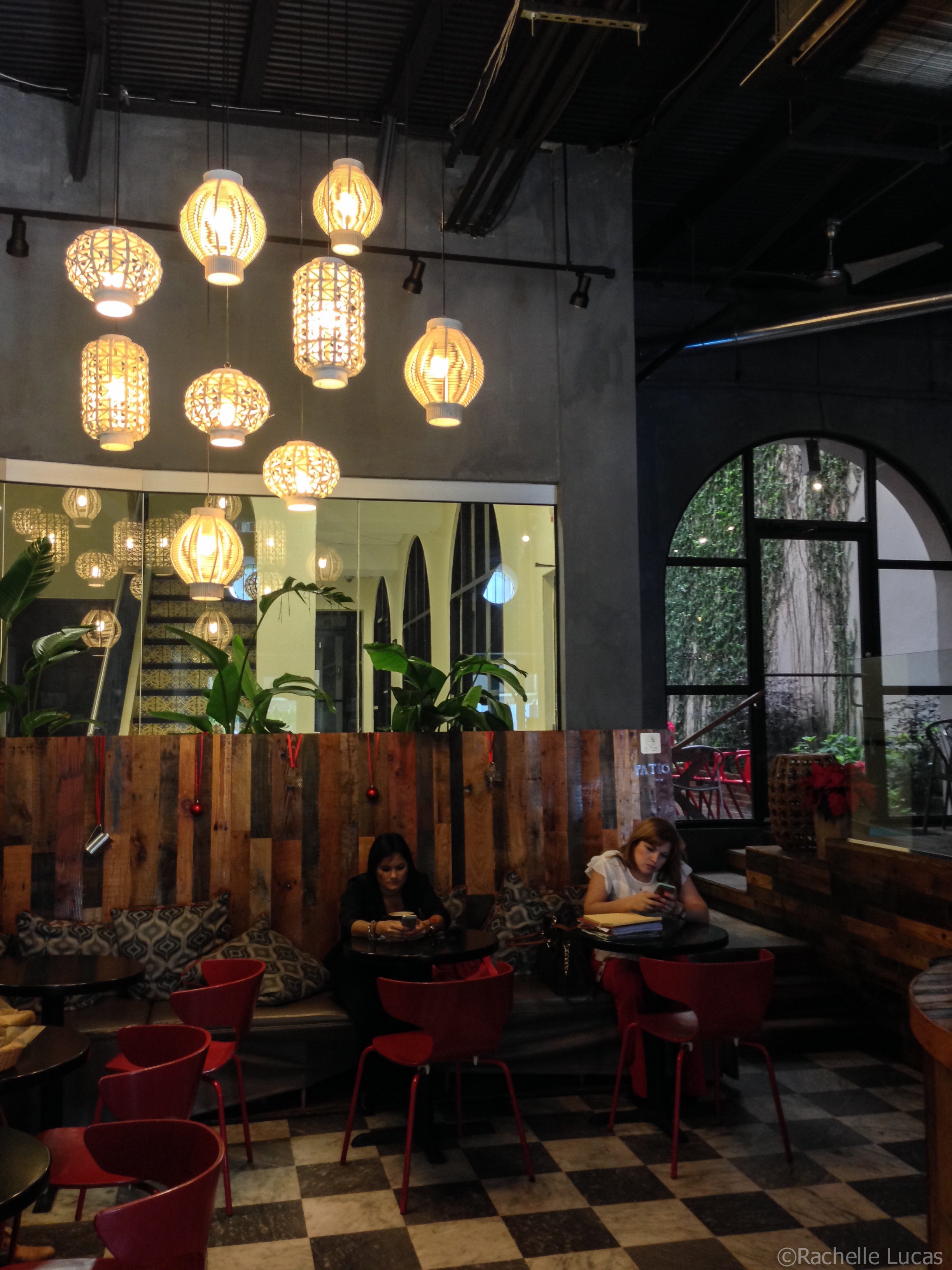 An inside look at Cuatro Sombras
Afterward, we followed the guide and strolled along the wall at Paseo del Morro, taking time to look at some of the artwork and monuments along the way.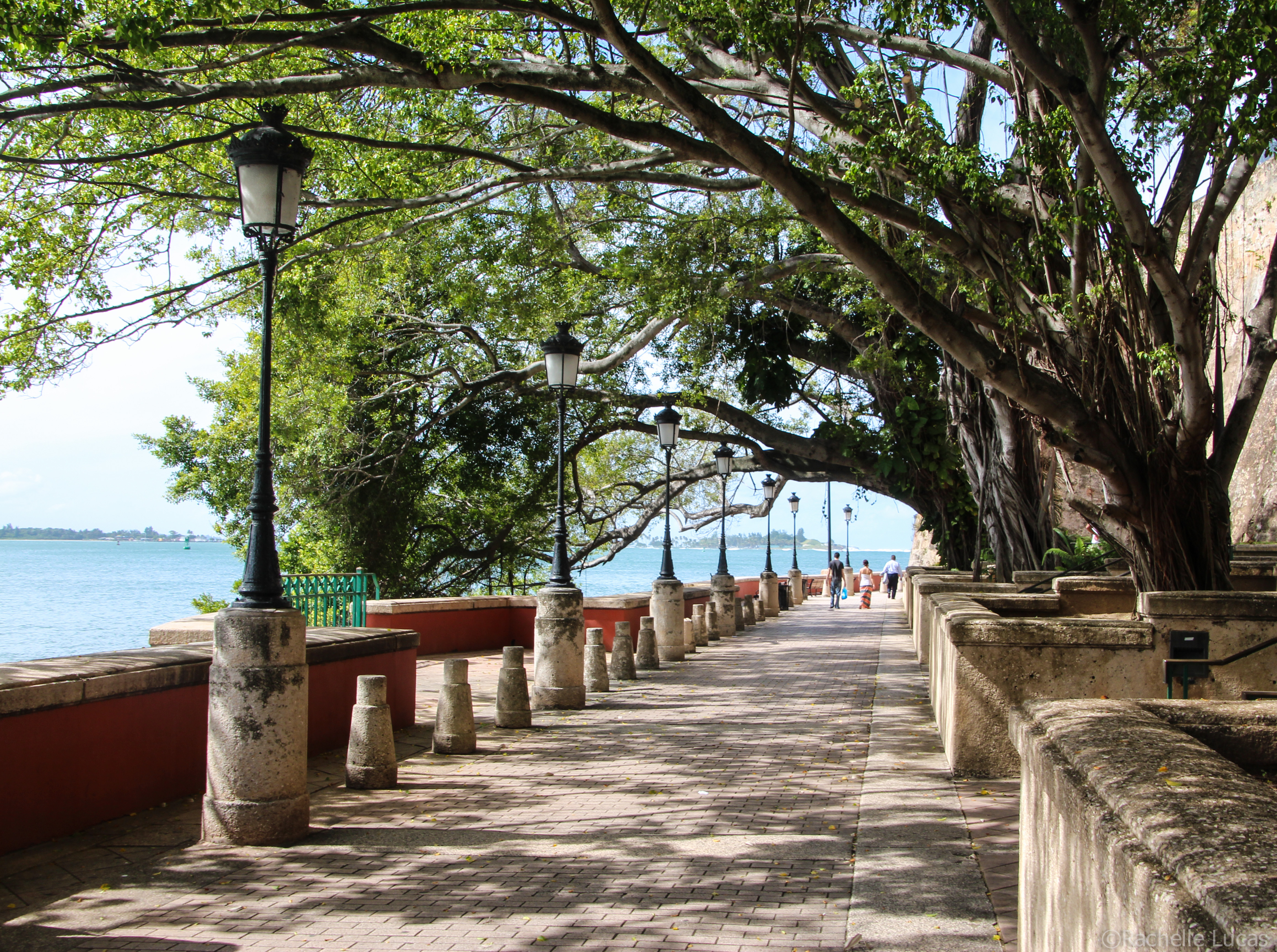 Paseo del Morro
The path led us to the old city gate and up through Caleta de San Juan, a beautiful neighborhood where a few local artists have studios and shops.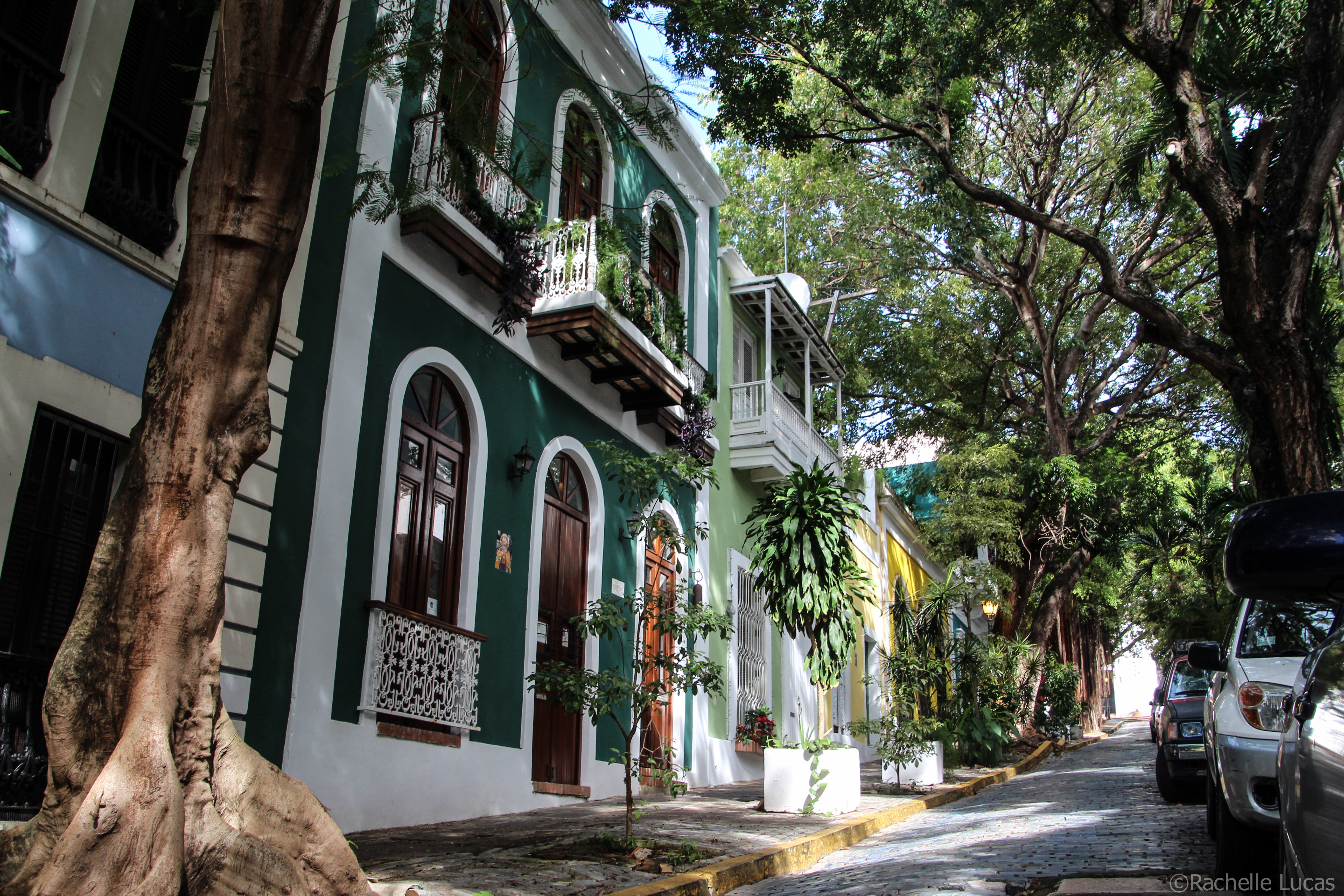 Caleta de San Juan
One of the studios we ventured into, Tres Mujeres, is curated by three women who all have a unique talent, from painting to quilting and ceramics.  (I do love handmade souvenirs.)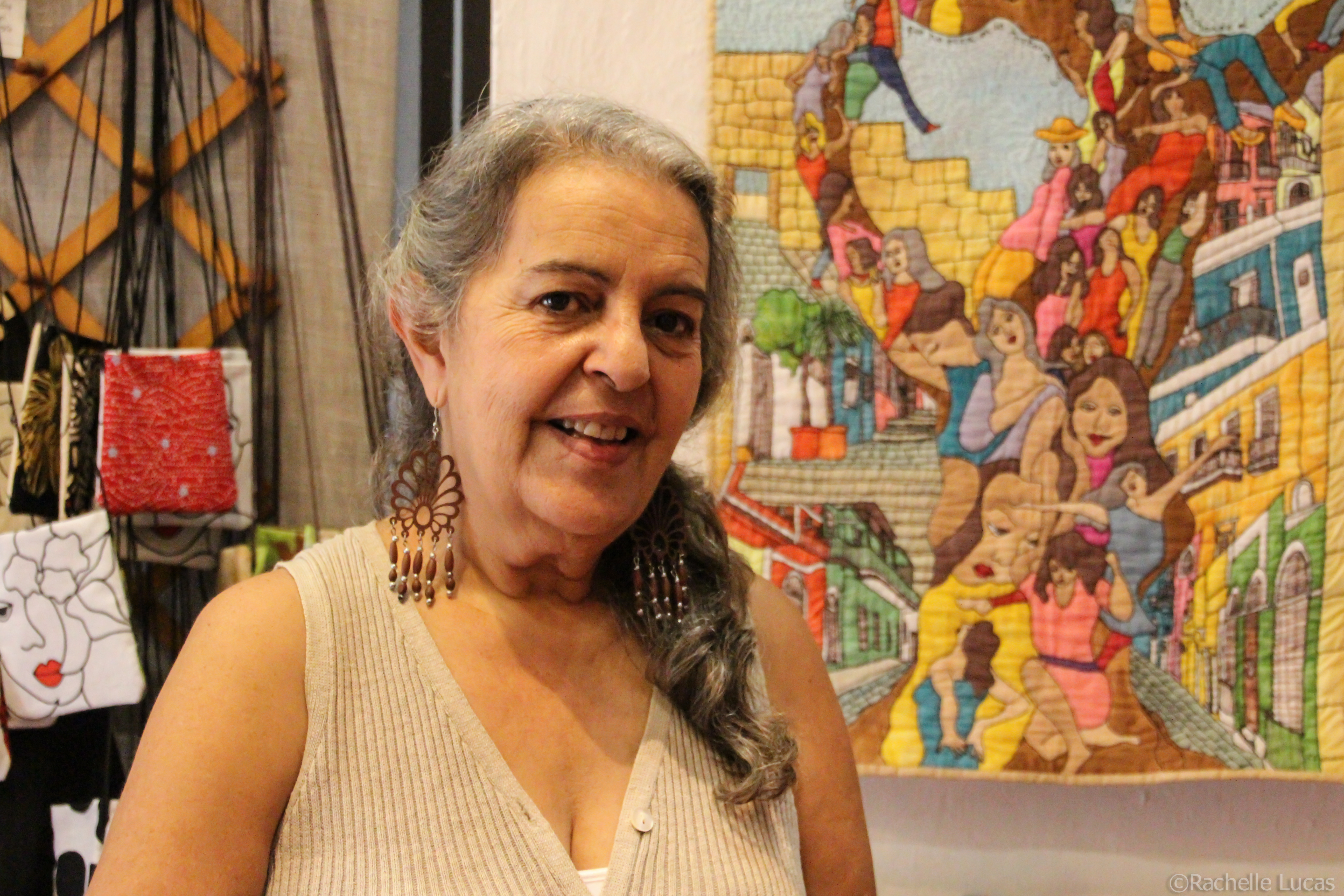 Enid, a quilting artist at Tres Mujeres
Of course, we couldn't miss out on some great Puerto Rican food, so for lunch, we went to Barrachina, famous for creating the pina colada. But their amarillos and other Puerto Rican specialities are delicious too.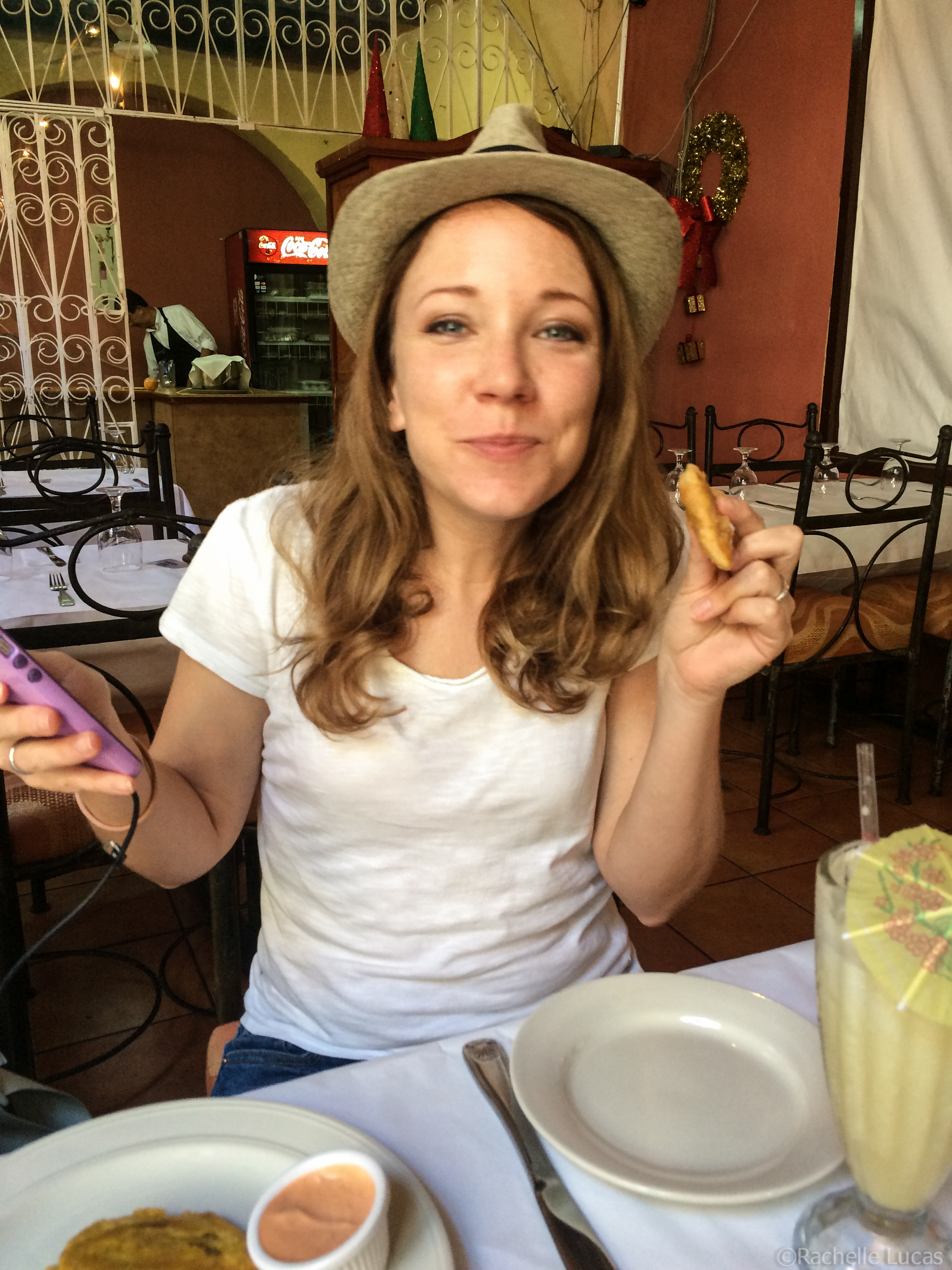 Enjoying some fried plantains and tweeting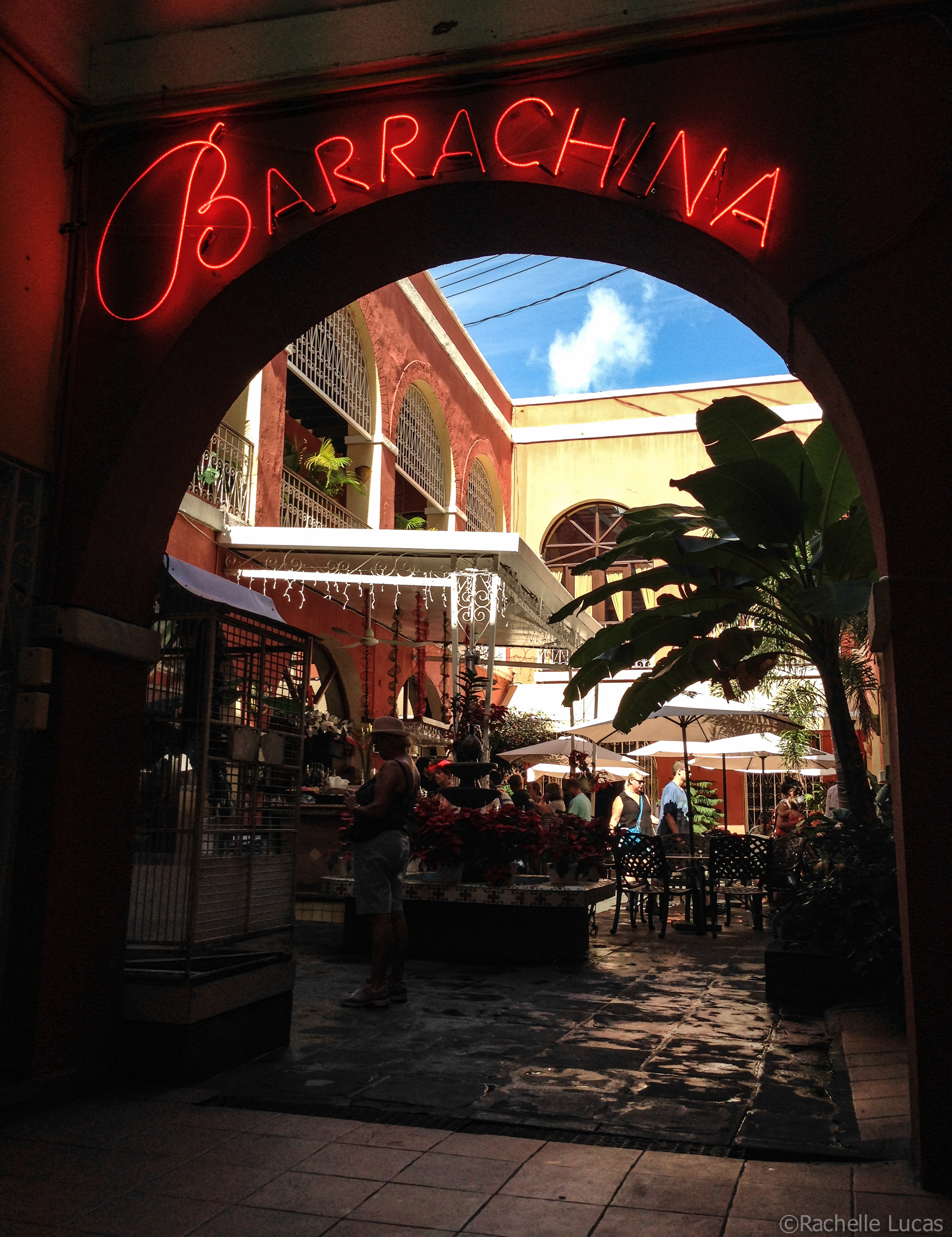 The famous Barrachina!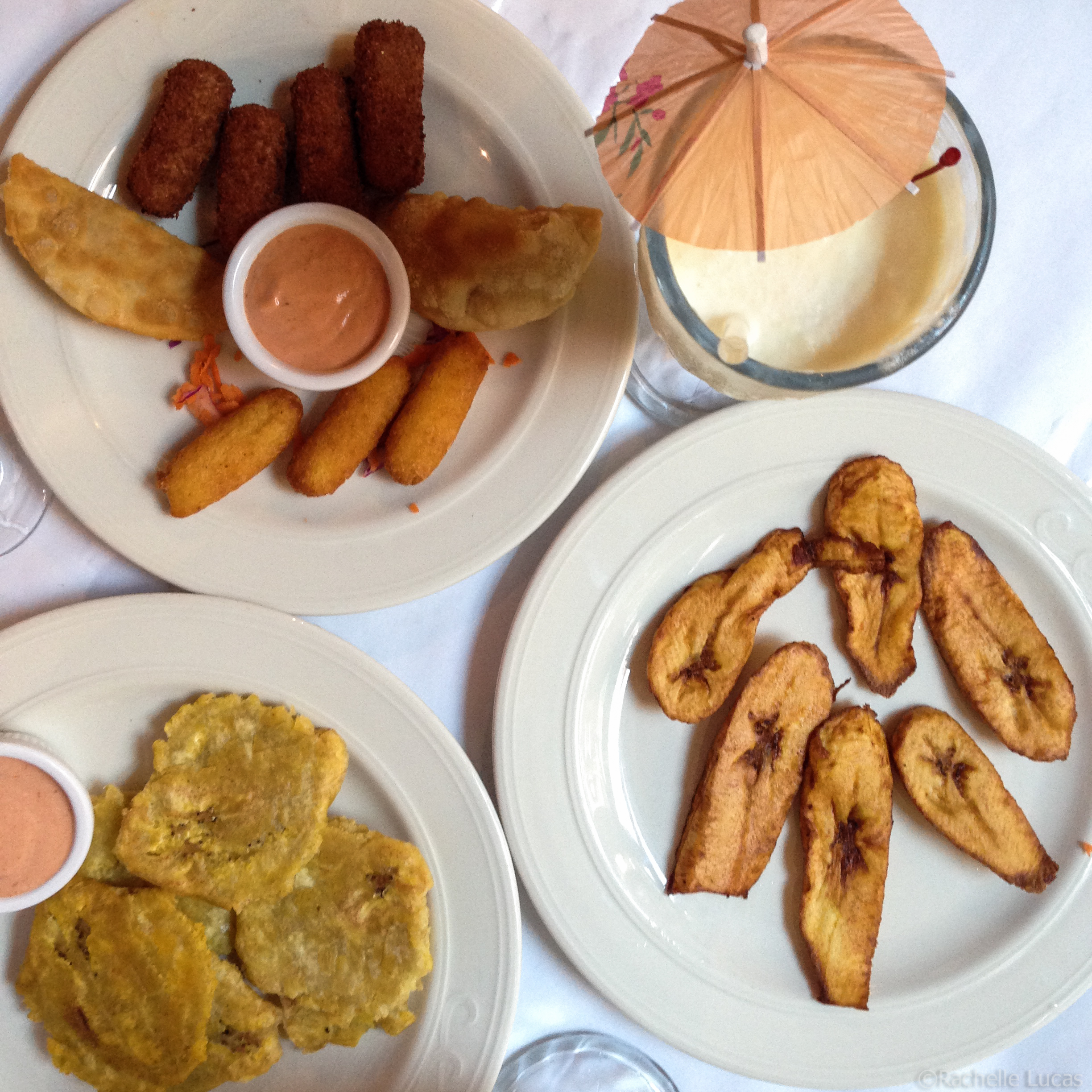 An order of local specialties
We spent the rest of the afternoon seeing the fort, photographing the colorful architecture of Old San Juan, and shopping at some of the local craft shops.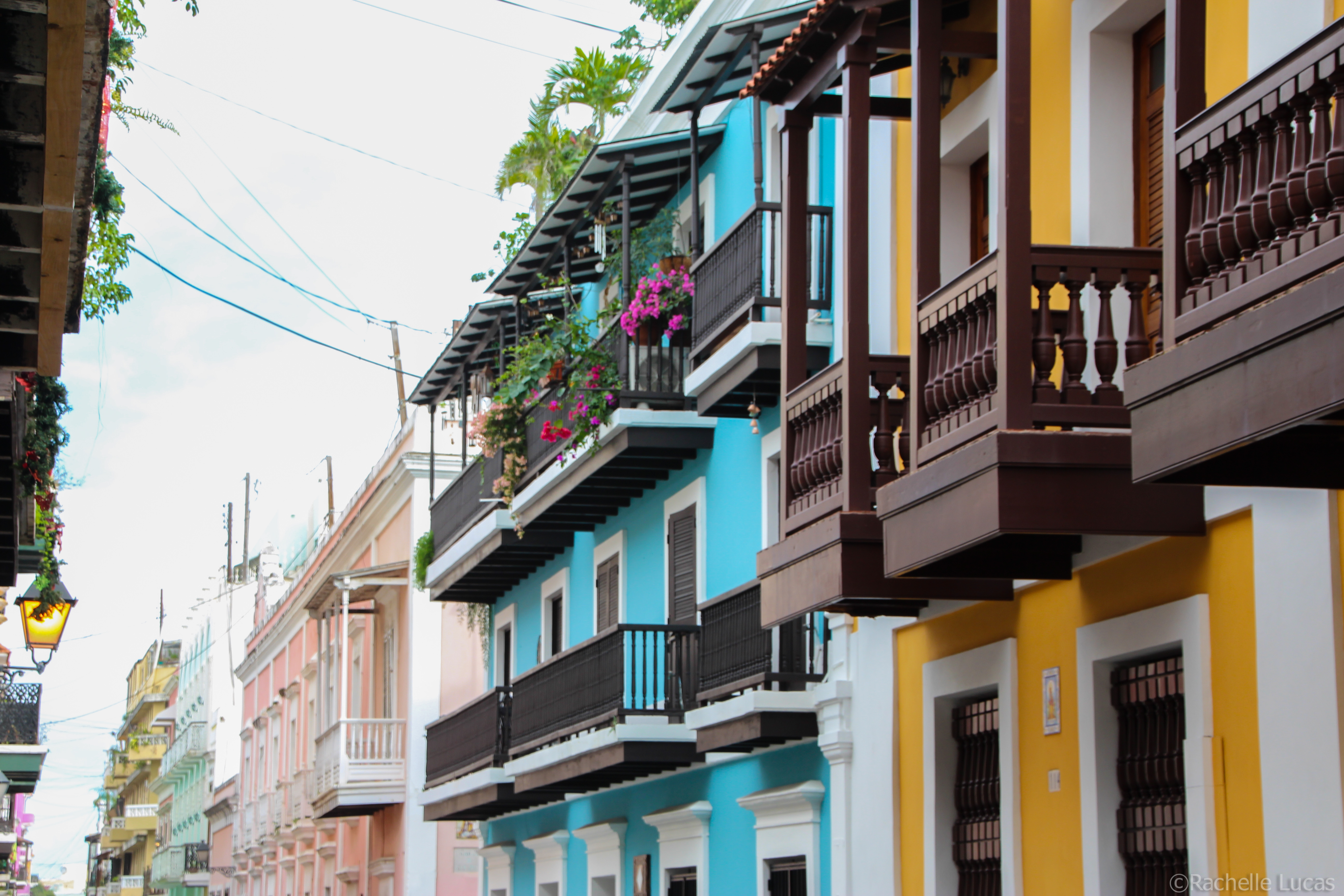 Colorful architecture
Vintage tile work on an old soda shop
One little treat I wasn't expecting that was perfect for a hot day — "piragua."  It's shaved iced flavored with any number of sweet syrups.  I chose guanabana since we don't see that flavor too often back home.
DAY 6 – GRAND TURK
Grand Turk was a relaxing beach day for us.  We grabbed a sandwich to go and some fruit at the buffet to make a picnic and then found a quiet spot with a view.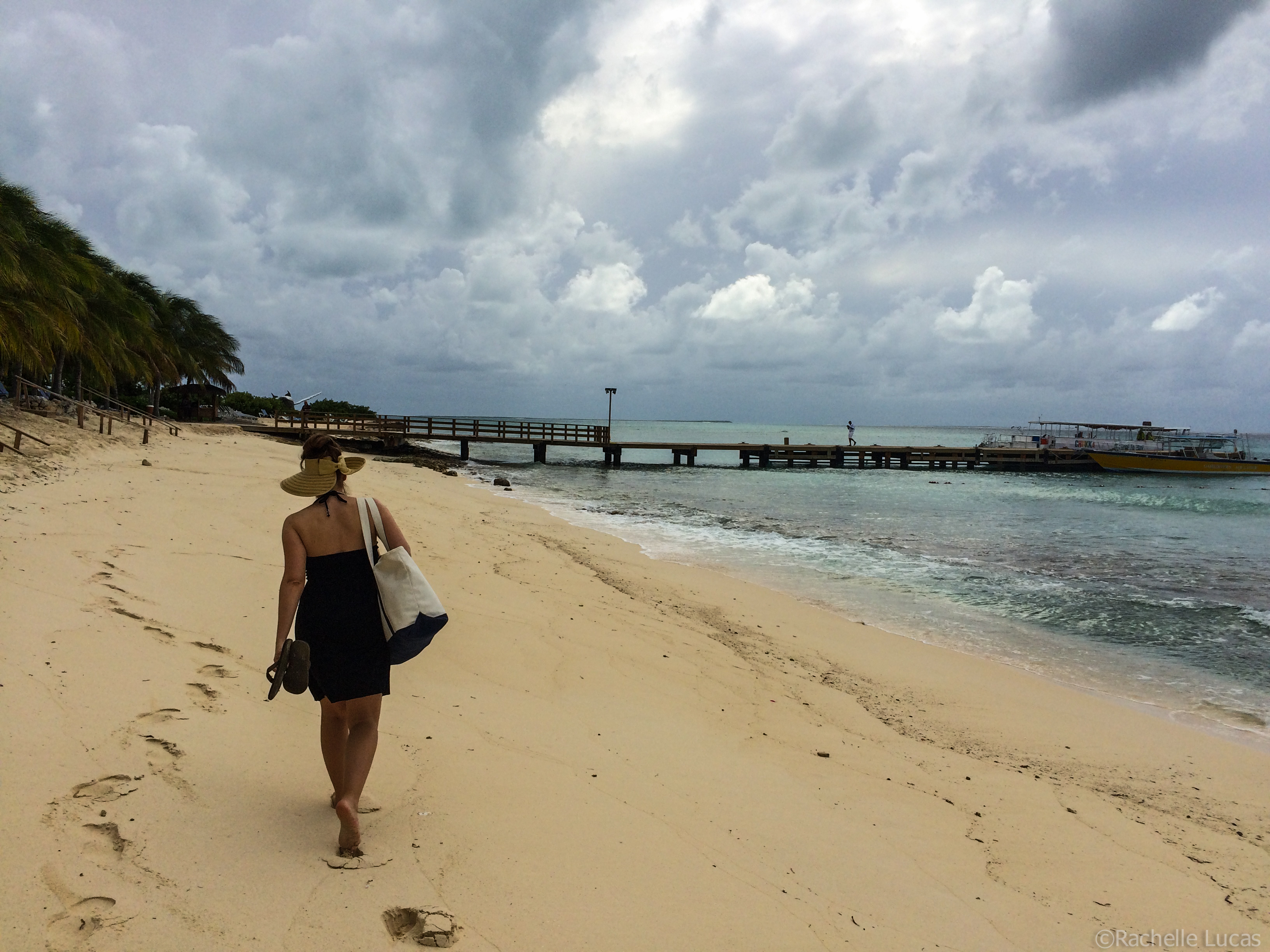 Walking along the shore in Grand Turk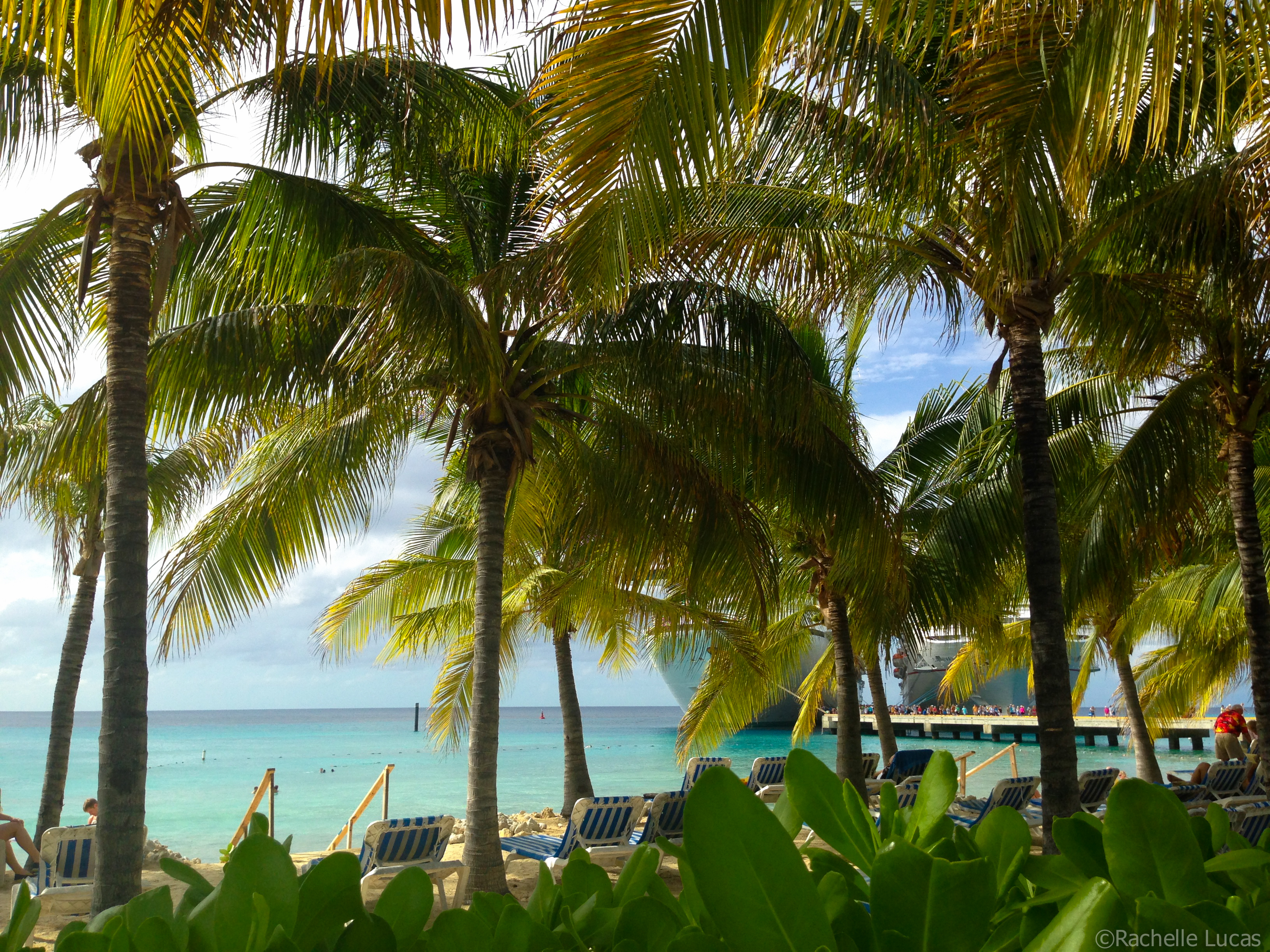 It's paradise under the palm trees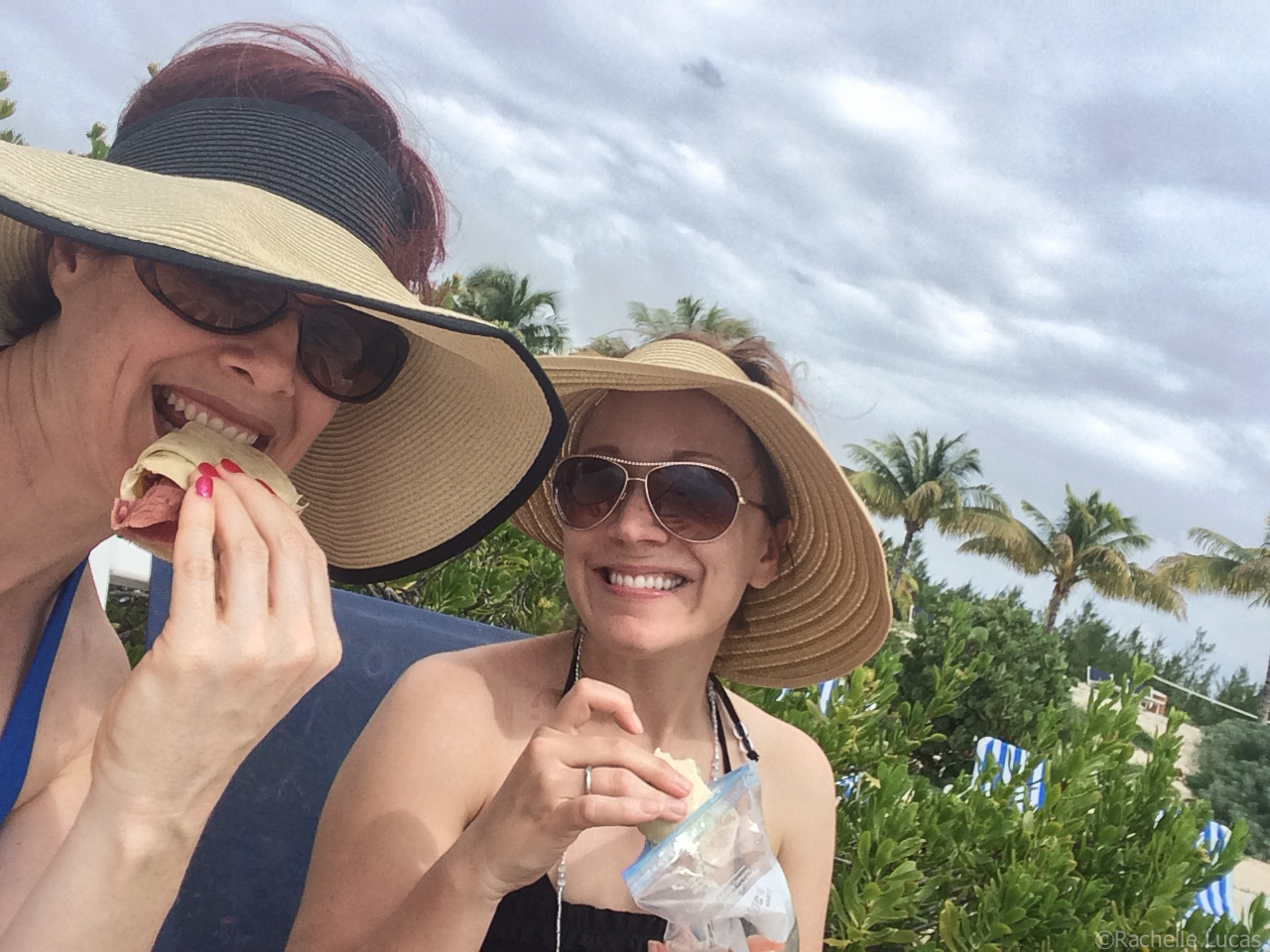 Picnic lunch on the beach
Toward the afternoon, we got a little hot and thought it would be a good time to try out the waterslides on board the ship.  We practically had the place to ourselves since it seemed everyone was out on a shore excursion!  I gotta say, though, next time I'm leaving the waterslides to the kids — I was adult-sized terrified!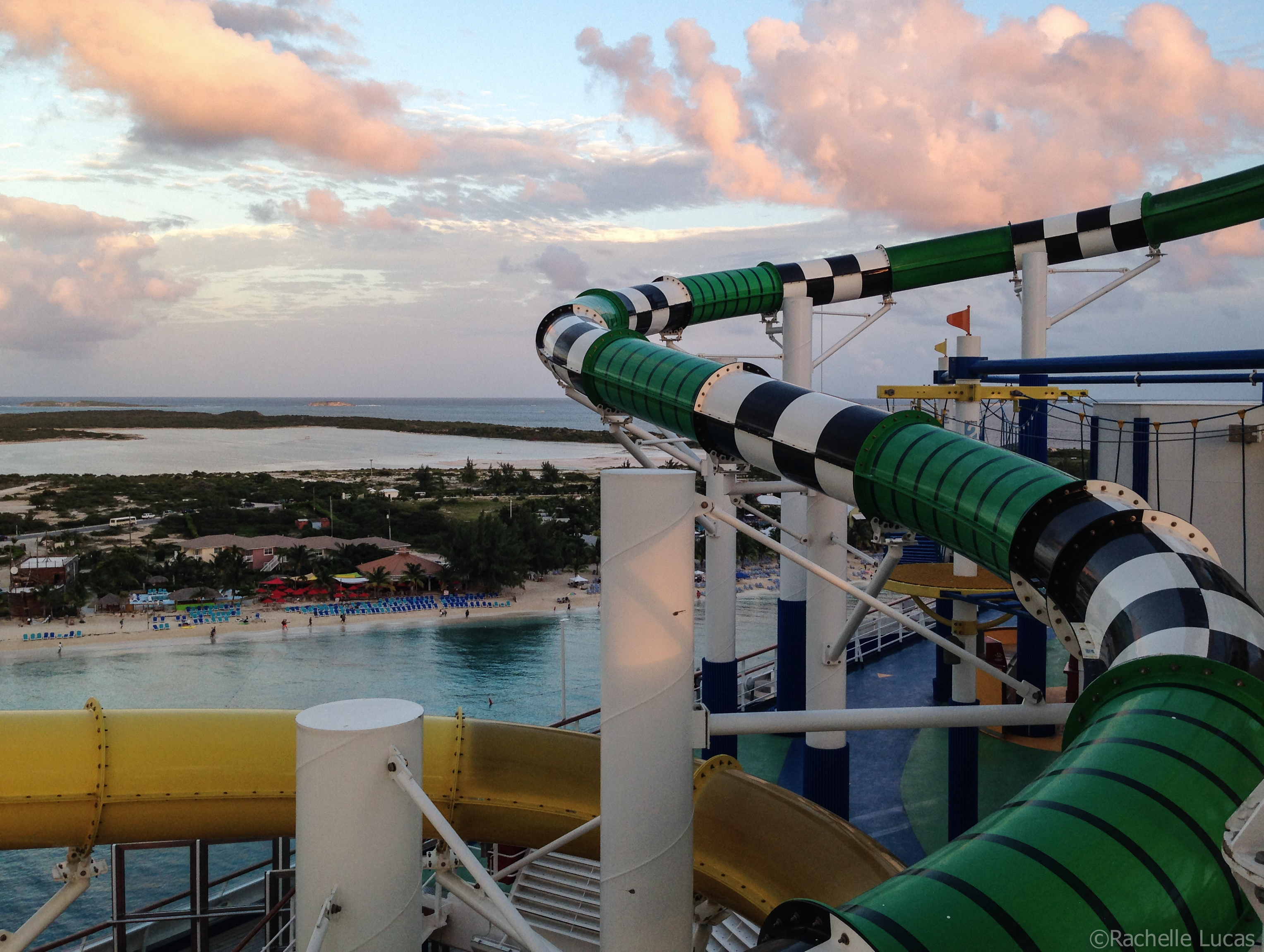 Waterslides at sunset
DAY 7 – DAY AT SEA
Our last day at sea was all about trying the things we hadn't yet done, squeezing in as much relaxation as possible, and packing for our trip home the next morning.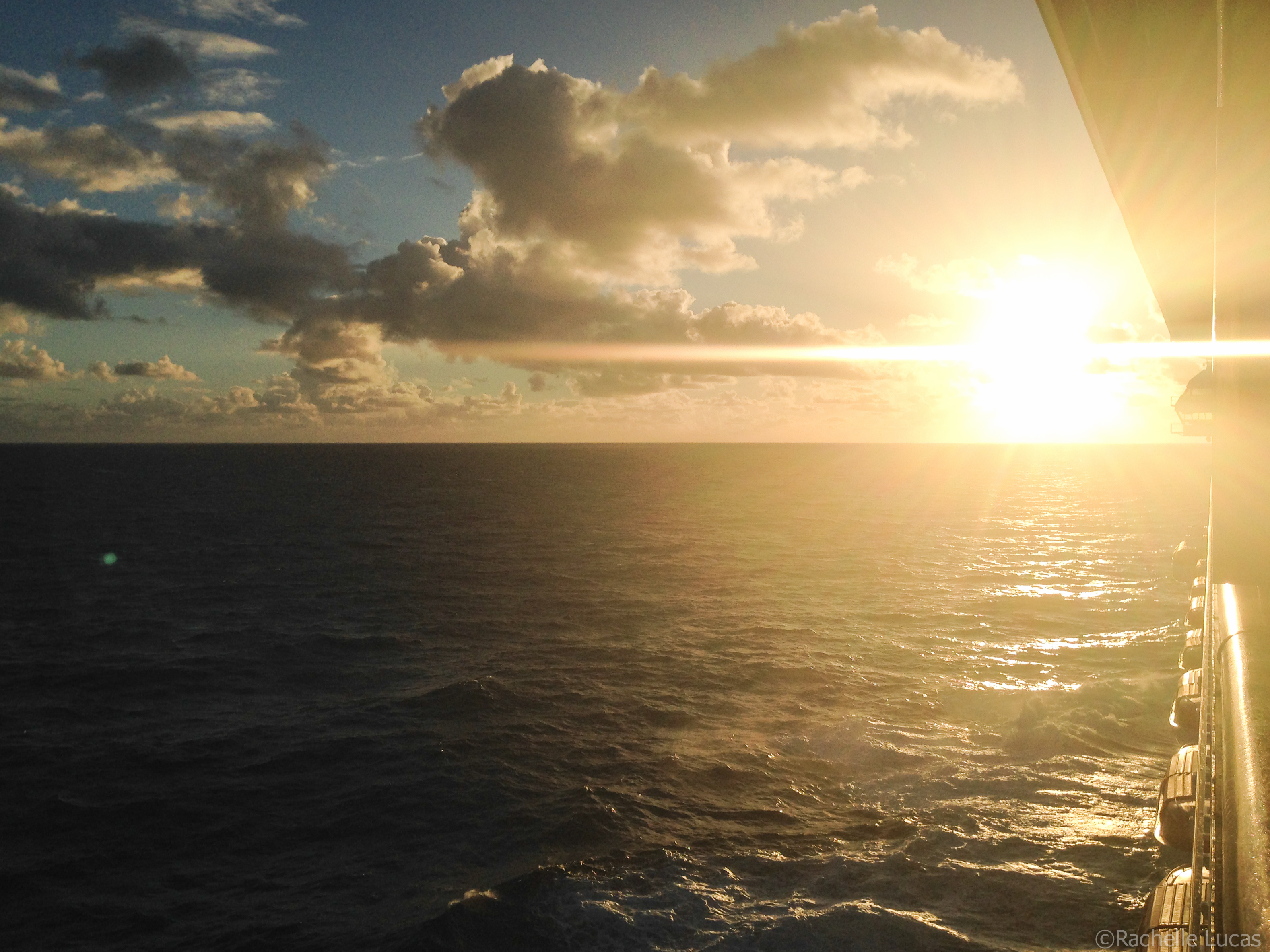 Sunrise on our last day at sea
We tried the Bitter & Blanc Bread Pudding, and it was exactly like the recipe I had made at home. I have to pat myself on the back for my cooking skills, because I think mine tasted about the same — sweet and delicious.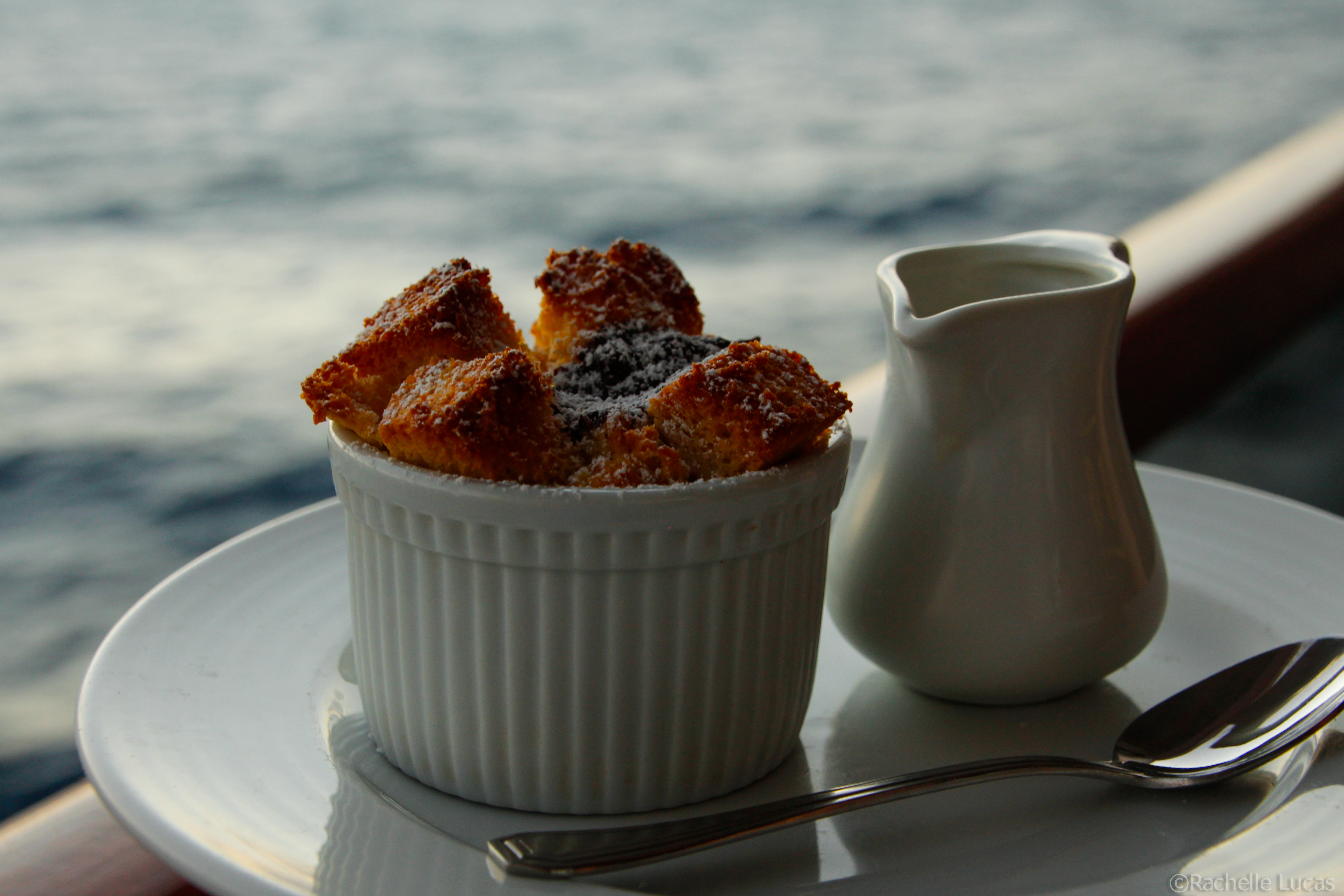 Bitter & Blanc Bread Pudding
We also did the Chef's Table experience.  This is a MUST-DO and I highly recommend signing up on your first day to make sure you get a spot because it's limited to about 10 people.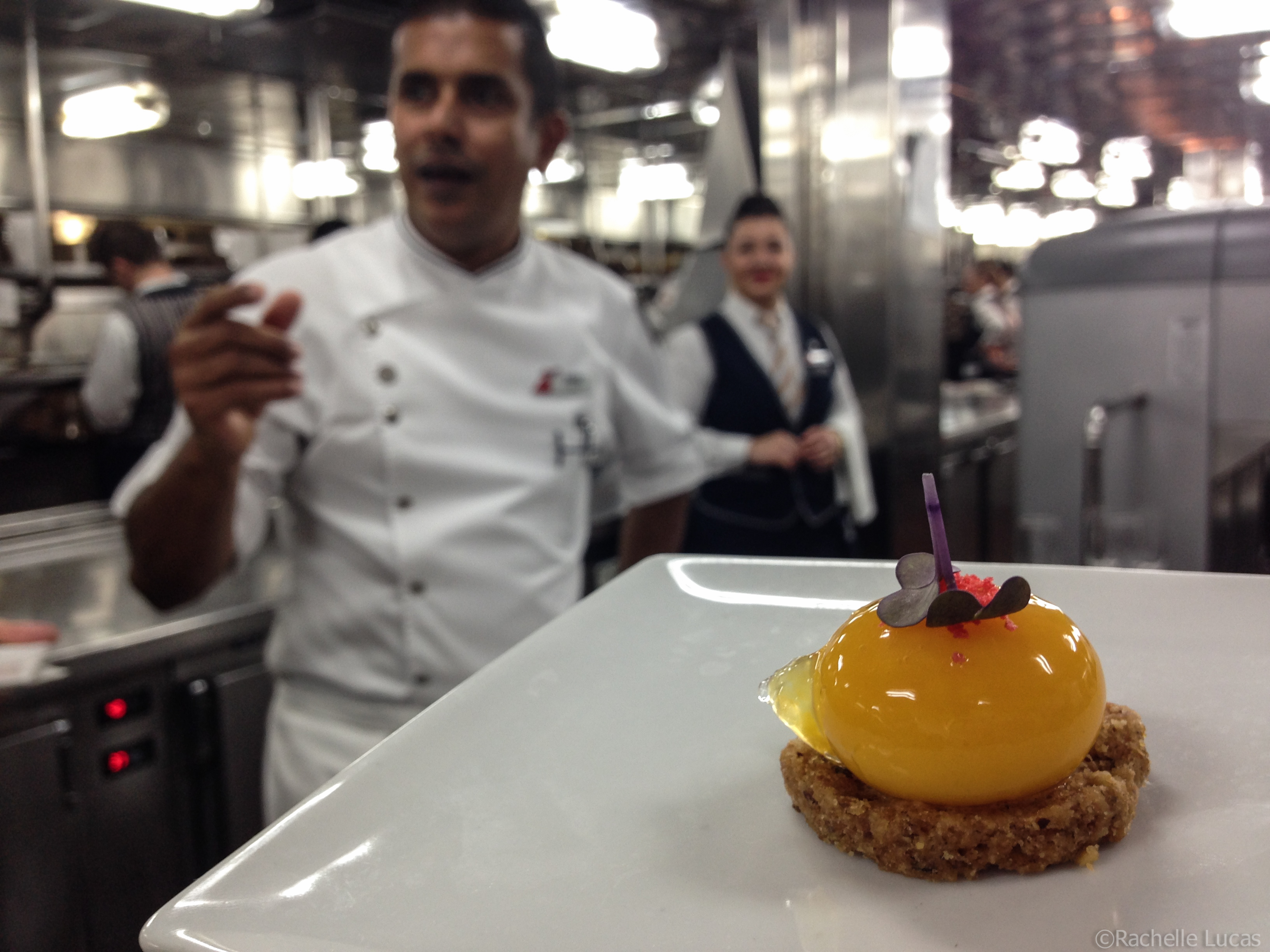 Appetizers in the kitchen
It included a tour of the kitchen with the ship's executive chef, a cooking demo, a multi-course dinner paired with wine, surprise entertainment, and a keepsake photo.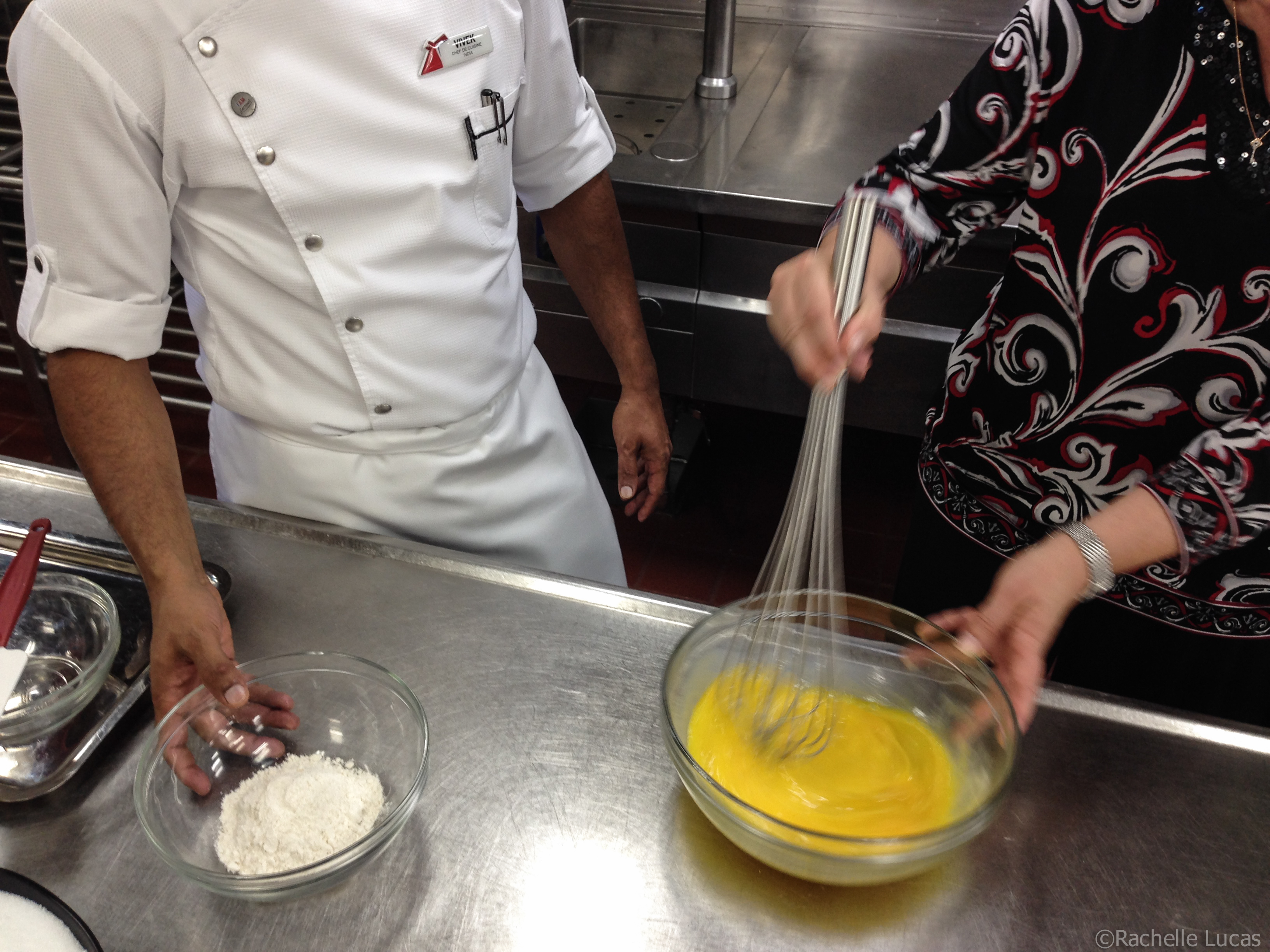 Hands-on cooking demo
The table is set for an elegant evening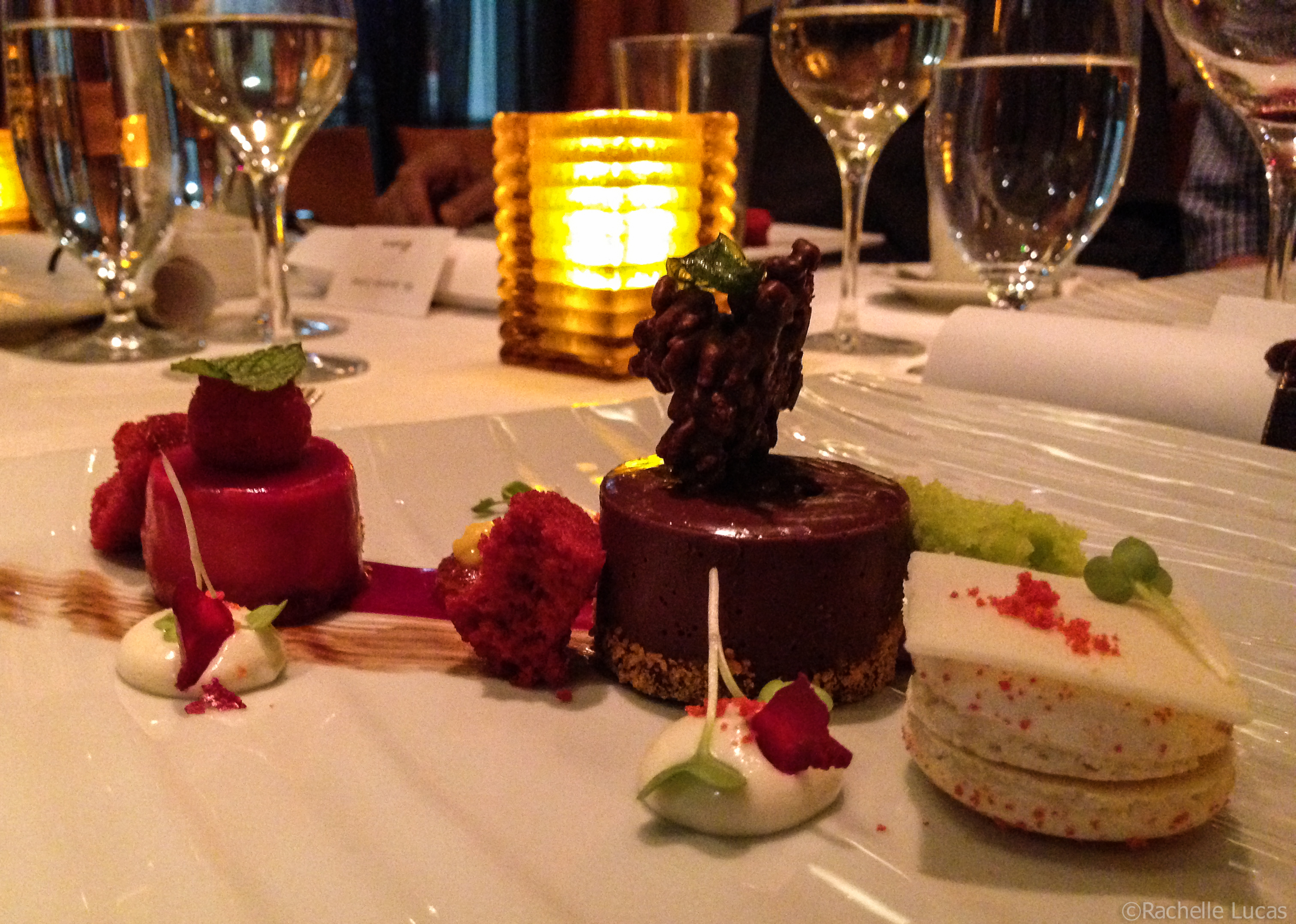 My favorite part — dessert!
Overall, it was definitely a relaxing week full of wonderful surprises, great food, and a few new places checked off my bucket list.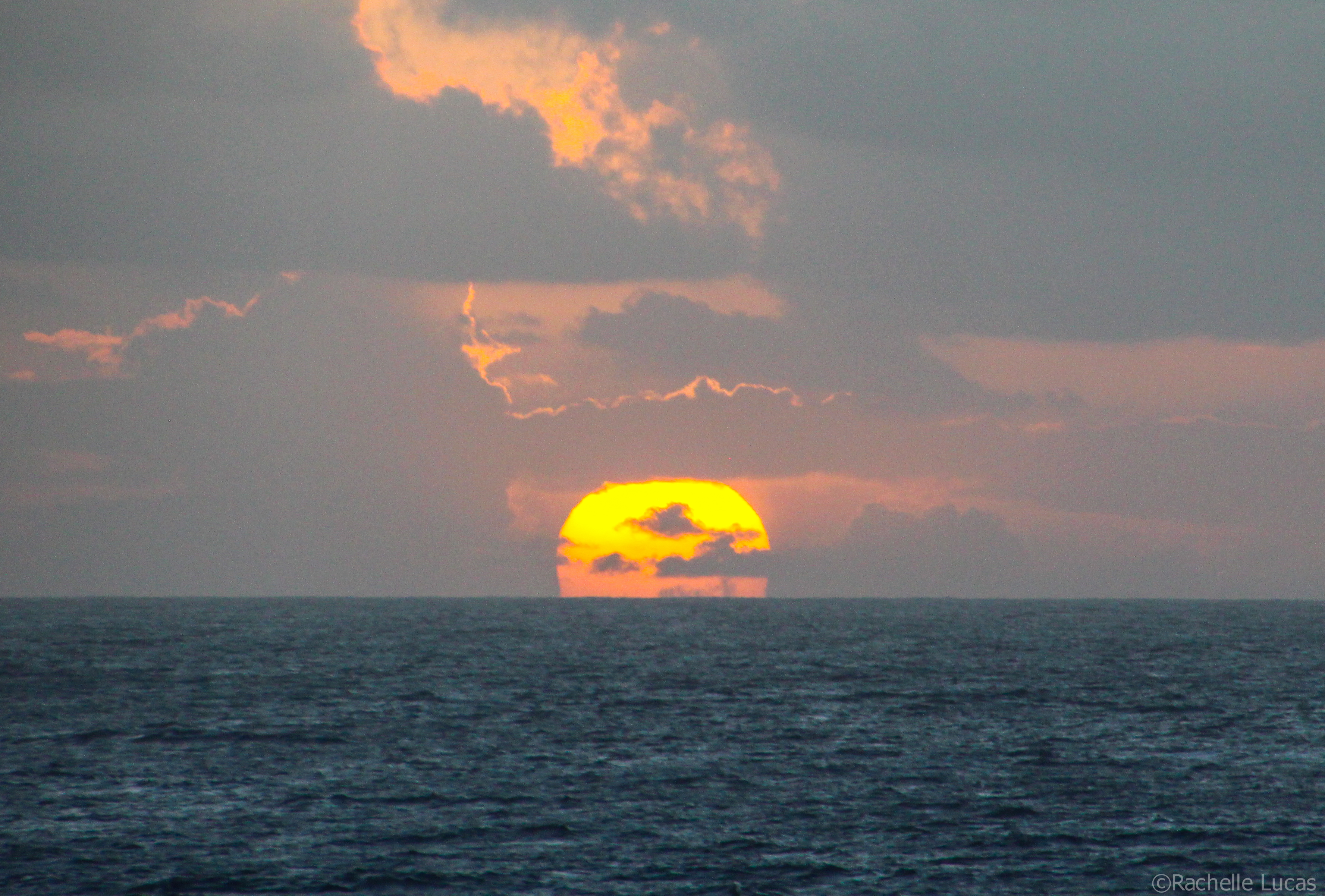 Sunset From Our Balcony
This post was created as part of my collaboration with Carnival. As always, all of the opinions, thoughts, and ideas in this post are my own.